When you're feeling sick, nothing can cheer you up quite like a care package from a friend (or, let's be honest, mom). I love the idea of passing on the kindness by making a kit to give away next time a friend or family member is feeling under the weather.
For this year's cold and flu season, we've stocked up on these 11 tried-and-true natural home remedies that make the perfect get well kit.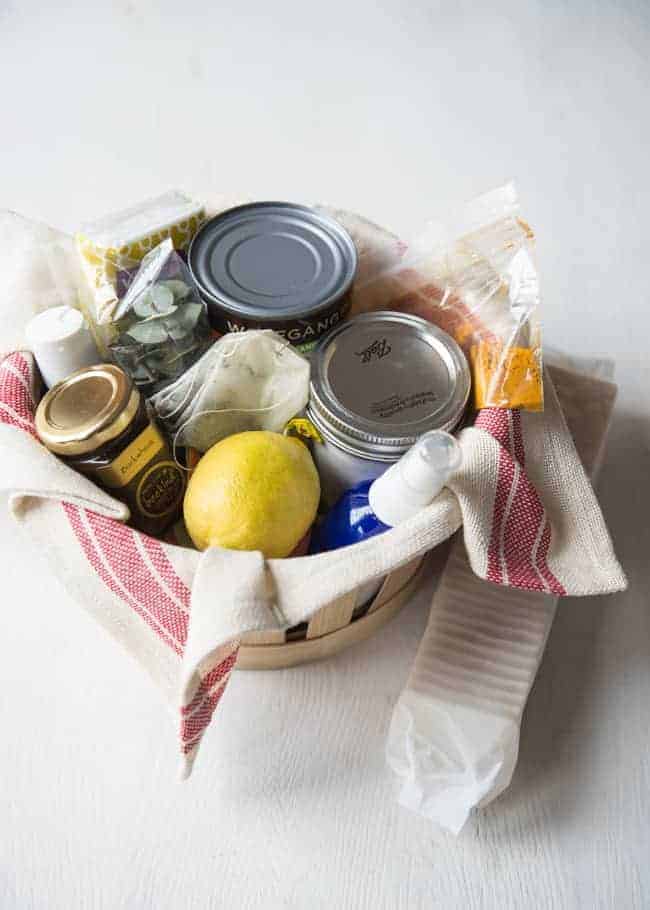 Natural Remedy Get Well Kit
We're big fans of natural remedies for pesky colds and annoying sinus infections, and this basket includes recipes for our favorite and most effective treatments. Most of them you can DIY, so you might want to make an extra batch for yourself—just in case!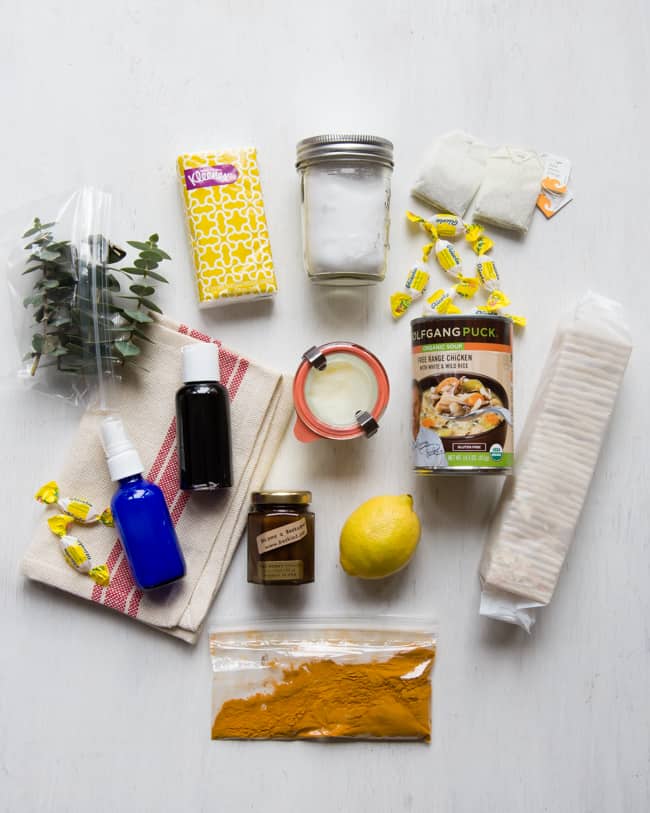 11 goodies for cold and flu season
:
1. Eucalyptus for steam inhalation (see below)
2. Tissues
3. Aromatherapy bath salts to help clear the nasal passages, relax tension, and relieve sinus headaches
4. Herbal tea to help you feel better when you're sick, especially when they contain ingredients like lemon, honey, echinacea, ginger, and elderberry
5. Herbal cough drops for sore throats and chest congestion. Look for ones that contain real honey, which is said to soothe mucus membranes and support the immune system [source]. Homemade is great, too!
6. Organic chicken soup + saltines
7. Healing balm for chapped lips, hands, or anywhere that needs some TLC
8. Honey + lemon for tea and tonics as a natural cough remedy [source]
9. Spices for turmeric tea
10. Antiseptic hand sanitizing spray to keep the rest of the family from getting sick
11. Homemade elderberry syrup is said to help prevent and ease cold and flu symptoms. The berries and flowers of the elderberry plant are packed with antioxidants and vitamins that help boost your immune system. The potent antioxidant in elderberry syrup can tame inflammation, lessen stress, help protect your heart, and improve cell turnover in a pinch [source].
Fresh Eucalyptus Steam Inhalation
Eucalyptus has long been known to provide healing benefits because it's naturally anti-viral, antibacterial, anti-fungal, and anti-inflammatory [source]. It is a natural decongestant that's especially helpful for respiratory infections.
If you can get your hands on some fresh eucalyptus, it's easier than ever to make a healing steam inhalation to help clear the sinuses and respiratory tract.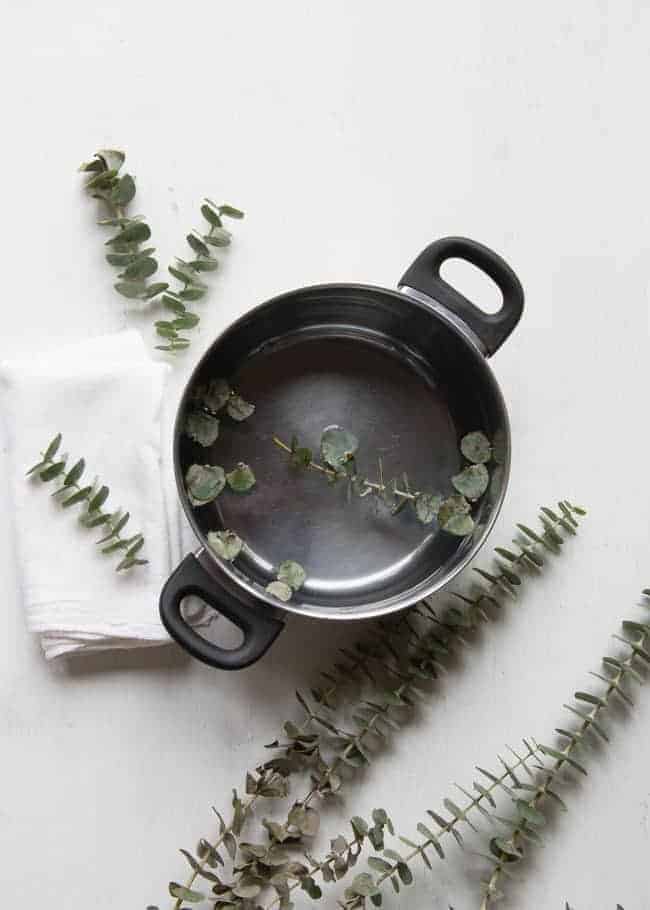 Ask your local florist, and I bet they'll have some eucalyptus—just make sure it's organic or unsprayed, if possible. Use it just like you would the fresh leaves.
To a pot of water, add about 3 to 4 tablespoons of fresh eucalyptus leaves or a few whole stems. Look for the baby blue eucalyptus as opposed to the silver dollar variety since it contains the oils we need. Bring to a rolling boil.
Remove from the heat, and hold your face about 12 inches above the pot, covering your head and the pot completely with a towel. Take slow, deep breaths with your eyes closed to prevent irritation. Repeat as needed.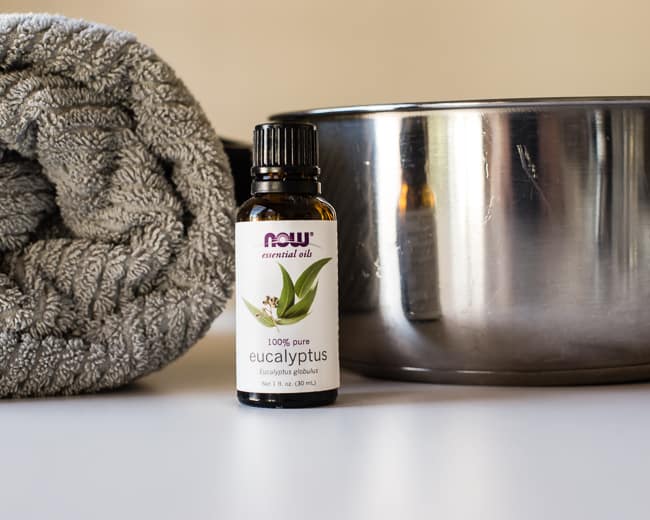 Eucalyptus Essential Oil Steam Inhalation
If fresh eucalyptus isn't available, its essential oil can be used in place of the fresh stuff. Eucalyptus is a popular ingredient in chest balms and muscle massage oils. It has a menthol constituent that helps us open up and breathe more easily.
Add 1 to 2 drops of oil to a sink of hot water. Hold your head over the sink, close your eyes, and inhale deeply; you can drape a towel over your head to trap the steam. This method is great for a stuffy nose and sinuses.
Or diffuse a few drops in a room with a simple reed diffuser, or buy a diffuser like this one that covers a larger area. You can also add 2 to 3 drops of eucalyptus essential oil to a humidifier or a pot of water on the stove. Avoid direct use of eucalyptus with infants and young children.
Eucalyptus Shower Steam Inhalation
Create your own steam inhalation remedy by sprinkling a few drops of eucalyptus and/or peppermint essential oil around the shower, then turn up the water to as warm a temperature as you can stand it. You can also use a homemade aromatherapy shower tablet with congestion-clearing essential oils or a shower steamer with menthol.
This article was medically reviewed by Dr. Gina Jansheski, a licensed, board-certified physician who has been practicing for more than 20 years. Learn more about Hello Glow's medical reviewers here. As always, this is not personal medical advice and we recommend that you talk with your doctor.
124