I used to be that mom that bought paper towels and disinfectant wipes in bulk. We'd use them as fast I could buy them, and then I finally decided that there had to be a better way. For a while now I've been making homemade natural cleaners.
I also keep a stack of special kitchen cloths reserved for cleaning. Put the two together, and you have reusable disinfectant wipes that are safe, natural and inexpensive. (I love all of those things!) These reusable disinfectant wipes are seriously life-changing — in the best way possible.
While I've always made my own sanitizing wipes using vinegar, in light of recent events I have started making them with rubbing alcohol instead. The CDC recommends that sanitizing cleaners contain at least 60% alcohol to effectively kill bacteria and viruses. And while white vinegar does kill some germs, I can't guarantee that it kills stubborn bugs quite like alcohol does.
For that reason, I've added a second recipe for alcohol-based disinfectant wipes that should be used during cold and flu season or whenever the next pandemic strikes. The rest of the time, feel free to stick the tried-and-true vinegar recipe.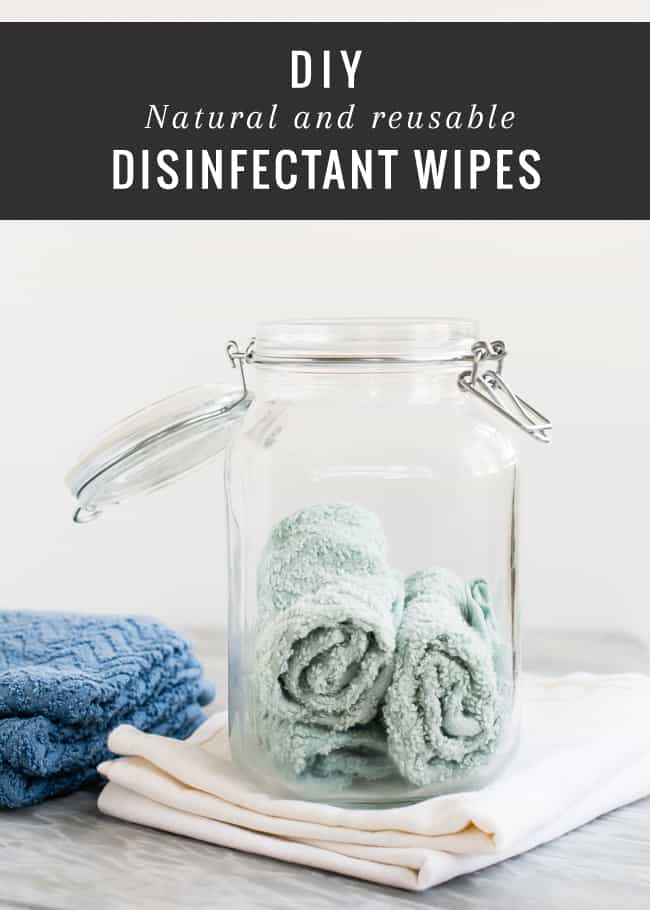 Why These Disinfectant Wipes Work
Distilled white vinegar is an awesome all-purpose cleaner. In fact, someone once told me that hotels typically use white vinegar to clean everything from bathroom sinks and mirrors to windows and tabletops.
Thanks to its acidity, vinegar is able to cut through tough grease, grime, and mineral deposits, leaving you with a streak-free shine. Not to mention, it's a great natural deodorizer (once the vinegar smell goes away, that is).
For more serious germ-fighting power, I recommend using isopropyl (rubbing) alcohol. It cleans and de-greases like vinegar, plus it's safe for most surfaces. Since rubbing alcohol may be hard to find now, you can substitute 150+ proof grain (ethyl) alcohol in place of 70% rubbing alcohol. Or stick with your basic vinegar solution, which is better than nothing.
Once you've chosen a disinfecting agent, just couple it with dish soap (another fantastic de-greaser) and essential oils and you have an all-natural cleaning agent with some serious grime-fighting power.
Note: I'm a huge fan of all-natural castile soap, but I find that it's not as good at cutting grease as dish soap, and that's a big deal for me. Since we're trying to cut toxins, I recommend using a natural dish detergent like this one. But if you prefer liquid castile soap, go ahead and give it a try and let us know in the comments how it works.
Now, before you go wiping your homemade cleaner on everything, just be forewarned, vinegar can be tough on certain surfaces. Keep it away from granite, marble and soap stone counter tops. And avoid using it on or around metal or solid wood furniture.
Not only can vinegar eat away at the protective barrier on these surfaces, it can also leave watermarks, which are hard to get out.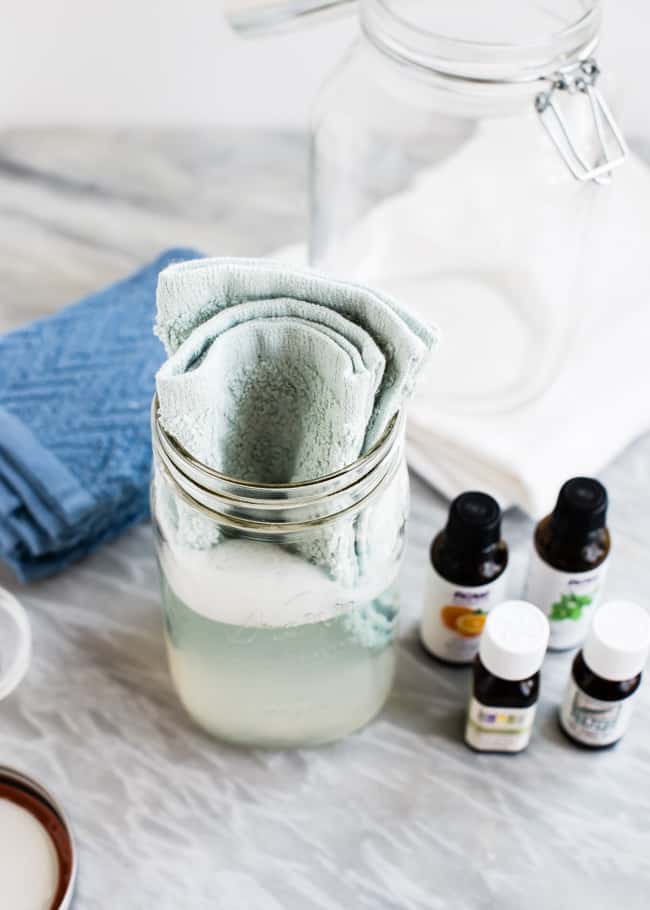 How to Make Your Own Reusable Disinfectant Wipes
All you really need are two things: an old cloth you can toss in the washing mashing and a sanitizing solution.
When making your own sanitizing wipes, you can use several different materials for the wipes themselves:
t-shirts
old terry dishcloths
old wash cloths
flour sack towels
I bought some inexpensive dishcloths at a discount store. They're a great size and I love that they have a little bit of texture for when I need to scrub something. I've also used flour sack towels and old ankle socks.
Vinegar-based Cleaning Solution
Mix vinegar, dish soap and essential oil in a wide-mouth jar or bowl and dip the cloths into the solution, squeeze out the excess, and roll them up and store in a jar. If you want, you can also store the liquid in a separate jar and dip the cloths in as needed rather than doing it ahead of time.
Alcohol-based Cleaning Solution
At least where I live, it's been hard finding commercial disinfecting wipes at the store lately but these are a great substitute. You'll need either 70% isopropyl, 99% isopropyl or 150 proof grain alcohol for these since that's what the CDC recommends for kicking coronavirus to the curb.
1 cup 99% isopropyl alcohol (can also use 70% isopropyl alcohol or 150 proof grain alcohol—but leave out the water)
¼ cup water
1 tablespoon dish soap
50 drops tea tree oil
Mix alcohol, water, dish soap and essential oil in a wide-mouth jar or bowl and dip the cloths into the solution, squeeze out the excess, and roll them up and store in a jar. If you want, you can also store the liquid in a separate jar and dip the cloths in as needed rather than doing it ahead of time.
Alternatives to Alcohol
If you can't find the recommended types of alcohol where you live, you can always use bleach.
Add 1/4 cup bleach to 1/2 gallon of water. Since this recipe doesn't contain alcohol, technically it doesn't meet the CDC's guidelines, however it should do a number on germs as long as you let it sit on surfaces for 10-15 minutes. Do not apply this solution to stone surfaces and be careful if you're wearing dark clothes.
Here's a complete list of alternative disinfectants from the EPA.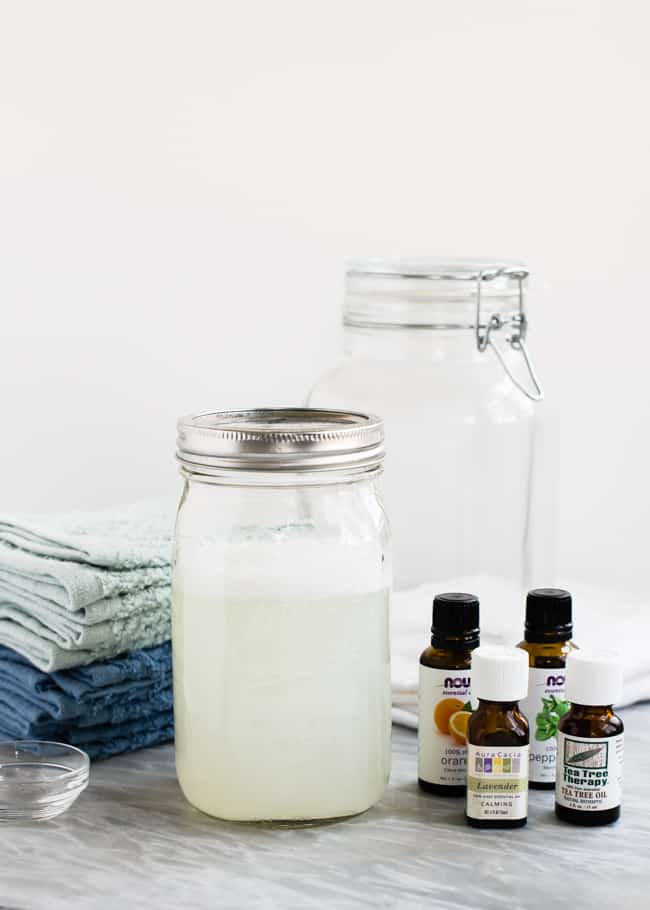 How to Use Disinfectant Wipes
I use these for every room of the house. When I moved recently, I pulled them out to use for cleaning every surface I could think of: walls, floors, cabinets, cupboards, baseboards, etc. These are the best wipes ever! You'll never go back to store-bought after using them. Plus, everything smells so fresh and clean. Total win!
According to Google, you can use rubbing alcohol on granite. While they recommend a 1:1 ratio of alcohol to water is ideal for granite, a little digging tells me that even straight rubbing alcohol is safe for most stone surfaces. I have been using this alcohol solution on my own granite counters for weeks now and haven't noticed any ill effects. Use it at your own risk.
You can also use these on:
Trash cans
Door knobs
Faucets and faucet handles
Cabinet handles and knobs
Drawer handles and knobs
Toilets
Light switches
Remote controls
Steering wheels
Gear shifts
Refrigerator handles
Oven handles
Microwave door handles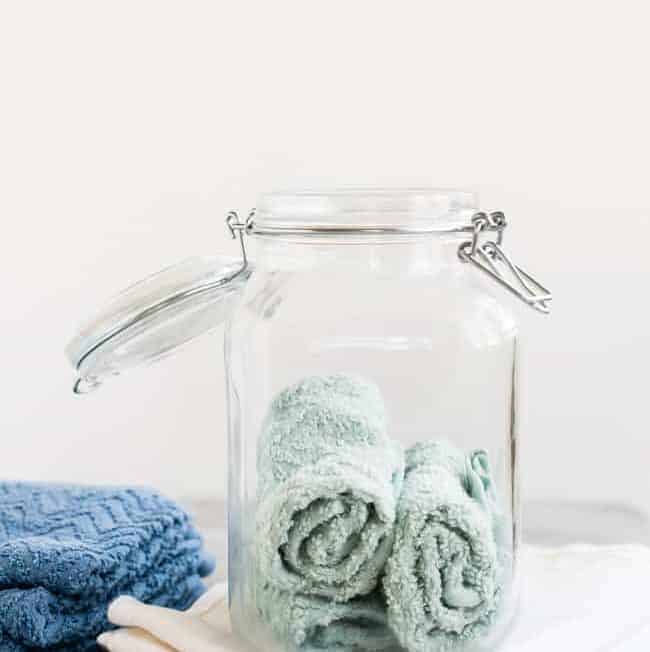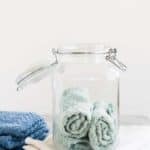 Print
Reusable Disinfectant Wipes with Essential Oils
Completely natural essential oil reusable disinfectant wipes made with three simple ingredients.
Equipment
Wide mouth jar with lid

Reusable cloth wipes
Materials
Vinegar Cleaning Solution
Alcohol Cleaning Solution
1

cup

99% isopropyl alcohol

may substitute with 70% isopropyl or 150 proof grain alcohol but leave out the water

1/4

cup

water

1

tablespoon

dish soap

50

drops

tea tree essential oil
Instructions
Combine ingredients in a bowl or jar and stir or shake well.

Add the cloths to the bowl and allow them to soak up the solution. Squeeze excess from the cloths.

Roll up and store in a jar. Wash used cloths and repeat process.
Notes
Wash your used cleaning wipes just like would a load of towels. If you run into residue issues, add a cup of baking soda to the wash.
Just to be on the safe side I recommend making a fresh batch of cleaning solution and wash all the towels every month or so.
115