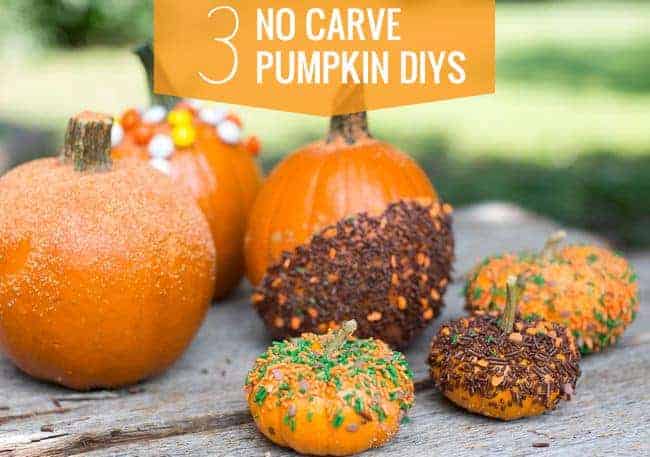 Finally! I was able to buy pumpkins! And the kids were psyched to immediately start decorating them. But there's something a wee bit scary about cutting into pumpkins with big knives around a three-year-old (cough, Henry). So I give you 3 no carve pumpkins that the kids will love (if they can stop eating the candy long enough to decorate). Meanwhile you can pat yourself on the back for being so darn crafty.
So I can rest easy now, right? Enjoy the pretty pumpkins until Halloween? Oh wait, did I mention that I left them outside and it poured rain all night long? Chocolate sprinkles and a major thunderstorm don't mix. Sigh.
3 No Carve Pumpkin Ideas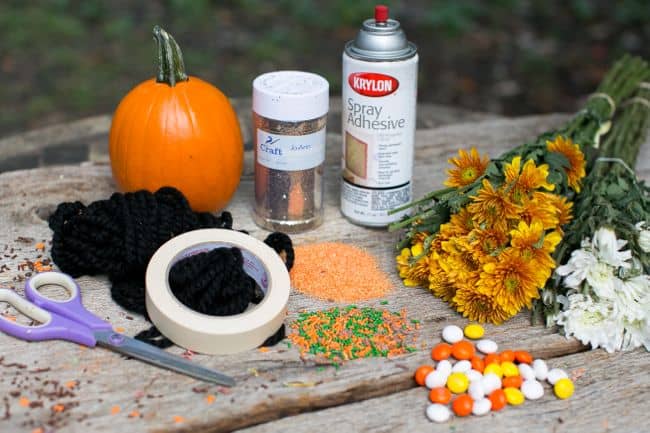 Supplies needed –
Pumpkins – I think pie pumpkins are jussst the right size!
Halloween sprinkles – hurry, you can get these at the Target $1 section
Flowers – Mums are perfect for fall! And they last a really long time too. Or you can get pretty dried flowers at the Dollar Store.
Yarn
Halloween candy
Glitter
Spray adhesive
Scissors
Masking tape
DIY Sprinkle Dipped Pumpkins
This project was a major hit with the kids (okay, mom too). Small pumpkins are great for this because with kids, the more sprinkles the better, and they can happily cover the whole pumpkin. You can also dip the pumpkins in glitter or confetti. Or just glue on individual pieces of candy.

Directions –
Tape off the pumpkin area you would like to keep sprinkle free and set the pumpkin on a tray or piece of newspaper.
Hit the portion of the pumpkin you want to decorate with a bit of adhesive spray.
Then sprinkle on the sprinkles.
DIY Flower Pumpkins
Spray adhesive is a crafter's best friend. There are so many things you can do with it. Like sticking fresh flowers to a pumpkin, of course.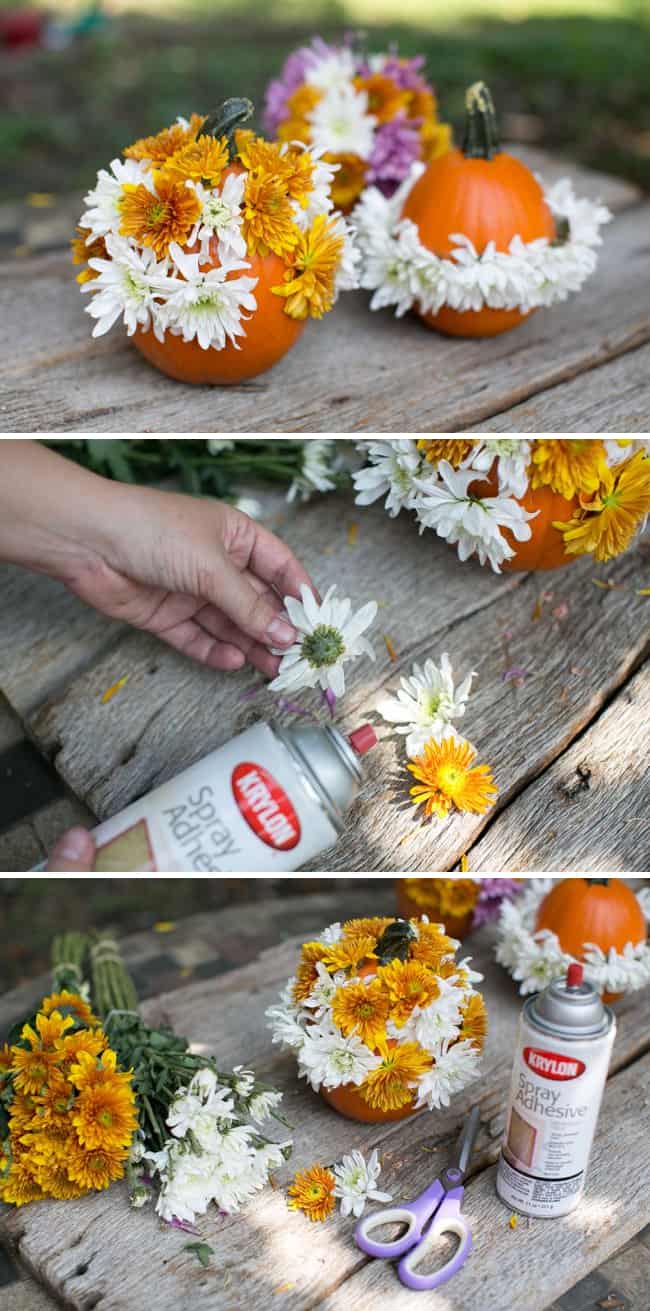 Directions –
Using scissors, cut the stem of the mums all the way to the base.
Spray a section of pumpkin with the adhesive.
Spray a bit of adhesive on the mum too. Then press the flower onto the pumpkin and hold in place for a few seconds until secure.
Obviously these won't last forever, but mums are pretty hardy and will look good for several days. But it's super fast project that makes a really cool centerpiece.
DIY Yard Wrapped Pumpkins
Yarn + pumpkins = an awesome fall combination. But frankly I don't have the patience to wrap an entire pumpkin. And the kids abandoned me 5 minutes ago to pick sprinkles off the pumpkins. :) So here's an easy wrap that still looks festive!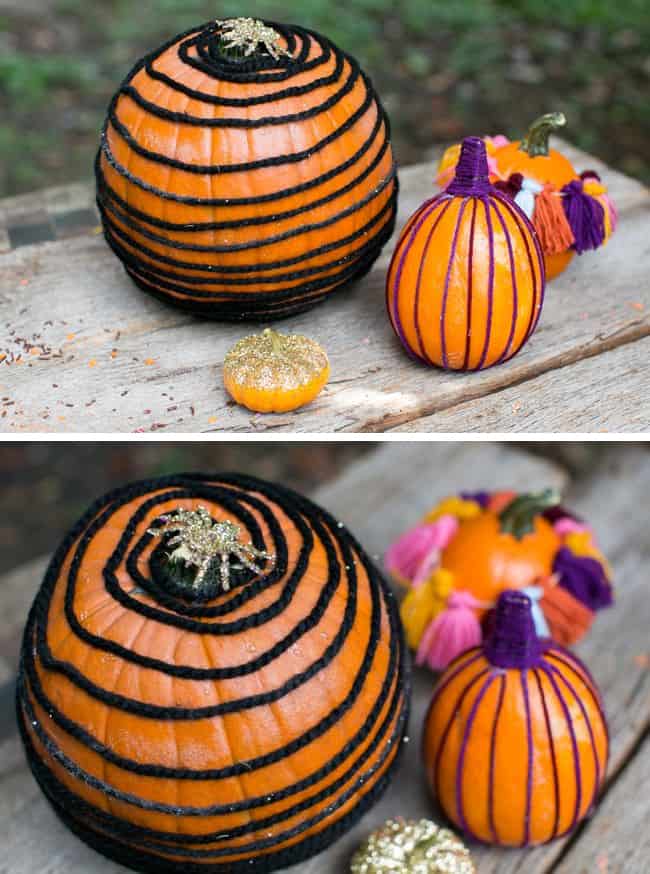 Directions –
Start wrapping at the bottom of the pumpkin. Spray in sections as you work the yarn around the pumpkin. Work quickly as the yarn tends to get sticky.
When you get to the top, trim any excess yarn.
You can wrap the top or stick on a glittery friend for extra embellishment.
Have you started decorating for Halloween? Let us know what you've made!
0