A few months ago I stumbled upon a fabulous clearance sale going on at DSW. I picked up some great wedges that I love. One pair was very cute, very comfy, but they didn't go with anything in my closet.
They were only $9, so I bought them anyway. I thought that I'd eventually find something to pair them up with, but instead, inspiration struck and I decided to give them a complete makeover. And, I thought that since this went over so well, I'd share the shoe makeover with you all!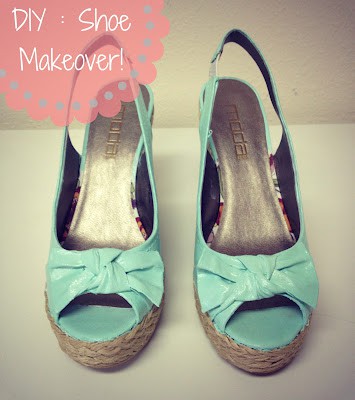 What you need:
1. Shoes
2. Tweezers
3. Painter's tape
4. Fabric & acrylic paints
5. You might also want to use a fan and hair drying to speed up drying times.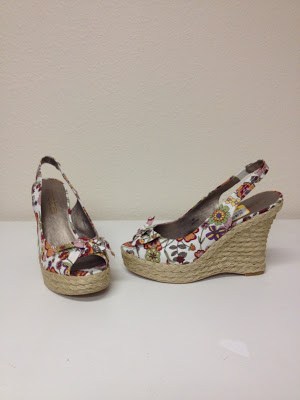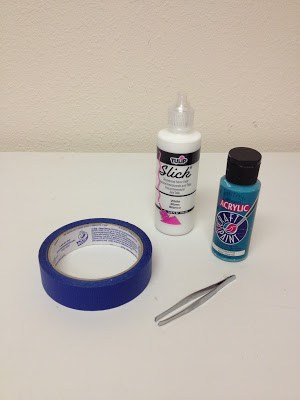 Step 1: Tape off the parts of the shoes you aren't painting. Take your time with this step, it'll be worth it in the end.
Use your fingernail to tuck the tape into the seams. This will ruin your manicure, but will make your shoes come out beautifully!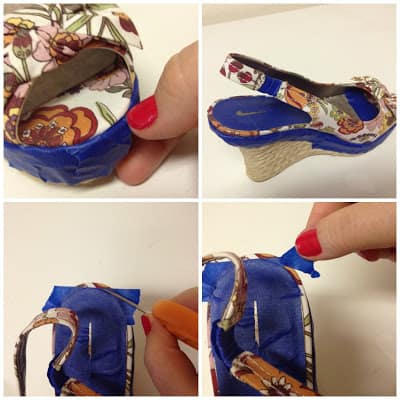 For those tricky rounded areas, simply lay your tape flat across them, and use a straight edge like scissors, a knife or a razor and gently cut around it. You don't have to cut all the way through, just enough to pull the excess tape away.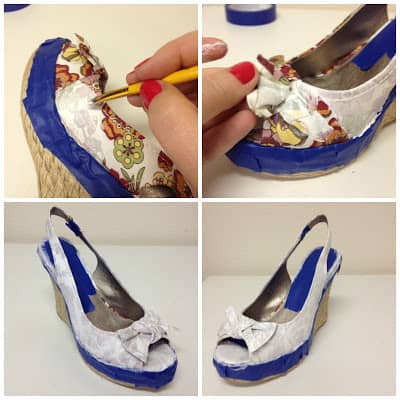 Step 2: Prime your shoe. Because I was going to paint my shoes a light color, I gave them two good coats of "primer" using white fabric paint (Tulip puff paint, squirted on a paper plate [this comes in hand later]) applied with a brush. Take care to apply your primer underneath overlapping areas, in little nooks, and on the underside of bows (or ruffles if your shoes have those).
After each coat, I placed my shoe in front of a fan while applying the next coat to the other shoe. I did this during priming and painting as well.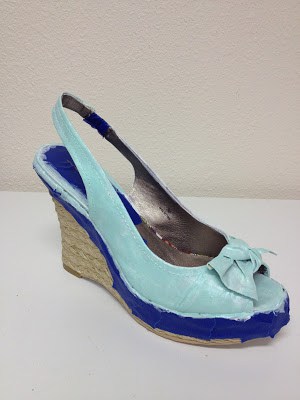 Step 3: Time to paint! Remember that Tulip brand puff paint squirted onto the paper plate? Now it's time to mix your shade! I used a few drops of acrylic paint until I got the shade of aqua that I wanted. I don't think it's any secret that I *adore* this color. I painted 3 coats of color and set the shoes in front of a fan for a little while to dry.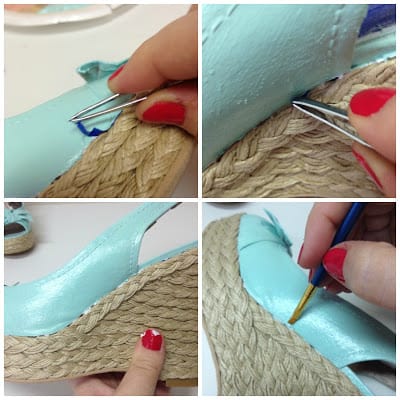 Step 4: Finishing touches. Peel off the painter's tape and exclaim at how lovely your new shoes are. But, then you cringe and realize you've got little tidbits of tape hanging on for dear life. Use your tweezers to remove all those tiny hang-ons. Then take a tiny paint brush to carefully fill in any missed spots. (And refer to the bottom left picture to see what I mean about ruining your manicure.)
After your touch-ups have dried, you're ready to go!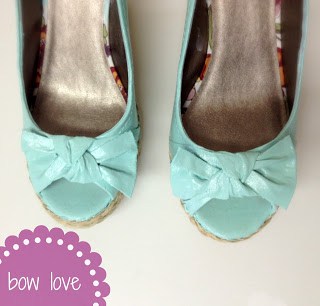 and…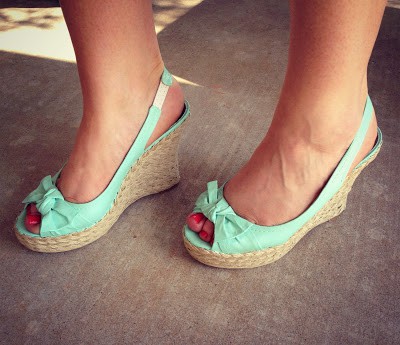 VOILA!
Evidently, the right pair of shoes also makes you speak French. ;)
100