Confession: I hate posing for photos. But give me a photo booth backdrop and some fun props, and I can't wait to get in front of the camera. There's just something about a photo booth that makes you take yourself less seriously, which is why this last-minute DIY is the perfect way to liven up your holiday party.
I've seen far more patient crafters make all sort of clever designs for DIY photo booths, folding tissue paper like origami or painting elaborate sets to serve as a photo backdrop. While I can appreciate the skill and time that goes into such handiwork, I am more of an impatient crafter—I love projects that provide instant gratification.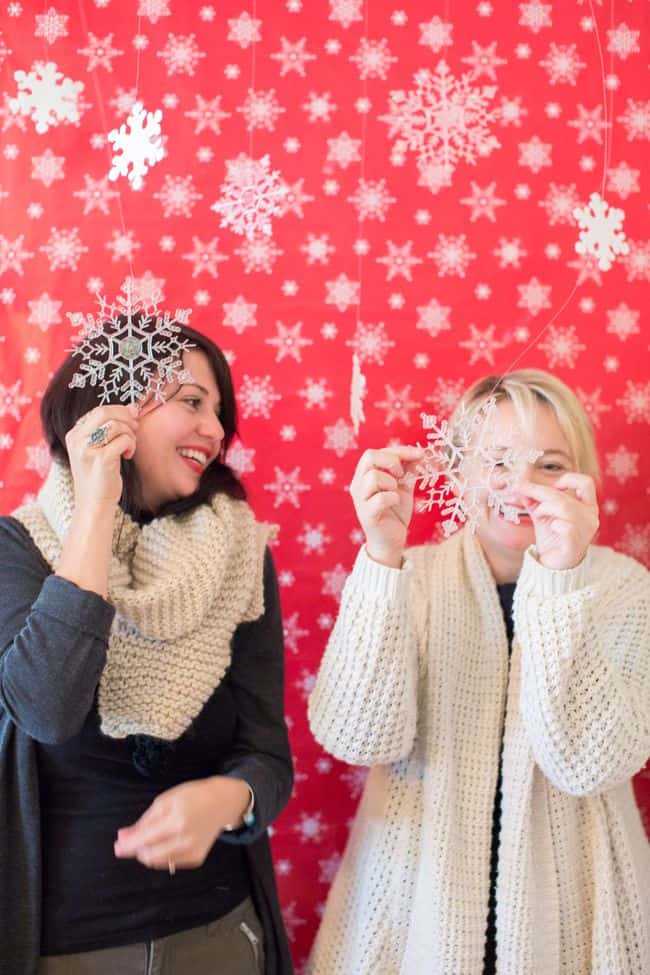 This last-minute DIY photo booth backdrop definitely comes together with minimal effort. All it takes is a roll of holiday wrapping paper (depending on the width of the wrapping paper, you made need two rolls), some double-sided tape, scissors, ornaments and fishing line.
Then just find an open wall in a well-lit spot of your house to hang your paper backdrop and ornaments, and your family and friends will flock to this space for silly photos. And around my family? After a cocktail? You know those photos are going to be keepers!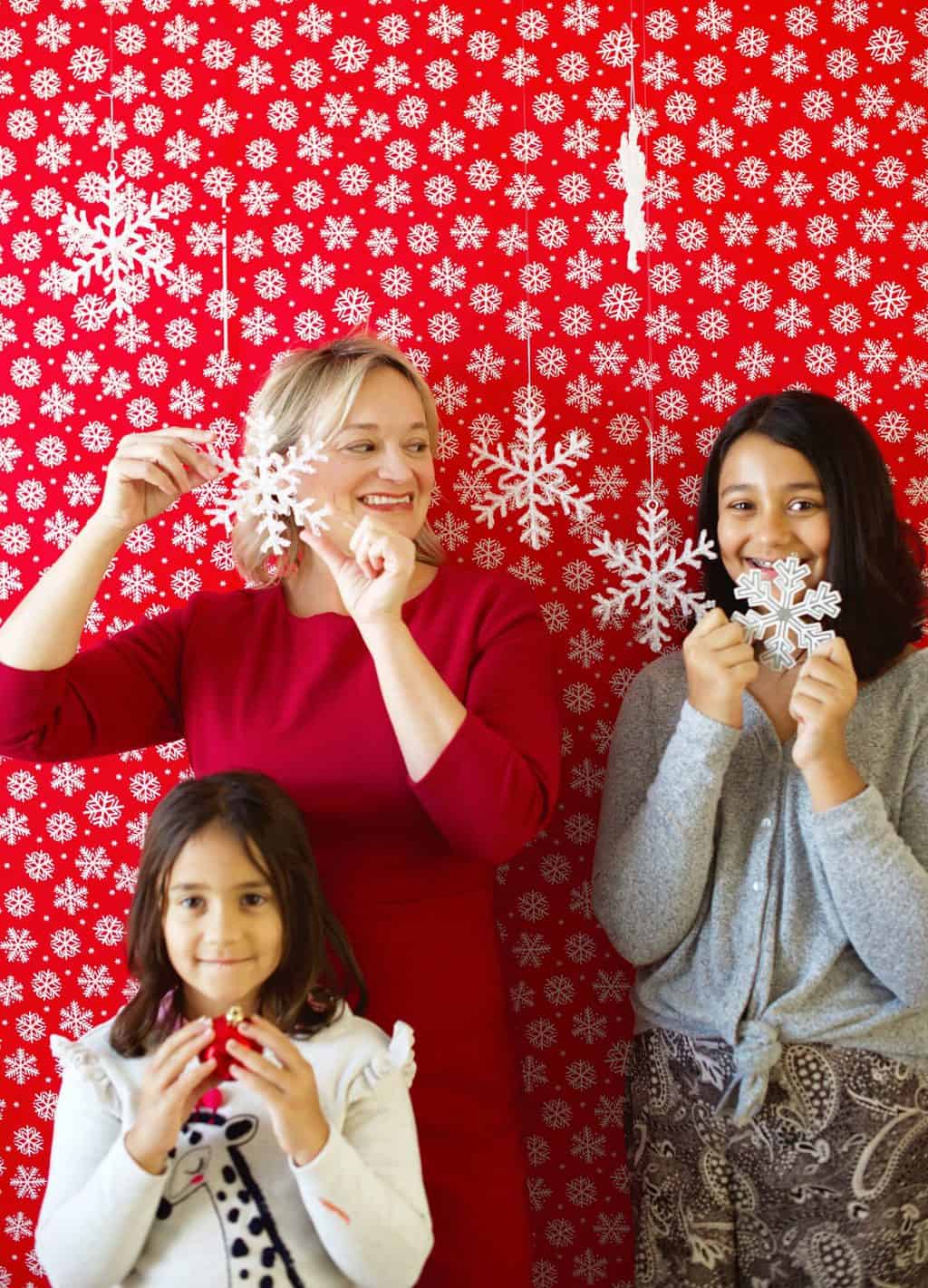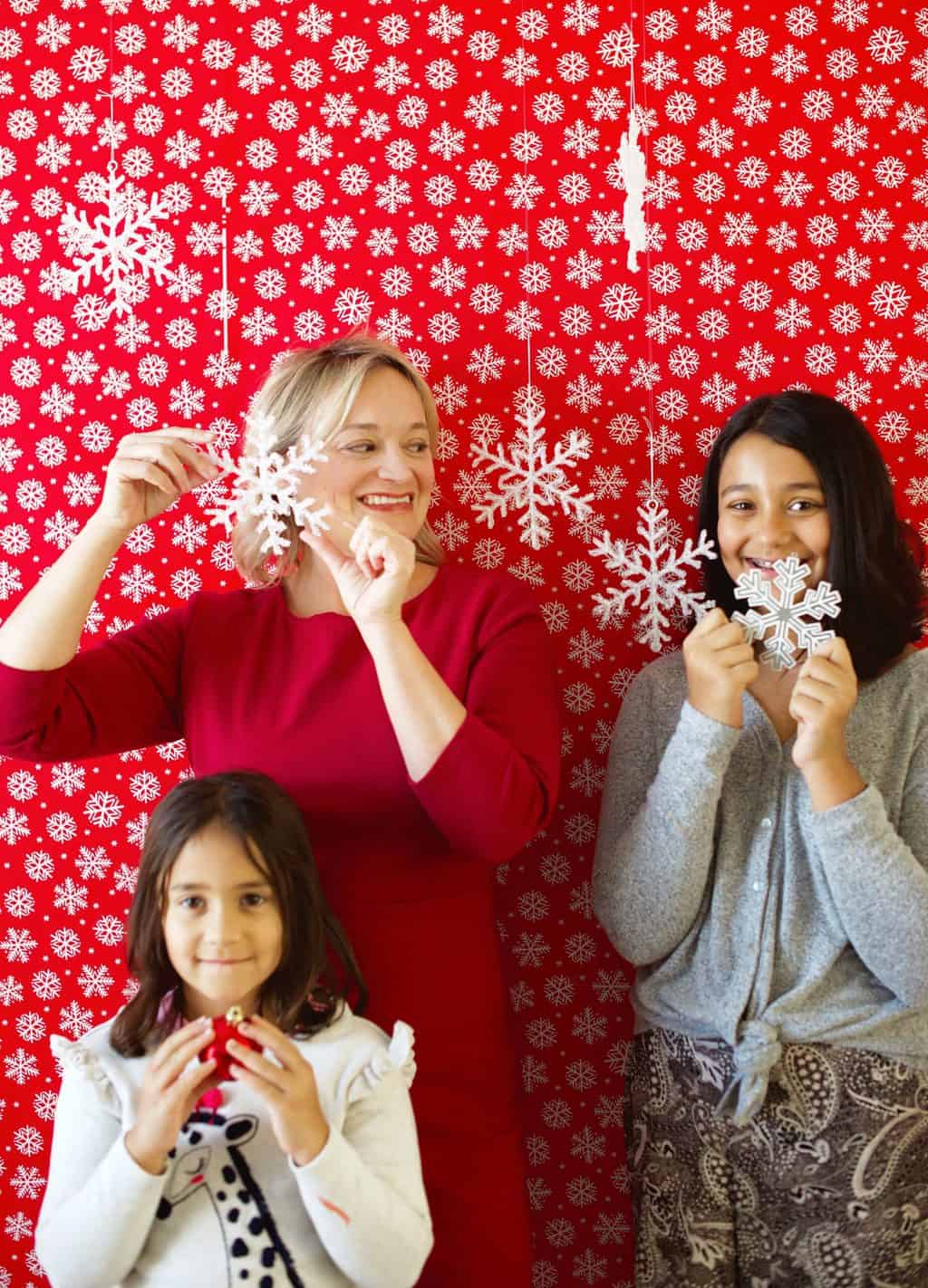 I love the idea of having a designated spot to capture memories. It's an easy project that makes a holiday gathering warm and memorable. As a hostess, I need more things like scented candles and fresh flowers that deliver maximum impact with minimum effort.
Just serve up some snacks and put on some Christmas music, and this photo backdrop will provide lots of entertainment for your guests. Even if you don't have a camera that you can set up on a tripod to capture the shots, your guests' cell phones will do just fine—plus, everyone will leave with photos to remember the night.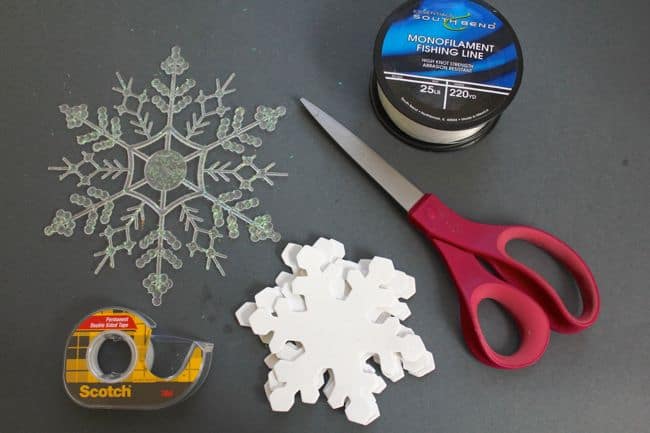 Last Minute DIY Photo Booth
This DIY photo booth backdrop came together in record time with just a few supplies from the dollar store.
Supplies needed
– Wrapping paper
– Snowflake ornaments
– Double-sided tape
– Fishing line (or other string)
– Scissors

Instructions
Step 1
Tape a roll of wrapping paper high on the wall and let it hang all the way to the floor. Add several pieces side by side until you achieve your desired backdrop width.
Step 2
Tie fishing line to snowflake ornaments and tape them to the ceiling at various heights.

Step 3
Finish by camouflaging the floor with a blanket or gift bags stuffed with tissue paper. (This is optional: depending on where you place the camera and how you frame the shot, you might not see the floor at all.)

Step 4
Create a festive mood with soft Christmas music, dim the lights and burn holiday candles. Set out a tray of holiday cookies and a pitcher of your favorite seasonal cocktails and mug away!
How do you make your home warm and inviting? Share your holiday hosting secrets!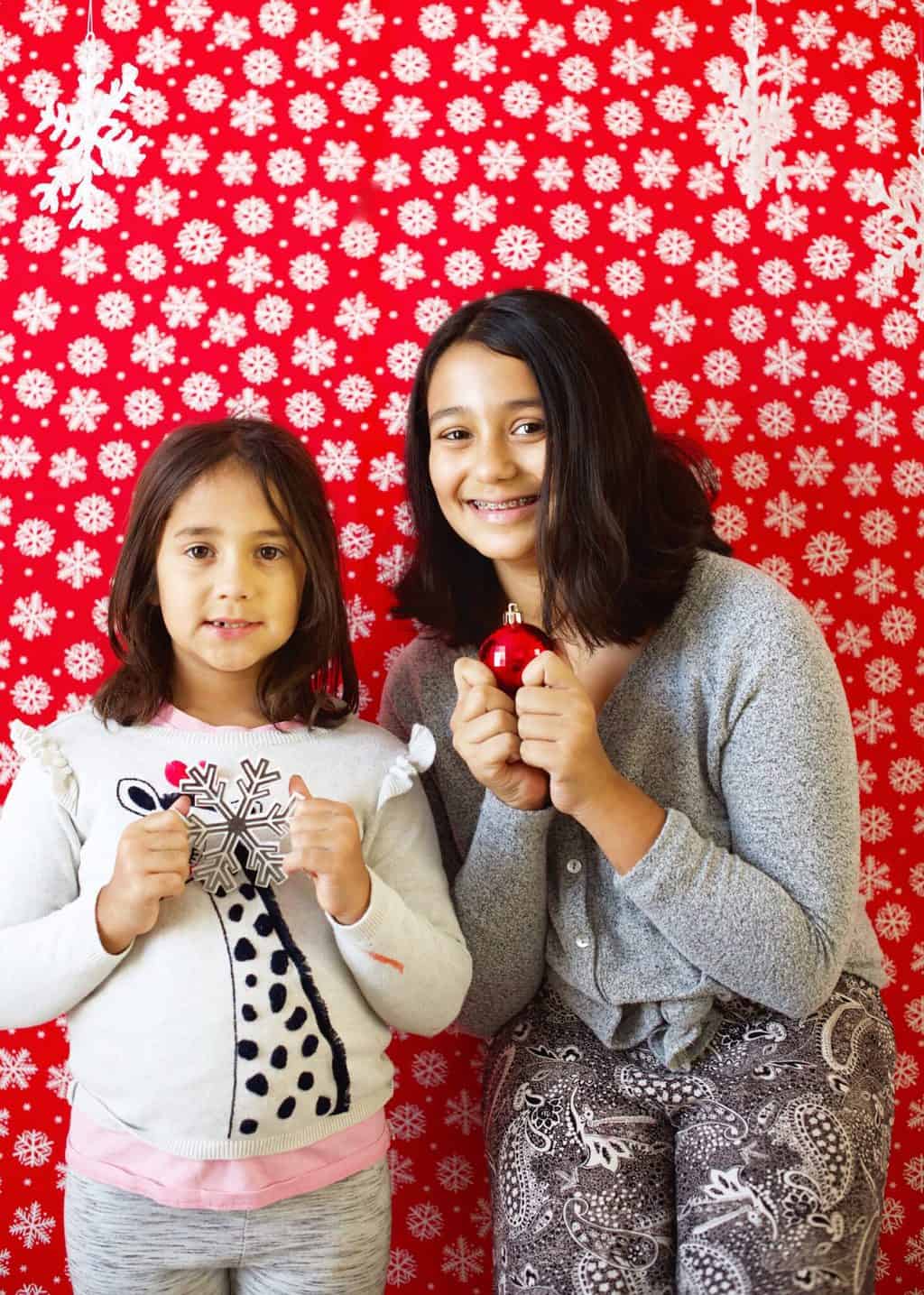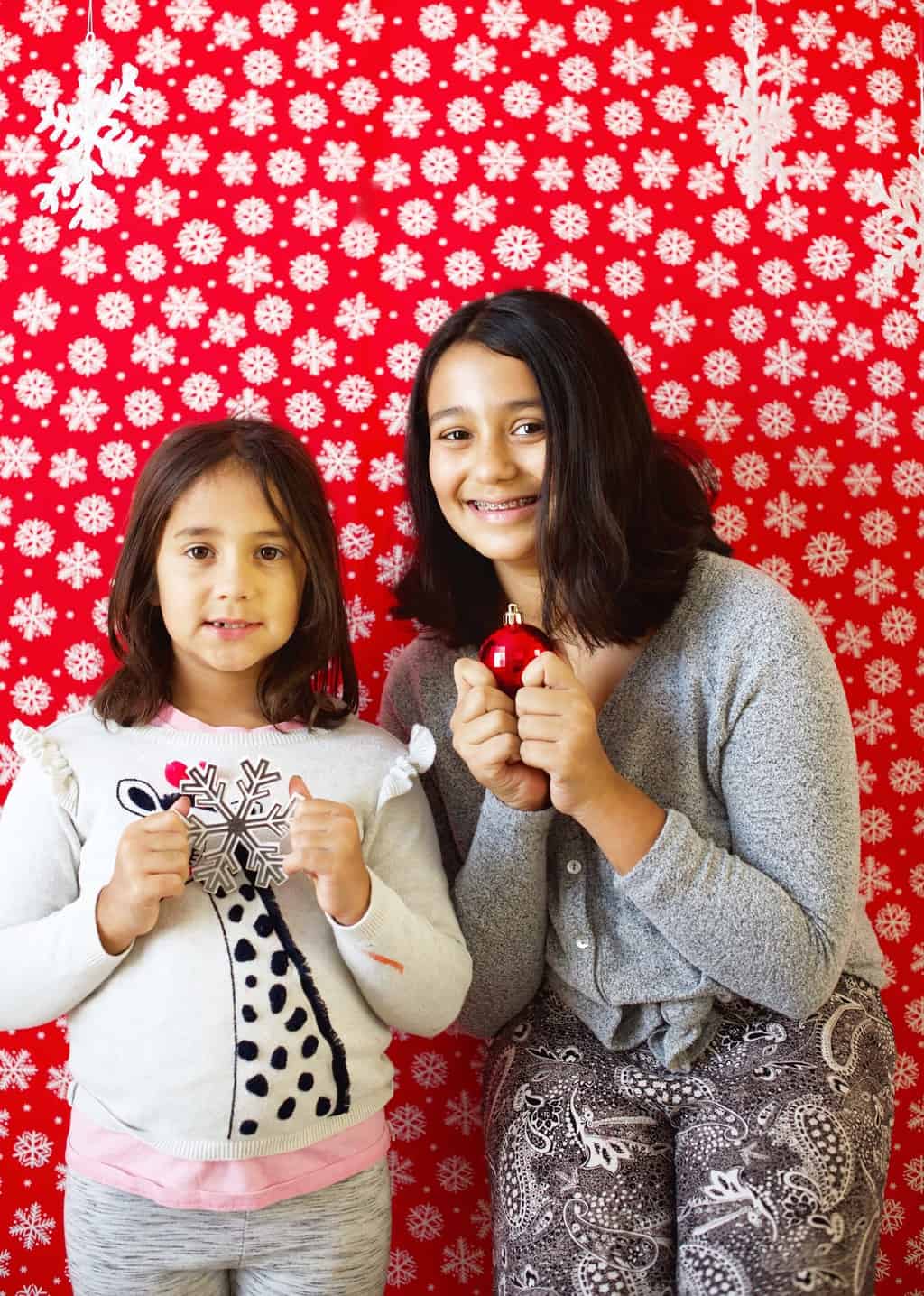 Last Minute DIY Photo Booth FAQs
Do I have to use double-sided tape to adhere the wrapping paper to the wall?
You can use whatever you have in your craft supply stash to hang this on the wall. Tacks work, too, but you'll have tiny holes in your wall to contend with afterward.
Painter's tape is also a great option, as it has enough hold to keep the wrapping paper in place, but it's designed to not damage the paint on your walls. I like double-sided tape because you can hide it behind the wrapping paper for a cleaner, more polished look.
What camera equipment do I need for a photo booth?
A basic digital camera of the point-and-shoot variety works just fine for your DIY photo booth. A tripod that's tall enough to capture your friends and a camera with a remote shutter release is ideal for a more streamlined set-up, but there's no need to get too technical with the photo booth process.
Ideally, if you have a few guests (and no fancy camera equipment), you can just ask your guests to snap photos with their cell phones. Or, for a fun throw-back option, leave a few disposable cameras near your photo booth backdrop and develop them after the party for a fun reminder of the night.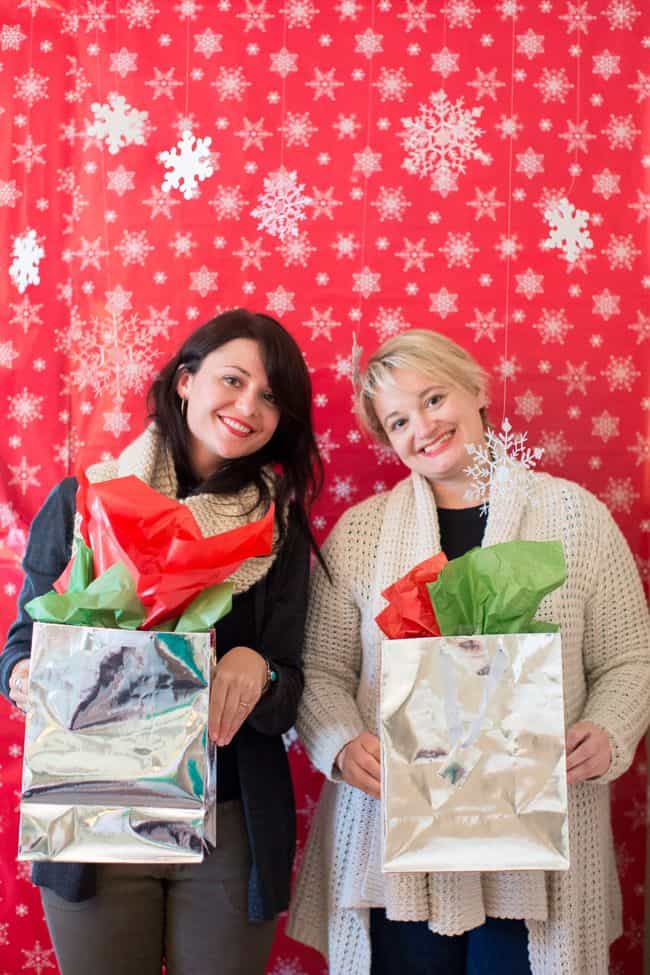 What kinds of props should I use for my DIY photo booth?
Grab an empty basket or bin and collect some theme-appropriate objects from around your house. Then place the basket on a table near your photo booth so guests can easily select props. Ornaments, wreaths, candy canes and even pine cones can make for fun seasonal props.
It's hilarious to see how creative your guests will get with the props. Tinsel garland can make an excellent scarf in a pinch, and leftover bows from wrapping presents make great hair accessories.
202