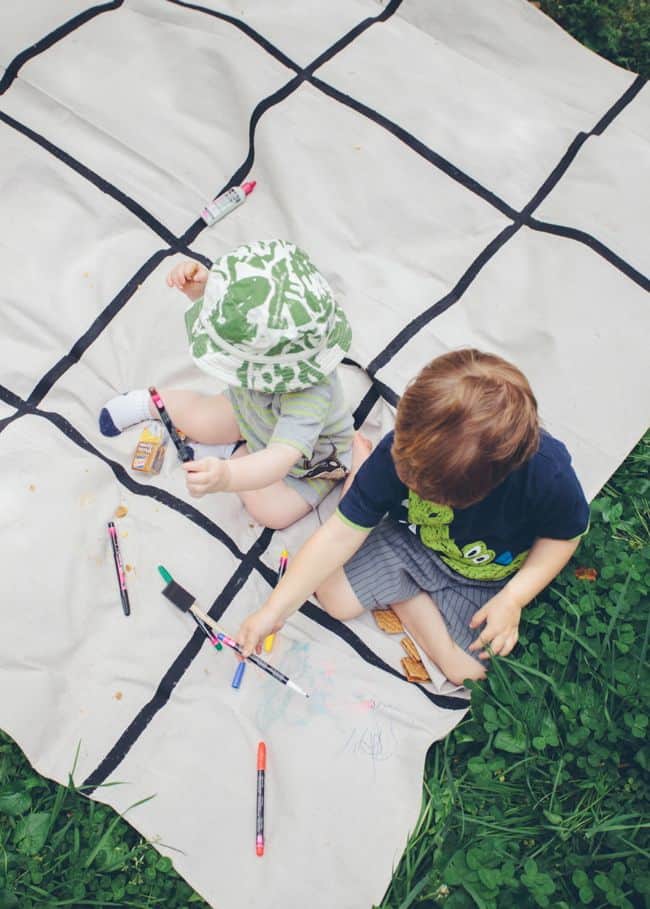 It's Memorial Day weekend! Hurrah! This long weekend always feels like the unofficial start of summer. Last year I was 39 weeks pregnant, praying like crazy I would go into labor (no such luck). This year I'm thrilled that all I have to do is kick back and relax by the pool.
For some reason I'm more excited about summer than usual. I'm bursting with plans for big adventures. Perhaps it's not having a newborn? Maybe I'm just ready to get out of the house? This picnic blanket was made to inspire summer outings and to capture the memories. My goal is to keep the blanket (and fabric pens) in the car so that every time it comes out we decorate a new square. Then at the end of the summer we can look back over our adventures. And it's a lot of squares!
Summer Memory DIY Picnic Blanket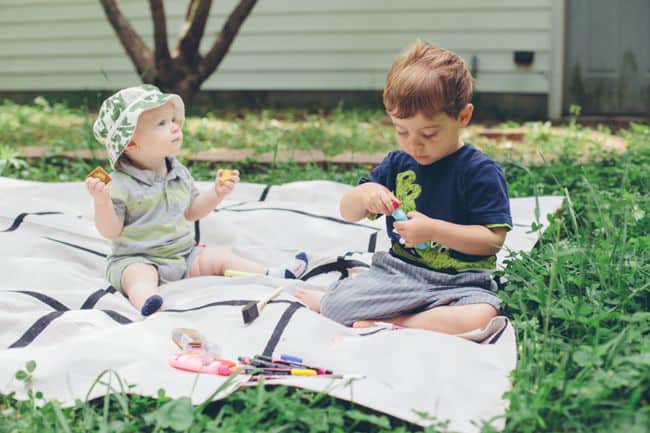 The windowpane idea was inspired by a Kate Spade Saturday beach blanket. I would go crazy trying to make tiny squares so we went big. Henry decorated the first window with a big H for Henry. Caroline – my budding artist – loves it. And I figure at the very least it might distract Sam from eating the grass.
Supplies:
Plain blanket – mine was a 9×12 drop cloth from Home Depot
Masking tape
Tape measure
Black paint
Foam brush

The Home Depot drop cloth was so far from being square that it was comical. So I don't have exact measurements to share because I'm sure every one is different. But my stepdad is a math whiz, and he created a grid for 24 roughly equal squares with masking tape.
We did one half of the blanket first (12 squares) so the lines would be easier to manage. First we used tape to mark the line that would be painted. Then we laid out another piece of tape on either side of that tape and pulled up the middle piece to expose the fabric. Finally we painted the middle line black and pulled up all of the tape.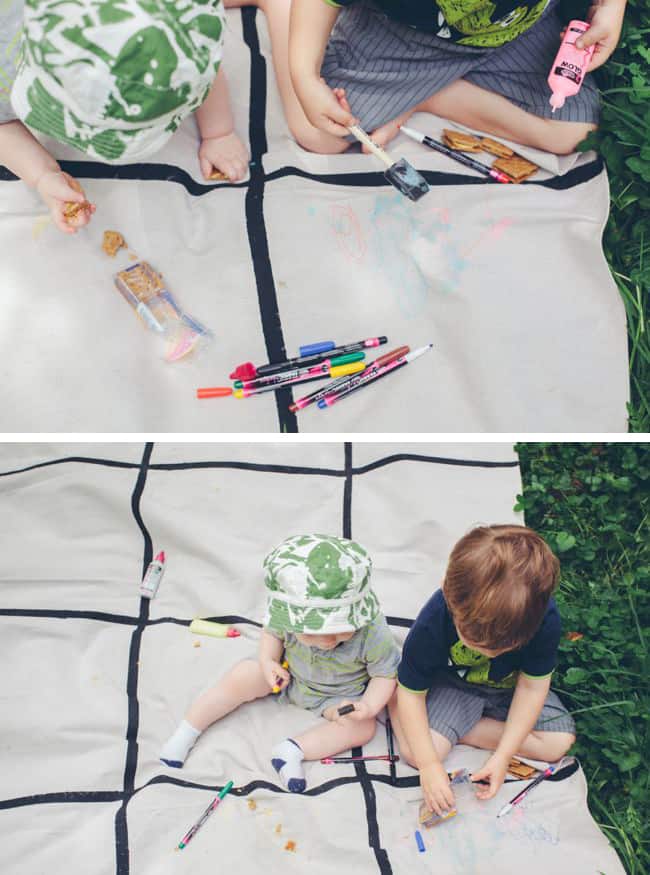 Now to come up with a list of summer adventures. Strawberry picking is first on the list I think. And I love these 50 ideas from Real Simple – they ought to keep us busy!
What's on your summer to do list?
1