With a pinkalicious 6-year-old daughter, I now have an entirely new opinion on the color pink. My feelings for the ubiquitous color have ranged from irrational hatred to tired acceptance to now grudging appreciation. It's an unabashedly girly color, and I rather admire my daughter's desire to wear her 'team pink' allegiance with pride. (Though I still wish there was a tiny bit of room in the acceptable clothing color spectrum.)
But pink is one of the things I love about Valentine's Day. And since we happen to love candles around here I turned some mason jars into pretty-in-pink candles.
Supplies needed:
Mason jars
Mod Podge (I like using the gloss or glitter kinds.)
Red food coloring
Wicks
Instructions
Step 1
Combine 1 tablespoon gloss Mod Podge with 1/2 tablespoon water in a small cup. Add one drop of red food coloring and mix well. If you want a darker color, add food coloring one drop at a time. When you have a color you like, pour the mixture into the jar and swirl it around until the inside is completely covered.
Step 2
Pour out any excess liquid and let the jars dry for at least 45 minutes. Then bake at 225 degrees for 1 hour. Above is what the jar will look like once baked.
Step 3
After the jars have cooled, slowly melt the soy wax chips using a double broiler and secure the wick to the bottom of the jar. Once the wax is completely melted add essential oil scent and stir. Then pour into the jar and let it sit until the wax hardens. Trim wick if needed.
Note: the first candle I poured was in the short light pink jar. The pink color melted some and slid to the bottom, but it didn't do that with the rest of the jars. I'm guessing it was because the wax was hotter with the first candle so I'd recommend letting the wax cool for a minute or so before pouring.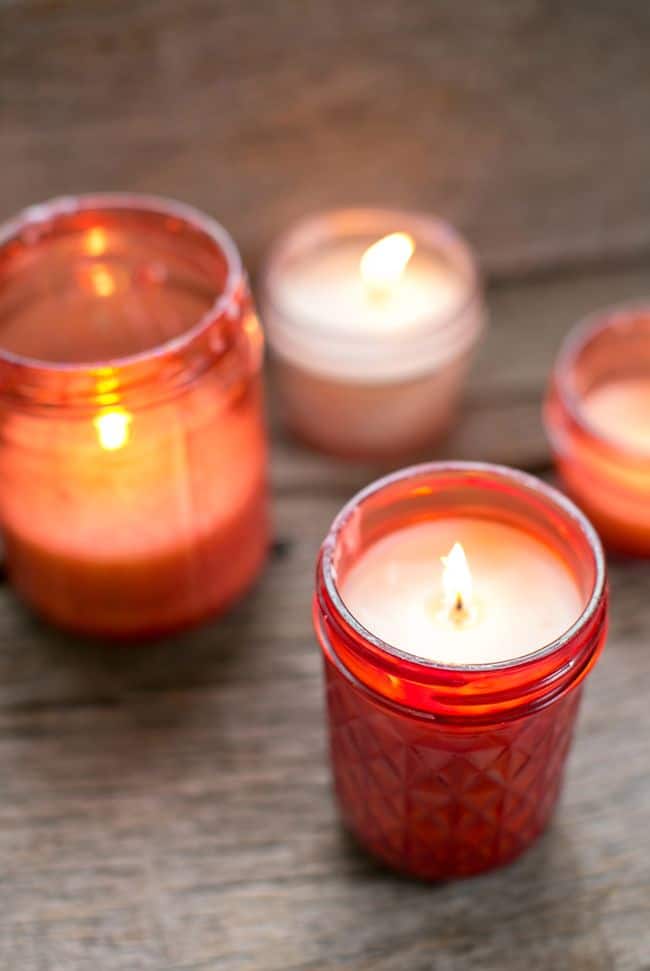 This is a great recycling project for old jars. Because when you have more jam jars than regular glasses, you might have a problem.
16