Like all things surrounding the famous Japanese artists, a geisha's beauty routine is often presented as a thing of mystery. But truth be told, the secret of their beauty lies in all natural ingredients. Things like green tea, rice, sea salt, adzuki beans, camellia oil, seaweed or apple cider vinegar have long been included in their beauty regimen.
Of course, it also goes down to a lifetime of eating well. But here are natural Japanese beauty recipes with ingredients you can find in virtually any supermarket. Try this Rice Milk Cleanser for skin that's just as flawless as a Geisha's.
Rice milk cleanser recipe
As we age, we lose moisture in our skin and should replace our gel cleansers with gentle creamy and milk-based cleansers. Brown rice flour has anti-inflammatory benefits that help treat sensitive skin, while the rice milk provides vitamin A and calcium. The grains do not dissolve easily in liquid, and help exfoliate your skin while they soothe it.
Because this is an all-natural cleanser, it doesn't have any foaming ingredients to irritate or dry out skin—perfect for more mature skin, or anyone that needs more hydration in their routine.
This is a great scrub for buffing away dead skin and adding some glow—if you have time, you can leave the scrub on your face as a quick mask (for five minutes or so) to help your skin make the most of the rice milk and rice flour. After rinsing, follow up with your favorite moisturizer for super-radiant skin, all thanks to rice! It's a really underestimated ingredient in almost everyone's pantry and actually does a lot for hair and skin (that is, if you know how to use it.)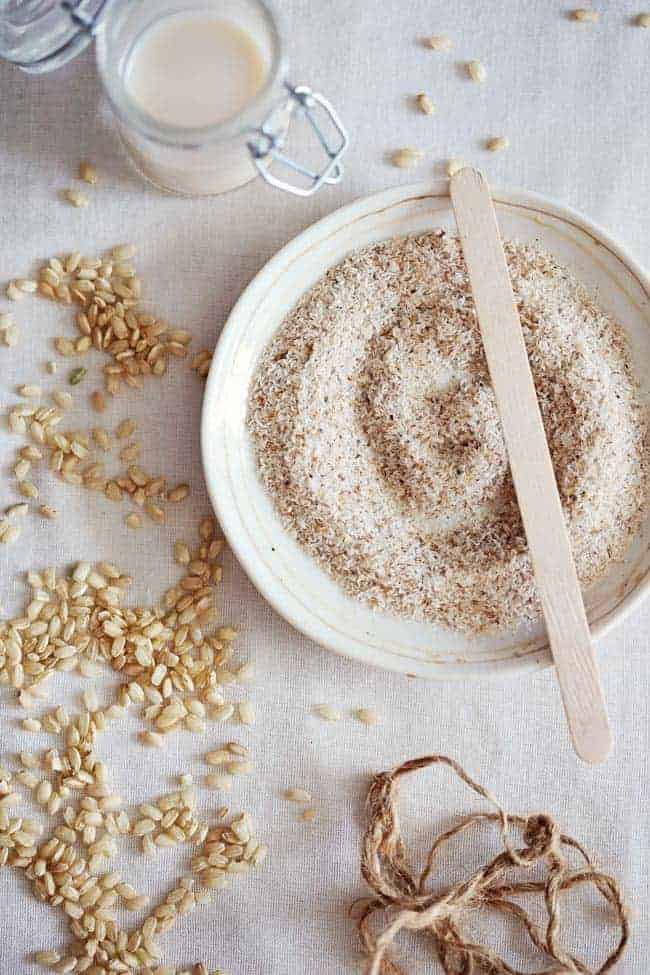 If you're in a pinch, a rice flour scrub with distilled water is fine too. A popular ingredient that's touted to help with basically everything (skin, hair, nails) is rice washing, aka the water that's left behind after washing rice. (In case you didn't know, people usually wash their rice before cooking—it helps make it super fluffy!)
Mixing distilled water with rice flour helps you take advantage of all the goodness of rice water, without needing to have washed a whole lot of rice. Studies have found that rice water has antioxidant abilities, protecting skin from free radicals and slowing down the signs of aging. Pretty impressive, right?!
Supposedly, it's even better when fermented for a few days—maybe something that I need to try the next time I buy some rice. It's even supposed to help with hair growth —and I kind of believe it when I see how gorgeous the results are!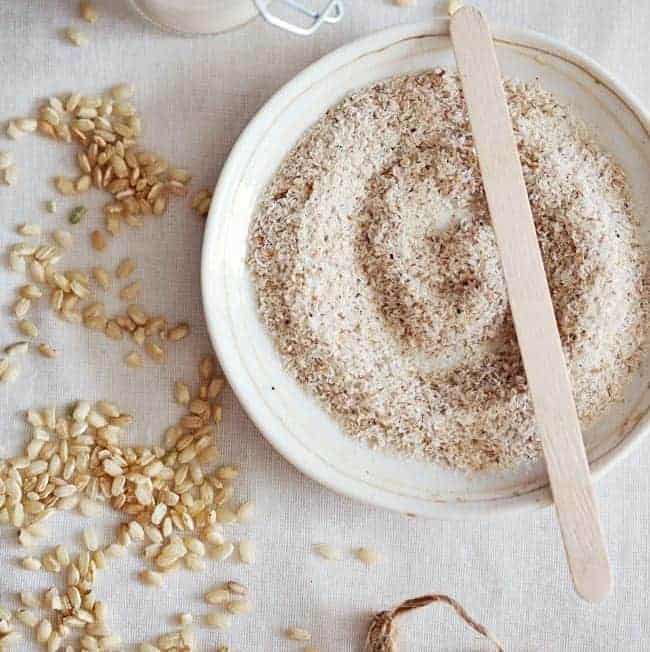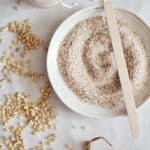 Print
Rice milk cleanser
Make an anti-aging rice milk cleanser and two more natural Japanese beauty recipes with ingredients you can find in virtually any supermarket.
Instructions
Mix the flour and milk together to form a paste. Massage a small handful of rice gently into skin, avoiding the eye area. Let sit for 1-2 minutes, then rinse with warm water.
Notes
Use rice cleanser immediately. If you have extra, you can store it in the refrigerator for up to 2 days.
Photos by Ana Stanciu
205