Like all things surrounding the famous Japanese artists, a geisha's beauty routine is often presented as a thing of mystery. But truth be told, the secret of their beauty lies in all-natural ingredients. Things like green tea, rice, sea salt, adzuki beans, camellia oil, seaweed, and apple cider vinegar have long been included in their beauty regimen.
(Of course, it also comes down to a lifetime of eating well... but who's counting?)
For us in the west, it's never too late to start babying our skin using tips and tricks passed down through the centuries. This 2-ingredient rice milk cleanser will have your skin looking as flawless as a geisha's in no time.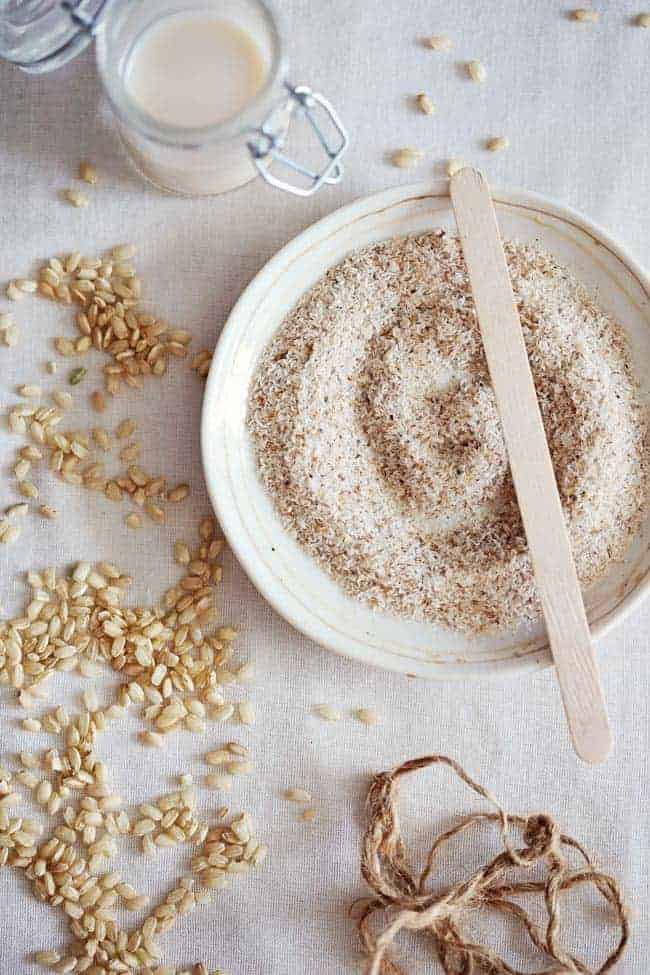 Benefits of Rice Milk
As we age, we lose moisture and elasticity in our skin. That means we should replace our harsh cleansers with gentle milk-based cleansers if we hope to keep our skin looking soft and radiant. That's where rice can help.
Rice milk:
Fights inflammation - Brown rice flour has anti-inflammatory benefits that help treat sensitive skin, while rice milk provides vitamin A and calcium [source].
Exfoliates dry skin - Since the grains do not dissolve in liquid, rice helps gently exfoliate skin.
Clears pores - Its gentle exfoliant action can help clear pores and keep acne-causing bacteria at bay.
Won't exacerbate dry skin - Since there aren't any foaming ingredients to irritate or dry out skin, rice milk cleansers are perfect for more mature skin (or anyone that needs more serious hydration in their routine).
Has anti-aging effects - Recent research has uncovered three specific compounds contained in rice grains that were shown to inhibit aging [source].
How to Use a Rice Milk Cleanser
This is a great scrub for buffing away dead skin and adding some glow. If you have time, you can leave the scrub on your face as a quick mask (for 5 minutes or so) to help your skin make the most of the application of rice milk and rice flour.
After rinsing, follow up with your favorite moisturizer for super-radiant skin, all thanks to the wholesome goodness of rice! It's an underestimated ingredient in almost everyone's pantry and actually does a lot for hair and skin—that is, if you know how to use it.
If you're in a pinch, a rice flour scrub with distilled water is fine too. A popular ingredient that's touted to help with basically everything (skin, hair, nails) is rice washing, aka the water that's left behind after washing rice. (In case you didn't know, people usually wash their rice before cooking—it helps make it super fluffy!)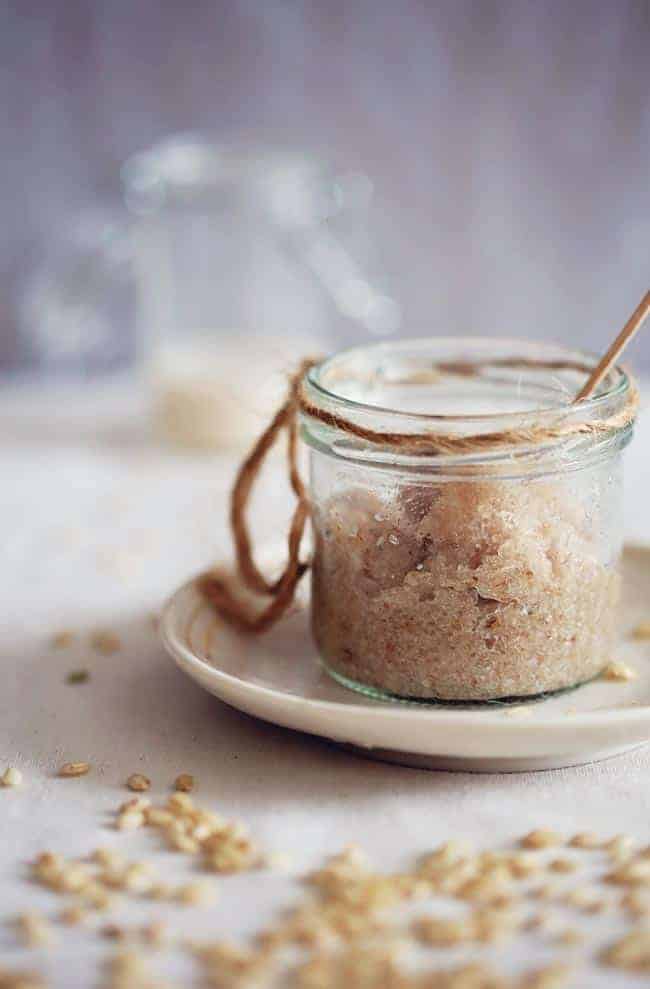 Mixing distilled water with rice flour helps you take advantage of all the goodness of rice water without needing to have washed a whole lot of rice. Studies have found that rice water has antioxidant abilities, protecting skin from free radicals and slowing down the signs of aging [source]. Pretty impressive, right?!
Supposedly, it's even better when fermented for a few days—maybe something that I need to try the next time I buy some rice. It's even supposed to help protect and beautify the hair [source]—and I kind of believe it when I see how gorgeous the results are!
Alternative Uses and Recipe For Making Cleansing Milk
Cleansing milk is a gentle and effective way to remove dirt, oil, and makeup from your skin. It's also a great way to pamper your skin with natural ingredients that can nourish and hydrate. If you're looking for a DIY cleansing milk recipe, you've come to the right place.
To make cleansing milk at home, you'll need a few simple ingredients. Start by gathering some raw milk, honey, and rose water. Raw milk is a great base for cleansing milk because it's rich in lactic acid, which can help exfoliate and brighten your skin. Honey is a natural humectant, which means it can help your skin retain moisture. And rose water is a natural toner, which can help balance your skin's pH.
To make your cleansing milk, start by pouring a cup of raw milk into a bowl. Add a tablespoon of honey and a tablespoon of rose water. Mix everything together until it's well combined. You can use a whisk or a blender to make sure everything is fully blended.
Now it's time to apply your cleansing milk. Start by wetting your face with warm water. Then, use your fingertips to massage the cleansing milk onto your skin. Be gentle and make sure you cover your entire face, including your neck and jawline. Avoid getting the cleansing milk in your eyes.
Once you've massaged the cleansing milk onto your skin, let it sit for a few minutes. This will give the ingredients time to work their magic. Then, rinse your face with warm water and pat dry with a soft towel.
Cleansing milk is a gentle yet effective way to cleanse your face, especially if you have sensitive and dry skin. This type of cleanser is formulated with nourishing ingredients that help remove impurities without stripping your skin of its natural oils.
If you have sensitive skin, you know that finding the right skincare products can be a challenge. Many cleansers on the market contain harsh ingredients that can irritate and dry out your skin. Cleansing milk, on the other hand, is specifically designed for sensitive skin.
The gentle formula of cleansing milk makes it ideal for those with dry and sensitive skin. It contains essential oils and other nourishing ingredients that help to soothe and calm the skin. Essential oils such as chamomile and lavender are known for their calming properties, making them a great addition to cleansing milk.
You can use cleansing milk in your daily skincare routine to keep your skin looking and feeling healthy. It's a great way to remove impurities and nourish your skin at the same time. Plus, making your own cleansing milk is easy and affordable. With just a few simple ingredients, you can create a luxurious skincare experience right at home.
Rice Milk Cleanser FAQs
How long does this cleanser last?
Because it contains water, it has a pretty short shelf-life. Store any leftover rice milk cleanser in the refrigerator and use it within 3–4 days, max.
Is rice milk cleanser good for dry skin?
Yes! Since it doesn't strip your skin of its natural oils, this cleanser will keep dry skin feeling soft and moisturized. If needed, follow up with a light face oil for added moisture.
Does rice milk help lighten skin?
There haven't been many scientific studies done on the subject, but anecdotal evidence suggests that it might. It wouldn't hurt to try it out for a few weeks and see what happens.
Can I use a rice cleanser every day?
Sure! Just keep an eye out for redness or irritation and take a break if any issues pop up.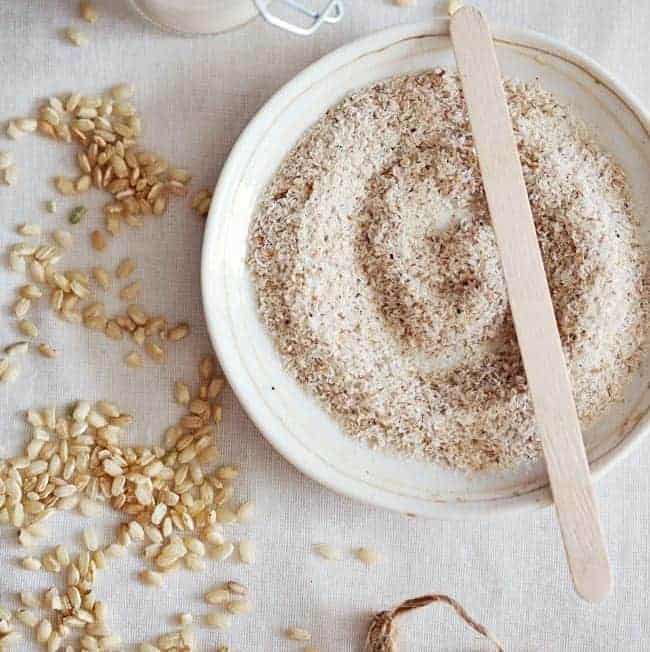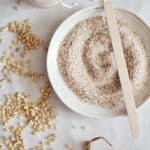 Print
Rice Milk Cleanser
Make an anti-aging rice milk cleanser with ingredients you can find in virtually any supermarket.
Instructions
Mix the flour and milk together to form a paste.

To use, massage a small handful of rice gently into skin, avoiding the eye area. Let sit for 1–2 minutes, then rinse with warm water.
Notes
Use rice cleanser immediately. If you have extra, you can store it in the refrigerator for up to 2 days.
This article was medically reviewed by Dr. Gina Jansheski, a licensed, board-certified physician who has been practicing for more than 20 years. Learn more about Hello Glow's medical reviewers here. As always, this is not personal medical advice and we recommend that you talk with your doctor.
Photos by Ana-Maria Stanciu
275