With Valentine's Day coming up, I have roses on the brain. And since we don't splurge on flowers that often, I want to make sure I enjoy them as long as possible. To extend their life, so to speak, I tried an easy body oil recipe that's perfect for dry winter skin. Plus, it preserves that natural rose scent that I love.
Rose Almond Body Oil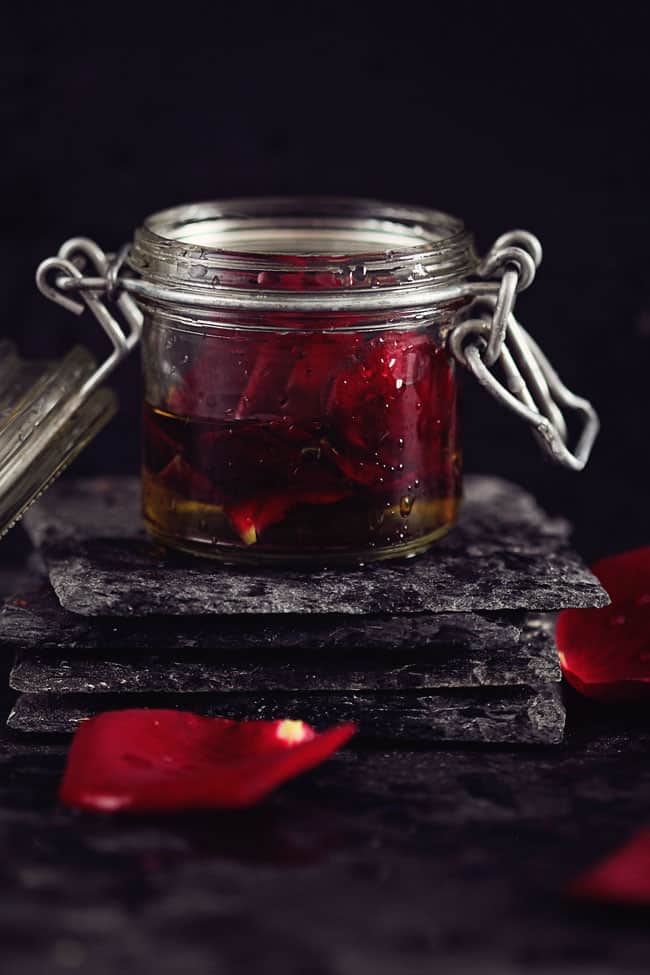 You'll need 1 cup of rose petals (2 to 3 roses) and 1 cup of almond oil (rich in vitamins E and D—yay!). I got a bottle at Whole Foods for about $4.50. Put the petals in a jar, crush them up a bit with a wooden spoon, and pour in the oil. Let the mixture sit for 1 week and then strain before using. While the rose petals do look really pretty in oil, you have to be very careful about leaving them in there. If you do, it's possible they could turn the oil rancid and spoil the whole thing—not what we want to go for!
This feels so good right out of the shower and smells great. Almond oil has been proven to naturally rejuvenate skin, and is being suggested as a natural oil to use post-operation to minimize scarring. That's really all the proof that I need to use this amazing oil!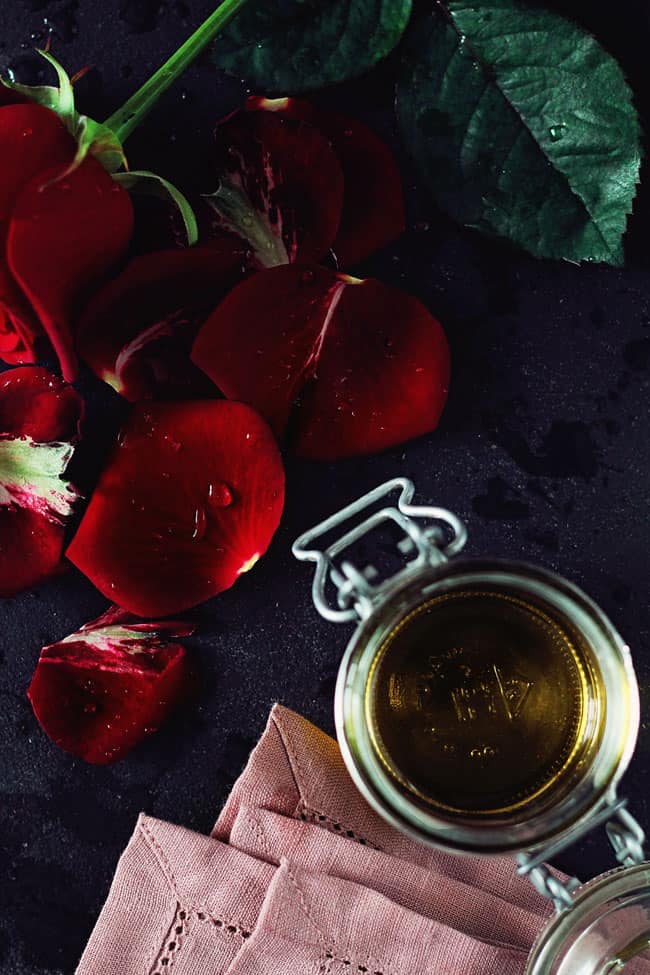 Want a few more ideas for your pretty petals?
1. Add to the bath
Not much explanation needed here. Run yourself a nice, hot bath, sprinkled with homemade rose milk bath. Or make these bath bombs with vanilla extract. And if you don't have the time for a bath, you can still use homemade soap with rose petals in your beauty routine.
2. Dry petals for potpourri
I'm not a huge fan of dried flowers as decoration (kind of creepy) but you can make potpourri after the petals are dried. Hang flowers upside down in cool, dry place. Once the petals are dry, you can remove them from the stem and add a scent, like rose oil. I like to put the scented petals in little natural fabric sachets and tuck them away in closets and drawers for a little boosted scent.
3. Add them to your next meal
Rose petals are edible! Try this yummy recipe for rose petal candies. Or if you're not sure if the petals were sprayed with any chemicals, just stick to garnishment or table decoration.
4. Pamper your face
Facial: Put about a cup of petals in the bottom of a large bowl. Add 2 cups of hot water. Sit with your face above the bowl—head covered with a towel—for about 15 minutes. The steam softens the skin and smells amazing, thanks to the rose petals.
Face mask: Combine 3–4 tablespoons of water with 8–10 petals in a small bowl. Let it stand for 2–3 hours, then crush the petals into the water. Add 3 tablespoons of honey, stir together, and slather the mixture on your face. Leave the mask on for 15 minutes, and then rinse with cool water.
Face scrub: Make a delicate scrub that cleanses the skin with roses, chamomile, and oats.
Face toner: Rose water tightens the pores and leaves the skin feeling smooth instead of dry. Get the rose water toner recipe here.
118