This post is sponsored by American Greetings. All opinions are my own.
My dad is one of those men who takes a surprising amount of joy in grooming. In fact, one of the first memories I have is of standing in the bathroom doorway watching him shave. Like a pro, he'd fill the bathroom sink with warm water, pat some shaving cream on his scruffy face and wield a razor with surgeon-like precision. It was our slow Sunday night ritual and I was absolutely mesmerized.
With Father's Day coming up, what better gift to give the special fathers in your life than a homemade shaving kit. Homemade gifts that are both thoughtful and useful go a long way towards showing loved ones exactly what they mean to you. And this DIY shaving kit, complete with a cleansing face scrub, hydrating shave cream, and soothing face lotion, does it all. When you're done, finish the whole thing off with a sweet note tucked inside an American Greetings card from Target.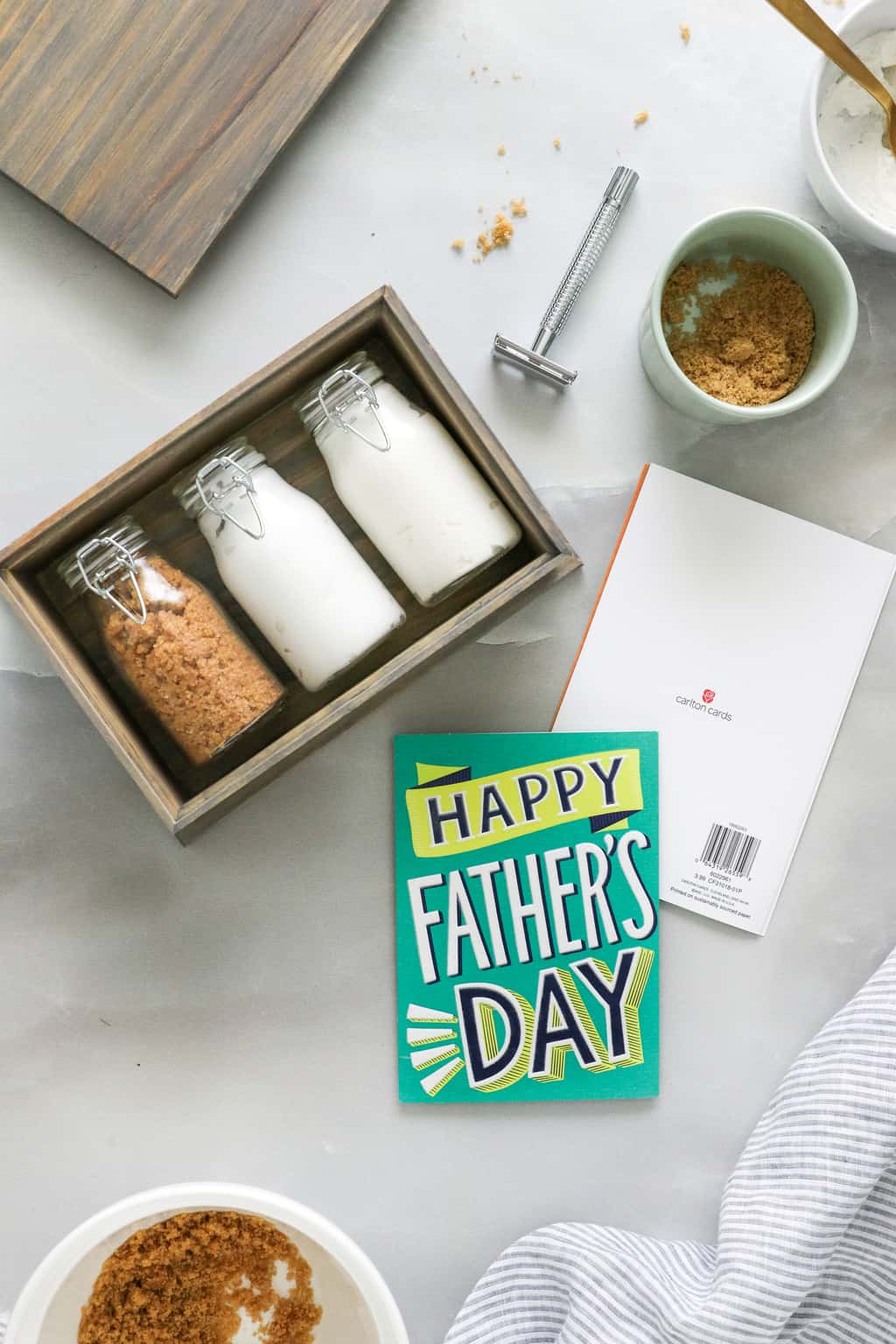 DIY Shaving Kit for Father's Day
As an adult, I often find it hard to tell those I love exactly how I feel—especially when it comes to all the dads in my life. But if there's one thing I learned from my husband, it's that a handmade gift and a card are always appreciated—especially if it includes a handwritten note.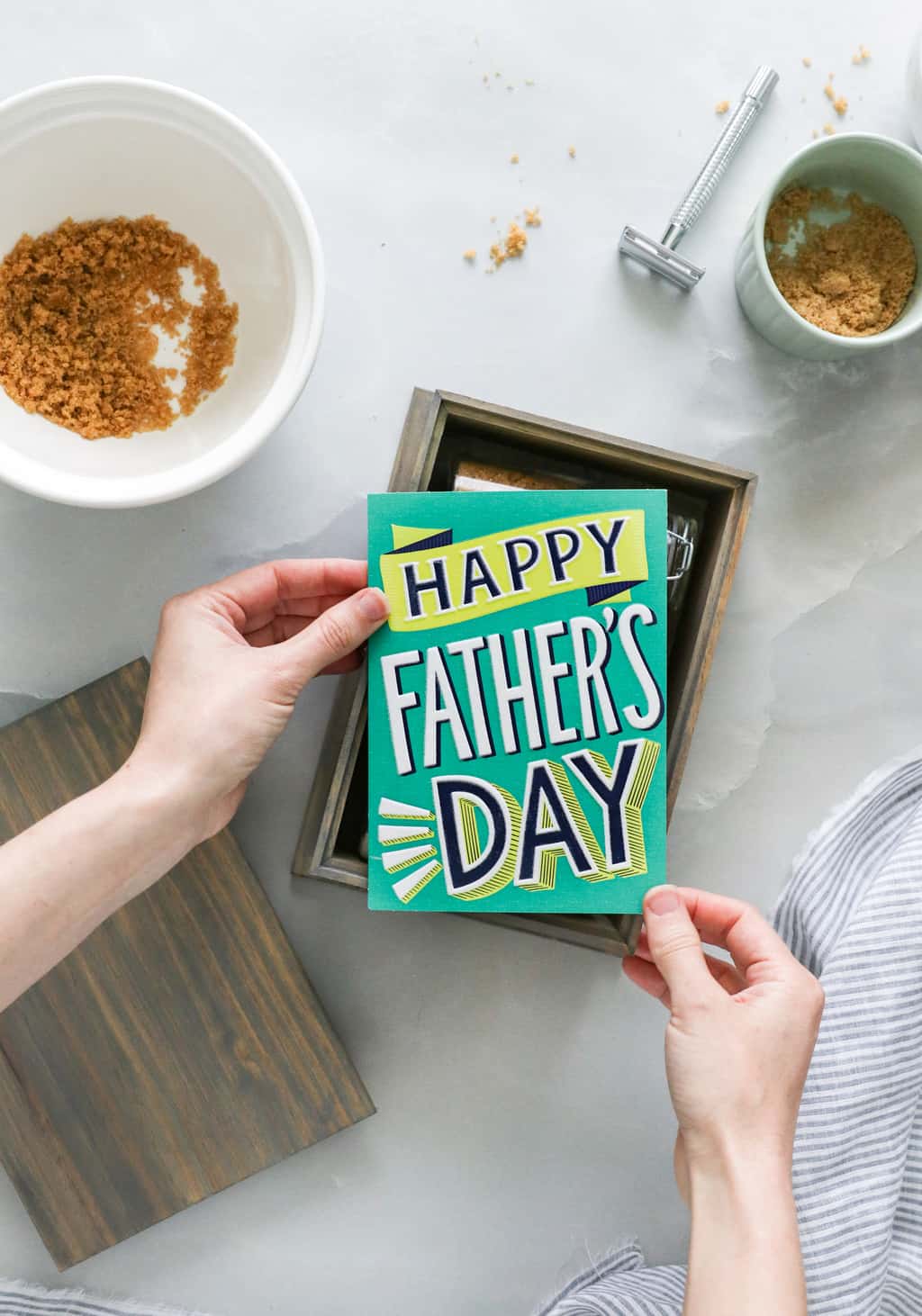 While shopping at Target for items to put in my shaving kit, I swung by the greeting card section to stock up on a couple American Greetings cards for Father's Day. The card section at my Target is right next to the arts and crafts aisle, so it was super easy to swing through the departments I needed and be on my way (but not without stopping by beauty and housewares, obviously). With a wooden box, some empty jars and a few cards in my basket, I was in and out with everything I needed for Father's Day in less than 20 minutes.
One of the things I love about American Greetings cards is that there's always something for everyone. My own dad is an obvious choice on Father's Day, but they also have cards for husbands, brothers, fathers-in-law and all the other dads you may know and love. So you have every reason to pick up a few and get to writing.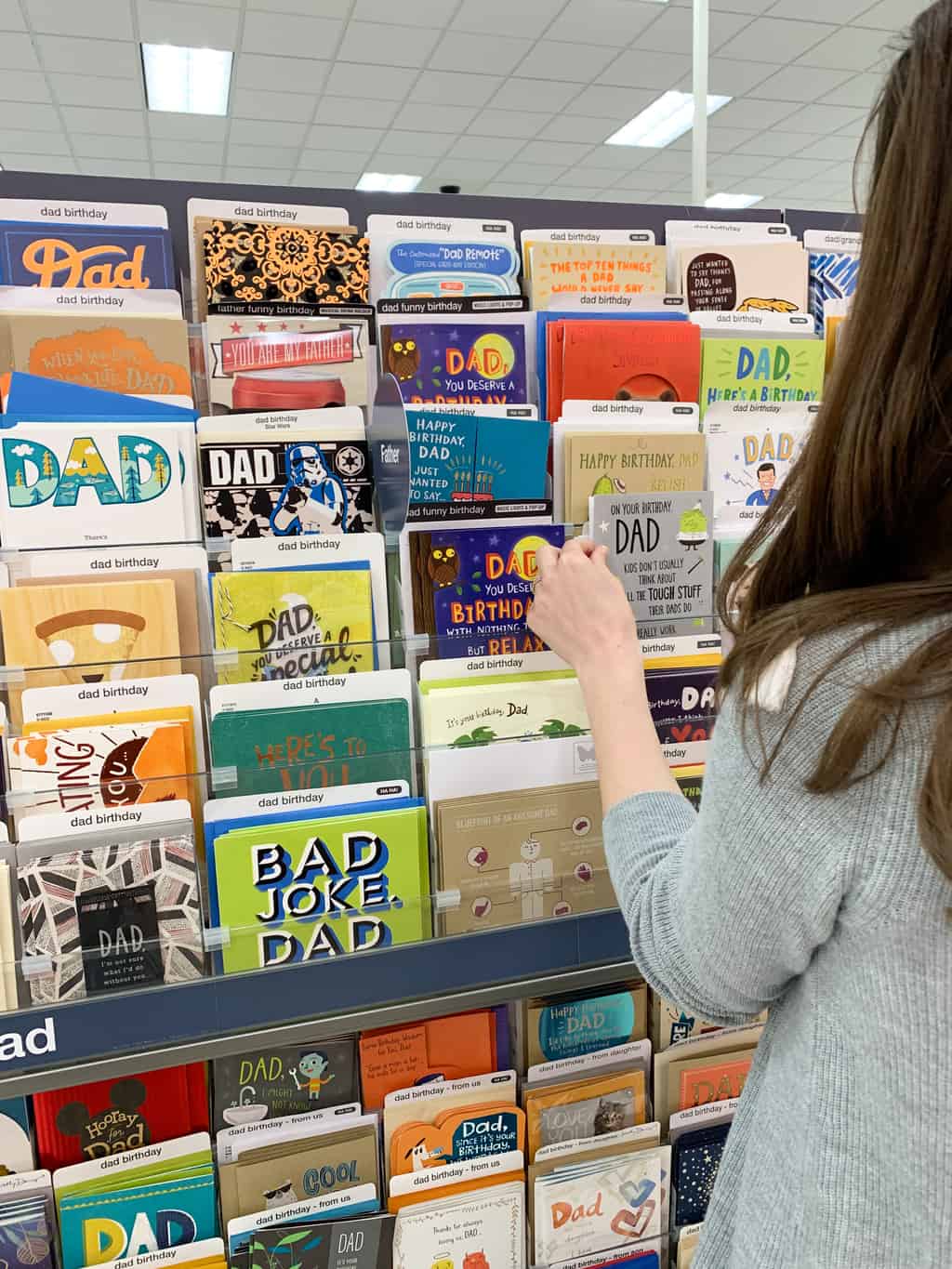 The other thing I love about American Greetings is that they've designed their cards with room for the most important thing: writing. The introvert in me is a lot better at writing than at finding words to say face-to-face. And nothing says I thought about you like a long note, so I always choose cards that have lots of room to write. If you're at a loss for what to say, I like to tell a funny story the receiver may have forgotten or list a bunch of reasons why I appreciate them. You can also head to American Greetings' What to Write page for other ideas. The sky's the limit.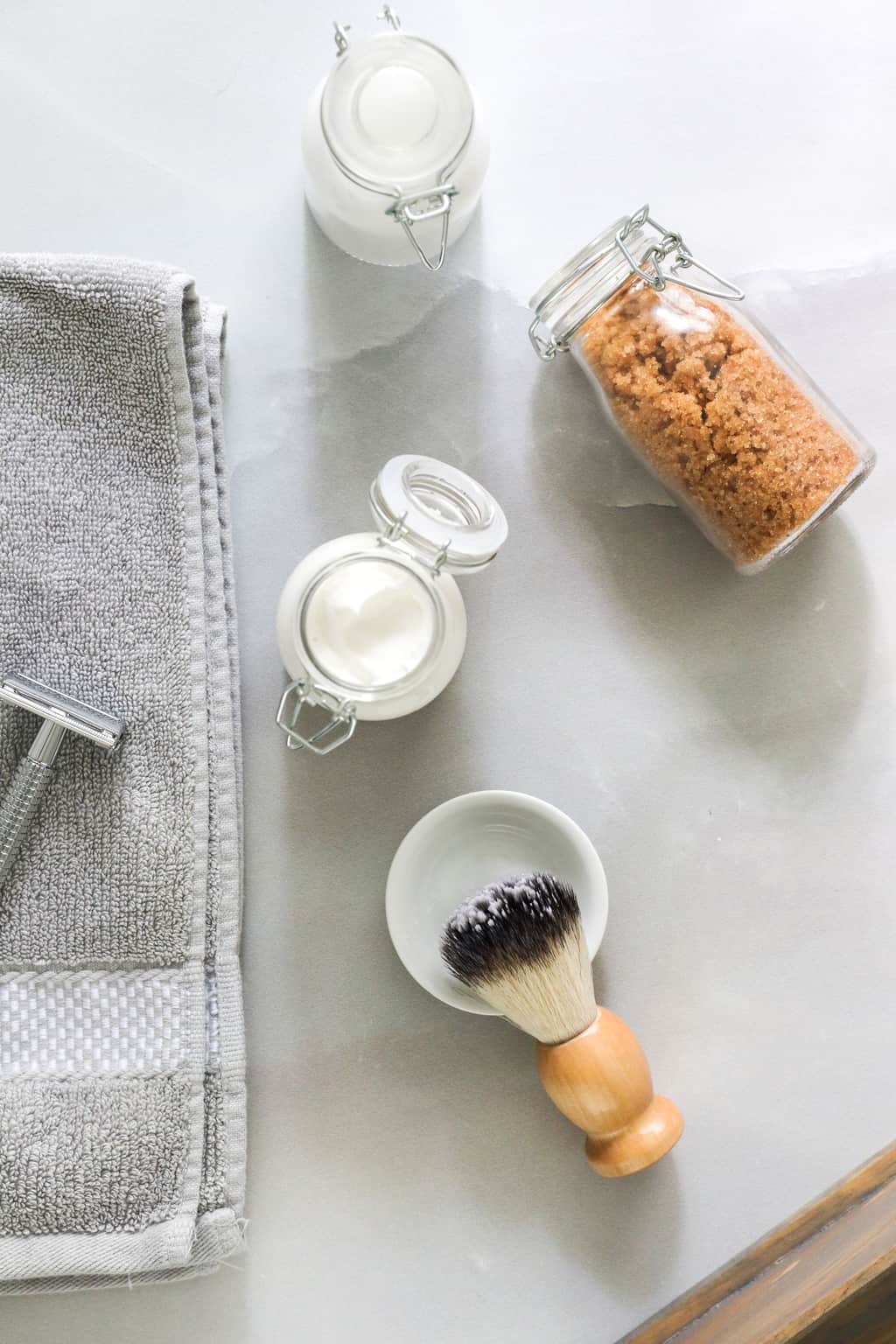 As for the shaving kit itself, I love that it's super easy to make and it doesn't require as many ingredients as you might think. If you have a few dads on your list, you can save money by making a large batch of each of the recipes, then spooning it into single-serving glass jars.
The scrub, shaving cream and lotion are chock full of natural ingredients that are perfect for all different skin types. When used together, the scrub cleanses pores, removes dead skin cells and primes skin for a smoother shave. Meanwhile, the shaving cream refreshes skin and the lotion locks in moisture. They're even perfect for sensitive skin since everything's made without harsh chemicals or weird ingredients. (Pro tip: Save the leftovers for yourself—it's that good.)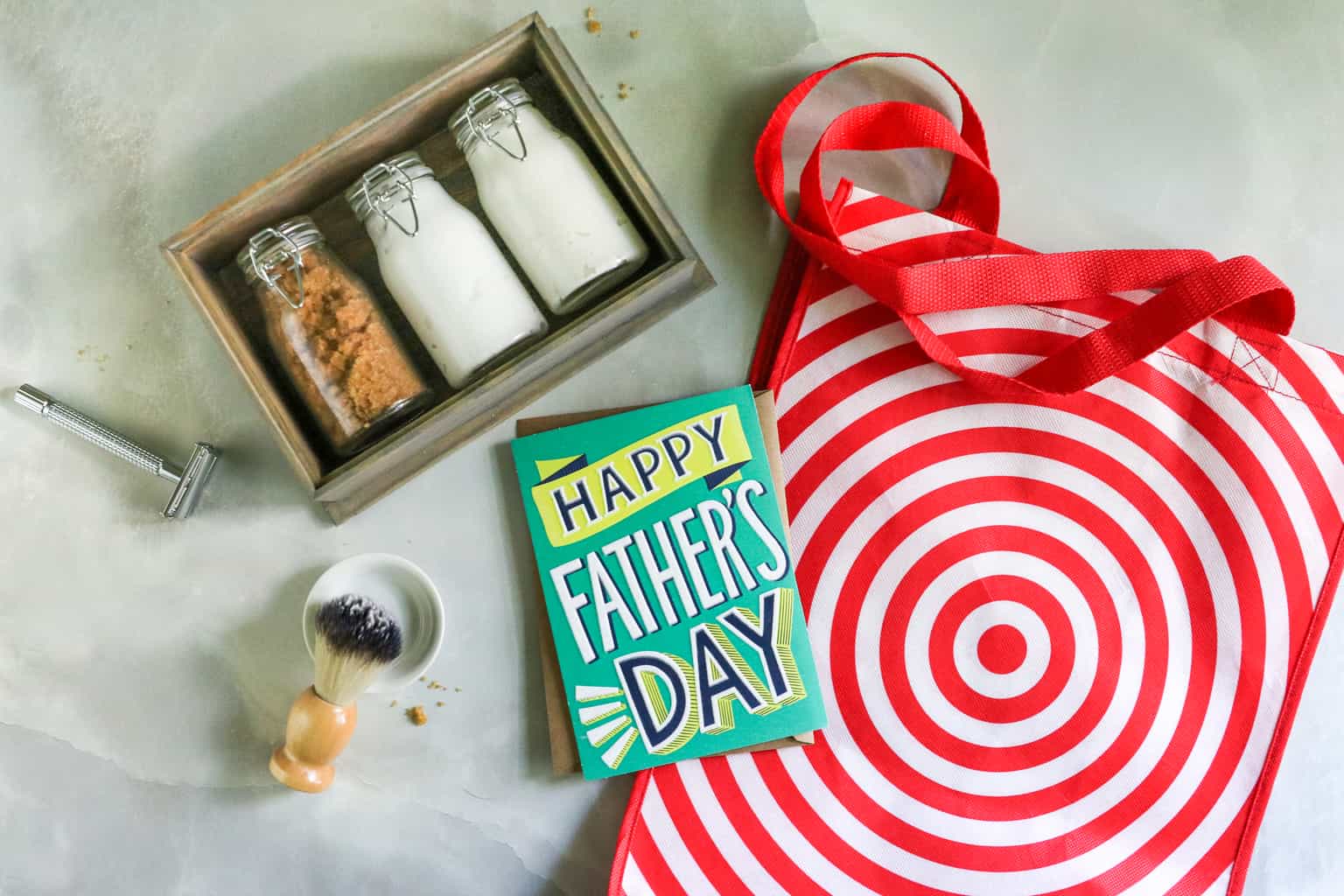 Here's how to make it:
Face Scrub
1 cup brown sugar
2 tablespoons olive oil
5 drops bergamot essential oil
Combine all ingredients in a small bowl. Mix well, then spoon into a small glass jar.
Shaving Cream
1/2 cup melted shea butter
1/2 cup melted coconut oil
10 drops lavender essential oil
2 tablespoons aloe vera
Combine the shea butter, coconut oil and lavender oil in a small bowl. Stir together, then put it in the refrigerator until it's solidified.
Remove from the refrigerator, add the aloe vera, then use a hand mixer to whip. Transfer to a glass jar.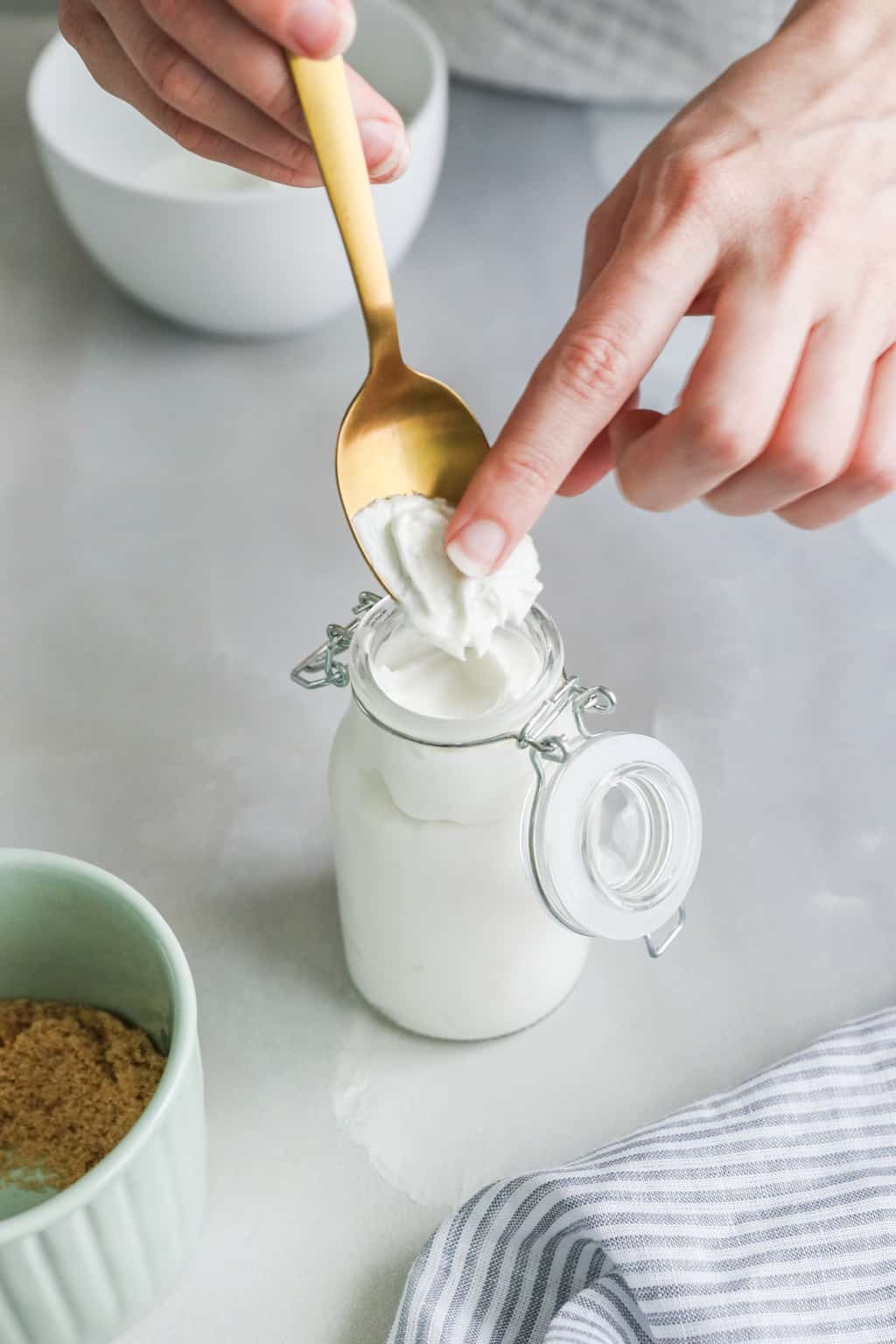 Face Lotion
1/2 cup aloe vera gel
2 tablespoons melted coconut oil
Combine both ingredients in a small bowl. Whisk until the mixture turns white and smooth. Transfer to a jar.
Put it all together
To assemble the kit, I used a small wooden craft box I found at Target and stained a light gray. Then, I placed the jars inside (I made sure to choose jars that would fit perfectly), placed the card on top, and put the lid on. Voila!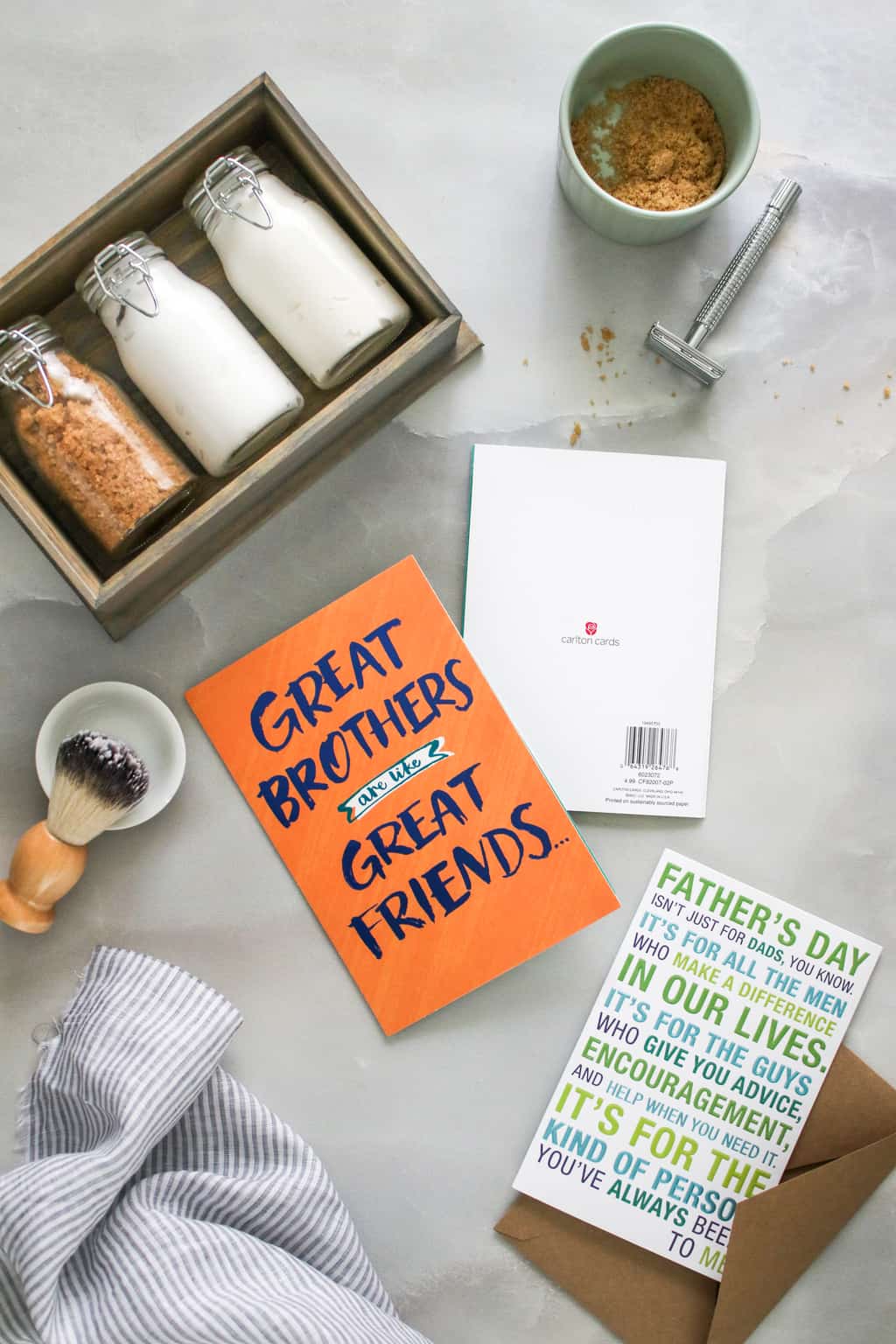 27