Renowned for its skin-healing properties, calendula is a pretty little flower that packs a powerful (yet gentle) punch. It's packed with antioxidants and anti-inflammatories to heal irritated skin [source]. And it has been shown to improve skin hydration in an anti-aging cream [source].
A calendula oil infusion created from dried petals yields a soothing, antibacterial final product that can be applied to skin straight out of the shower or used in everyday items, from homemade first-aid salves to diaper creams. Plus, it's incredibly easy to make at home.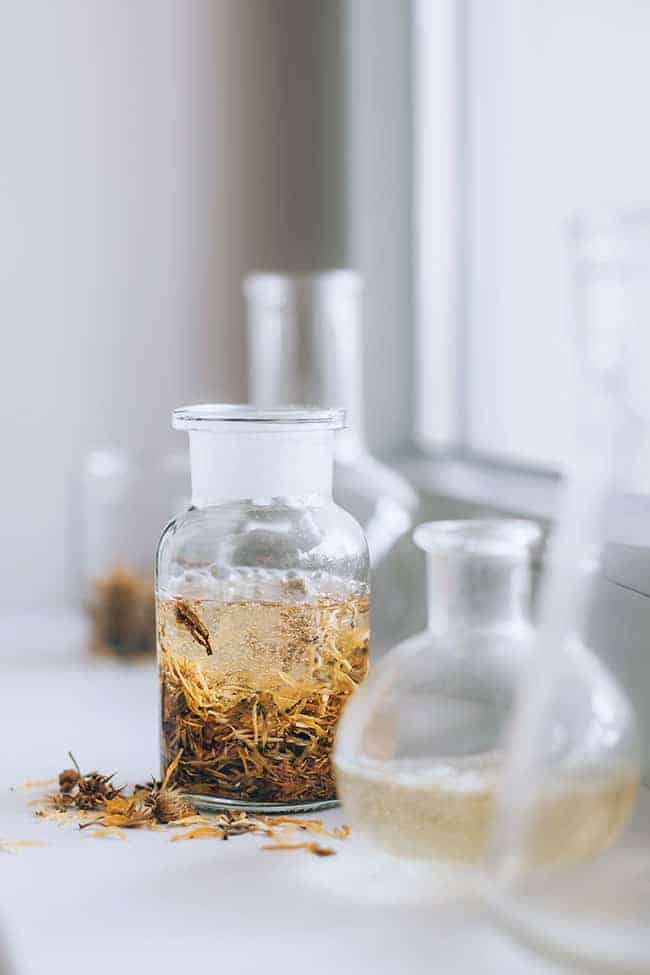 Benefits Of Calendula For Skin
Calendula officinalis, also known as marigold, is a plant that has been used for hundreds of years to soothe inflammation and nourish the skin [source]. Its medicinal properties are due, in part, to its numerous anti-inflammatory polyphenols, such as resveratrol, quercetin, and ferulic acid, which help calm inflammation and protect skin from oxidative damage [source].
Heals damaged skin
When used topically in creams and ointments, calendula has been shown to increase skin healing. In a 30-week study that followed 41 adults with diabetes-related foot ulcers, 78% of participants saw complete wound healing after using calendula spray daily [source].
Reduces scarring
A 2016 study showed that calendula might even increase the amount of collagen in wounds as they heal [source], which may lessen the appearance of scars.
Combats acne
While scientific studies are slim, anecdotal evidence suggests that calendula may help reduce acne breakouts, thanks to its antimicrobial and antibacterial properties [source].
How To Make Skin-Healing Calendula Oil
You can easily grow your own calendula and dry its petals for infusing or purchase some already dried online. Any natural oil, such as almond, olive, will work for this recipe, but I recommend jojoba oil. It mimics the oils our bodies naturally produce [source] and so maintains the skin's healthiest moisture balance while it hydrates and softens.
Supplies Needed
Instructions
Fill your jar about halfway with calendula petals.
Pour oil into the jar until it's just about full. The herbs will absorb some of the oil, so you won't end up with quite as much as you poured in.
Secure the lid onto the jar and place it in a sunny spot for about a month. In the spring and summer, you can put the jar directly outside. In cooler months, position it by a warm, sunny window indoors. Shake occasionally to redistribute the jar's contents.
After about a month has passed, pour the contents through a small strainer or a muslin bag, straining the oil (or pouring it once strained) into another clean jar or bottle. Straining can take some time, so don't rush this. If you use a muslin bag, squeeze it around the herbs before discarding in order to get a few more good drops of the oil.
The calendula oil infusion doesn't need to be refrigerated—you can store it in your bathroom cabinet—but if it starts to smell "off," it's probably time to toss it and make more. The oil is wonderful as a face and body moisturizer and works especially well when applied to wet skin just after cleansing.
Calendula Oil FAQs
Can calendula oil be ingested?
Calendula is safe to use topically [source]. If you wish to take it orally, you should always consult your doctor before use.
Does calendula oil clog pores
?
Calendula itself is actually great for acne-prone skin. But when making your own calendula-infused oil, you need to be careful about the carrier oils you use. For example, jojoba (known to be anti-acne [source]), sweet almond, and grapeseed oils are all noncomedogenic, meaning they shouldn't clog pores.
Have leftover calendula
?
Cure parched hands and soothe cracked cuticles with this Lavender Calendula Healing Hand Salve or make a soothing bug bite balm.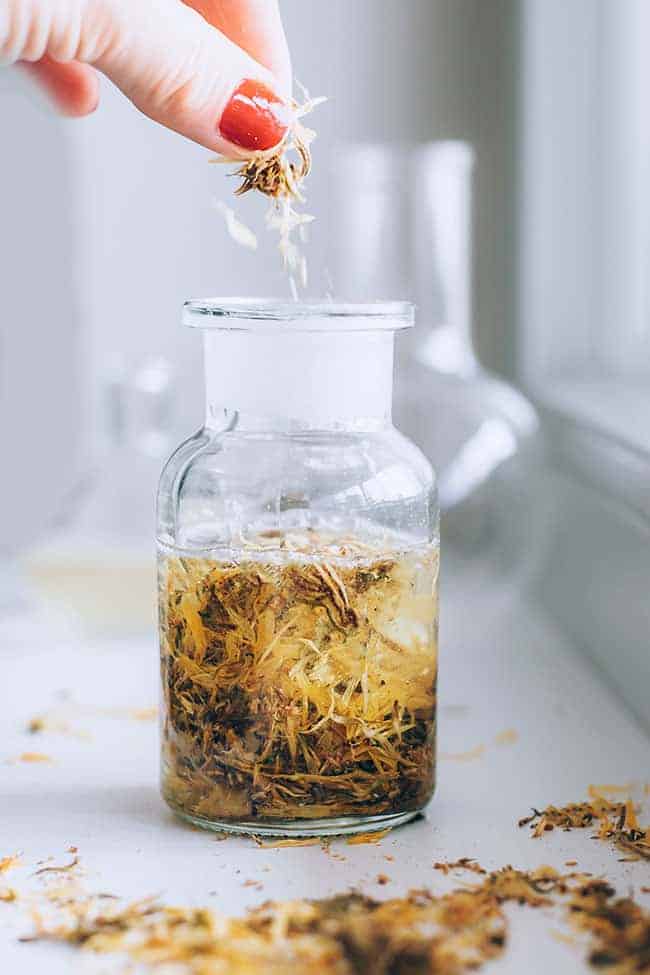 This article was medically reviewed by Dr. Gina Jansheski, a licensed, board-certified physician who has been practicing for more than 20 years. Learn more about Hello Glow's medical reviewers here. As always, this is not personal medical advice and we recommend that you talk with your doctor.
Photos by Ana Stanciu
64