This is a sponsored post written by Hello Glow on behalf of Avalon Organics.
I can honestly say leave-in conditioner is one of the products I miss most since going au naturel with my beauty routine. If you're a child of the 80's and 90's, I'm sure you remember this stuff well! While I certainly rocked the detangling spray as a kid, I also used it all throughout college and most of my twenties. Not only does leave-in conditioner give your tresses that movie star shine you see in hair commercials (no, seriously!), but it detangles like a dream and leaves hair soft and silky smooth.
It's a miracle product, especially for curly or parched strands. But it can be especially hard to find a version that meets my high chemical-, paraben-, phthalate-free standards (oh, how I've tried). That's why I decided to make my own with the help Avalon Organics and their Biotin B-Complex Conditioner.
Strengthening Hair Detangling Spray
This detangling spray gives you all the benefits of a traditional leave-in conditioner: shiny, super soft hair that styles like a dream. But it also incorporates the benefits of biotin to strengthen hair, and saw palmetto and Vitamin E to stimulate hair growth and build fine hair strands.
Biotin is especially helpful during the summer months after spending time at the pool and in the sun. Chlorine is known for weakening hair and drying out locks, but adding biotin to your hair care routine, like in Avalon Organics Biotin B-Complex Shampoo and Conditioner, can help reinforce strands and replenish moisture. The result is beautiful hair that feels soft and thick, with a little added shine and a lot of added body too.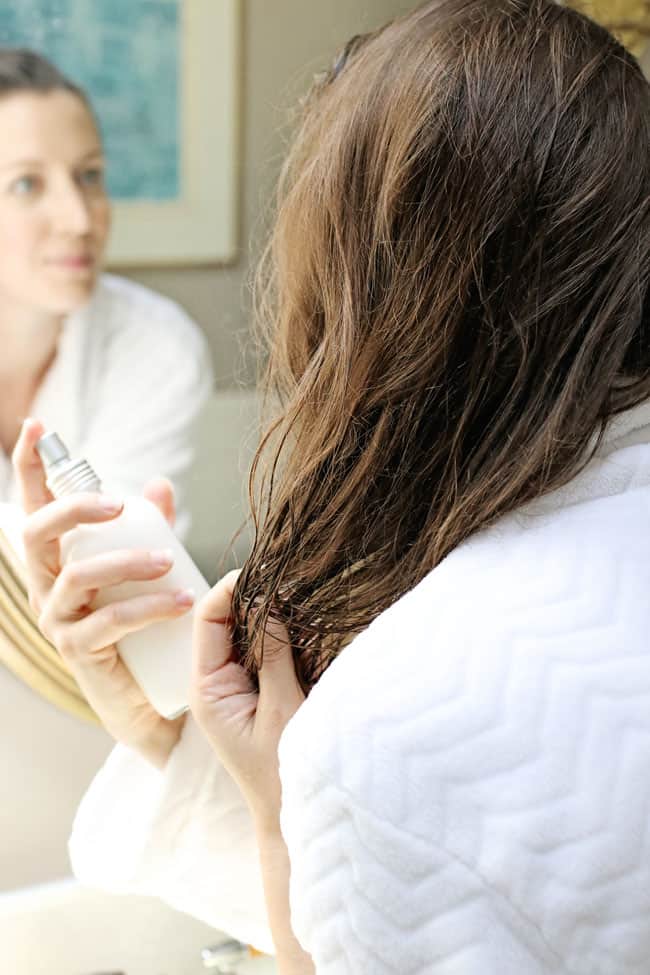 One of the things I love most about Avalon Organics Biotin B-Complex Shampoo and Conditioner is that it is certified organic and vegan, plus it doesn't contain parabens, phthalates, sulfates or synthetic colors of fragrances. Even the bottles are made with 100% recycled material! And since it meets my strict beauty standards, I feel safe putting it on my skin and in my hair every day.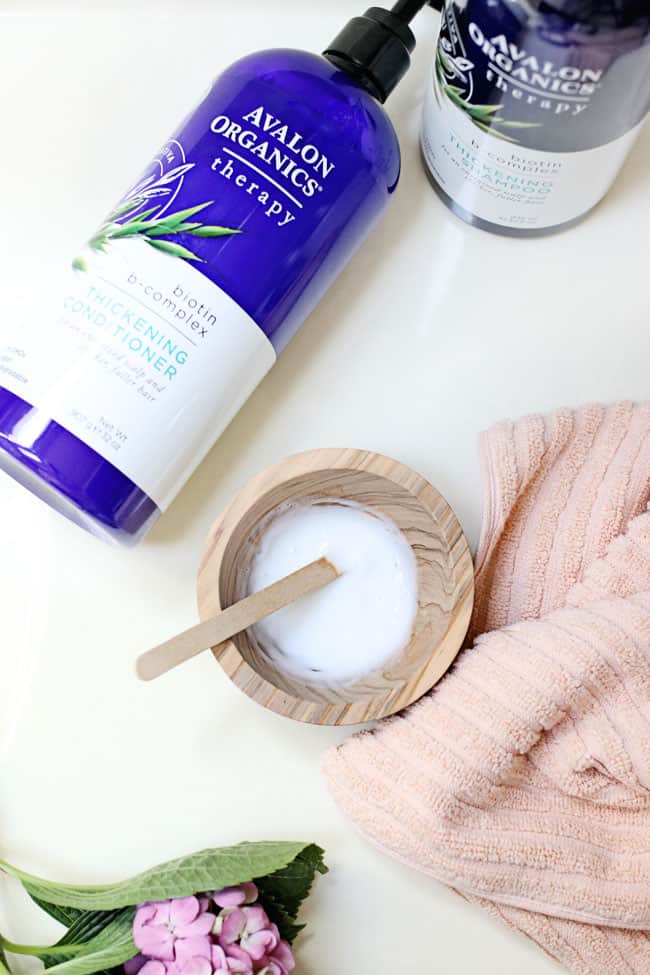 For extra strength, wash your hair with Avalon Organics Biotin B-Complex Shampoo and follow up with the Biotin B-Complex Conditioner while you're in the shower. After you hop out, gently wring out your hair and let it air-dry for a bit, then spritz the detangling spray from root to tip and use a comb to gently work out any knots. After you've distributed the leave-in conditioner throughout your hair, style as usual and revel in your thick, shiny new locks.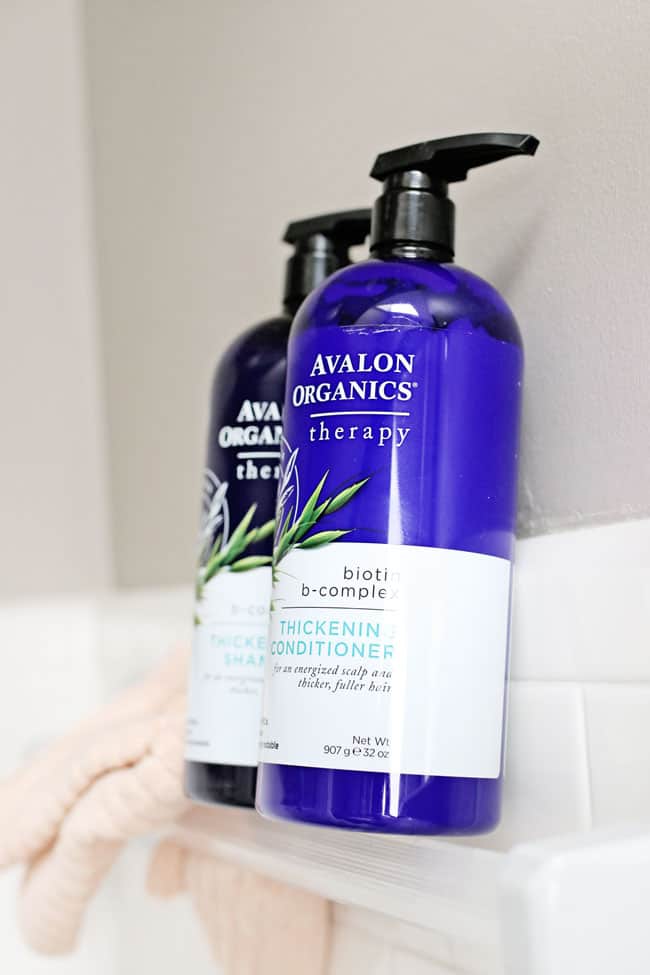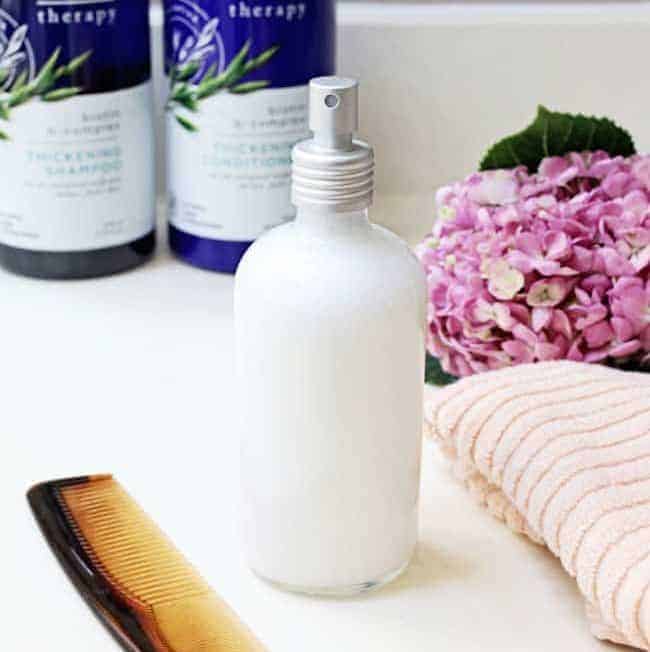 Print
Stengthening Hair Detangling Spray
This gentle DIY hair detangling spray strengthens your locks as it loosens up knots and tangles.
Instructions
In a small bowl, combine the conditioner, water, aloe vera and essential oil. Stir.

Using a small funnel, pour the conditioner mixture into a spray bottle.

To use, spray on slightly damp hair and distribute with a wide-tooth comb. Style your hair as normal.
Notes
Store detangling spray in the refrigerator for up to 14 days.
36