Ah, swimming, surfing, sailing, strolling and sitting in the great outdoors. We love summer! But it's also the season for bug bites, sunburn and the rest. This light, soothing lotion that's a lifesaver for summer bummers, like forgetting the bug spray or being caught out in the sun for way too long.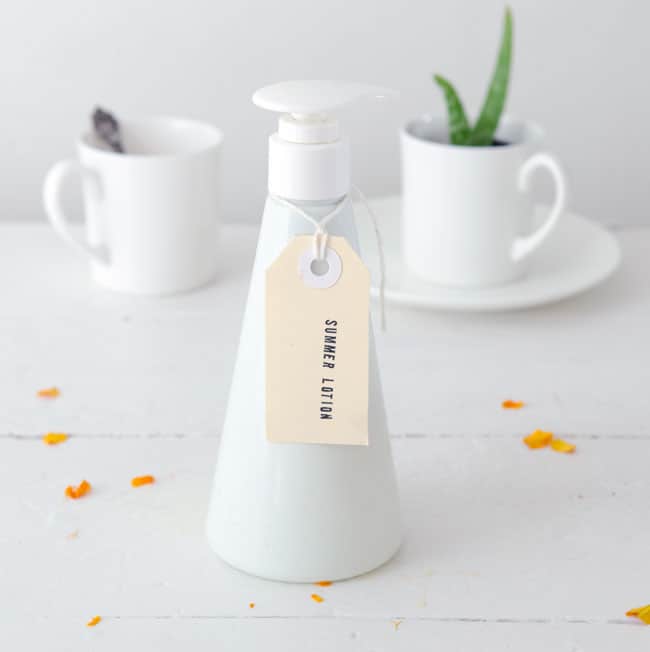 Homemade Lotion with Calendula and Aloe
This homemade lotion is a great moisturizer, especially if you tend to be a bit sensitive. My hands can get a bit irritated when I wash them a lot, so I now use this as a hand lotion, too. However, for rashes and reactions, it's important to follow the advice of your healthcare practitioner.
Regular use won't suit everyone, because the lotion leaves the skin a bit tacky to touch when first applied. This is actually a good thing, as it means the lotion's staying in place to penetrate the area from the surface down.
Calendula
This anti-inflammatory and healing wonder of a plant is bright yellowy-orange because of its high carotenoid content, which makes it an awesome skin regenerator (and why we love it in diaper cream). It's also easy to make your own calendula oil, too.
Aloe Vera
Aloe Vera is amazing at soothing and cooling. It's also thought to speed up healing by increasing the amount of collagen (the skin's scaffolding) wherever it's applied, according to this study. It's important to buy from a good source, as all bottled aloe vera contains preservatives, some natural, others nasty.
Raw Honey
Raw honey is an anti-inflammatory that is thought to stimulate a good immune response, reduce infection and enhance healing in burns and other wounds. The manuka honey, harvested from bees that love tea tree flowers, is even more serious about antibacterial action.
Chamomile
Chamomile shares a lot of its soothing, calming and anti-inflammatory properties with lavender but is thought to be a little bit gentler.
Bele Masterman can be found pottering around on Blah Blah Magazine. Once upon a time, she trained as a beauty therapist and aromatherapist and turned into a journalist, chronic DIYer, lover of beautiful things, mother of two bouncing boys and wife.
42