Not long ago, I tried making a natural lip gloss with beets. As anyone who's diced up a salad with this root vegetable knows, it's not a pretty sight. My hands, my towels, and pretty much my entire kitchen were covered and stained with pink. Needless to say, it created quite the mess!
So when I saw that people were making homemade blush with freeze-dried raspberries, I thought, why not a DIY tinted lip gloss or, better yet, balm? Bonus: raspberries are way tastier than beets anyway!
DIY tinted lip balm is a fun and simple project that anyone can do at home with just a few ingredients. The benefits of making your own lip balm are numerous. Firstly, you can control the ingredients that go into it, ensuring that you are using natural and nourishing products on your lips. Secondly, you can customize the shade to your liking by adding more or less of the tinting agent. Thirdly, it is a cost-effective way to have multiple shades of lip balm without breaking the bank. Lastly, making your own lip balm can be a fun activity to do with friends or family.
To make your own tinted lip balm, you will need a few key ingredients, including cocoa butter, shea butter, sweet almond oil, and a tinting agent such as beetroot powder or raspberry seed oil. Simply melt the cocoa butter and shea butter in a double boiler, add in the sweet almond oil and tinting agent, and pour the mixture into lip balm containers or tubes. You can also add essential oils for added fragrance or lip nourishing properties. With a little experimentation, you can create a tinted lip balm that is perfect for you and your lips.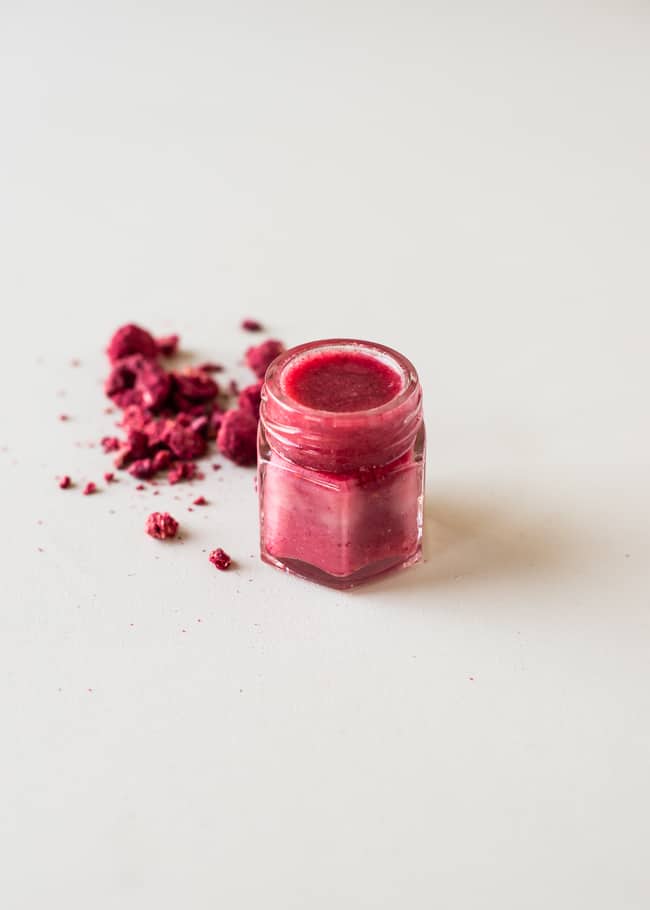 Why we love raspberry
In addition to being the perfect color for homemade cosmetics, raspberries also provide benefits for your skin (and your lips count as part of that!) Raspberries are loaded with antioxidants, namely vitamin C and polyphenols, which help protect your skin from damaging free radicals in the environment that lead to premature aging [source].
These same antioxidants also help protect the skin from the sun—another known cause of premature aging, not to mention an increased risk of skin cancer [source].
Other antioxidants you can find in raspberries include vitamin E, magnesium, lutein (which provides brain-boosting power as an added perk), and beta carotene. Raspberries also contain flavonoids [source], which are natural substances that act like antioxidants [source]. You can also find them in certain roots, stems, flowers, tea, and, last but certainly not least, wine!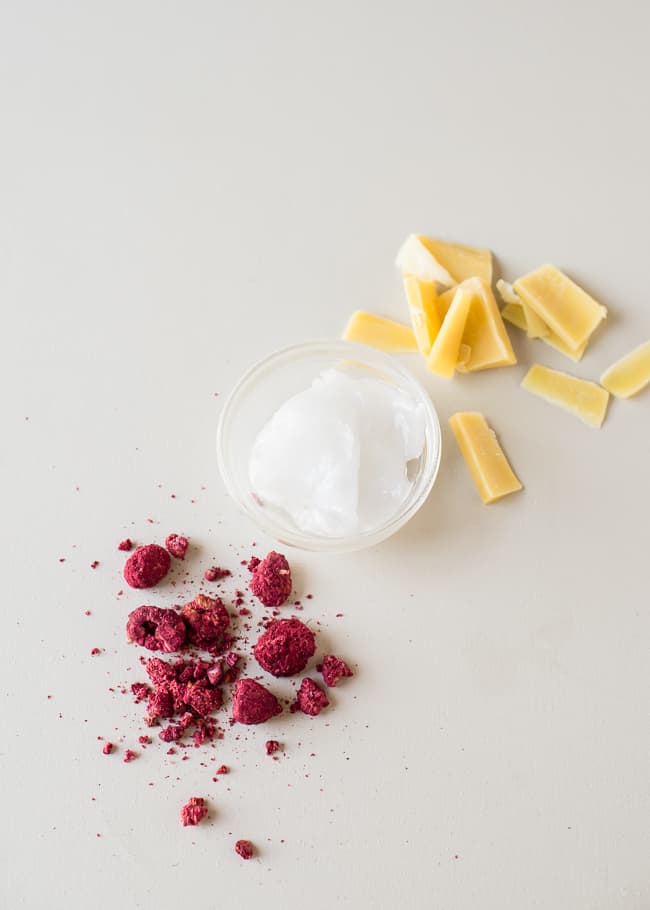 As if that weren't enough incentive to make this ingredient swap even more of a no-brainer, it also just couldn't be any easier to DIY—the recipe is a total cinch! The hardest part is cleaning out the coffee grinder to remove all the pink specks, lest your coffee starts to taste like raspberry.
And if you're thinking, "Freeze-dried raspberries? Where the heck do I buy those?" Well, I'll tell you: Trader Joe's! Not only do they sell freeze-dried and fresh raspberries, but they are also super affordable (some frozen fruits and veggies can get pricey).
And if you don't have one nearby, you can order them online or try a local health-food store. I even saw some at Publix. Don't have a Publix near you? Chances are, your local grocery store has them hiding somewhere.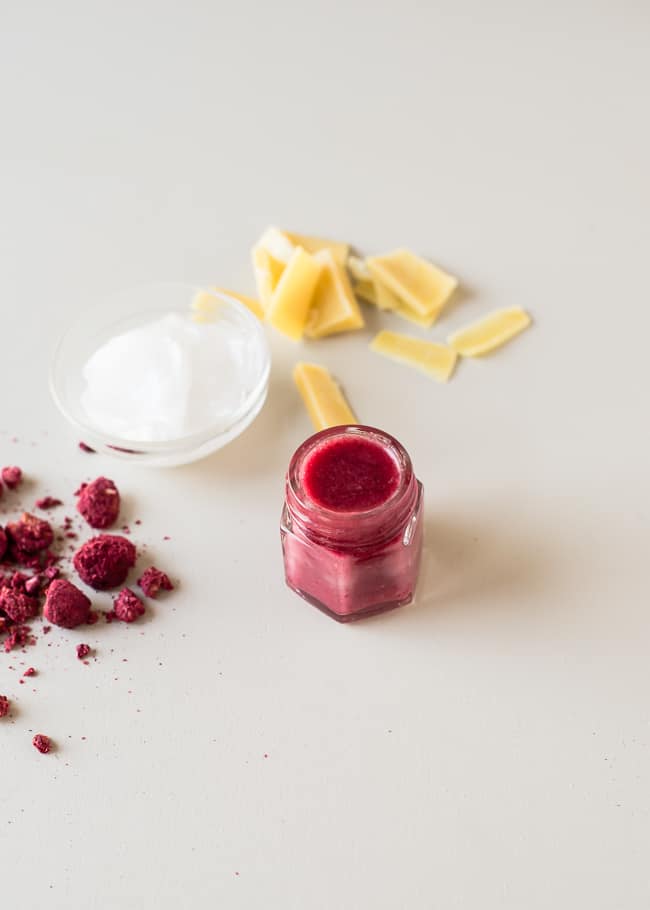 How to Make DIY Tinted Lip Balm
The benefit of using freeze-dried raspberries is that they are frozen at the peak of freshness, so you know they contain the highest amount of nutrients (often even more than the ripe kind). Of course, if you are really having a tough time finding them, you can also try freeze-dried cherries.
The taste was good, but if I'm being honest, the color was less intense (which was a total bummer). But feel free to go crazy and combine the two!
Tinted lip balm instructions:
Melt your coconut oil and beeswax over low heat (a Pyrex dish in a saucepan is my go-to double boiler method).
Next, finely grind the raspberries (I used a clean coffee grinder) and stir them into the mix. If you are looking for a darker color, simply add a bit more raspberry powder.
As the balm cools and solidifies, the grounds will start to settle at the bottom. That's when you want to turn the container upside down (with the lid on) or on its side to help keep it evenly distributed. Or just keep stirring as the mixture cools.
That's all you gotta do for soft, pink, and tasty lips!
Raspberry Lip Balm FAQ
Is my lip balm supposed to feel grainy?
Grind your raspberries as fine as you possibly can using a coffee grinder. After powdering them, try sifting the powder with a fine mesh strainer to get rid of any noticeable chunks or seeds.
But even if you take these precautions, your balm might still feel a little grainy since the raspberry powder is what gives it its color. A slight graininess just comes with the territory!
How do I keep the raspberries from separating and sinking to the bottom?
If you're still having trouble keeping the mixture from separating, there are a couple of things you can try:
1. Wait until the wax has cooled to just slightly above room temperature but hasn't totally solidified yet. Then add the raspberry powder and give it a good stir. The cooler the wax is when you add the raspberries, the better it will hold the powder, and the less separation will occur.
2. Use an emulsifying wax to hold everything together. While beeswax is often touted as a natural emulsifier, I've found that it doesn't work as well as real cosmetic grade emulsifying wax.
Where can I find those containers?
I picked up mine at a local craft store, but you can find similar ones here.
Can I add flavors like vanilla extract or essential oils?
Sure! Vanilla or almond extract would be great in this. Just make sure to add an emulsifier or wait until your wax has cooled considerably before adding them. Add 1–2 drops of a gentle essential oil like lavender or chamomile.
What's the shelf life on this homemade lip balm?
Coconut oil acts as a natural preservative, so this recipe should last 3–6 months. If you'd like to extend the shelf life even further, try using an additional preservative such as Leucidal Liquid SF.
And as with any homemade beauty product, always keep an eye out for a change in consistency or mold. If you see fuzz, it's time to toss it!
Can you make this with fresh raspberries?
I haven't tried making this with fresh raspberries, however, I'd expect you to have a hard time getting the mixture to blend. Since raspberry juice is mostly water, the juice (and thus the color) will separate from the wax as it cools, and you might be left with a mess.
Plus, anything made with fresh fruit will go bad within a matter of days, drastically reducing your lip balm's shelf life.
What can I use in place of the beeswax?
Try all-natural and vegan carnauba wax.
Looking for more ways to use those dried raspberries?
Try making a skin-soothing cheek stain.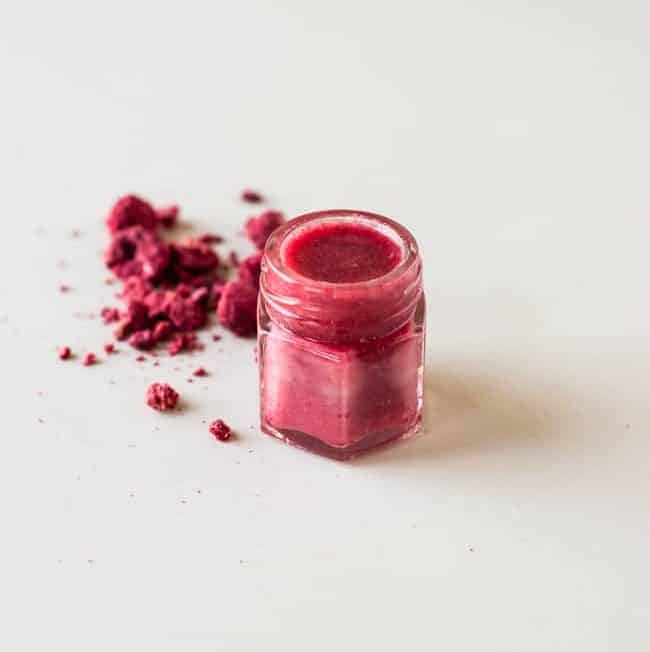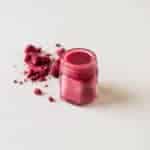 Print
Homemade Raspberry Lip Balm
Three simple ingredients, and you're on your way to a pretty DIY tinted lip balm made with all natural ingredients like freeze-dried raspberries.
Equipment
Double boiler or microwave-safe bowl
Instructions
Grind raspberries in a coffee grinder until you have a very fine powder.

Melt the coconut oil and beeswax (if using) together in a double boiler (I just put the oils inside a glass Pyrex measuring cup, then place whole thing inside a small saucepan. Fill the saucepan with 2 inches of water, and bring to a low boil.)

Add raspberry powder and stir to combine.

Transfer to container with lid and let sit to harden.
Notes
Use within 3–6 months. As always, toss it if you notice mold or a change in consistency. 
This article was medically reviewed by Dr. Gina Jansheski, a licensed, board-certified physician who has been practicing for more than 20 years. Learn more about Hello Glow's medical review board here. As always, this is not personal medical advice and we recommend that you talk with your doctor.
Photos by Lindsey Johnson
437