Sometimes the best ingredients for your skin are the easiest to find. Plain, preservative-free yogurt contains lactic acid that gently dissolves dead skin cells, unclogs pores, and evens skin tone. Yogurt is both antifungal and antibacterial, which means it's a great choice for acne prone skin as well. If it's good enough to eat, then it's definitely good enough for your skin!
A yogurt mask can be as simple as one or two ingredients, and most you probably already have on hand in the kitchen! The best part? if you have any left over (as in, some of the mask that didn't) touch your face, then you've got a snack ready to go. How's that for convenient?
5 Yogurt Face Mask Recipes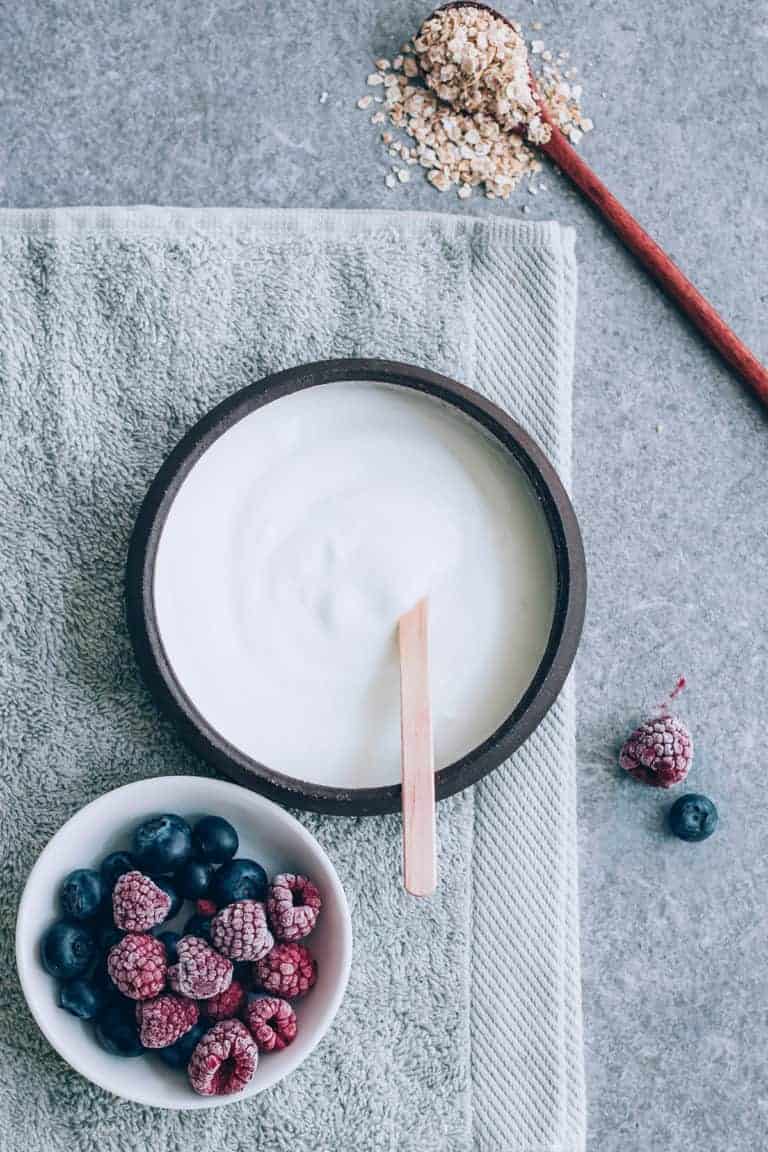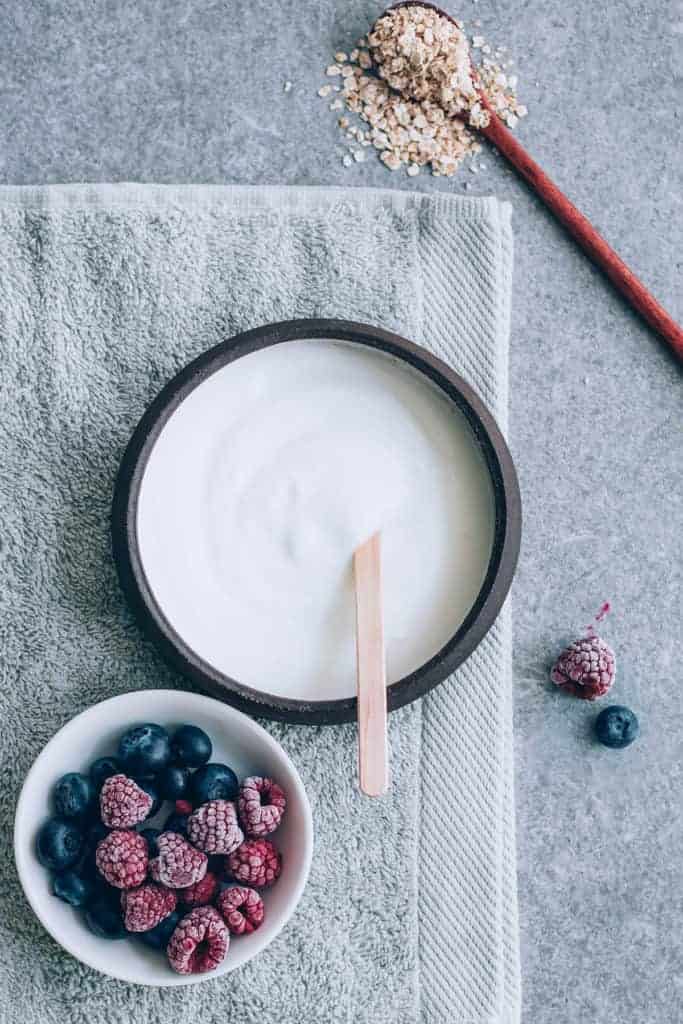 Simple One Ingredient Yogurt Mask
This is perfect for reactive skin that needs a basic, no-nonsense mask—by just keeping it simple with all the natural goodness of yogurt, skin will look and feel refreshed.
A few tablespoons of plain organic yogurt
Using just plain yogurt with live cultures and no preservatives, apply a thin layer to face and neck and leave on for 15-20 minutes; rinse off with warm water.
Brightening Yogurt Facial Mask
Blueberries are incredibly rich in vitamin C, an ingredient that appears in a lot of commercial serums to brighten dull skin and even out skin tone. Why shell out money for serums when you can get the real deal, straight from blueberries?
Lemon juice is rich in vitamin C too, and adds a little exfoliating boost to the yogurt to refine and smooth skin. Honey is a hero skincare ingredient—it's a humectant, drawing moisture into the skin for a radiant boost.
2 tablespoons of plain organic yogurt
1-2 teaspoons of honey
Squeeze of lemon juice
Small handful of blueberries, organic preferably
Blend ingredients together until you get a creamy paste, then liberally apply to your face and neck with a brush or your fingers. Leave the mask on for 20 minutes, then wash off with warm water. I recommend this mask be applied at night time since the lemon will make you photosensitive to the sun.
Anti-Aging Berry Yogurt Mask
It's no secret that berries are rich in all things good for us, and a mix of berries is perfect for getting an all-around, effective mask. It's also a great way to customize what you want in your mask.
Strawberries are rich in vitamin C and folate, two essentials for healthy skin. Blackberries have a potent antioxidant combination of vitamin C and anthocyanin that leave skin absolutely glowing.
2 tablespoons plain yogurt
1/4 cup mixed berries
Combine in a blender and pulse until smooth. Apply to clean skin and leave on for 10-20 minutes before rinsing off.

Yogurt and Cranberry Facial Mask
Cranberries are a superfood rich in antioxidants, the molecules that defend your skin from harmful free radicals and outside stressors. Free radicals are responsible for the premature signs of aging—wrinkles, pigmentation, and uneven-looking skin.
Antioxidants fight these off, and work both to protect skin from further damage and correct any damage that's already occurred. Combined with the super-soothing and skin refining power of yogurt, these two are a match made in heaven!
A handful of fresh cranberries (7-9 should be plenty)
1 teaspoon organic maple syrup
1 teaspoon plain organic yogurt
Combine all ingredients in a small bowl. Apply with fingertips to face and neck and leave on for 15 minutes before washing off with warm water. Follow with moisturizer or serum.
Soothing Yogurt Mask for Sensitive Skin
Oatmeal is a natural anti-inflammatory that soothes basically any kind of skin irritation—eczema, sunburn, and rashes, just to name a few. Combined with cooling yogurt, this mask is a great way to calm down irritated and inflamed skin.
It doesn't just have to be used on your face either! This blend can be used as a cooling treatment for sunburned shoulders and backs—anywhere it's needed.
1/3 cup cooked oatmeal
2 tablespoons plain yogurt
Mix together 1/3 cup cooked oatmeal with 2 tablespoons plain yogurt. Apply with fingertips in a thick layer, leave on for 10 minutes and then rinse with lukewarm water.
This post was medically reviewed by Dr. Rina Mary Allawh, M.D., a dermatologist who performs adult and pediatric medical dermatology, skin cancer treatment and cosmetic dermatology. Learn more about Hello Glow's medical review board here. As always, this is not personal medical advice and we recommend that you talk with your doctor.
248