Sometimes we love a product so much, we can't keep it to ourselves. You know that feeling, right? Here are a few things that are so essential, we just need to share: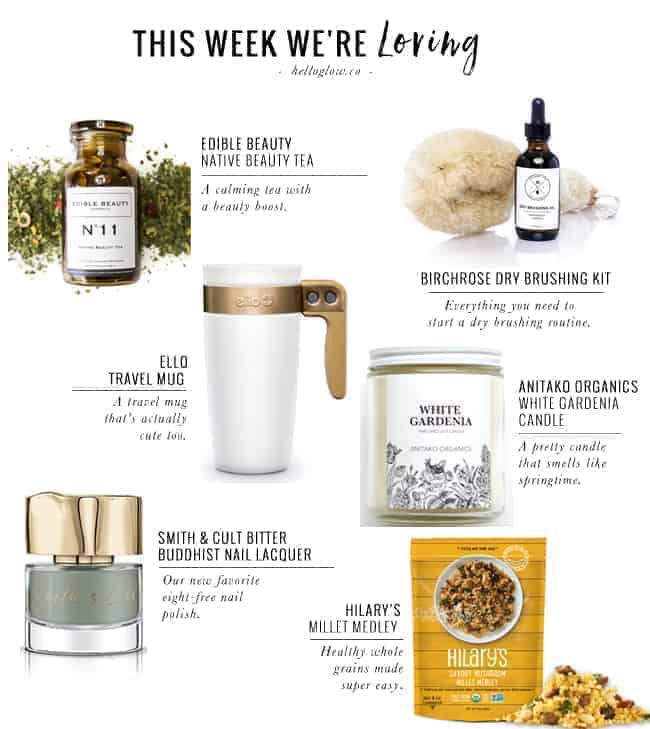 Edible Beauty Native Beauty Tea // Edible Beauty is an Australian brand that makes products that boost beauty inside and out. This antioxidant-packed tisane uses native plants that promote skin elasticity and repair.
Birchrose & Co. Dry Brushing Kit // Have you started dry brushing yet? This kit makes it easy—it comes with a Japanese palm brush and an invigorating grapefruit-infused oil. (PS – Everything this Etsy shop sells is ah-mazing!)
Ello BPA-Free Travel Mug // Perpetually cold person here. I love that this travel mug lets me bring warm drinks with me wherever I go—and bonus, it's actually cute too.
Anitako Organics White Gardenia Soy Candle // There's something so magical about the scent of gardenia. Especially when you're eagerly awaiting the return of warm breezes and sunshine on bare skin.
Smith & Cult Nail Polish // Even though I already have a huge collection of nontoxic nail polish, when I recently discovered Smith & Cult, I had to buy a few more bottles. My favorite is this minty green shade—perfect for winter.
Hilary's Millet Medleys // We are huge fans of Hilary's in our house because they make getting healthy whole grains on the table in a reasonable amount of time super easy. I never thought I'd see the day that my toddler was happily chowing down on millet!
Disclosure: Some of these products were sent to Hello Glow to review, others are things we've bought ourselves, but everything here is something we totally love.
1