Enjoying the sun while your hair isn't? Are you eager to awaken your lifeless locks? Kattia Solano, owner of Butterfly Studio Salon, shares her favorite tips on at-home remedies and hairstyles that will help bring your dry hair back to health.
3 At-Home Dry Hair Treatments
There are so many at-home remedies that you can make to get your healthy hair back – and you can make them from ingredients that you already have in your pantry!
1. Clarifying Hair Spritzer
First, to help remove buildup and clarify your hair, I love making what I like to call the Hair Spritzer. It's really the best solution for a deep cleanse to remove buildup and the recipe couldn't be any simpler!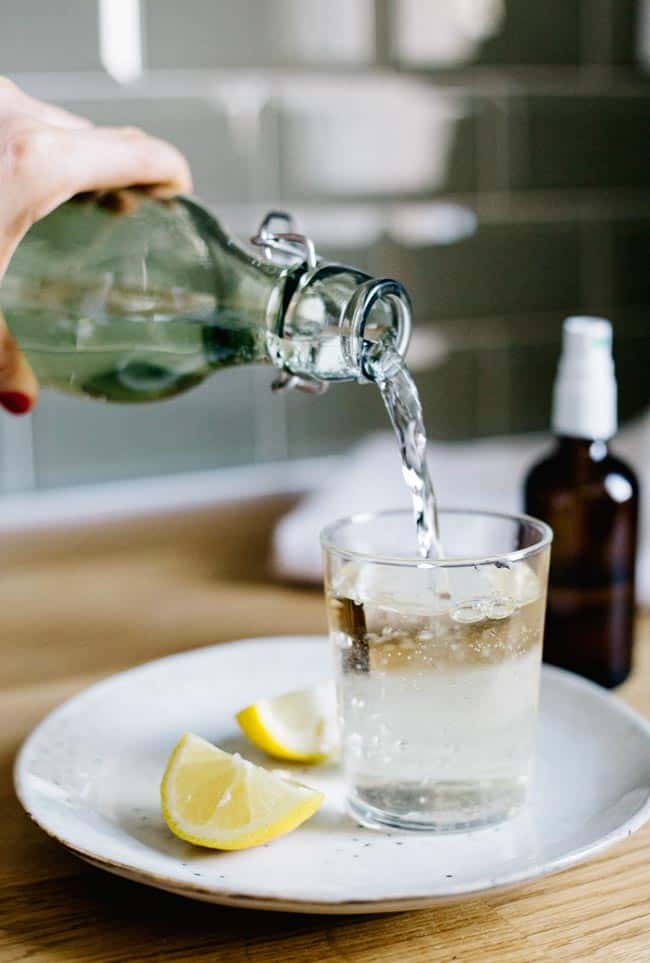 Ensuring that hair is free of buildup is a really simple way to improve both scalp and hair health. Buildup is often the source of a lot of issues such as itchy scalp and can even prevent hair growth. A lot of us don't even realize that we have hair buildup until it's too late when our hair is already screaming for help!
Product buildup happens slowly over time, and basically, it's just an accumulation of product that hasn't been rinsed out properly, whether that's a conditioner, hair spray, oils – anything. Common ingredients that may cause buildup include silicones, so if you're noticing it's a common issue, check the ingredients lists on your hair products – you might be surprised how many of them contain silicones!
Buildup can affect your hair in several different ways. Some of the most common symptoms:
Your hair is suddenly difficult to style
Your hair always seems weighed down
Your hair might feel sticky
You have dandruff (and you didn't previously)
If you're ticking the box on any of these things, you might be in need of this hair spritzer! To ensure that buildup doesn't come back, you can use it once a week as regular maintenance.
How to Make a Clarifying Hair Spritzer for Dry Hair
1/2 cup of sparkling water
1/2 cup of apple cider vinegar
Lemon juice (1 tablespoon)
Mix the ingredients in a spray bottle and apply to dry hair from roots to ends until fully saturated. Lightly massage you're for a couple of minutes, allowing the spritzer to absorb. Rinse thoroughly. Follow with a wash using a cleansing shampoo – something with an oil base like Shu Uemura's cleansing oil or peppermint based like Malin + Goetz shampoo are my favorites.
2. Honey + Oil Hair Mask
Next, for someone with a dry scalp, another at home remedy I love is a raw honey hair mask for extra conditioning. Raw honey is naturally moisturizing, antibacterial, and anti-inflammatory and conducive to healing. As a humectant, it's an amazing moisturizing ingredient for hair from root to tip, smoothing down the cuticle for super soft hair. Make sure that any honey you buy is 100% real, unfiltered honey, without any sugar added – otherwise it'll be no better than putting high fructose corn syrup in your hair!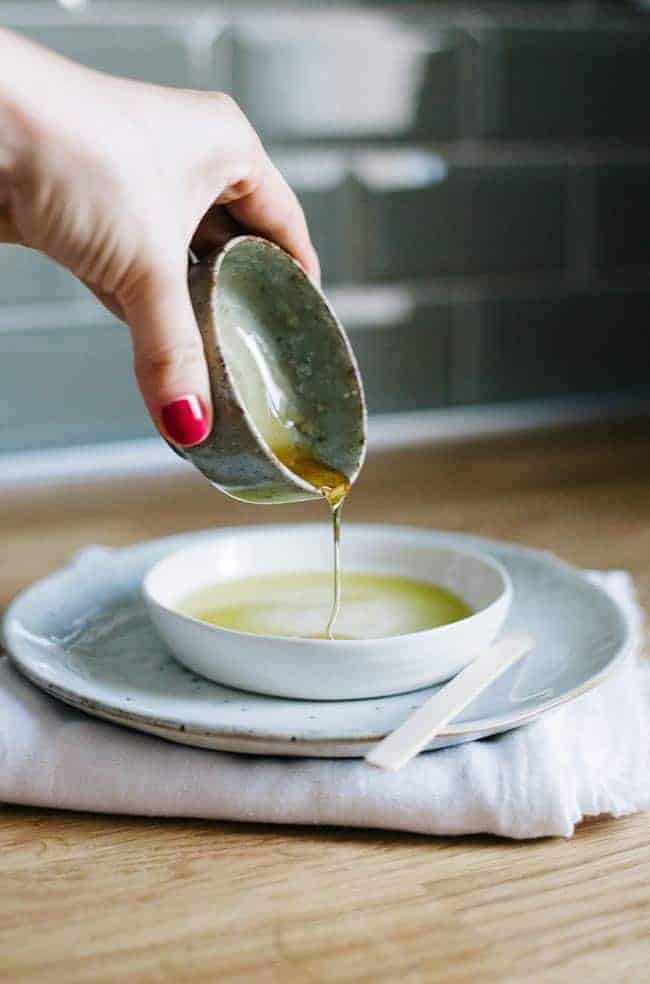 Because it's unfiltered, raw honey contains a lot of other naturally beneficial ingredients that processed honey doesn't, such as propolis and bee pollen. Both of these provide unique benefits for hair and skin that you wouldn't get from filtered honey.
Propolis is a super ingredient that purifies skin and boosts skin healing – basically eliminating any cause of dandruff from your scalp, whether it's bacterial, fungal, or just plain old dry skin. There's also promising research that propolis may boost hair growth for healthier, thicker hair – if that alone isn't good enough reason to use honey on your hair, I don't know what is!
Like propolis, bee pollen is crazy rich in different vitamins and minerals, making it not only a super popular dietary supplement, but a great ingredient to include in your hair care routine. It promotes healing for a healthy scalp, equaling healthier hair over time.
This mask is super hydrating for the scalp and hair, so it's a great option when the source of your dandruff is an overly dry, irritated scalp. Add an oil from the pantry, like coconut, avocado or almond oil. The protein in avocado and almonds helps to strengthen the hair. You can tailor this mask completely to your preferences depending on the oil that you choose, but coconut, avocado, and almond are the ones I recommend.
All three of them are able to penetrate the hair shaft and condition hair, smoothing over any damaged and dry ends. Over time, they're also fantastic for helping to prevent dryness and split ends, so this is a perfect mask to use to repair damage and maintain healthy hair.
How to make a Dry Hair Mask
Mix two tablespoons oil with 1 tablespoon honey and heat in the microwave for a few seconds until warm enough to spread easily. Massage the mixture onto your scalp, then cover with a shower cap for 30 minutes to an hour. Rinse well, and enjoy not just a soothed, flake-free scalp, but gorgeously soft, shiny hair as a result.
3. The Top Knot Trick
While you are applying a mask to your hair (either the hair spritzer or honey + oil treatment from above), a quick fix for extra dry hair is to leave the mask in for as long as you can and put it up in a top knot. It's a cute way to make sure that your hair is getting the most out of your treatment! Plus, if you need to go out, everyone's none the wiser that you actually have a hair treatment in your hair.
Flip head over and twist hair into a knot/bun shape. Secure with a clip. For shorter hair, create a side twist. Leave your hair in a knot for 20 to 30 minutes. You can leave this mask in your top knot while you go to the gym or run a few errands. Or even better, turn your hair mask into a hot oil treatment by spending a few minutes out in the sun. The sun's warmth opens up the hair cuticle so the moisturizing oils can better penetrate your strands.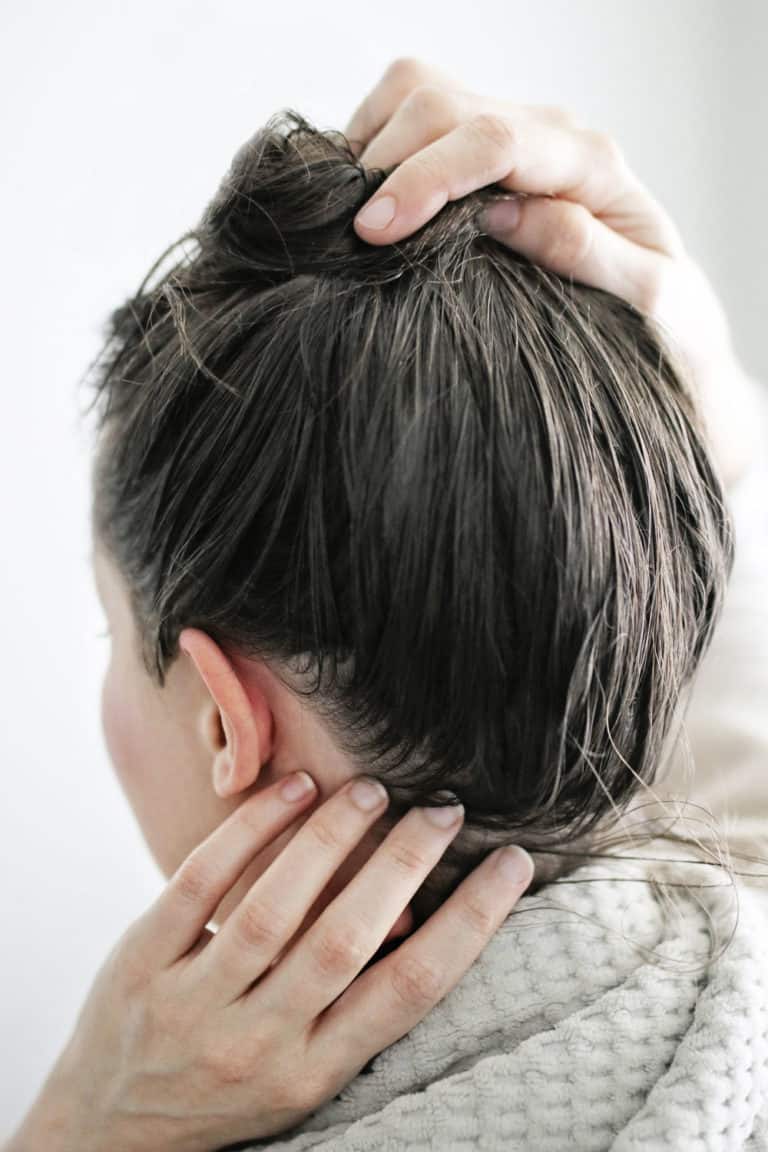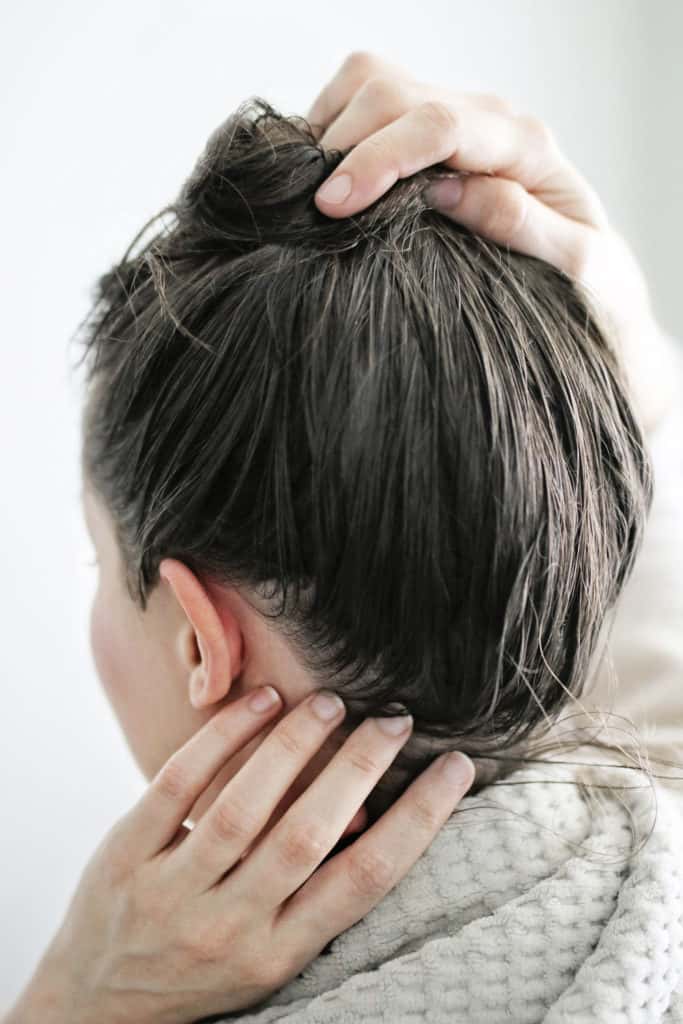 When you come home, release the knot and continue with your normal hair routine in the shower. Repeat the top-knot mask twice a week, and you'll have soft, hydrated tresses in two weeks.
Some key tips for getting the most out of this is to not twist your hair too tightly – overall it should be secure, but you don't want to be pulling hard on your hair. Doing this damages it at the root, making the hair more likely to fall out. Over long periods of time, this is called traction alopecia – hair loss caused by buns and ponytails that are too tight!
Another tip is to not use a regular hair tie – if your hair is feeling very dry and vulnerable, it's best to put them aside anyway as they could cause hair to snap if tied too tightly. If you really need something that's like a hair tie but better for your hair, opt for a silk scrunchie or spiral hair tie. They effectively hold your hair in place without creating damaging tension along the hair shaft.
16