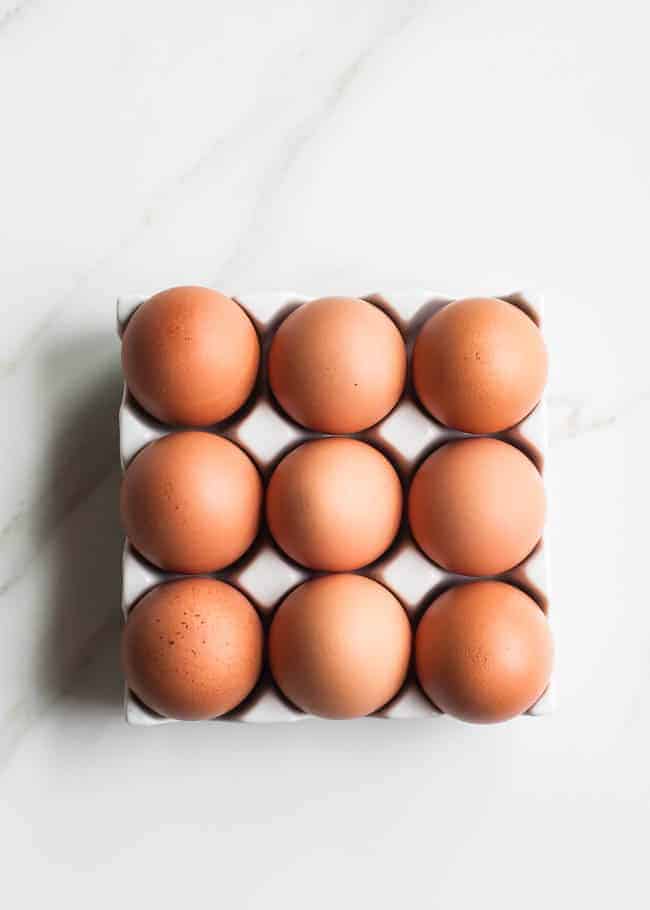 If you're blowing out the yolks of your Easter eggs, consider slathering a bit on your face (and hair too). The protein, fats and nutrients in eggs can work for both dry and oily skin types. If you have oily or aging skin, use the egg white to tighten and firm (bye bye, fine lines and wrinkles!).
Or let the fats in the egg yolk hydrate and rejuvenate dry or acne-damaged skin. Specifically, the cholesterol found in eggs is an amazing treatment for repairing the skin's moisture barrier. There are tons of ways to put egg on your face – here are 4 of my faves.
4 Egg Beauty Treatments
1. Protein hair conditioner
Mash egg and avocado together. Make sure the paste is super smooth to ensure that your hair gets every last drop. Apply to the ends of your hair and massage all over your head if needed. Wait 10-15 minutes and rinse with cool water. If you rinse with hot water, you'll have something like scrambled eggs all over your scalp—believe me, I've been there.
Shampoo and rinse again. Don't forget your usual conditioner to ensure that your hair holds on to the extra moisture from the mask! The protein and fats in the yolk add moisture, and the avocado oils smooth out frizz.
This is a great mask to use for bleached hair which needs a top up of both moisture and protein.
2. Egg white face lift mask
1 egg white
1 teaspoon lemon juice
1 teaspoon raw honey
Mix ingredients together and apply to face. Let it dry for 15 to 20 minutes and rinse with warm water. The egg white tightens and tones your face, the lemon reduces age spots and the honey kills bacteria, as well as plumps the skin.
Because this has lemon juice, it's best to use this at night. Some people experience sun sensitivity after using lemon juice on their skin, and it's best to avoid any sun exposure immediately after.
3. Egg white pore strips
1 egg white
piece of tissue or toilet paper
Whip the egg white until frothy. Apply egg white to your nose (or all over if you want!). Quickly lay the tissue on top and pat it to adhere with egg white.
Keep it on until you feel the egg is dry then peel it off and rinse with water. Peeling off the egg white grabs the gunk out of your pores for clear, blackhead-free skin!
4. Egg Yolk Hydrating mask
1 egg yolk
1 pinch turmeric
1 teaspoon olive oil
Mix yolk, turmeric and oil together to make a paste. Apply to the face and let it dry for 20 minutes. Rinse with warm water. When using this mask, the oil isn't optional—if you leave turmeric on skin without an oil, it can easily stain the skin (and stay there for days!). Even though turmeric is an amazing anti-inflammatory, I don't want it to make my face yellow!
Egg yolks are great for dry skin. The egg proteins promote skin repair and the B vitamins, the olive oil hydrates and locks in moisture and turmeric makes your skin glow.
196