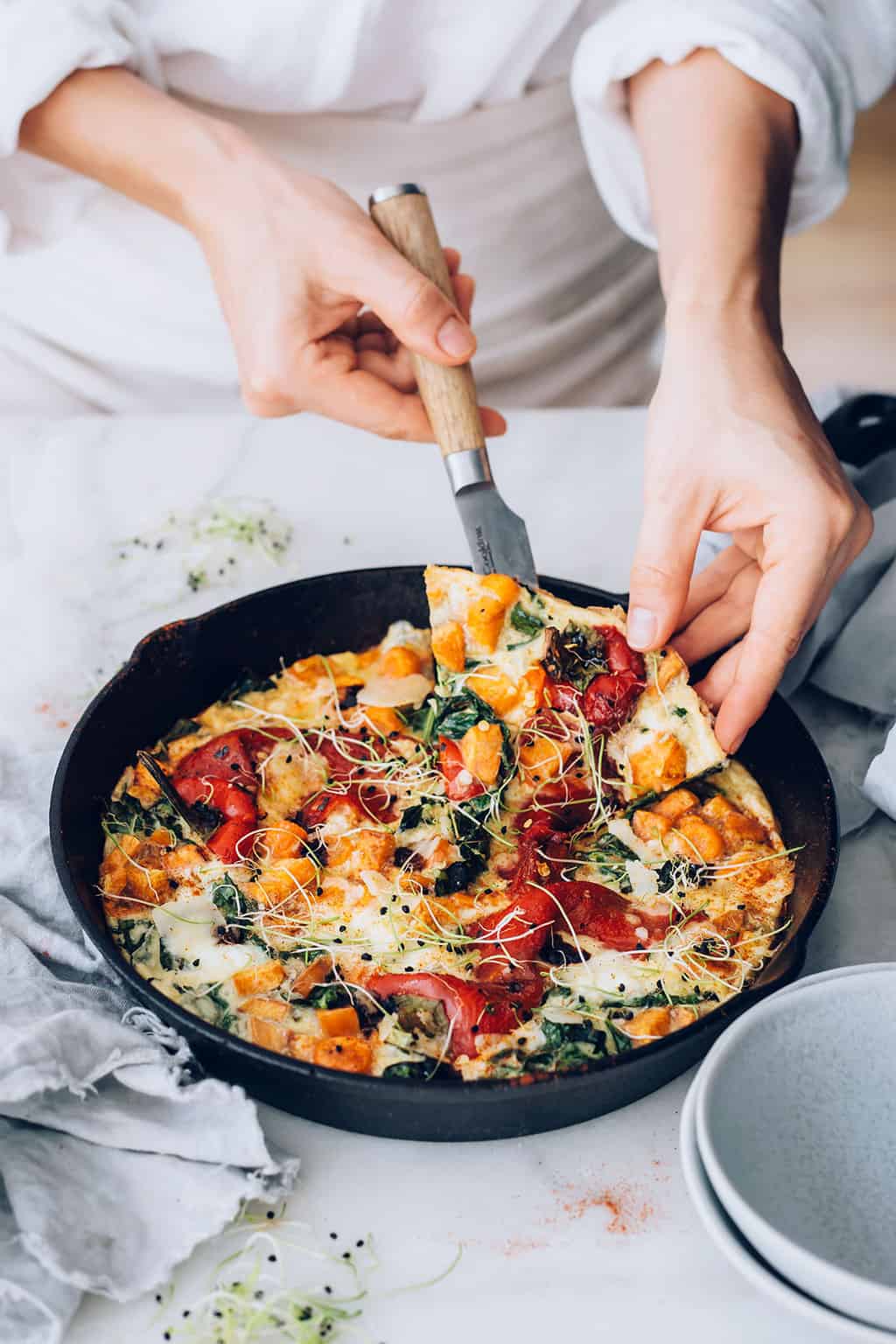 If you are looking for a new simple recipe to add to your meal prep routine, you're in the right place – this egg bake recipe has them all – it's packed with vegetables, it's satiable from being protein loaded, and makes great option for a pack-to-go lunch at the office.
And if your meal prep includes roasting vegetables for the whole week, you only need to beat the eggs and though just a few more simple ingredients, and turn on the oven! Yes, this egg bake recipe is that simple. Plus, it is vegetarian, gluten-free and keto.
Why we love egg bake recipes

Do you want to take your omelettes to the next level? Egg bake recipes are a great alternative for a hearty, nourishing dish that doesn't require special kitchen skills. They are quite a popular dish in different cultures (frittata anyone?), and they make a tasty way to hide some nutritious vegetables from choosy taste buds.
To make an egg bake recipe you will need eggs of course and any ingredient you want to include. We love adding roasted veggies because they enrich the nutritional load with minerals and fiber, but you can add cheese or sour cream, green leaves, tofu, beans or even pasta.
The steps are pretty easy:
1. Prepare your ingredients – rinse, chop and roast or sauté the veggies, crumble the cheese, choose your spices.
2. Transfer the veggies into the baking pan.
3. Beat the eggs with milk or plant milk.
4. Add the extras – spices and salt.
5. Pour the eggs over the vegetables.
6. Top with crumbled cheese (optional).
7. Bake.
8. Cut and serve or transfer into grab-and-go containers.
9. Keep in the refrigerator for up to four days.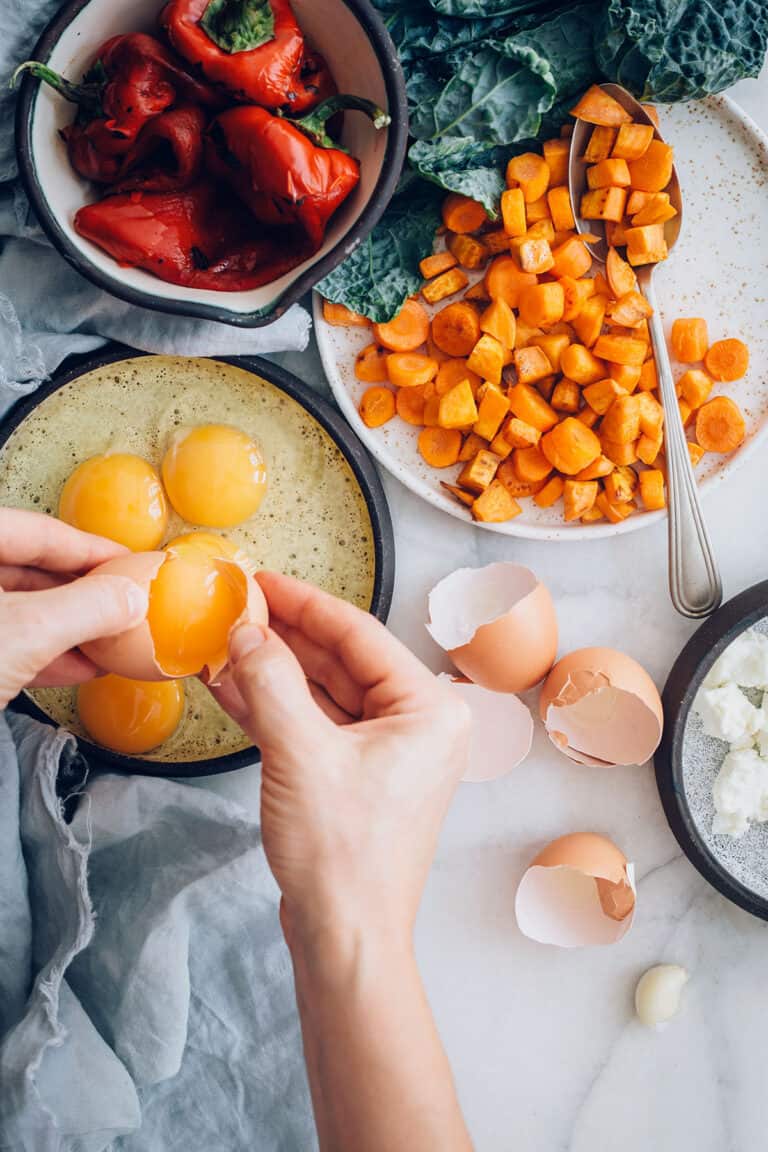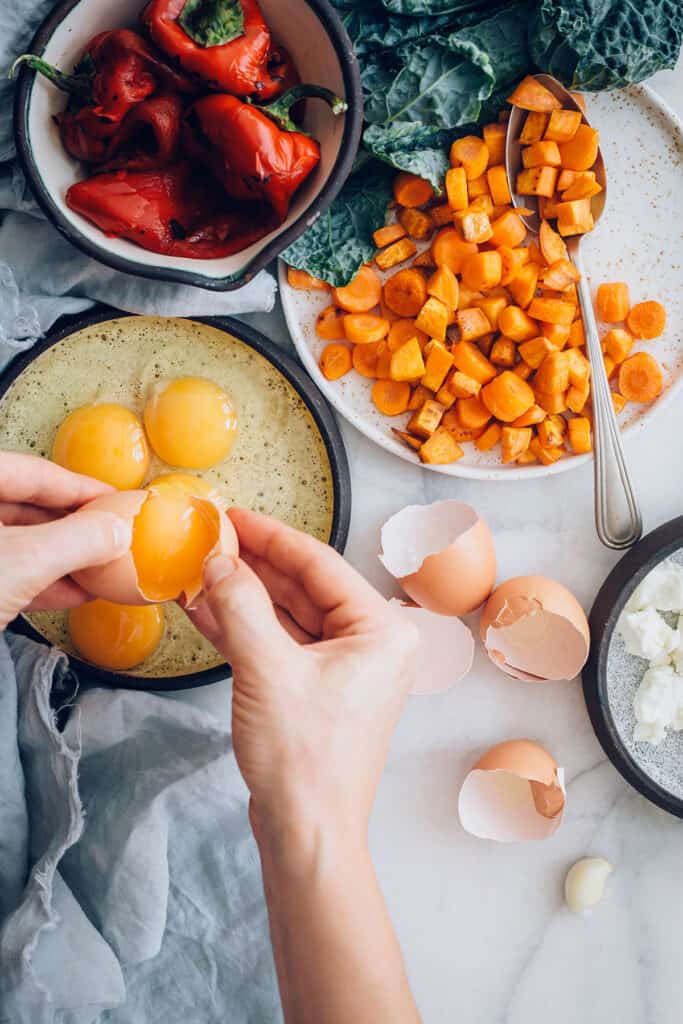 How to make an egg bake recipe

This baked egg casserole is our go-to autumn meal prep recipe because it's packed with fiber, vitamin A, minerals and of course, protein. We selected carrots, sweet potato, red bell peppers, kale, onions and garlic to create a tasty and colorful combo, while also adding a wide area of nutrients available from vegetables that are in season and easily available at the farmers' market.
You can replace them with your own favorite vegetables – broccoli, mushrooms, chard, spinach, beets, pumpkin – any would work, but we recommend choosing vegetables that are in season to get the maximum from their nutritional load. To make our egg bake recipe more satiable we added crumbled goat cheese, but you can skip this step for a skinnier version, or replace it with your favorite cheese (even tofu would make a good choice).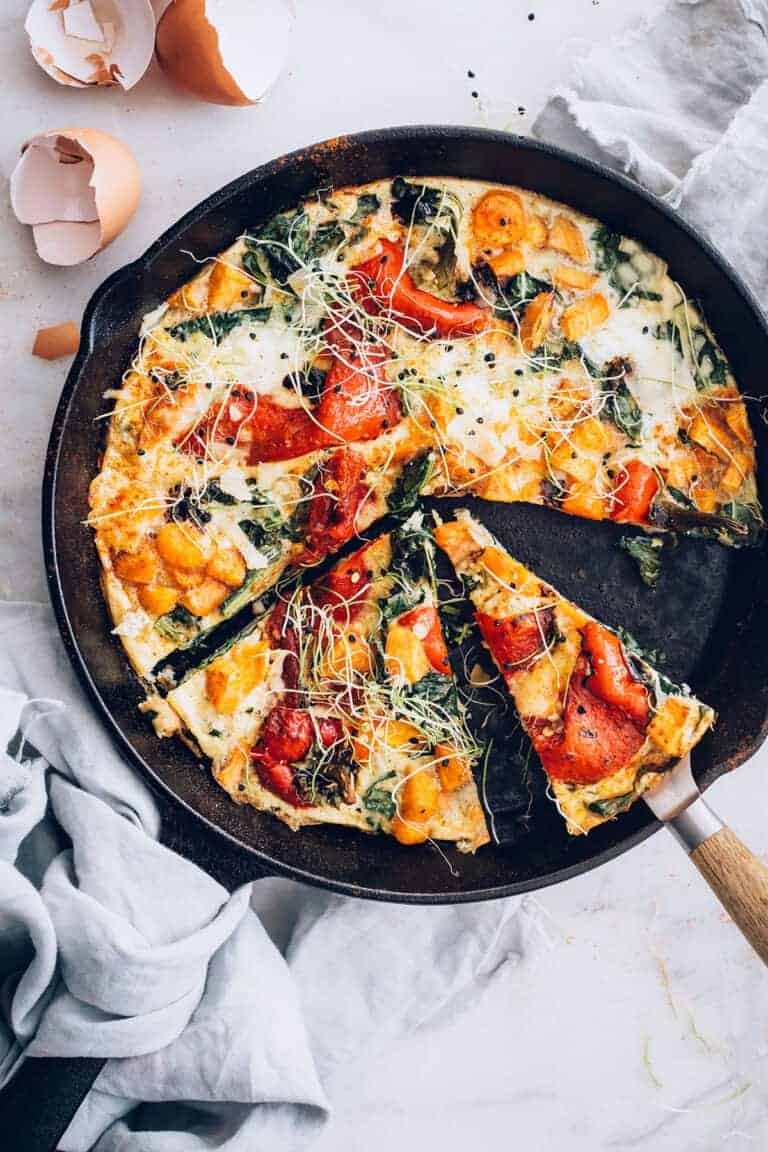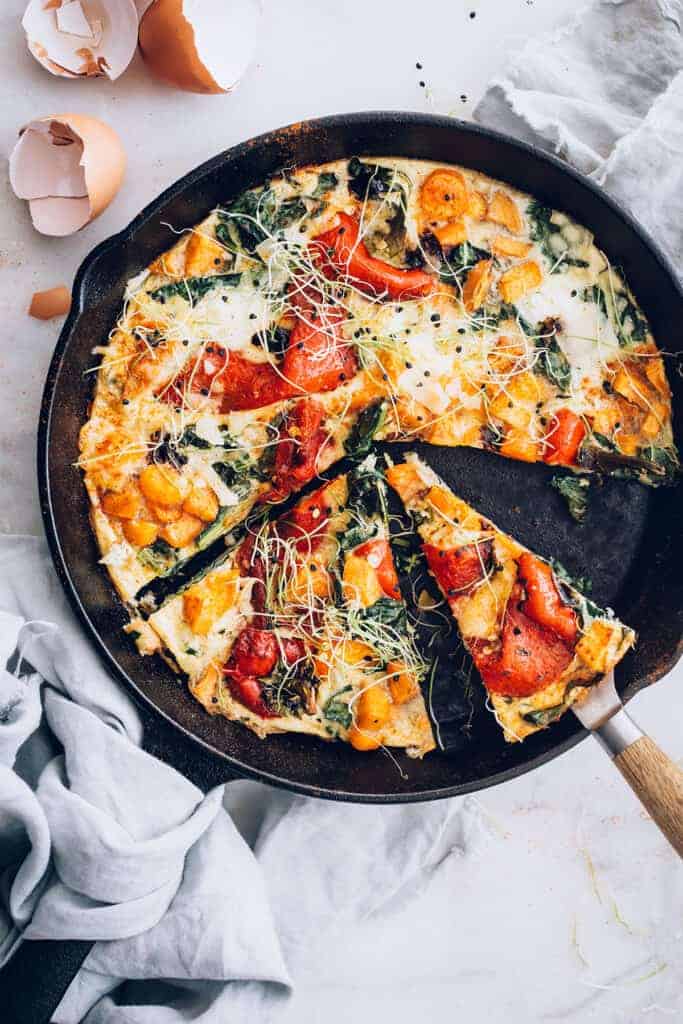 How to serve an egg bake

As a meal prep dish, this egg bake recipe works best as a hearty lunch to-go. However, you can have it for breakfast or even serve it at dinnertime, next to a salad. Having eggs for dinner can be a bit heavy on your digestion, but if you don't have anything else to eat, this healthy egg bake can make a tasty dinner alternative.
Looking for more healthy egg recipes? Try our Fried Egg Breakfast Tacos or our Quick Chilaquiles Verdes.
Did you make this recipe? Tag us #helloglowblog on Instagram, and we will share your photo with our community!
Photos by Ana Stanciu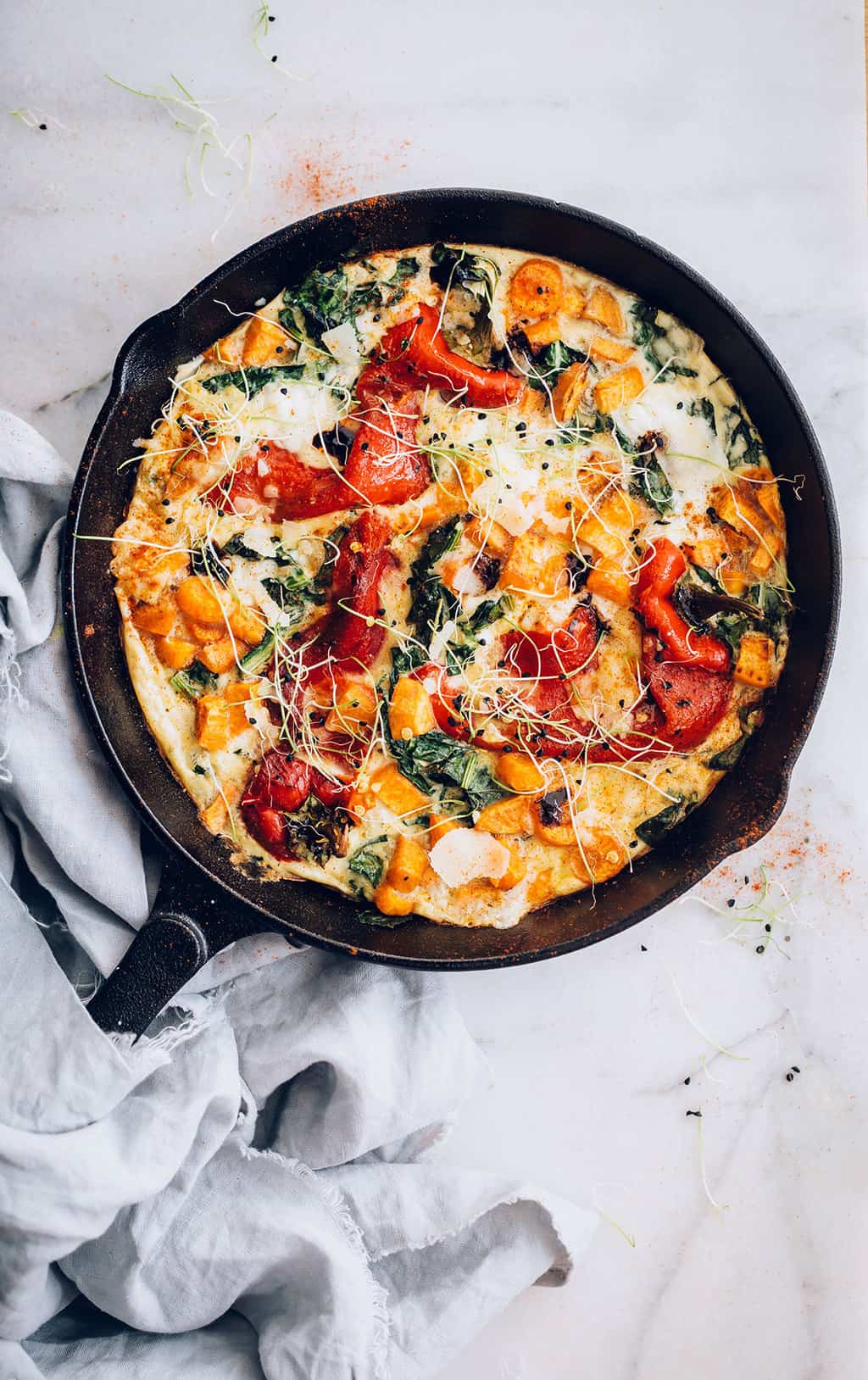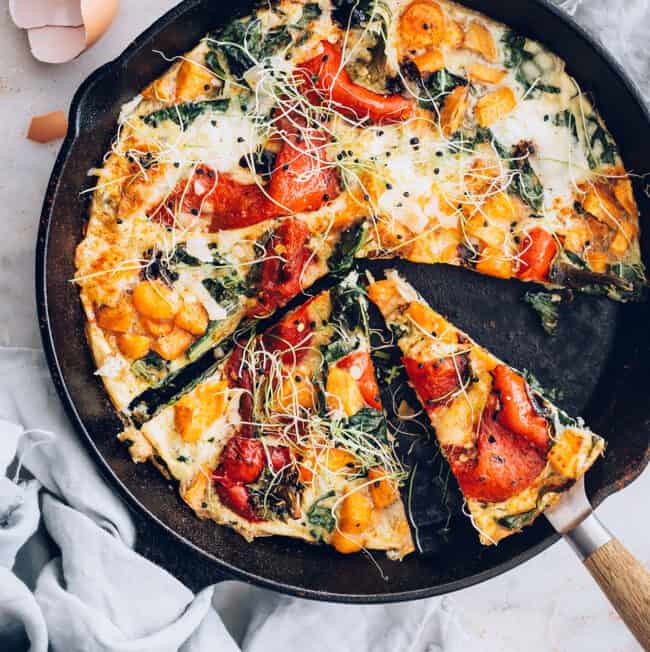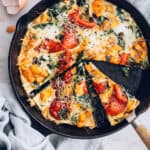 Print Recipe
Easy Egg Bake Recipe with Roasted Autumn Veggies
Packed with the best autumn vegetables, loaded with protein, tasty and satiating, this egg bake recipe is a great recipe to add to your meal prep routine!
Ingredients
8

eggs

3

sweet potatoes

cubed

2

carrots

diced

4

kale leaves

chopped

4

red bell peppers

1

yellow onion

diced

2

garlic cloves

minced

1/2

cup

goat cheese

crumbled

1/2

cup

unsweetened almond milk

1

tsp

turmeric powder

1/2

tsp

sweet paprika

1 /2

tsp

salt

freshly ground black pepper

micro-greens, to garnish

1

tbsp

extra virgin olive oil
Instructions
Preheat the oven to 175C/350F.

Line a baking sheet with parchment paper, and add the vegetables.

Drizzle with olive oil, season with salt, pepper, turmeric and paprika, and toss to coat evenly.

Remove from the oven and transfer into a non-stick large skillet or casserole. Add the chopped kale and mix to combine.

In a large bowl beat the eggs with the almond milk, and pour over the vegetables.

Top with crumbled cheese.

Bake for 30 mins, then remove, cut and serve warm. Pack in airtight glass containers and keep in the refrigerator for up to 4 days for later use.
4