Most people think of toast as a breakfast food, but it can be a great snack staple anytime of the day. Don't get me wrong though, I still love the traditional butter and strawberry jam combo in the morning. And when I need a little sweetness to start my day, there's nothing like cinnamon sugar on toast–something my mom always did for me when I was young. But it's time to branch out and look at some new possibilities for toast toppings.
Whether you like fruit, cheese, peanut butter or nuts, almost anything can be used to upgrade your toast. I like to start with whole wheat toast as a base, but you can certainly stick to traditional white bread, or even get creative with sourdough or Italian. That's the beauty of this idea–you can do whatever your heart desires.
10 Easy Ingredient Combos to Upgrade Toast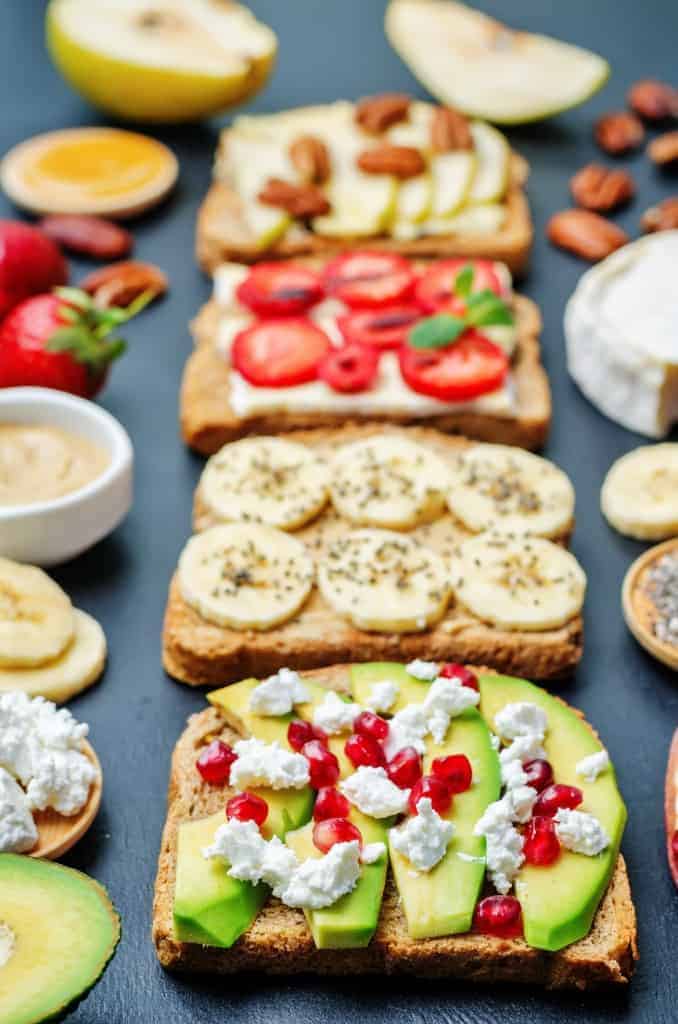 Even though you can throw on whatever you please, sometimes you need a little inspiration and that's where this list comes in. Here are some of my favorites:
1. Banana + Almond Butter + Chia Seeds
Between the almond butter and chia seeds, this toast delivers the protein, fiber and healthy fats you need to fuel your morning.
2. Apples + Pecans + Gorgonzola + Honey
Salty cheese is balanced out by the sweetness of apples and honey–with chopped pecans added for a bit of crunch.
3. Brie + Strawberries + Balsamic Vinegar
Balsamic vinegar is so good when paired with berries. If you have the time, roast the strawberries first and sprinkle some freshly ground pepper over the toast before serving.
4. Butter + Radishes + Sea Salt
This combination has been everywhere lately, and with good reason: it's simple and delicious.
5. Pesto + Parmesan Cheese + Walnuts
If you're craving something savory, this toast is sure to please.
6. Ricotta Cheese + Blueberries + Almonds + Honey
While this toast might taste like dessert, it's full of protein, fiber and antioxidants, so you can snack on it guilt-free.
7. Mashed Peas + Chopped Mint
Leftover veggies from last night's dinner make a fantastic topping for toast, especially when paired with fresh herbs.
8. Tomato + Avocado + Basil
We couldn't leave out avocado, could we? Heirloom tomatoes are in season for just a little while longer and this simple ingredient combination really lets them shine.
9. Cream Cheese + Berries + Basil
Basil adds a little bit of sophistication to the classic combination of berries and cream cheese.
10. Hummus + Walnuts + Pomegranate
This Mediterranean-inspired toast is perfect for an afternoon snack–it's filling enough to keep you satisfied, but not so filling that you won't have an appetite for dinner.
25