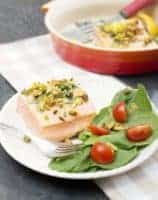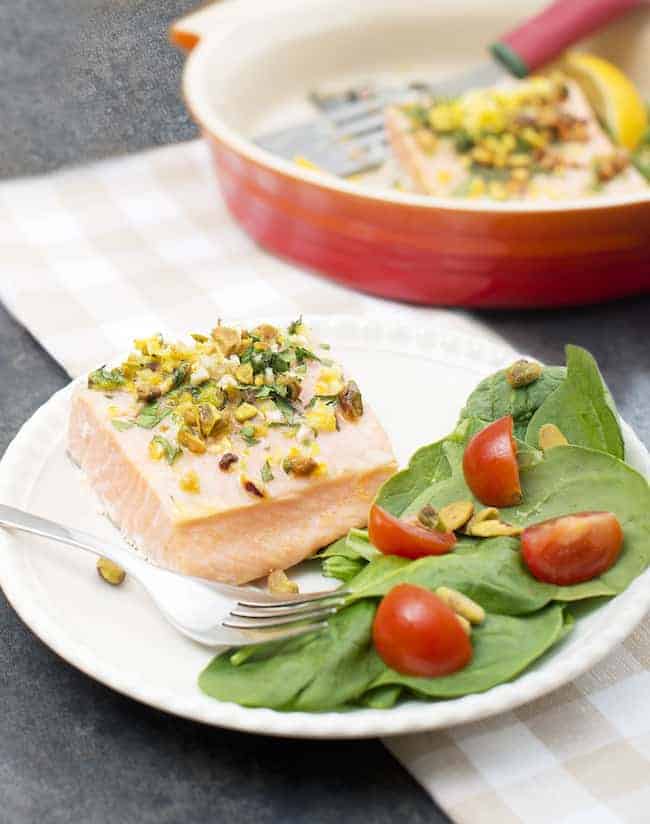 Lemon-Pistachio Salmon with Parsley
Yield 1 -2 pieces
Salmon is full of healthy fats and takes well to just about any flavor combination.
Ingredients
1 large salmon filet, thawed (1/2 to 1 lb)
2 tbsp olive oil, butter or buttery spread like I Can't Believe It's Not Butter
2 tbsp chopped fresh parsley, plus more for garnish
1 tbsp lemon zest (slice rest of lemon)
1 clove garlic, minced
1/4 tsp salt
1/4 tsp black pepper
1/4 cup chopped pistachios or other nuts
Instructions
Preheat oven to 400°.
Place salmon (skin side down) on parchment-lined or non-stick baking sheet/uncovered baking dish.
In small bowl, mix olive oil, butter or buttery spread with parsley, lemon zest, garlic, salt, pepper and nuts.
Spoon evenly over salmon filet (discard any extra mixture).
Bake salmon 8 to 12 minutes, until buttery spread has completely melted and nuts are beginning to toast. Salmon should flake apart easily with a fork. For more flavor, add sliced lemons to baking sheet or dish while cooking.
Remove from oven and garnish with more parsley if desired.
Serve hot with salad, quinoa or another healthy side.
Courses Dinner
Cuisine American
Recipe by Hello Glow at https://helloglow.co/easy-weeknight-meal-lemon-pistachio-salmon-with-parsley/