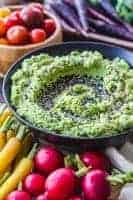 Edamame Hummus
Yield 12 servings
Ingredients
1 1/2 pounds frozen shelled edamame
6 cloves garlic
1 1/2 lemons, juiced
2 tablespoons Lee Kum Kee Pure Sesame Oil
2 tablespoons olive oil
1 teaspoon Kosher salt
1/2 teaspoon cracked black pepper
1 tablespoon water (optional)
Black and white sesame seeds for garnish (optional)
Variety of vegetables for serving (radishes, carrots, cherry tomatoes, blanched green beans, and endive leaves)
Instructions
Bring a pot of water to a boil. Boil the edamame for about 4 minutes or until tender. Drain and cool slightly.
Place the cooked edamame in a food processor. Add the garlic, lemon juice, Lee Kum Kee Pure Sesame Oil, olive oil, salt, and pepper. Process until the mixture is fairly smooth or desired consistency. Add water if needed to thin it out a bit.
Transfer the hummus to a serving bowl and sprinkle with sesame seeds and drizzle with more sesame oil, if desired. Serve with vegetables. 
Notes
If you can't find shelled edamame, substitute about 2 pounds of in-shell edamame beans. Boil as directed and remove beans from shell pods before processing. 
Recipe by Hello Glow at https://helloglow.co/edamame-hummus-crudite-platter/