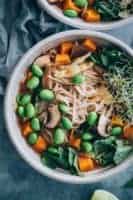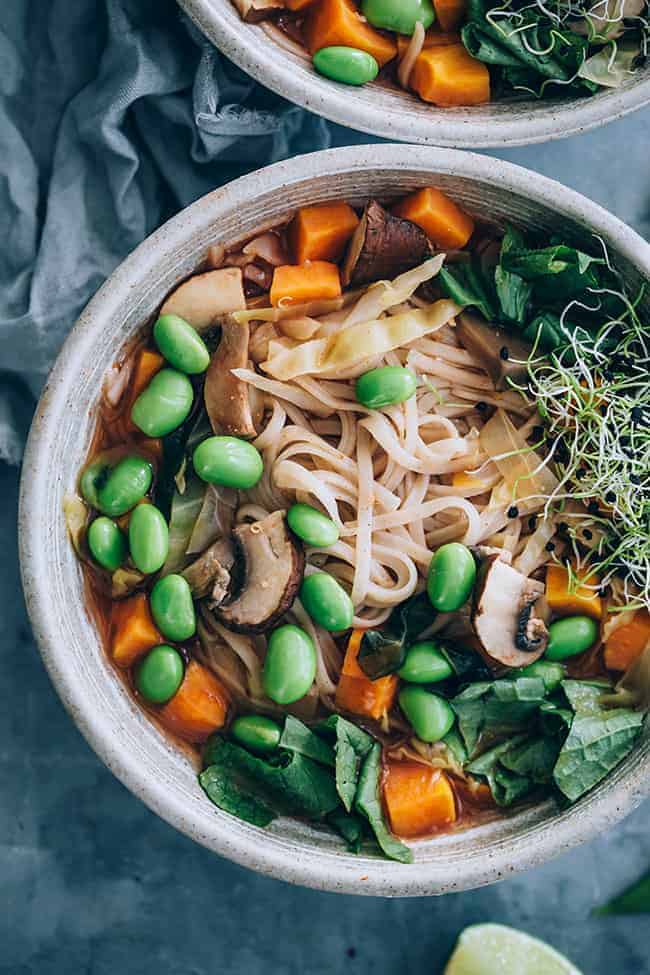 Edamame Soba Noodle Bowl
Yield 4 bowls
Our homemade remake of a favorite from Panera.
Ingredients
2 cups frozen edamame pods, defrosted
1 tablespoon olive oil
1 yellow onion, diced
2 carrots, cut into cubes
1/4 small white cabbage, diced
6 portobello mushrooms, diced
1 cup fresh spinach leaves
6 cups low sodium vegetable broth
3 tablespoons red miso paste
1 tablespoon paprika
1 tablespoon apple cider vinegar
1/4 teaspoon cayenne
1/2 teaspoon sea salt
1 bunch soba noodles
1 cup greens of choice (kale, beet leaves, chard, radish leaves), chopped
Lime juice, to serve
Sprouts of choice, to garnish
Instructions
Remove the edamame beans from the pods.
In a large skillet, add the olive oil and the vegetables (except the spinach and greens), and cook for ten minutes over medium heat, stirring frequently.
Add the spinach, cook for two more minutes, turn off the heat and set aside.
In a medium soup pot, add the vegetable broth and bring to boil over medium heat.
In a small pot, mix the miso paste with paprika, cayenne, salt and vinegar and add into the simmering water. Stir to combine.
Add the soba noodles and greens into the broth and simmer for three minutes over low heat, until the noodles are tender.
Divide the noodles and broth into the serving bowls, add the vegetables, drizzle with lime juice and garnish with sprouts.
Serve warm. 
Courses Lunch
Recipe by Hello Glow at https://helloglow.co/edamame-soba-noodle-bowl/