This post is sponsored by Herdez, all opinions are our own.
Mexican night is a favorite for my family. I like that burrito bowls are simple dishes for busy nights, and my kids love that lots of toppings let them build their own meal. Plus, meal bowls tend to be pretty well-balanced; for a 'throw it all together' meal you get whole grains, healthy fats, protein, and plenty of veggies. And this farro burrito bowl takes build your own to a new level! We gave it authentic Mexican flavor by adding Herdez Guacamole Salsa and cotija cheese. And if you buy a roasted chicken, it makes an effortless meal with almost no cooking involved.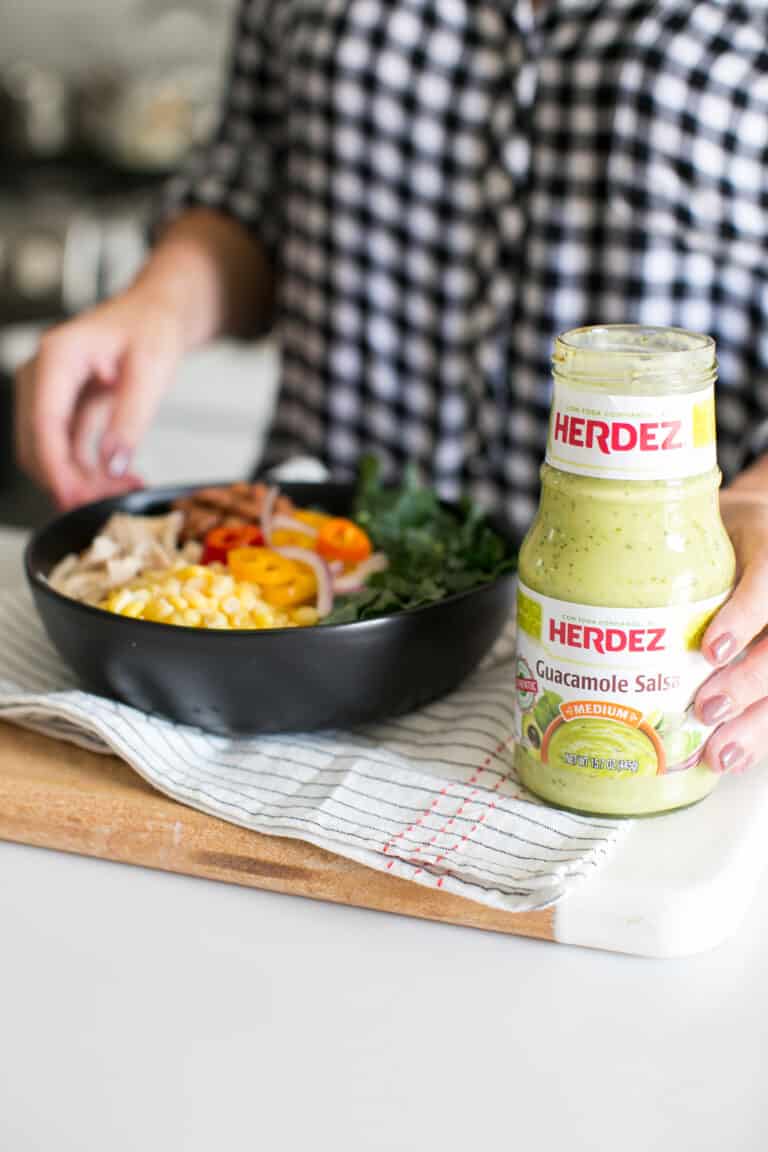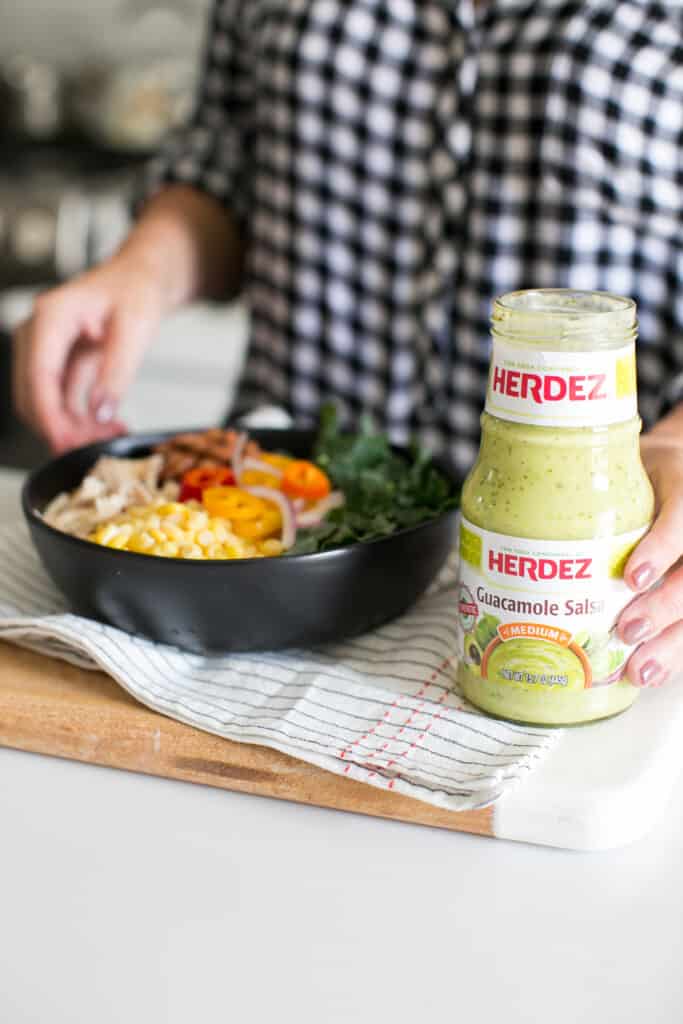 The number one salsa brand in Mexico, Herdez Guacamole Salsa is an amazing combo of spicy salsa and creamy guacamole. Made with tomatillos, green chile peppers, avocados, and cilantro, it definitely brings the heat! I love the kick of the Medium, but my kids prefer the Mild version.

I like Herdez salsas because they are known for simple, quality ingredients and represent the heart and soul of Mexican cuisine, helping you add bold, authentic flavor to your bowls. Don't limit your Guacamole Salsa to just this burrito bowl recipe! It adds fresh flavor to tacos, burritos, enchiladas, quesadillas, and beans and rice and some kick to fish and chicken meals. And if you love taco salads, it's the perfect salad dressing.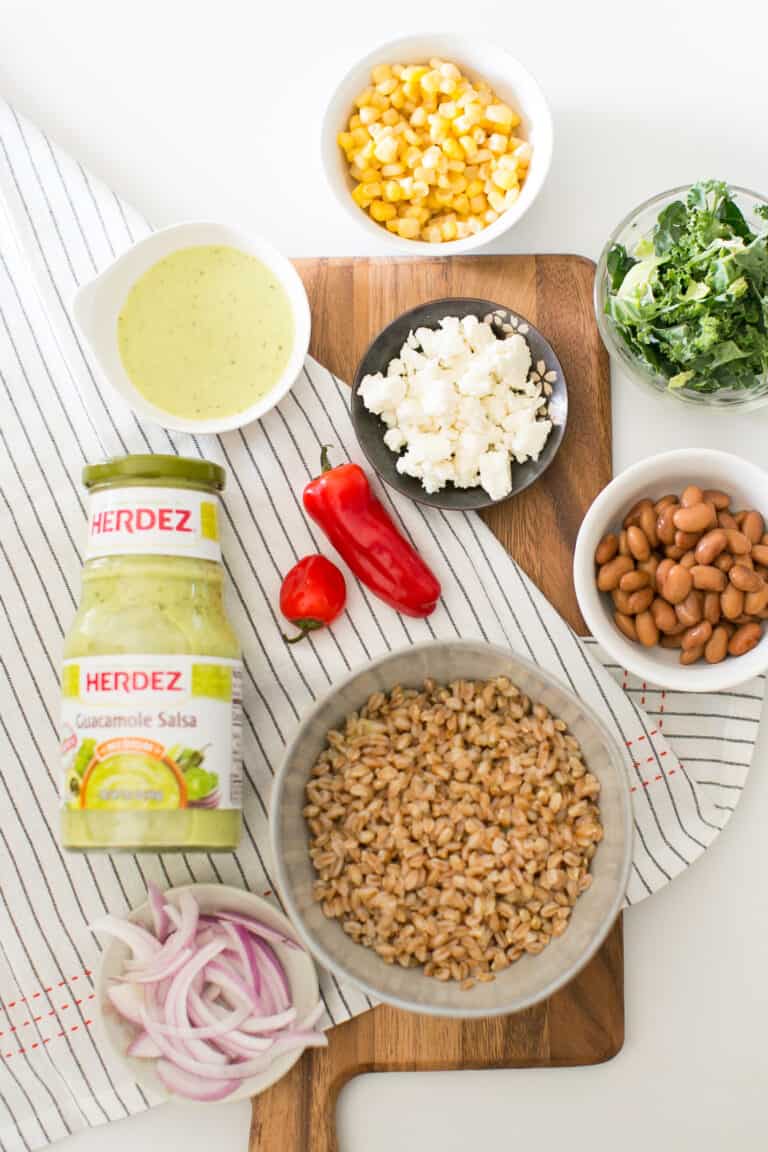 Let's talk about building your bowl. With farro as your base, set out as many toppings as you can to tempt picky eaters. For some reason, the more little bowls of grains, veggies, and beans, the more everyone seems to eat. Everyone in my family likes different things (of course), but here are our favorites for burrito bowls:
Pinto beans
Cotija cheese
Roasted chicken
Corn
Kale
Mini sweet peppers
Red onion
Avocado
Cherry tomatoes
Cilantro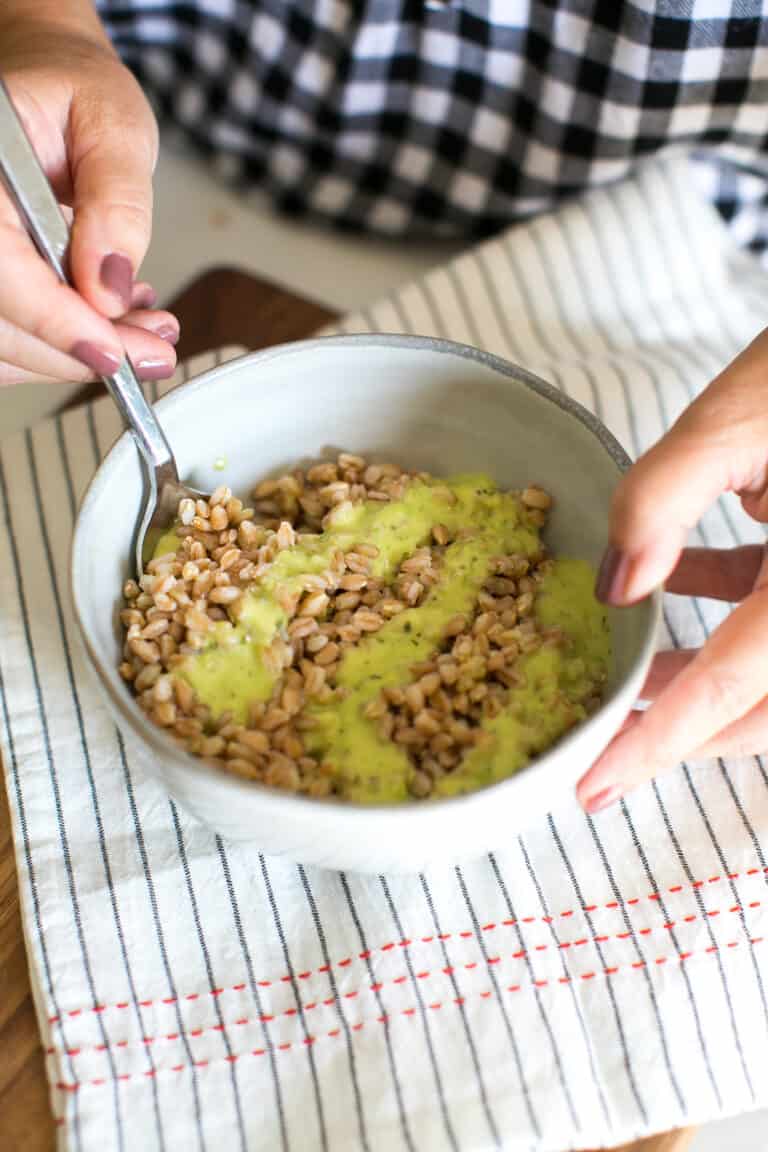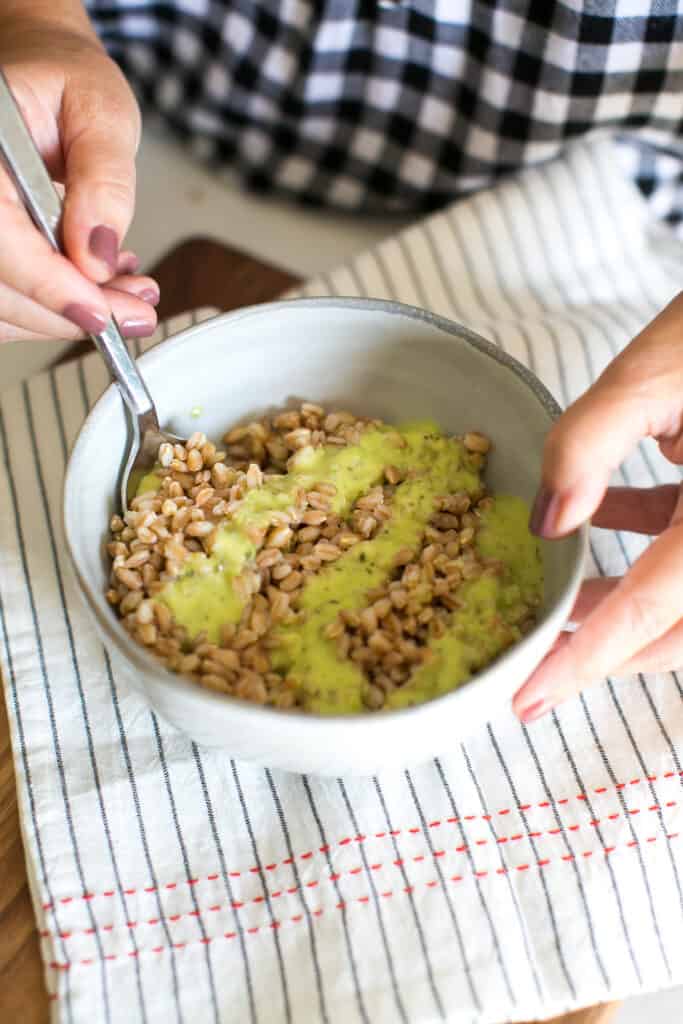 Farro has become my go-to grain for weeknight meal bowls. Semipearled farro doesn't require overnight soaking and cooks up fast. Pearled farro takes even less time to cook, but you'll get less fiber. I've never been a fan of quinoa, and farro has a nutty, earthy taste and adds texture and heft to soups, salads, and, yes, grain bowls.
So, yes, farro is easy to cook, and I think it tastes better than quinoa. BUT. It's even better when you add some flavor! The secret ingredient in my bowls is Herdez Guacamole Salsa. You'll get so much more flavor if you add it to the farro first and then drizzle it on top of the meal bowl.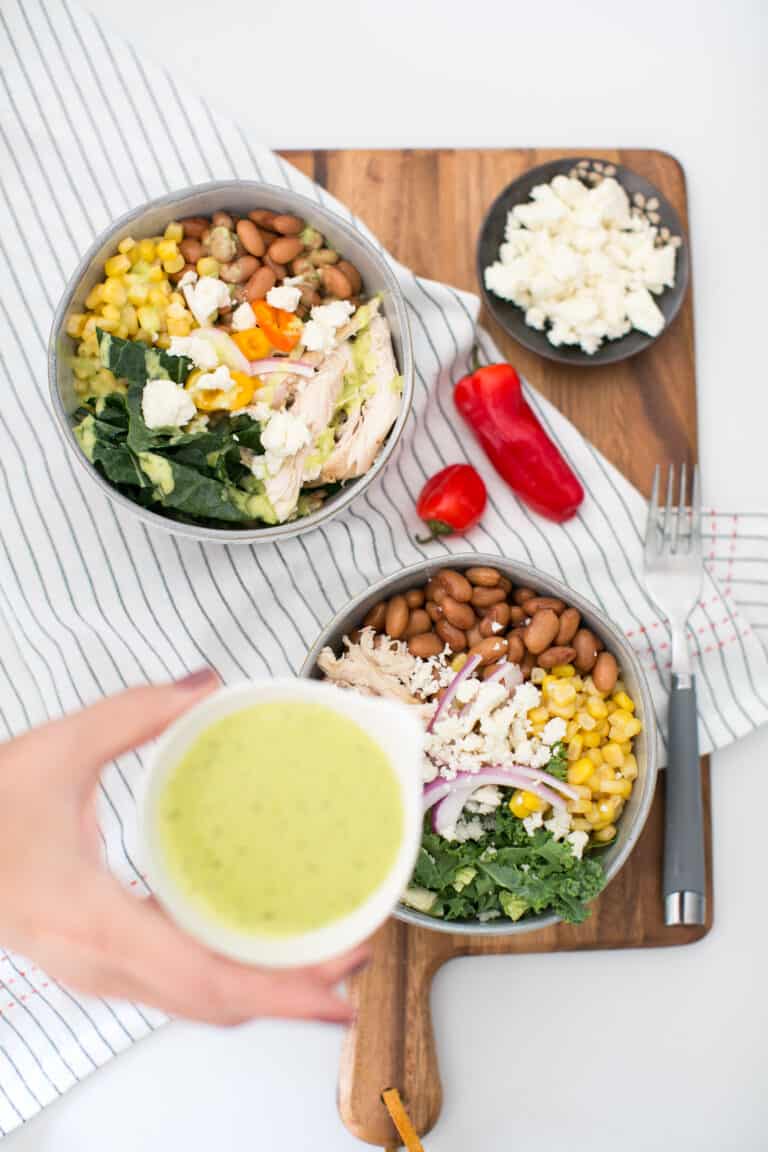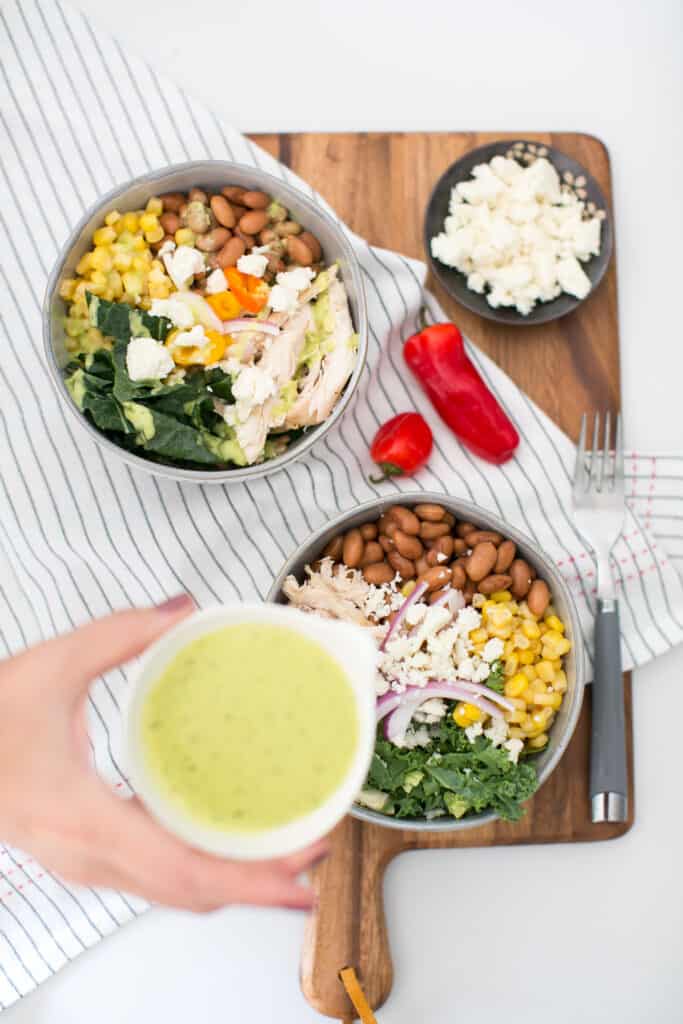 Assemble your farro bowl, drizzle Guacamole Salsa on top, and dig in! Not only are meal bowls pretty to look at, but the leftovers are ideal for packing up for lunch the next day.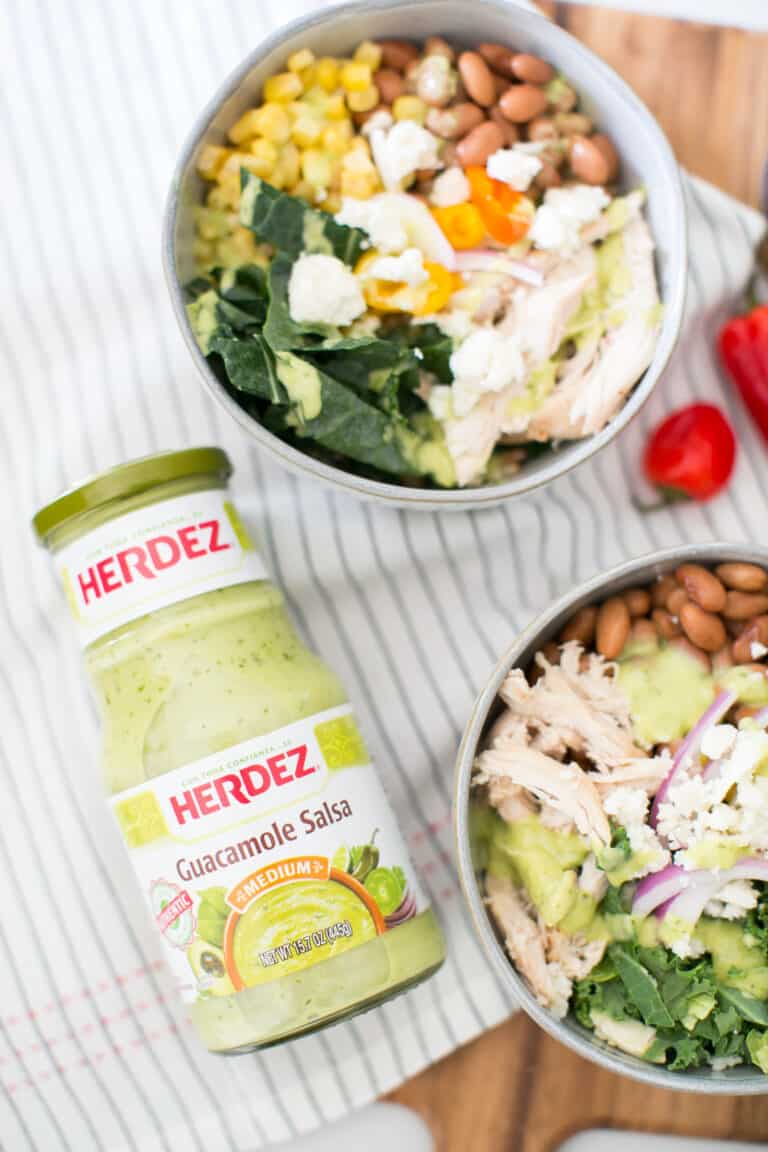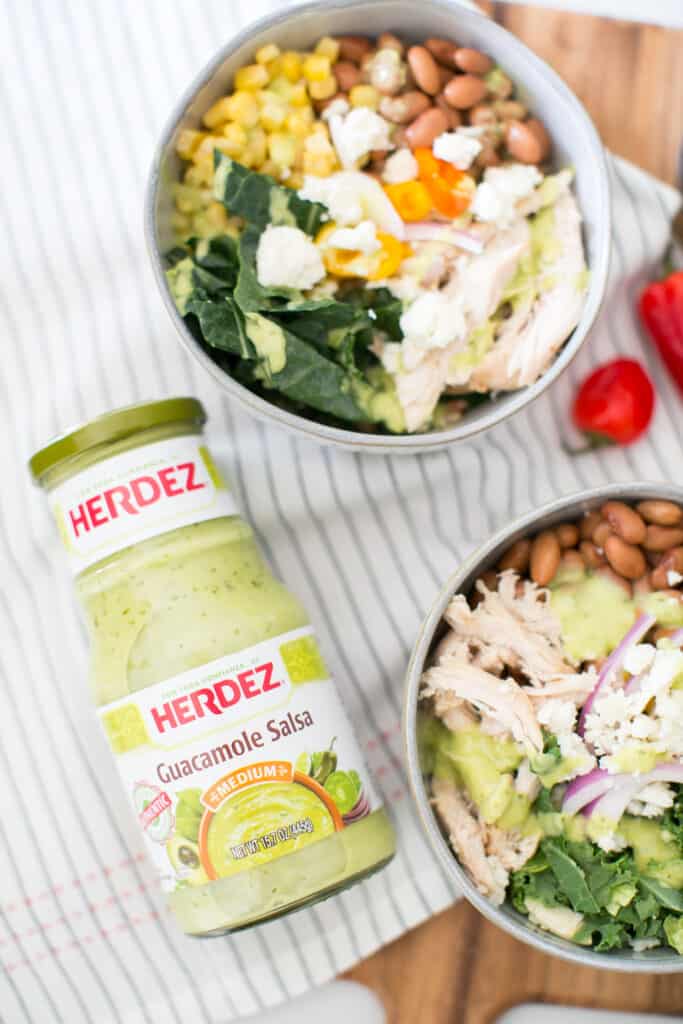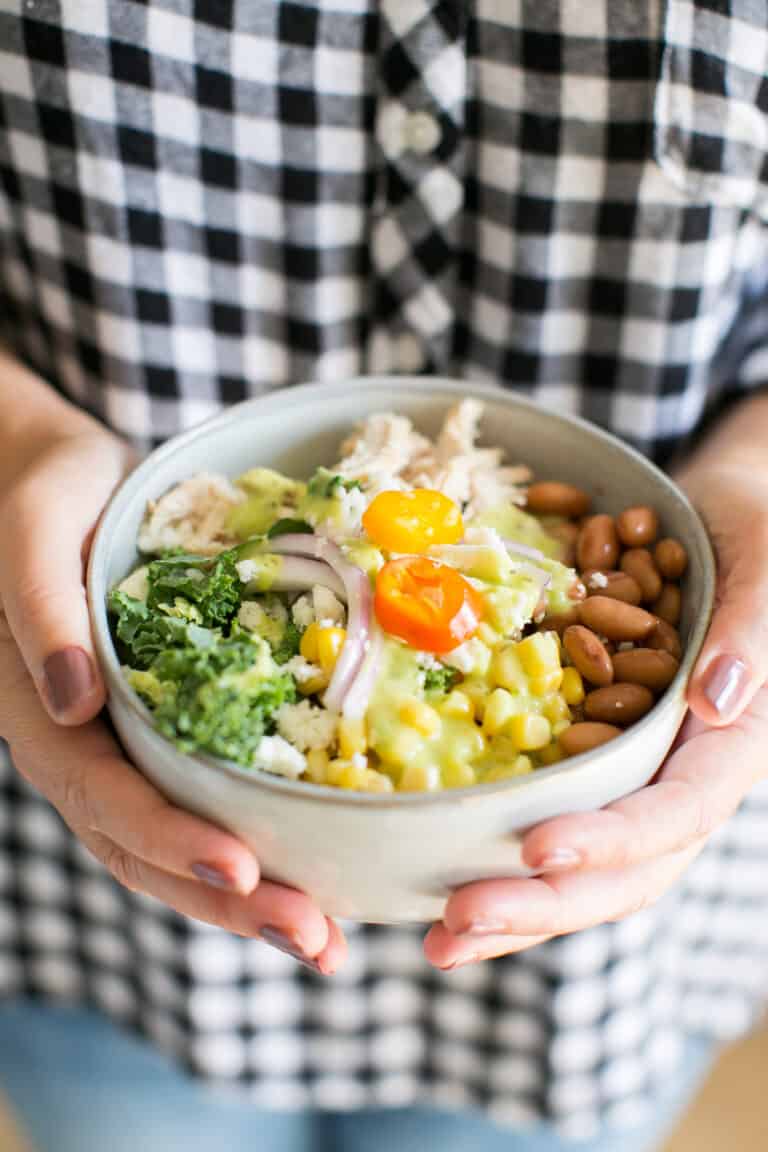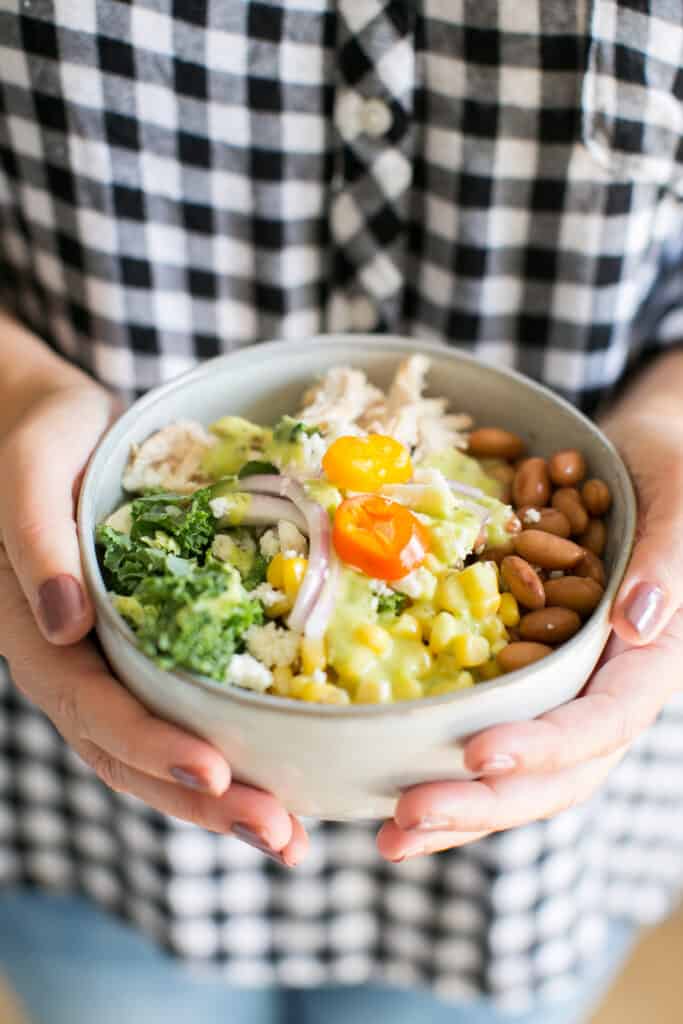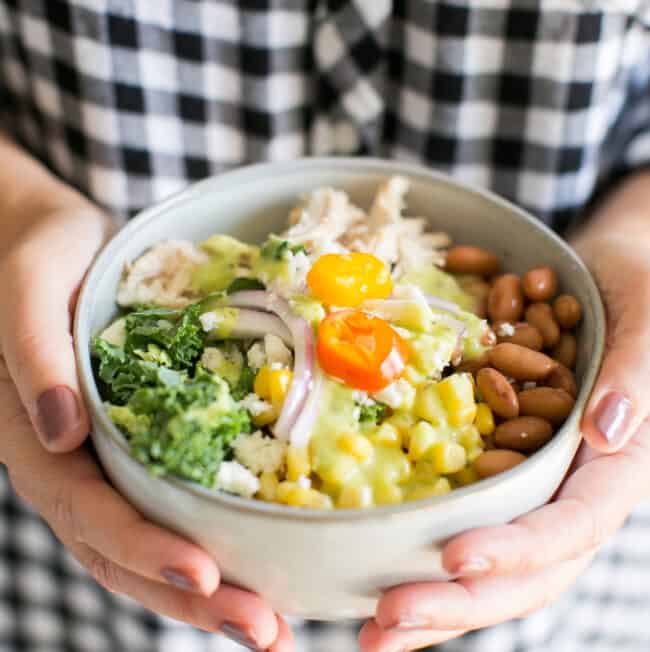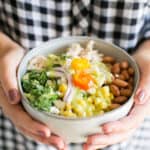 Print Recipe
Effortless Farro Burrito Bowls with Cotija and Guacamole Salsa
A build-your-own weeknight meal bowl with our new go-to grain, farro. Guacamole Salsa and Cotija add some spicy Mexican flavor.
Ingredients
1/2

cup

Herdez Guacamole Salsa

1

chicken breast, cooked

can use rotisserie

1

cup

farro, cooked

1/3

cup

corn

1/3

cup

pinto beans

1/4

cup

Cotija cheese crumbles

1/4

cup

kale, chopped

1/4

cup

mini sweet red peppers, thinly sliced

1/4

cup

red onion, thinly sliced
Instructions
Cook the farro according to package instructions.

Place the farro at in a medium bowl. Drizzle on 1/4 cup HERDEZ Guacamole Salsa and stir into the farro.

Top with remaining ingredients, drizzle on remaing Guacamole Salsa and mix thoroughly.
1