Raise your hand if you'd like healthier, shinier hair. Everyone? That's what I thought.
As someone who's always looking for ways to make her hair grow faster, look shinier, and feel thicker, I've got some good news: you can stop splurging on expensive hair products. The key to healthy hair has been right in your refrigerator this whole time.
Eggs make for the ultimate at-home hair therapy.
The nutrients in eggs (those gorgeous golden yolks, especially) are the same ones found in strong, glossy hair. And adding eggs to your beauty regimen can refresh even the most frazzled locks.
While you're free to slather raw eggs in your hair and call it a day, I recommend a more tailored approach based on your particular hair woes. Combining eggs with other ingredients like aloe vera, essential oils, and lemon juice can target specific issues and do wonders for all types of hair.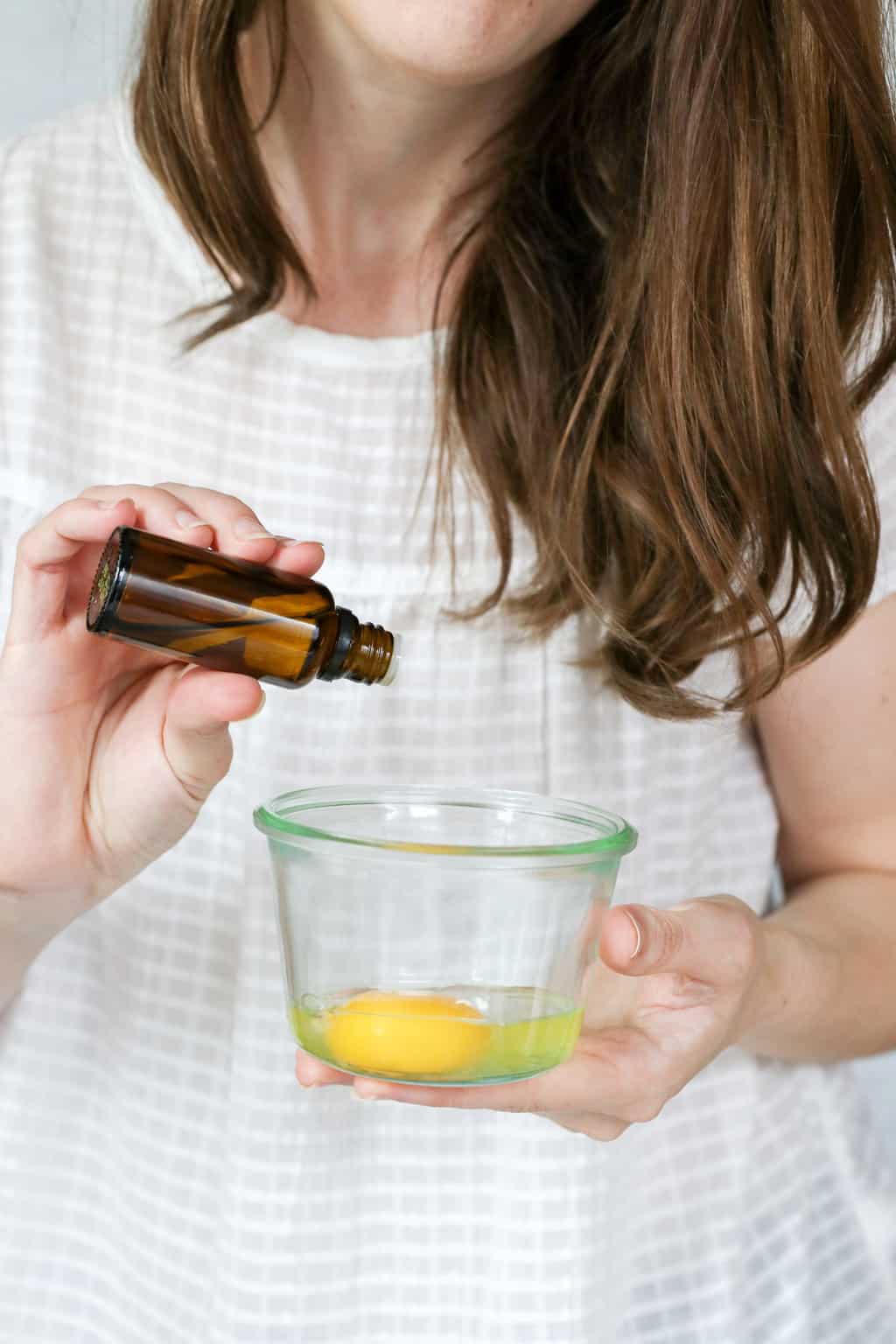 Egg Hair Mask Benefits
So you can understand why your hair is acting up, it's important to know what contributes to hair problems in the first place. Poor dietary habits, chemical treatments, environmental damage, and over-styling can all strip your hair of moisture, minerals, and needed protein.
This leads to dry, weak strands that frizz and break more easily.
Eggs, on the other hand, act like a nutrient-rich hair superfood. Vitamins A and E, all of the B vitamins, including biotin and folate, are just some of the nutrients found in eggs and are said to help keep hair thick and healthy. In fact, all vitamins are found in the yolk except vitamin C [source]!
The yolk is rich in fats, which help replenish moisture and make strands look sleek and shiny. And because hair consists of mostly keratin [source], a protein, applying protein-rich eggs can help replenish what's lost through styling, making the hair stronger and better able to stand up to the elements.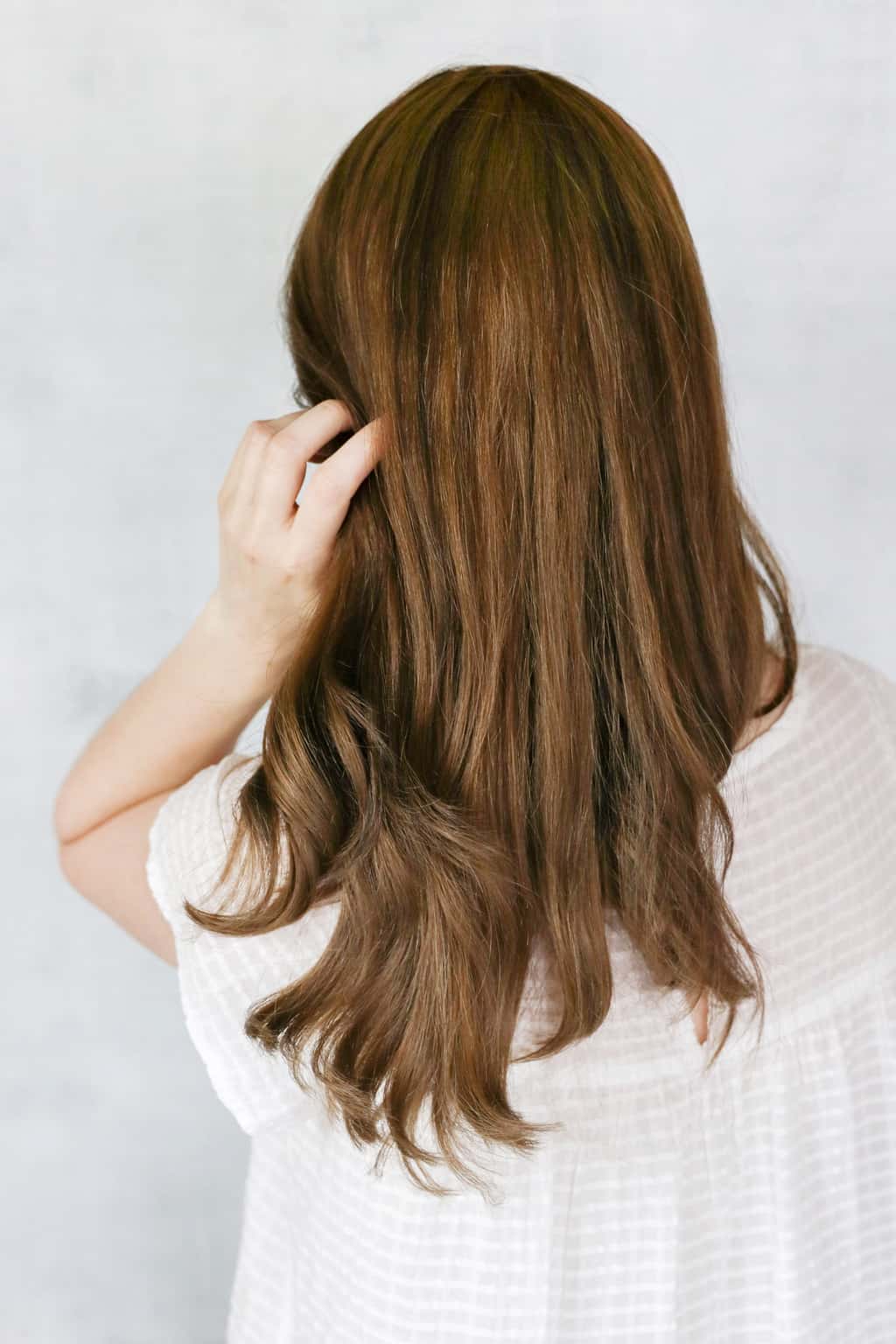 6 Ways to Use Eggs for Healthier Hair
It's not just the hair shaft itself that sees the benefits—eggs can do wonders for your scalp as well. Applying some directly to the roots helps infuse hair follicles with much-needed vitamins and minerals.
Nourishing the scalp encourages new hair to grow stronger and be less prone to breakage or shedding. And when your hair doesn't fall out as much, it appears thicker and healthier.
If you have dry, brittle hair, focus on recipes that contain egg yolk (the more, the merrier!) Meanwhile, if your hair is naturally oily or fine, egg whites are your friend.
Not really sure? Take the recipes for a test drive, and see how your hair responds. It can't hurt!
1. Moisture-Rich Egg Hair Mask
Combine the ingredients in a small bowl and beat until frothy. Apply to your hair, then cover with a shower cap. Let the mask ingredients sink in for 20 minutes, then shampoo and condition like usual.
2. Hair Growth Serum
Mix everything together and apply to your scalp. Using your fingertips, gently massage the mixture into roots for 10 minutes. Wash out and follow up with a quality conditioner.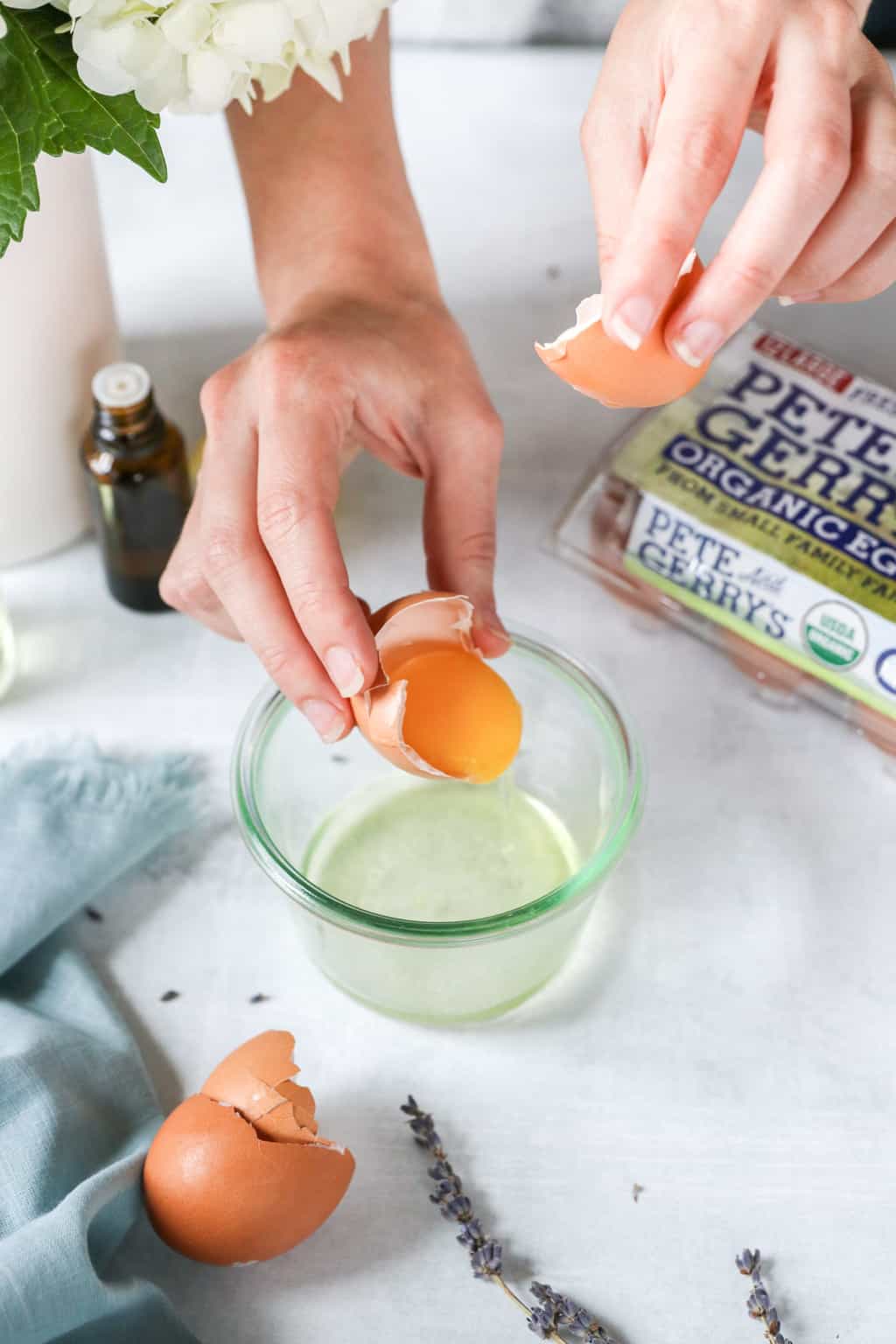 3. Split-End Sealer
Mix everything together, and apply to the ends of your hair. Cover with a shower cap, and allow the ingredients to sink in for 20 minutes before washing off.
4. Shine-Boosting Egg Mask
Mix the ingredients together and apply from roots to tips. Let the mask sit for 30 minutes, then rinse off with warm water. Follow up with shampoo and a quick shot of cold water to seal the hair shaft and boost shine.
5. Clarifying Egg Shampoo
Combine all ingredients in a blender and puree on high until smooth. Hop in the shower and pour a little of the egg mixture into the palm of your hand.
Apply it to your hair like you would a traditional shampoo, being sure to massage it into the scalp and throughout the length of your hair. Let it sit for 10 minutes, and then wash well. No conditioner is needed.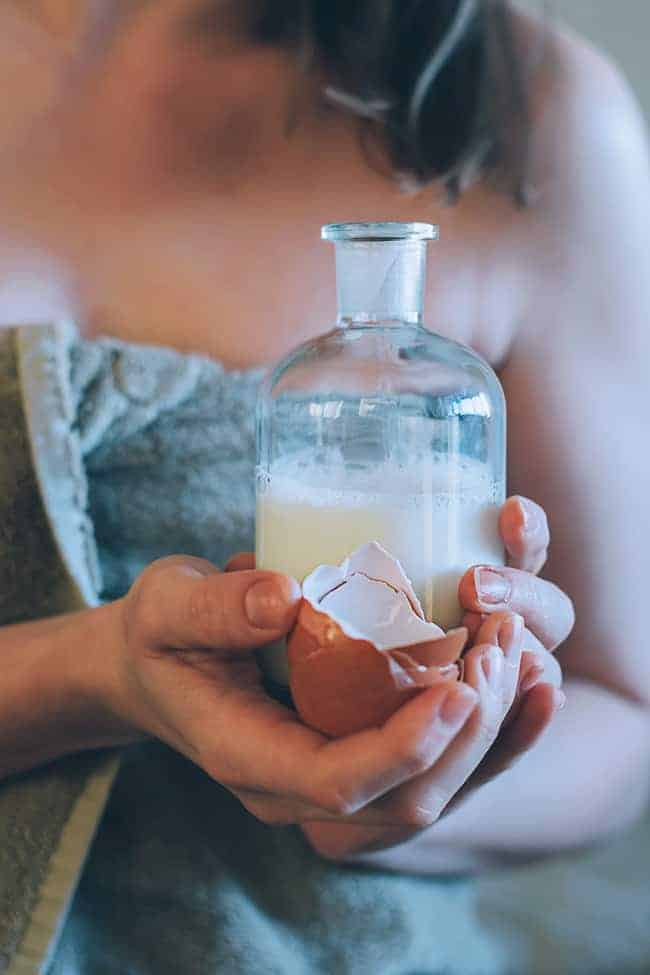 6. Hydrating Coconut Milk Hair Mask
Coconut milk not only detangles unruly hair, but it also boosts moisture from scalp to ends. It hydrates the hair follicle without weighing it down. When combined with the protein-packed egg, this mask will retain shine while conditioning hair.
Whisk one egg in a bowl and combine with coconut milk and extra-virgin olive oil. Mix well. Pour most of the mixture over the scalp and massage.
Then, pour the excess mixture onto the hair strands, concentrating on the ends. Leave it on for 15–20 minutes before rinsing hair thoroughly.
For more concentrated treatment, you can use a shower cap to allow the heat to open up the hair follicles and penetrate deeper. This mask can be done 1–2 times a month.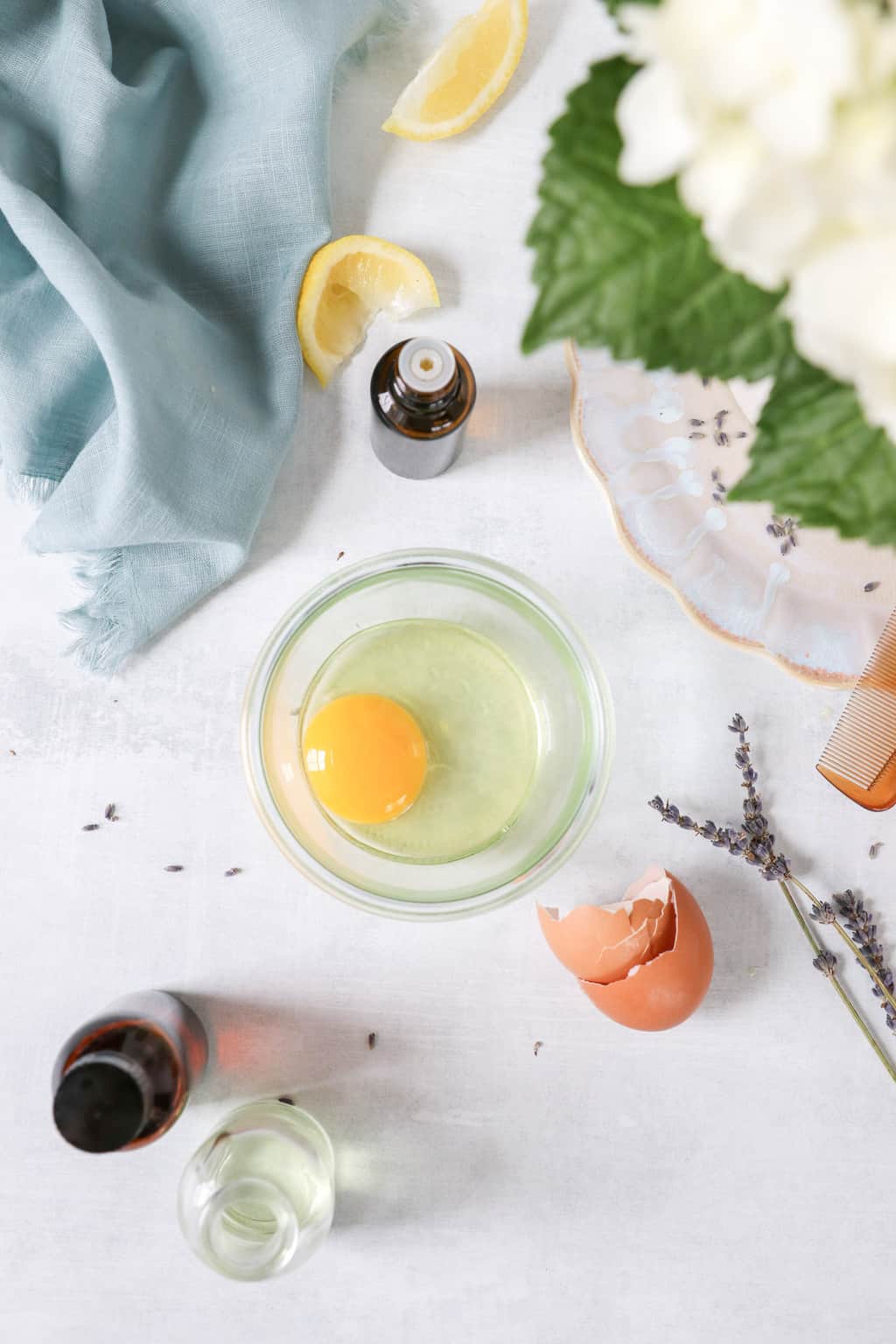 Egg Hair Mask FAQ
How often can I apply eggs to my hair?
Once a week should be more than enough to reap the benefits. Once your hair adjusts, you can try doing it twice a week—but no more than that.
Can eggs stop hair breakage?
Replenishing moisture and nutrients can eventually help your hair grow longer and thicker. Since eggs do both of those things, they may help prevent breakage, but you'll need to be patient and consistent to see results.
Do I need to wash my hair after using an egg mask?
Yes! You don't want the smell of eggs spoiling your soft, shiny locks. Always use shampoo (conditioner is optional) after applying an egg mask.
References:
Rehault-Godbert S, et al. The golden egg: nutritional value, bioactivities, and emerging benefits for human health. Nutrients. 2019.
Yang FC, et al. The structure of people's hair. PeerJ. 2014.
This article was medically reviewed by Dr. Gina Jansheski, a licensed, board-certified physician with more than 20 years of practice experience. Learn more about Hello Glow's medical reviewers here. As always, this is not personal medical advice, and we recommend that you talk with your doctor.
131