This post is sponsored by NOW®. All opinions are my own.
I'm notoriously bad at drinking water. So bad that I once paid a visit to a nephrologist to make sure I hadn't done serious kidney damage from years of sub-optimal hydration (fun fact: my husband even used to call me "the camel" in reference to my poor water habits. Good times.)
Thankfully, I got the all-clear from my doctor, but not without a stern talking-to about how I really should be drinking more water. Like, really.
Staying hydrated has real advantages: it keeps you cool, helps cleanse the body, and it allows your organs to function properly without the added strain from dehydration. Essentially, you just feel better when you're drinking enough—and at no time is that more important than during the hot summer months.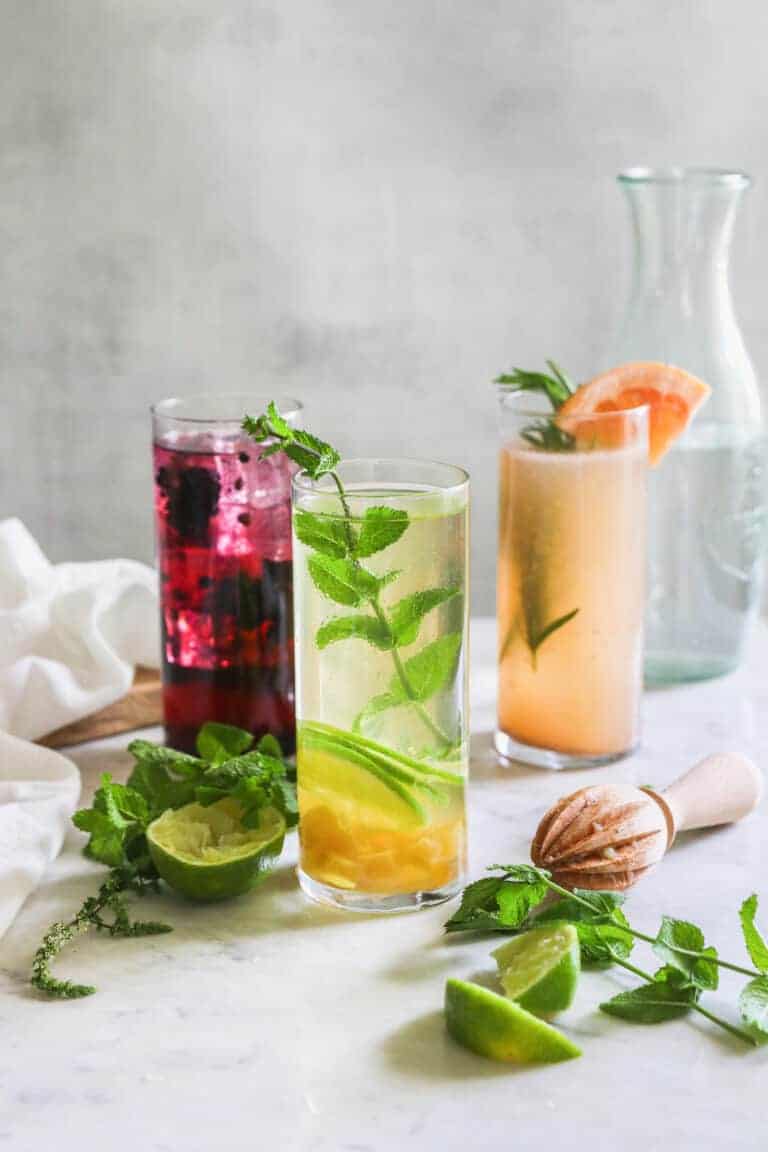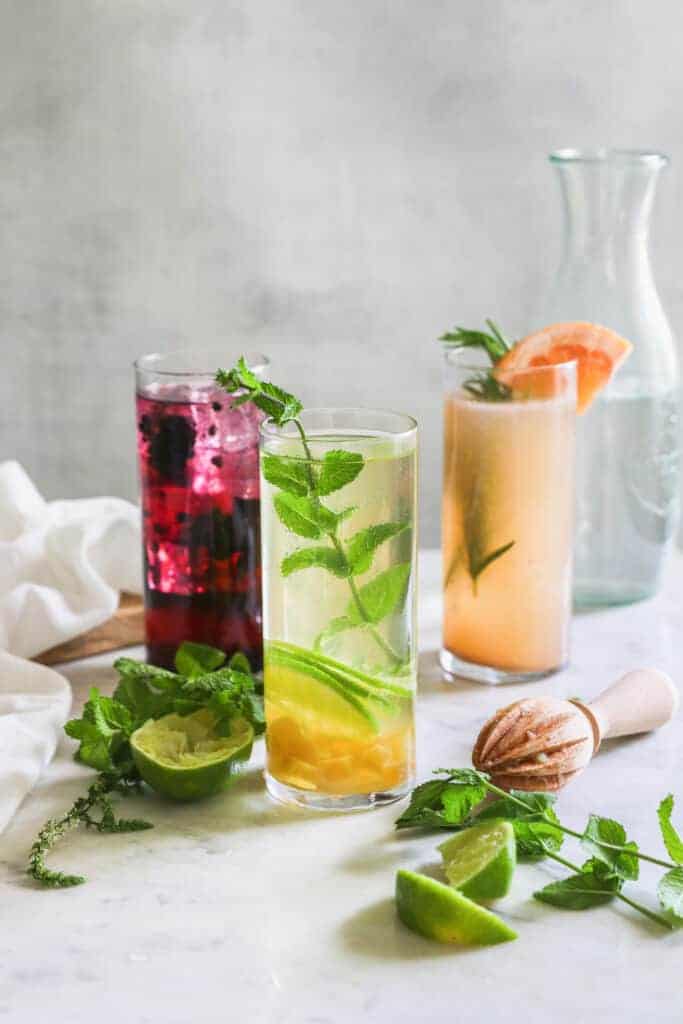 But just setting a reminder on your phone to hit the water fountain isn't enough. These electrolyte-rich thirst quenchers (that you'll actually want to drink) will go a long way toward boosting your hydration.*
And spoiler alert: you won't find us hawking any chemical-laden sports drinks here. We're serious about our electrolytes and believe that quality ingredients are vital, which is why we teamed up with NOW® for these recipes.
I've been a die-hard NOW fan for years because they're practically a unicorn in the health foods industry. When it comes to health foods, you don't always know what you're going to get. But at NOW, they test their products for identity, purity and strength, so you don't have to worry about heavy metals or contaminated ingredients hiding in your supplements.
3 Hydration Elixirs to Keep You Hydrated on Hot Days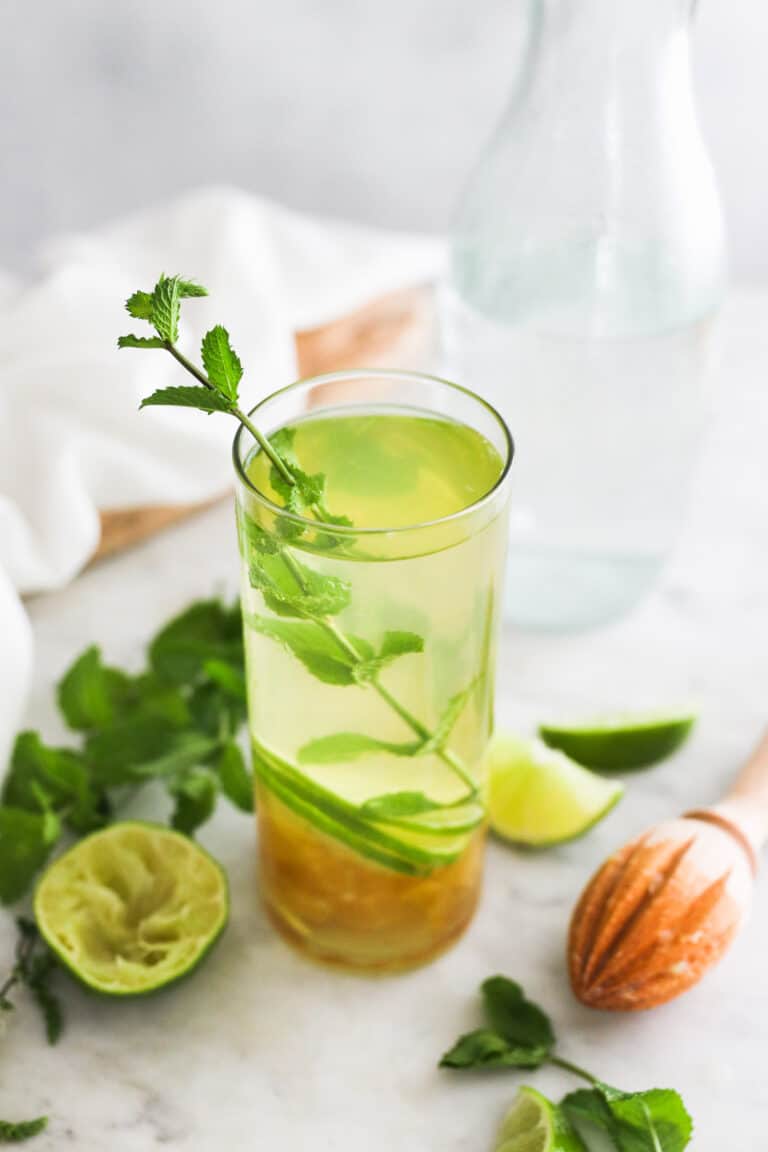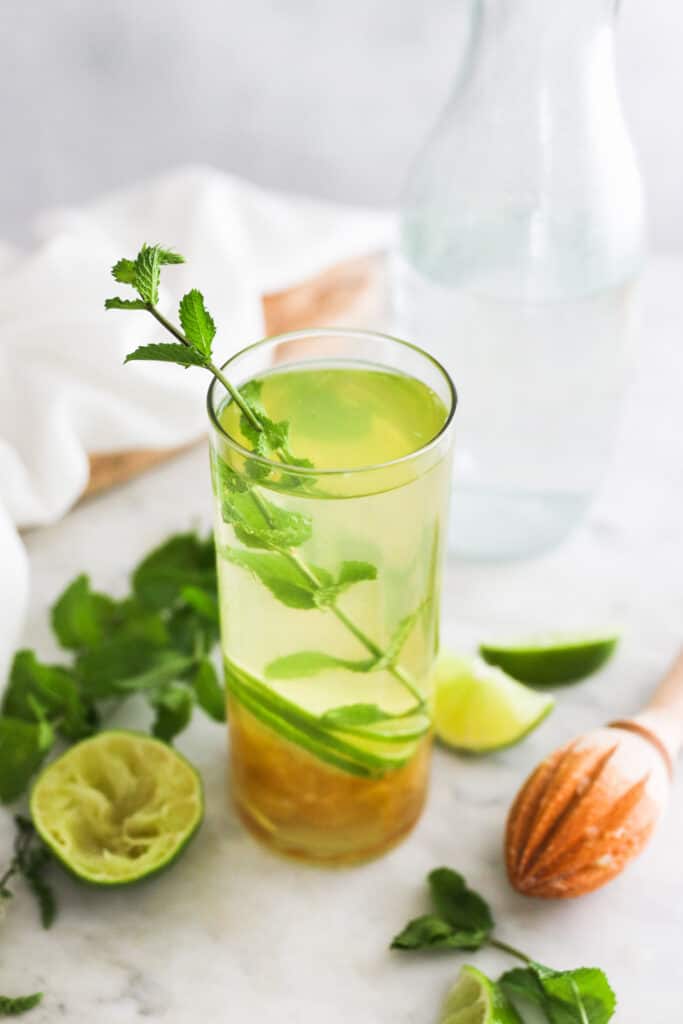 To make hydration a real habit, you need to sip water throughout the day, not just when you're feeling thirsty. If water isn't your thing, good news is you can fill your travel bottle with whatever you like (our hydration elixirs below are perfect for sipping on the road).
It's important to choose drinks you actually enjoy drinking, so you'll keep sippin' even when you don't want to. But you don't need sketchy ingredients or tons of sugar to pique your interest. You can get the same effect with fruit juices, herbs, fresh fruits and veggies. Not only do they add flavor but they also provide an added source of vitamins and minerals to keep your body running smoothly.
Why You Need Electrolytes
Electrolytes are electrically charged minerals, such as sodium, potassium and calcium, that help your body produce energy and operate normally. When the thermostat hits the triple digits, if you have trouble staying hydrated with water and food alone, consuming extra electrolytes can help.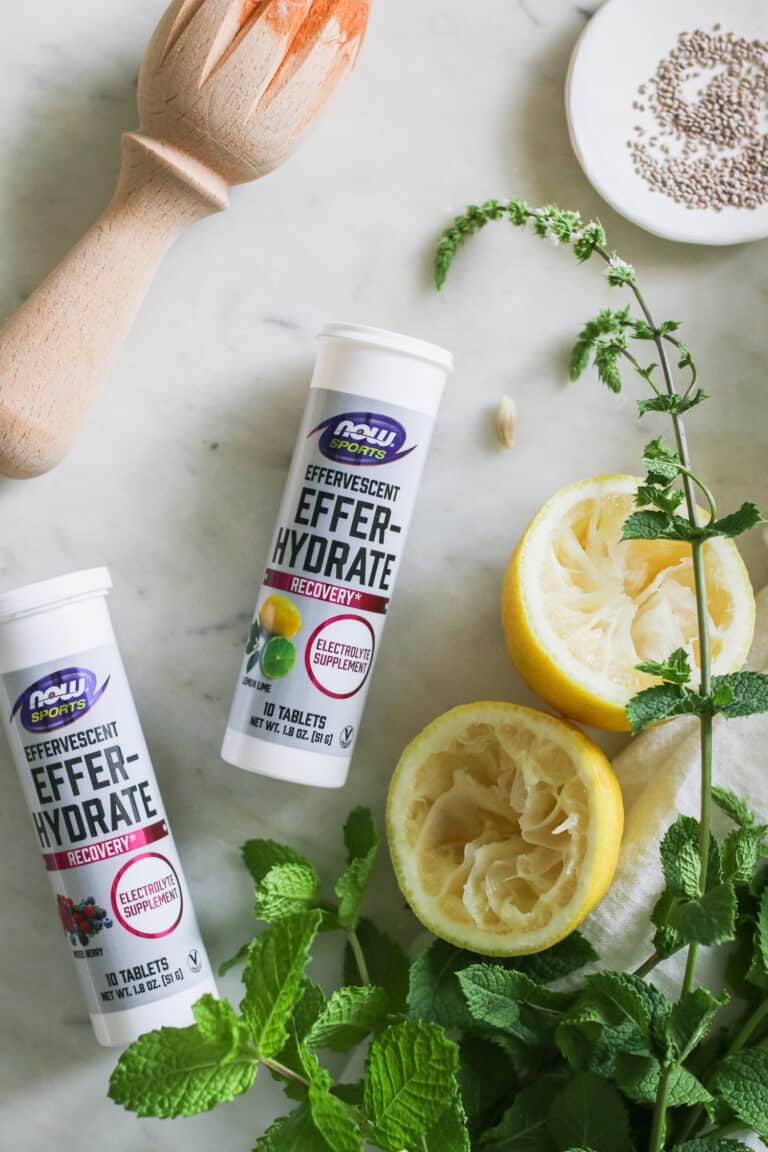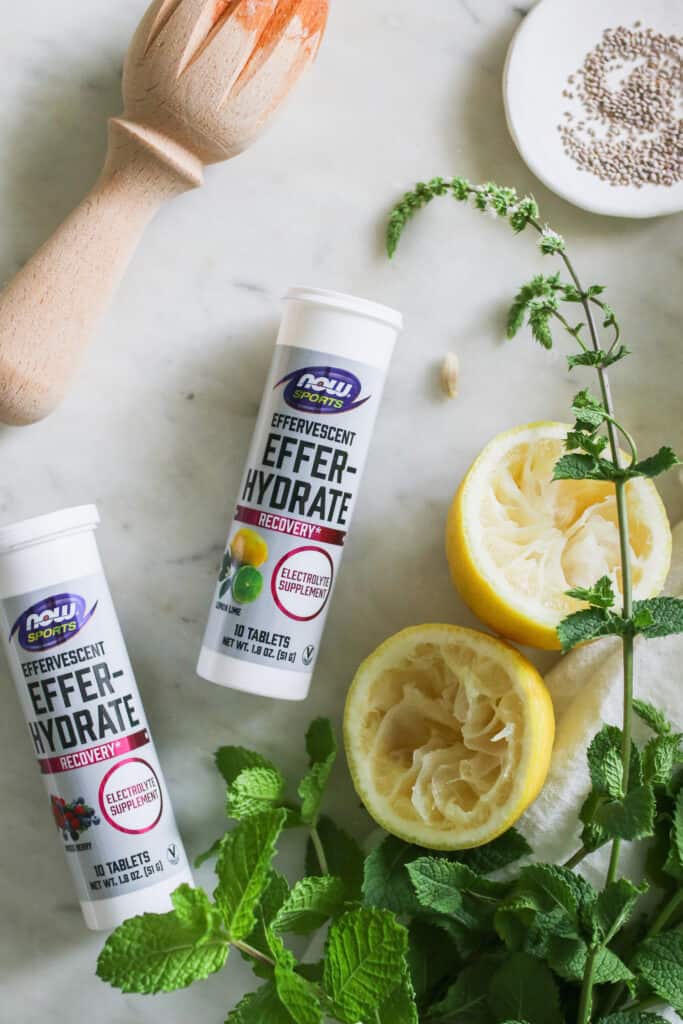 I gave up sugary sports drinks a long time ago and now swear by NOW® Sports Effer-Hydrate and Slender Sticks™ on hot days. Not only are they loaded with electrolytes, these three hydration drink recipes also use fruit juice and fresh herbs to pack a flavorful punch. You can make them ahead of time to sip throughout the day, or whip up one to enjoy like an evening mocktail.
And don't forget to have fun with the ingredients: swap out berries, play with flavors, use different herbs. It's all about creating drinks you want to drink.
Berry Basil Smash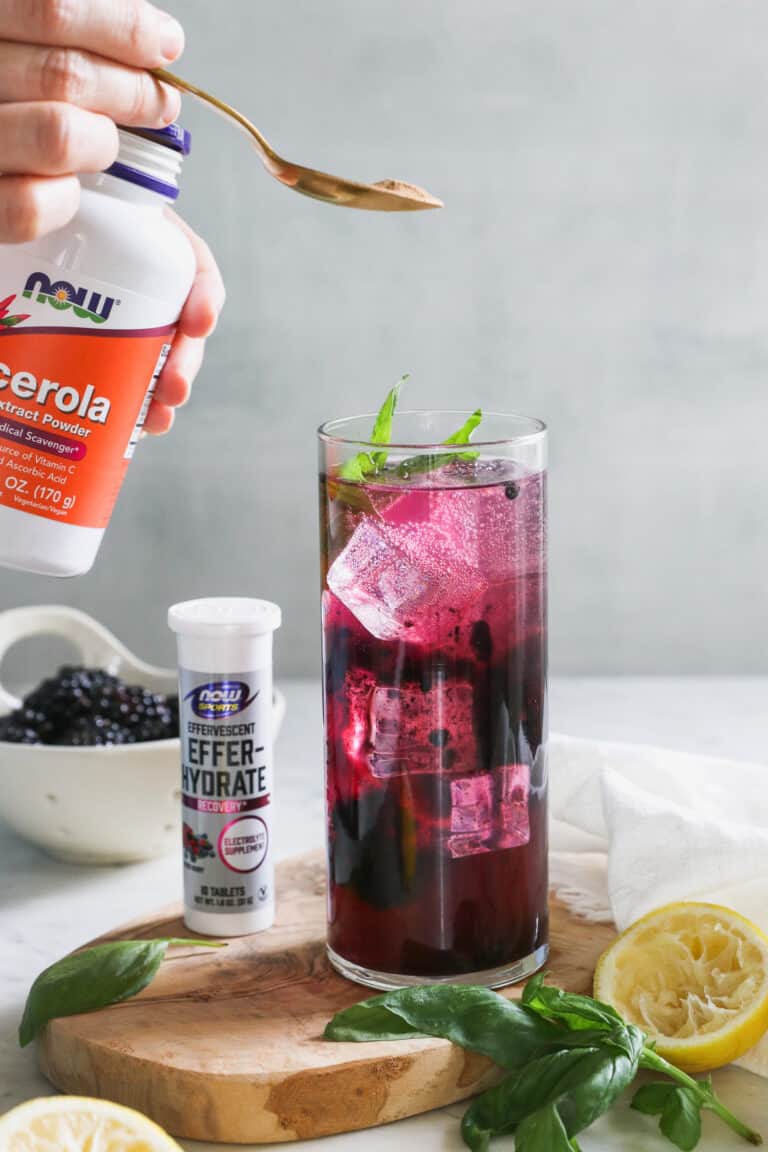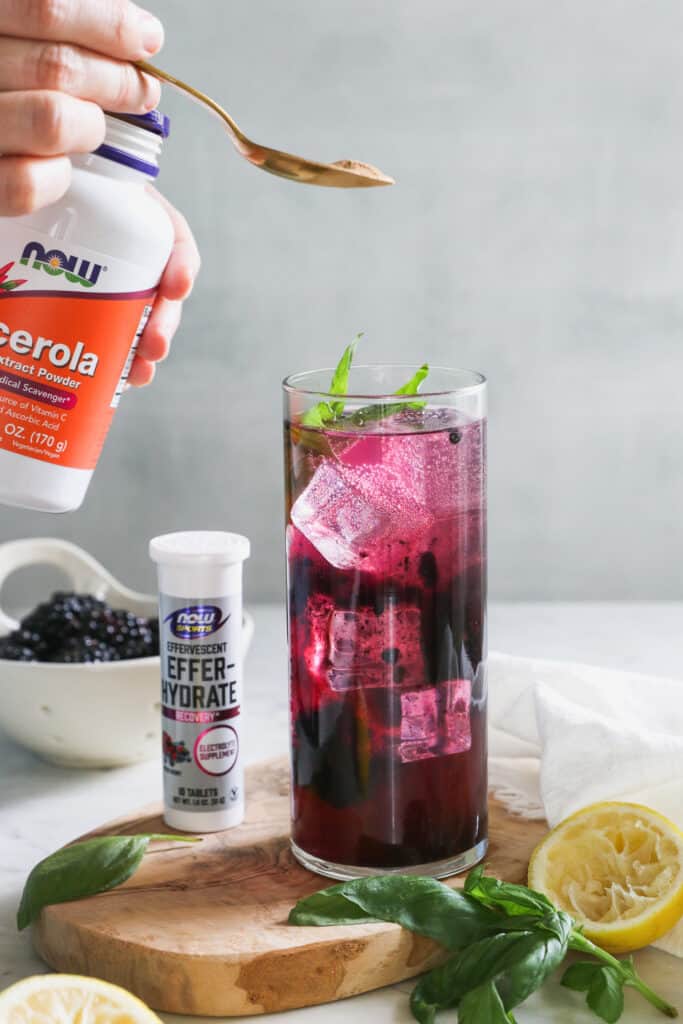 Like fizzy fruit punch, this berry basil elixir is low in sugar and a good source of electrolytes and antioxidants. Effer-Hydrate Effervescent Electrolyte Tablets help athletes and sports enthusiasts rehydrate and recover, without the added sugar, colors or fake flavors you'll find in other sports drinks.* They're chock full of things like calcium, magnesium and potassium (aka electrolytes!), and less than 1 gram of sugar per tablet.
But don't let the name fool you. While they're formulated for post-workout recovery, I drink them in place of soda or tea, or whenever I need a mid-afternoon pick-me-up.* They're so tasty that my husband and I fight over who gets the last one!
I also add a dash of Acerola Powder, a natural source of vitamin C, which does an amazing job of scavenging these pesky free radicals that age our skin.*
Coconut and Chia Tonic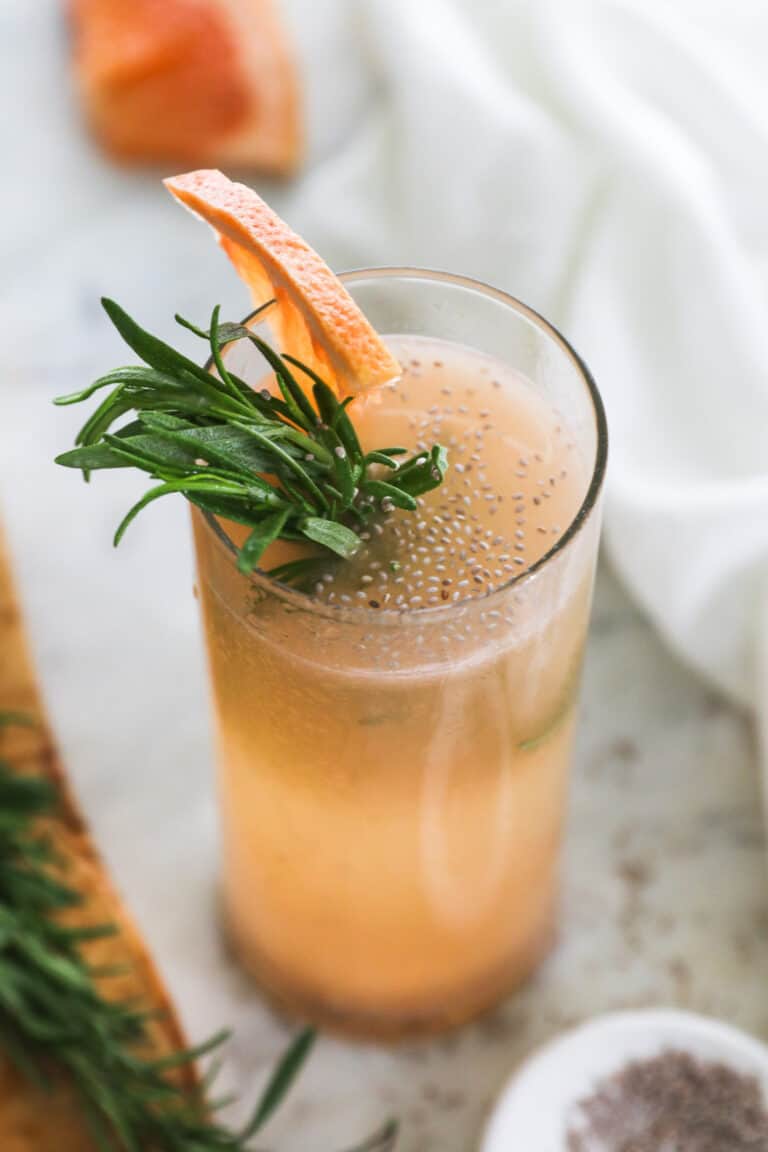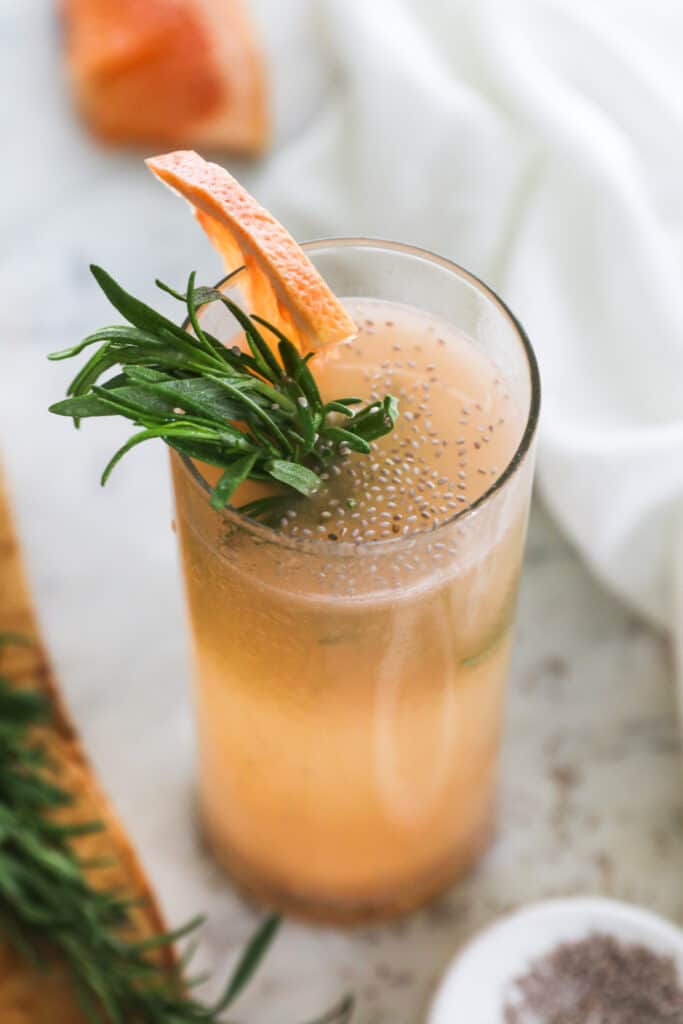 Chia seeds naturally retain water, making them a great addition to any hydrating elixir. Plus they contain loads of fiber to keep you full. Sprinkle a few in this Coconut Water Tonic, along with a dash of grapefruit juice and rosemary for added flavor.
You'll get a yummy coconut flavor from Coconut Water Slender Sticks™, which are made from real coconut water. Each single serve packet is loaded with 14 vitamins, minerals and electrolytes to replenish what you may lose throughout the day. Plus they're made from real juice and free of artificial flavors, sweeteners and preservatives.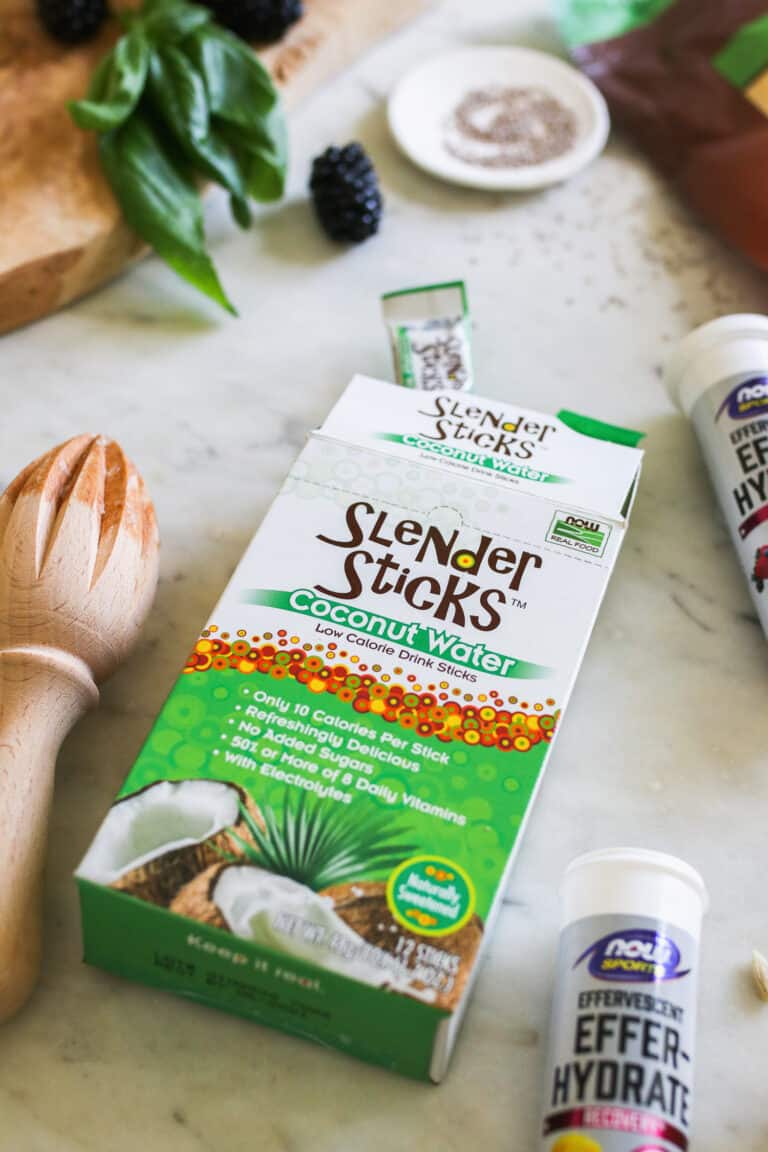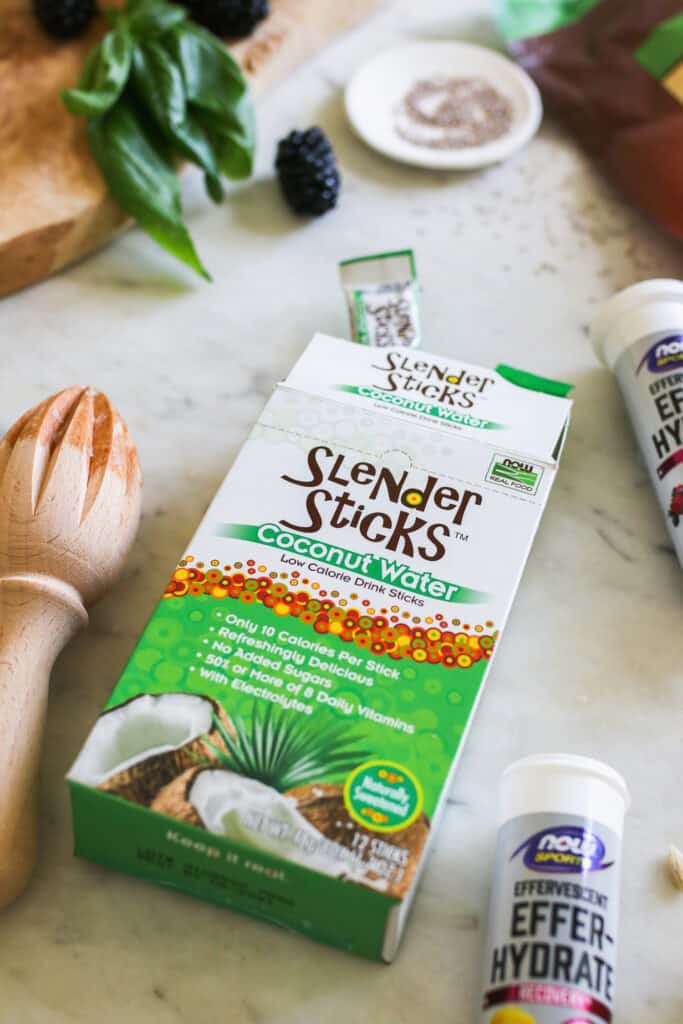 Ginger Citrus Sparkler
Maybe I'm just biased, but I think mint and citrus makes a super refreshing combination. You can definitely enjoy the Lemon Lime Effer-Hydrates on their own though!
Sprinkle a handful of NOW Real Food® Ginger Dices (spicy candied ginger, yum!) at the bottom of your glass for a sweet and spicy kick. And garnish with fresh mint for a mock-mojito alternative.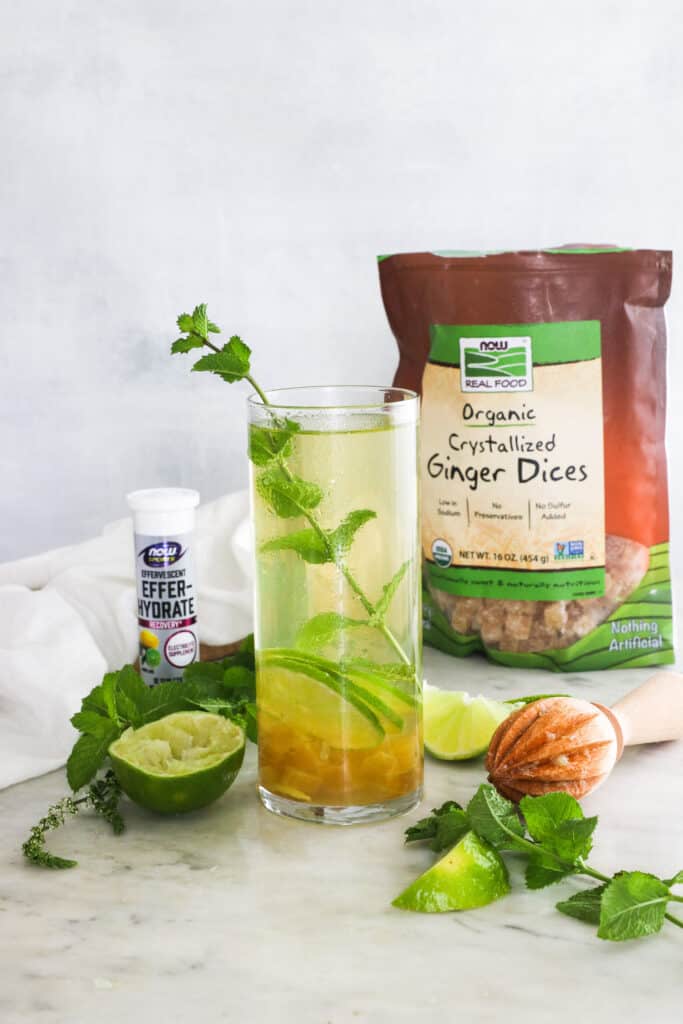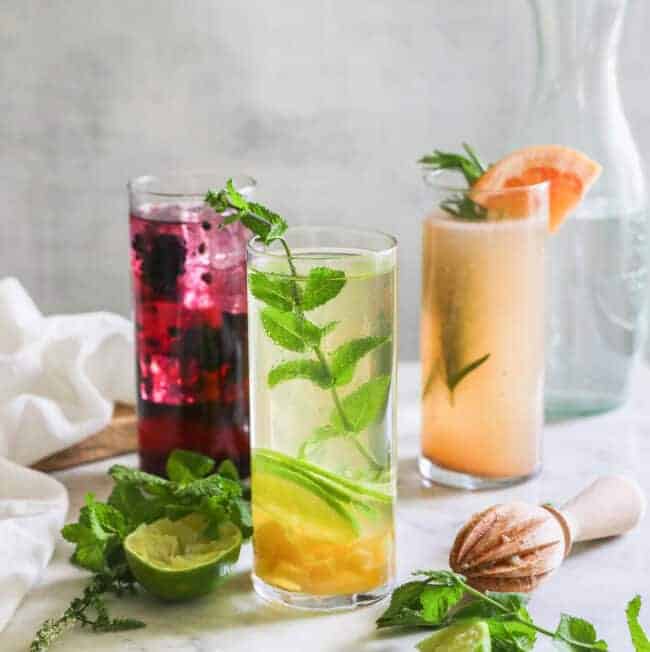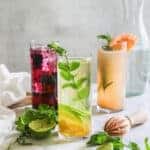 Print Recipe
3 Hydrating Electrolyte Elixir Recipes
These electrolyte-infused hydration drinks use things like water, fruit juice, NOW's Effer-Hydrates and Slender Sticks™, and fresh herbs to pack a flavorful punch.* You can make them ahead of time to sip throughout the day, or whip up one to enjoy like an evening mocktail.
Equipment
16 ounce glass or water bottle
Ingredients
Berry Basil Smash
5

fresh blackberries

2-3

basil leaves

plus more for garnish

16

ounces

chilled water

1

teaspoon

NOW® Acerola Extract Powder

for a dose of Vitamin C

Juice from 1/2 lemon
Ginger Citrus Sparkler
16

ounces

sparkling water

Large handful fresh mint leaves

1/4

cup

fresh lime juice

Lime slices and mint sprigs for serving
Instructions
Berry Basil Smash
In a tall glass, combine water and Acerola Extract Powder. Stir to combine.

Add the Effer-Hydrate Mixed Berry Tablet and allow it to dissolve fully. Add lemon juice and stir again.

In a separate glass, place blackberries and basil leaves in the bottom of tall glass. Use a muddler or the back of a spoon to crush slightly.

Slowly pour the Effer-Hydrate mixture into the glass with the muddled berries.

Add ice, if preferred, and garnish with more berries and basil sprigs.
Coconut and Chia Tonic
Pour Coconut Water Slender Stick™ into a 16 ounce glass of water. Stir well.

Add grapefruit juice and chia seeds and stir again.

If desired, serve over ice and garnish with fresh rosemary, chia seeds and a grapefruit wedge.
Ginger Citrus Sparkler
In the bottom of a tall glass, muddle mint leaves and lime juice

Add NOW Real Food® Ginger Dices and allow to steep for 5 minutes.

Pour cool water over top. Add 1 Effer-Hydrate tablet and let dissolve. Stir to combine.

If desired, serve over ice and garnish with extra lime slices and mint sprigs.
Notes
Don't forget to have fun with the ingredients: swap out berries, play with flavors, use different herbs. It's all about creating drinks you want to drink.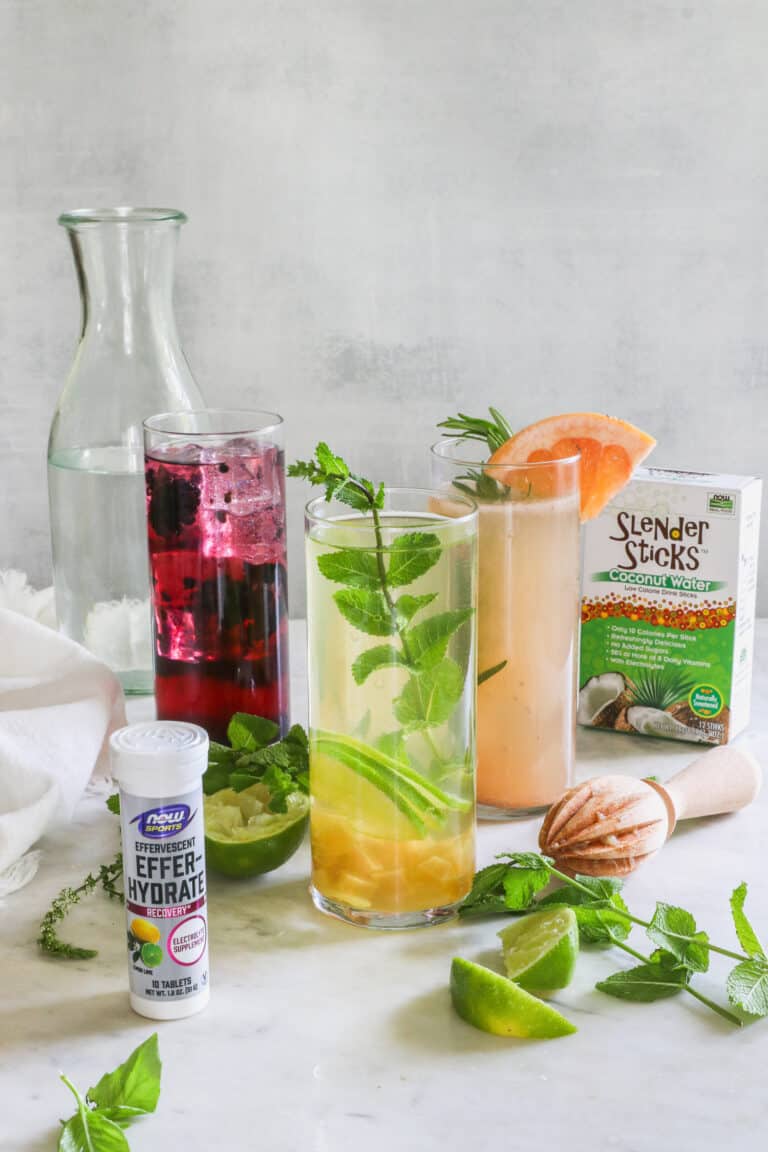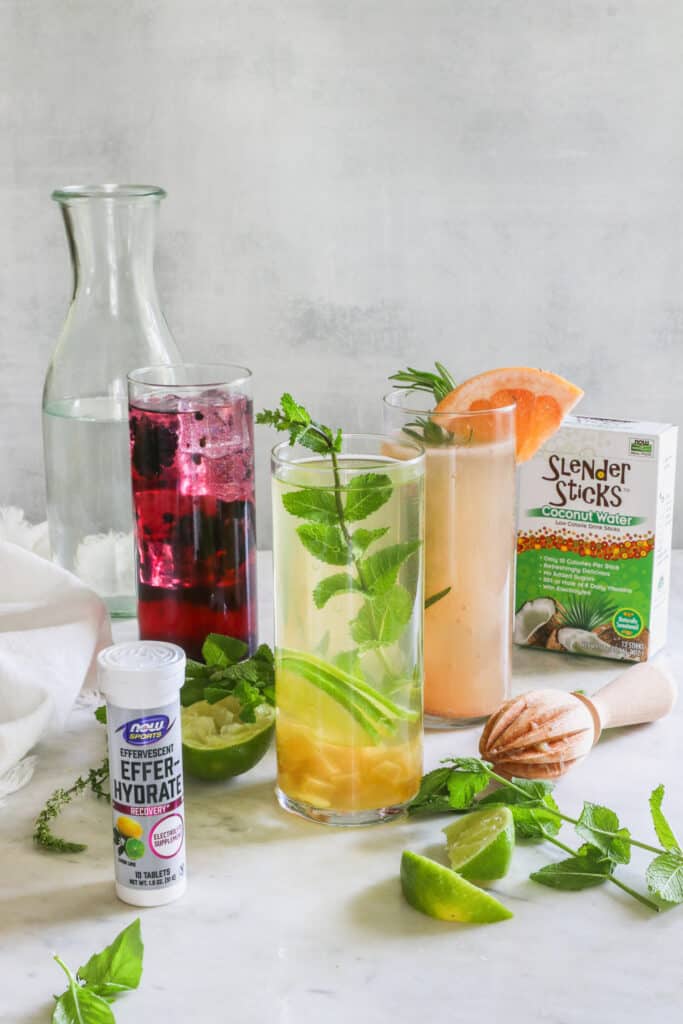 *The statements made within this website have not been evaluated by the U.S. Food and Drug Administration. These statements and the products of this company are not intended to diagnose, treat, cure or prevent any disease.
5