I hate to admit it, but I'm totally one of those health food junkies. I love herbs, teas, wheat grass shots, seaweed snacks, you name it.
Basically all those woo-woo things you can find at your local natural foods store to clear the sinuses, work miracles on problem skin and give you boundless energy. And recently I've been riding front and center on the Moon Dust fan bus.
In case you haven't heard of it, Moon Dust is a powdered blend of adaptogens that supposedly does everything from lower stress and soothe irritated skin to boost immunity and promote sleep. Each blend is a little different, so it's helpful to pick one that specifically works for you.
But at upwards of $30 a pop, it's not exactly affordable if you plan to use it every day. Luckily you can make your own with just a few of the right herbs and a coffee grinder–and it will only cost you pennies per scoop!
How to Make Moon Dust
Buying herbs in bulk is one of my dirty little secrets when it comes to making my own Moon Dust. You can simply pick up your herbs from the bulk bins at your local grocery store (I found mine locally for less than $6) or buy them online from a place like Mountain Rose Herbs.
While I have found that the quality is comparable, sometimes the mushrooms don't blend into as fine a powder as I'd like (especially if they're really fresh). If you run into this issue and you happen to have a dehydrator, try gently dehydrating them on low for a few hours before grinding them into a powder. Once ground, store them in an air-tight jar until ready to use.
Super easy!
To see how to make your own, check out this quick video:
Add a teaspoon or two to coffee, mix into tea, or make your own adaptogenic matcha green tea latte. If you're not a fan of mushrooms, I find that green smoothies make a great base for Moon Dust because the fruity flavor covers up any hint of shrooms!
And since this is a stimulating combination of herbs, toss it in your morning concoction for a quick boost of energy. If you find the taste a little too strong, start with 1/4 a teaspoon in the morning and work your way up.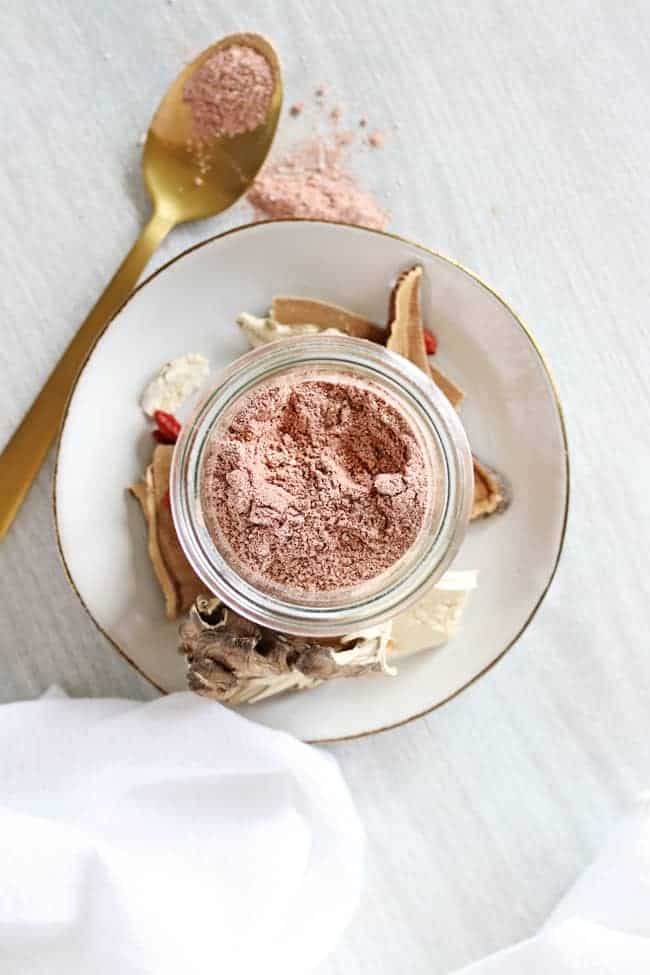 While I love grinding my own herbs, you can always buy the herbs as powders online. Not only will it save you a step but it will also ensure you get a nice, fine powder.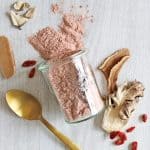 Print
Energizing Moon Dust
This DIY adaptogenic moon dust can be added to your morning coffee, tea or smoothie for a boost of alertness and immunity.
Equipment
Clean coffee grinder

Glass jar with lid
Materials
1 tablespoon each (ground):
Instructions
If using whole herbs, grind each one separately in a coffee grinder first. 

In a small bowl, combine approximately 1 tablespoon of each herb. Whisk to remove any clumps and mix everything together. Store in an airtight container.
Notes
To use, add 1 teaspoon of moon dust to coffee, tea, smoothies or the drink of your choice in the morning.
Store moon dust in an airtight container for up to 2 months.
46