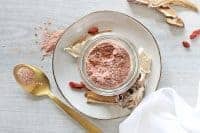 Energizing Moon Dust
Yield 15 servings
Ingredients
1 tablespoon each (ground):
Instructions
If using whole herbs, grind each one separately in a coffee grinder first. 
In a small bowl, combine approximately 1 tablespoon of each herb. Whisk to remove any clumps and mix everything together. Store in an airtight container.
To use, add 1 teaspoon of moon dust to coffee, tea, smoothies or the drink of your choice in the morning.
Recipe by Hello Glow at https://helloglow.co/energizing-moon-dust/