Homemade face masks are always a great alternative if you'd like to try a home facial, or in between esthetician visits to prolong the benefits of a facial. However, I'm often asked about the proportions for mask ingredients and how much you need for just one mask. It can be tough to gauge when you're mixing ingredients. You want the benefits of using fresh ingredients, but if you make too much, what do you do with the leftovers? No one wants it to go to waste!
We have a solution that's nothing short of genius. Freezing small amounts for later use in an ice cube tray is a fantastic way to have a mask at hand any time you need one, and it will avoid wasting those precious ingredients.
One ice cube is usually the perfect amount for a single mask. A bonus of making masks to use later is it will allow you the benefits of ingredients even when they're not in season.
Tropical Enzyme Ice Face Mask
This tropical enzyme-packed mask is great for aging skin, pigmentation problems, or overall exfoliation. Full of alpha hydroxy acids, vitamins A and C, and polyphenols, this mask will help dissolve dead skin cells while moisturizing the skin. It's a great mask for year round use.
Tips for Ice Cube Masks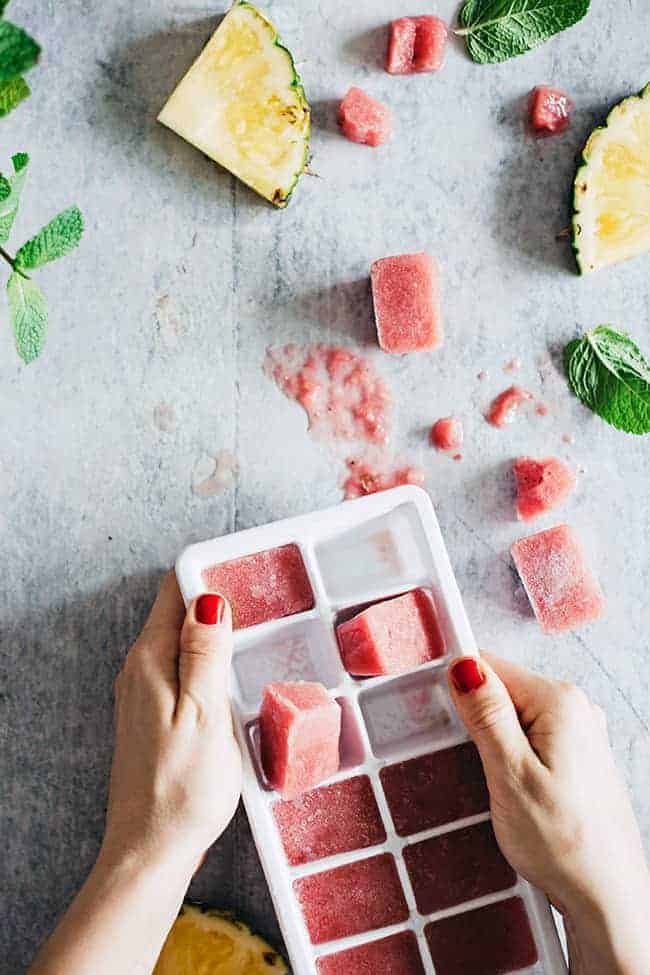 Feel free to use this ice cube tray method for preserving excess masks whenever you need them.
Making masks in bulk is economical and can make your fresh ingredients go a long way.
Freezing masks when certain foods are in season is a great way to have access to them all year long.
Once frozen, pop the cubes out and place them in a labeled Ziploc bag for easy identification. Be sure to add the date to the bag as well.
The cold temperature of the freezer will preserve the nutrients of the mask and the convenience will have you using masks a lot more often.
For irritated skin, applying cool masks will work wonders at calming skin and bringing inflammation down.
Photos by Ana Stanciu
25