This post was created in partnership with Everclear® Grain Alcohol. All thoughts and opinions are my own.
I don't know about you, but I spent most of the 90s drenched in body spray. A teeny whiff of Cucumber Melon can take me right back to my middle school's second floor ladies' room, where I'd re-douse myself between class periods (subtle wasn't exactly my thing). While my scent preferences have changed over the years, my love of body spray really hasn't. Who doesn't love a cooling and refreshing mist of fragrance on a hot summer day?
(Nobody, that's who!)
But it's high time you ditch the fake fragrances of the last century and embrace the light, skin-boosting body sprays of today. With nothing more than some Everclear Grain Alcohol, water, and refreshing oils, we'll show you how to make your own body spray in three summery scents.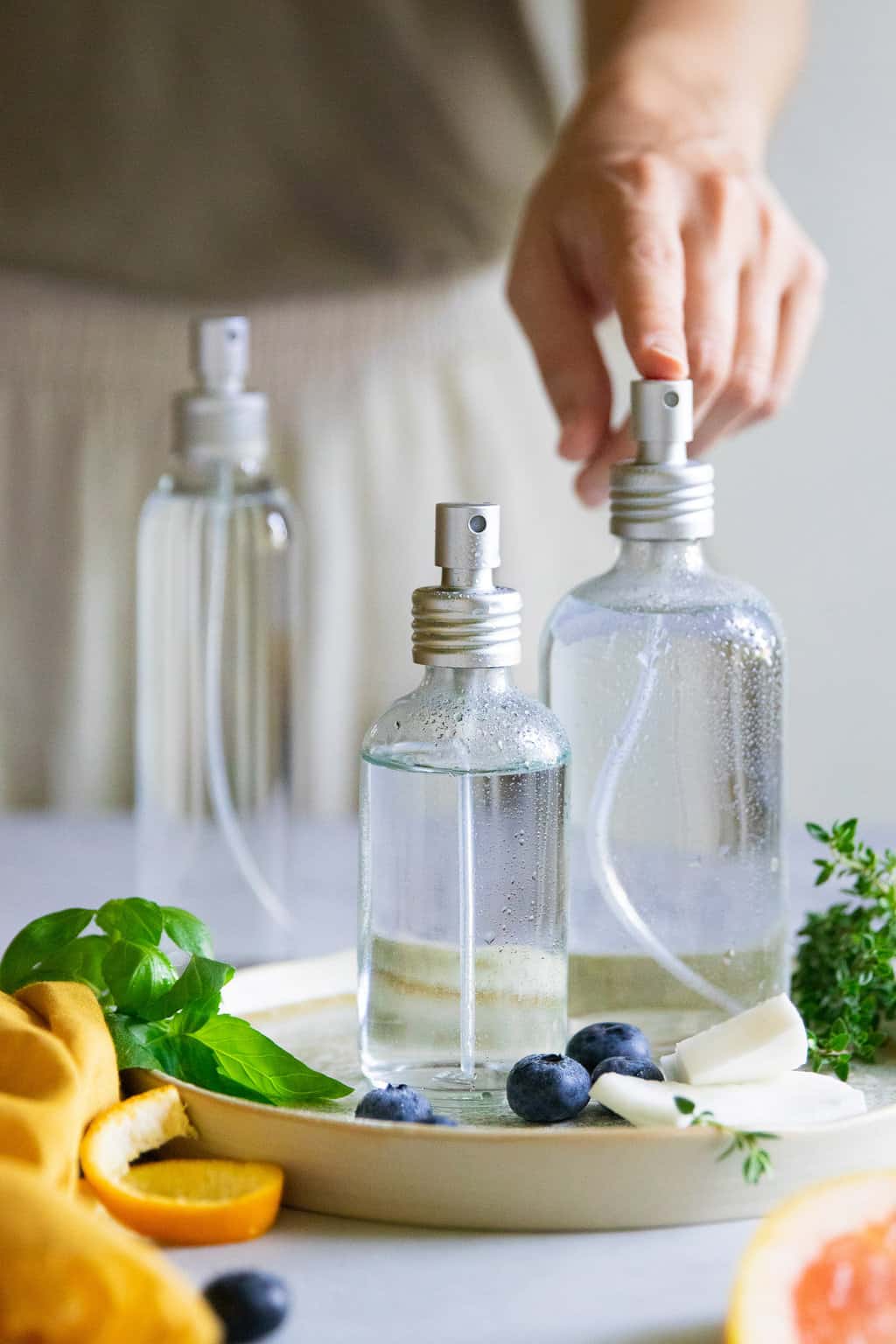 Homemade Essential Oil Body Spray
Forget everything you think you know about body spray. It doesn't have to be watered down and loaded with fake-smelling scents. Nor does it have to be an overpowering cologne that others can smell from a mile away.
Just like us, our 2022 version of body spray is all grown up.
We're talking soft, barely-there scents that offer a hint of fragrance and aromatherapy benefits to boot.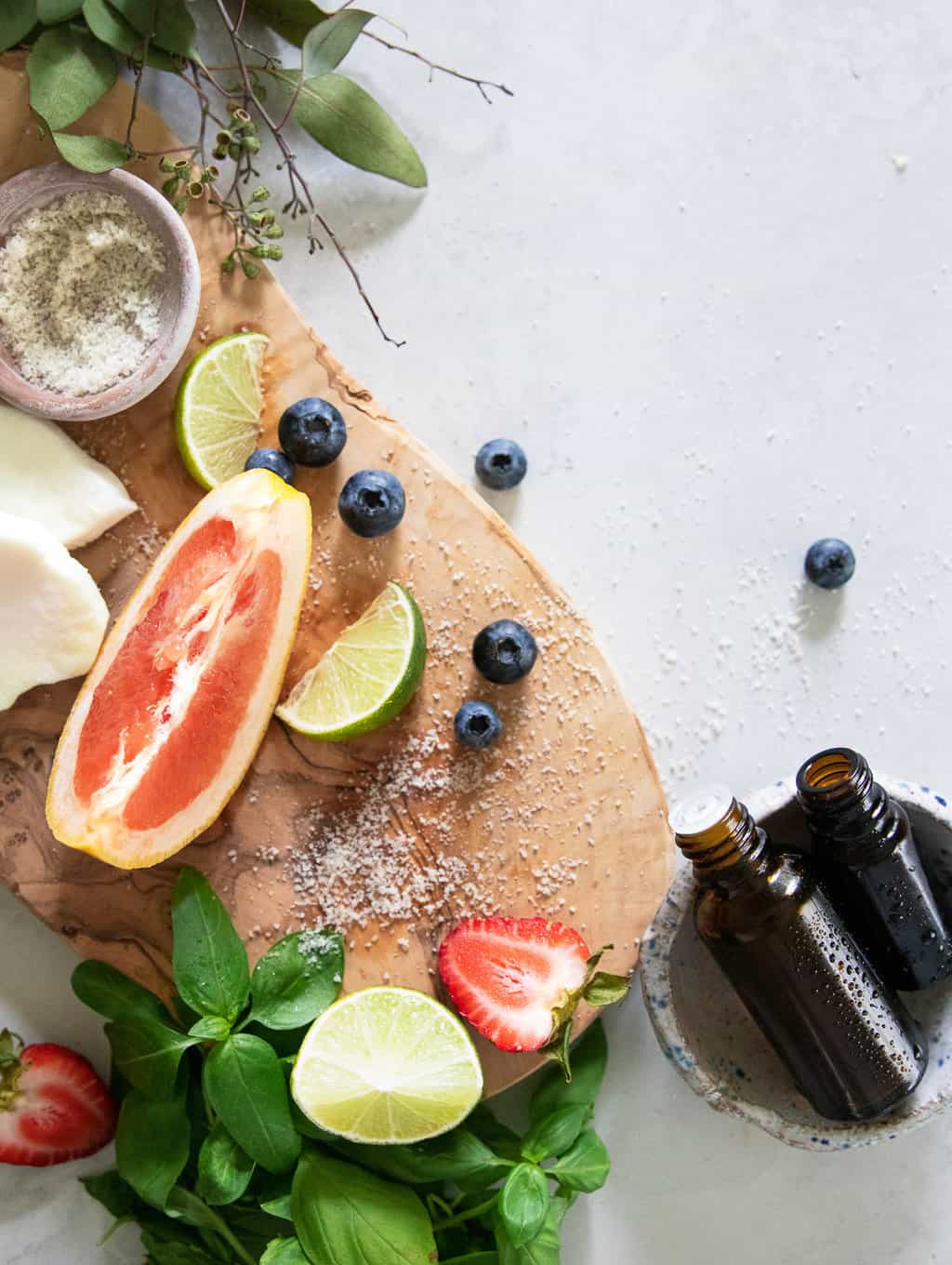 Ingredients for homemade body spray
When it comes to homemade perfume, Everclear Grain Alcohol serves two important functions. Thanks to its high proof, Everclear helps essential oils bind to the water used in these recipes. It also acts as a preservative, ensuring your body spray has a strong scent projection and stays fresh. As an added bonus, Everclear is antibacterial, so if you tend to get sweaty on hot days, it may help you feel a little more refreshed.
Essential oils are what give homemade body spray its scent. We also mixed in a few clean fragrance oils into this essential oil perfume to get those harder-to-find fragrances. But they're not totally necessary, and you're free to leave them out or substitute with all-natural essential oils if you prefer.
Add a bit of water, and you've got yourself a hydrating body spray. To lighten the scent, feel free to add a bit more water to the mix. For a more concentrated scent, add less.
And last but not least, vegetable glycerin is an easy, natural way to add some hydrating properties back into your body spray.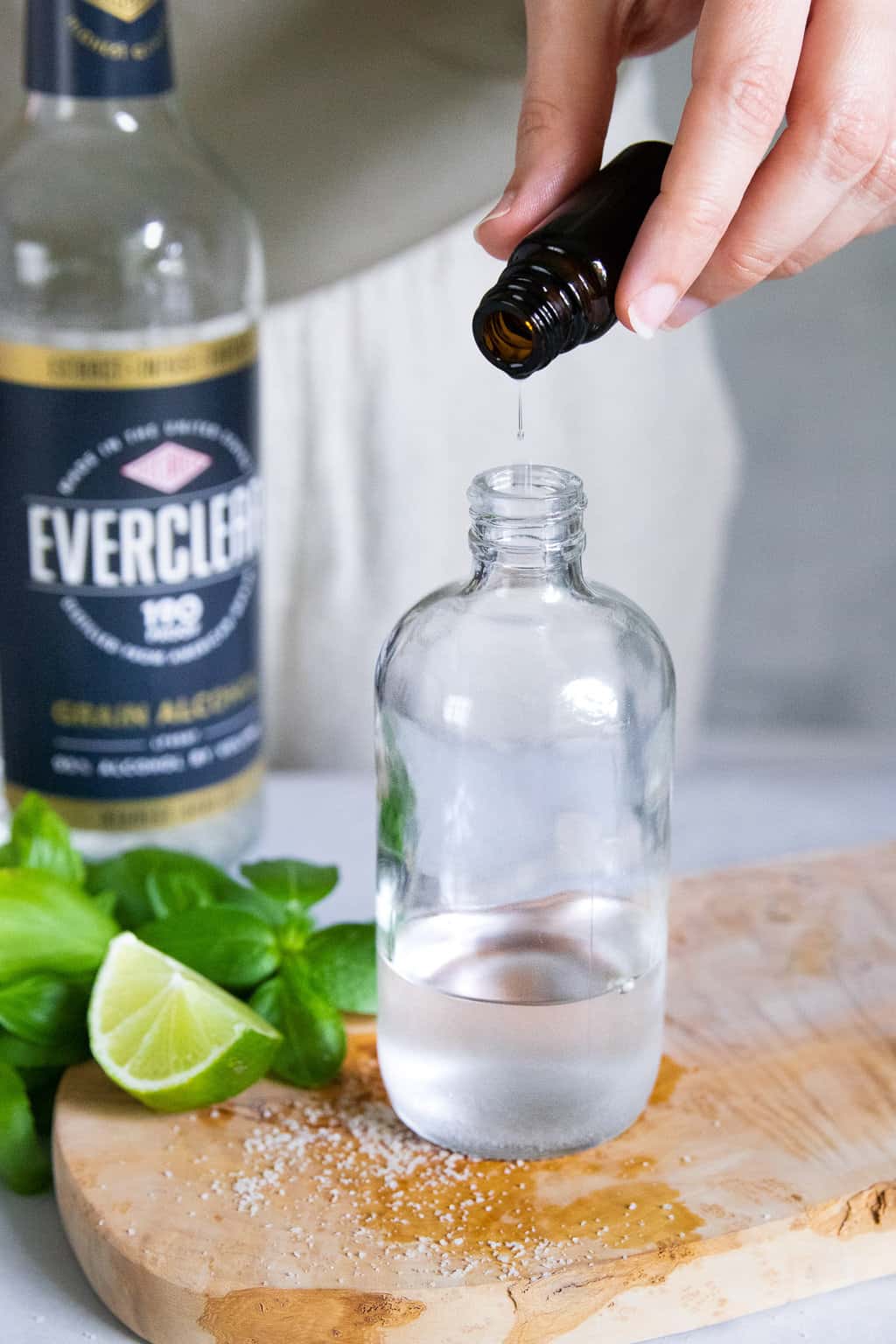 The Difference Between Essential Oils and Fragrance Oils
We get this question a lot! So, here's a quick rundown:
Essential oils are the pure, undiluted oils made from distilling the leaves, seeds, bark, flowers, and rinds of plants. They're highly concentrated chemical compounds that give a plant its scent and are often used in aromatherapy.
Fragrance oils are created in the lab to mimic natural scents. Because they're not extracted from plants, you can find a variety of scents that are otherwise impossible to get from essential oils, like sea salt, mixed berry, and pineapple.
While they're not as pure as essential oils, a quick internet search can lead you to some nontoxic fragrance oils that are free from phthalates and other questionable ingredients. To play it safe, I only recommend using plant-based or clean fragrance oils from brands that keep chemicals to a minimum.
If you'd prefer, skip the fragrance oils entirely and substitute with your choice of essential oils.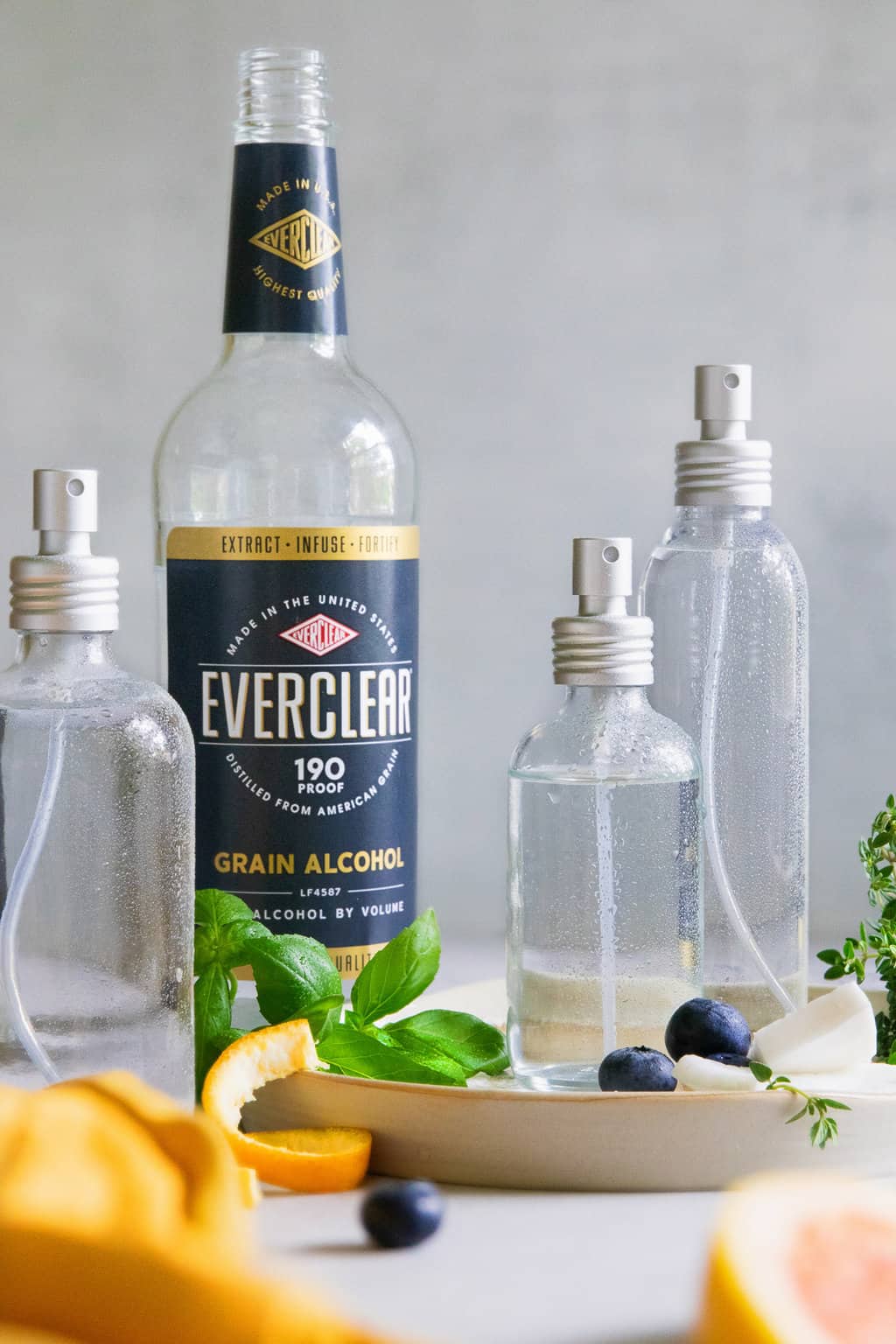 How to Make Body Spray
One of the reasons we love making our own body sprays is that you can customize them to create a fragrance that is uniquely you! When you're choosing a new fragrance, take note of whether you gravitate toward a cheery citrus scent or perhaps something more spicy and sensual. Then use that as a jumping off point when creating your own blends.
Or, if you'd like to stick with one of our tried and tested scents, check out the fragrance blends below.
Ingredients:
– ⅓ cup Everclear® Grain Alcohol
– 1 tablespoon vegetable glycerin
– Roughly ⅔ cup distilled water
– Essential oil blends (below)
Supplies:
– Small funnel (optional)
Step 1
|
Add Everclear
Start by pouring the Everclear into an 8-ounce spray bottle.
Step 2
|
Add essential and
/
or fragrance oils
Add the essential/fragrance oils according to whichever mix you've chosen. Secure the lid and give the bottle a gentle shake. Here are 3 summery options to get you started: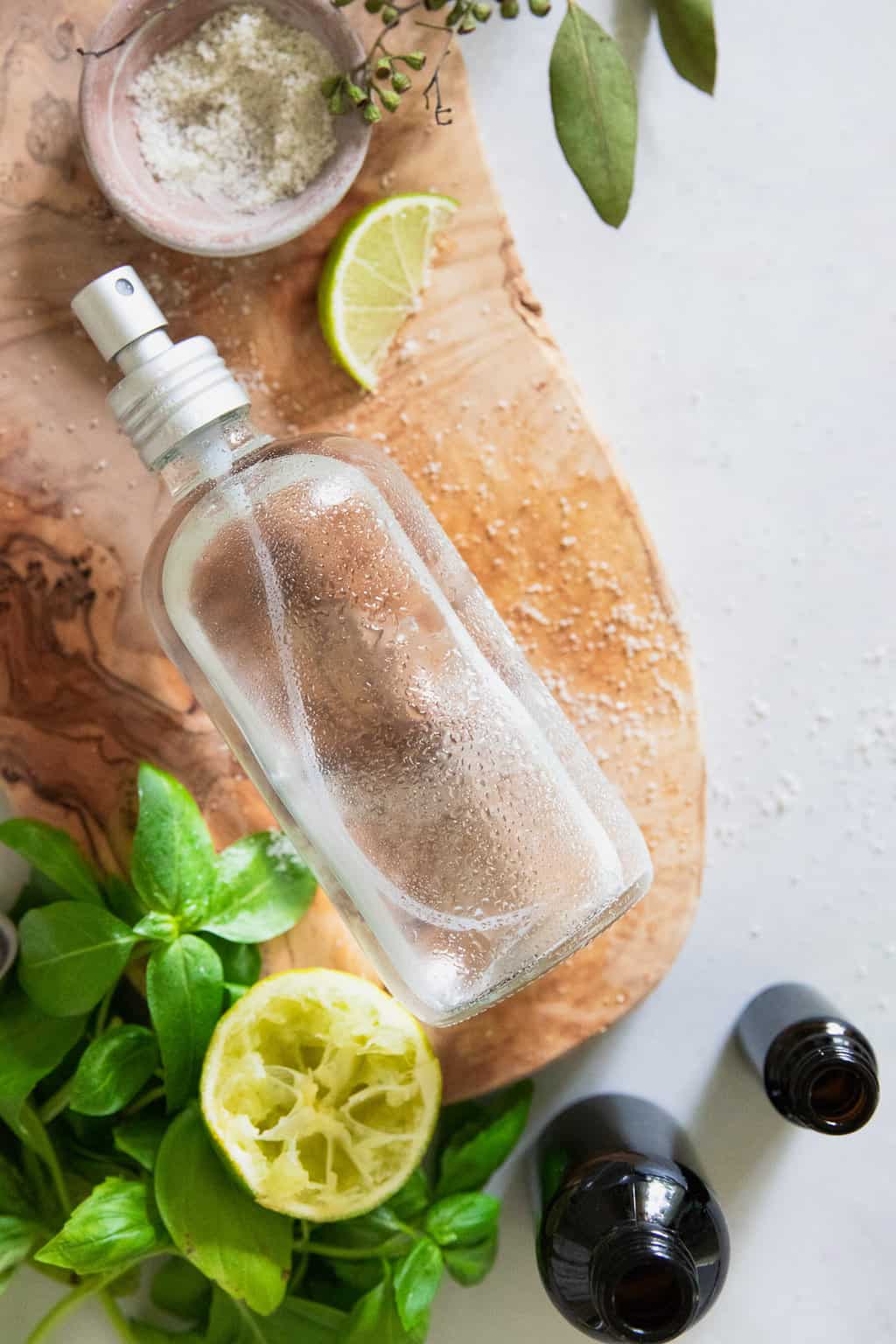 Sea Salt Eucalyptus
A mix of eucalyptus, soft florals, and tangy lime, this ocean-inspired scent blend calls to mind the best beach day—a great unisex scent.
– 6 drops basil essential oil
– 10 drops lime essential oil
– 8 drops lavender essential oil
– 15 drops eucalyptus essential oil
– 5 drops sea salt fragrance oil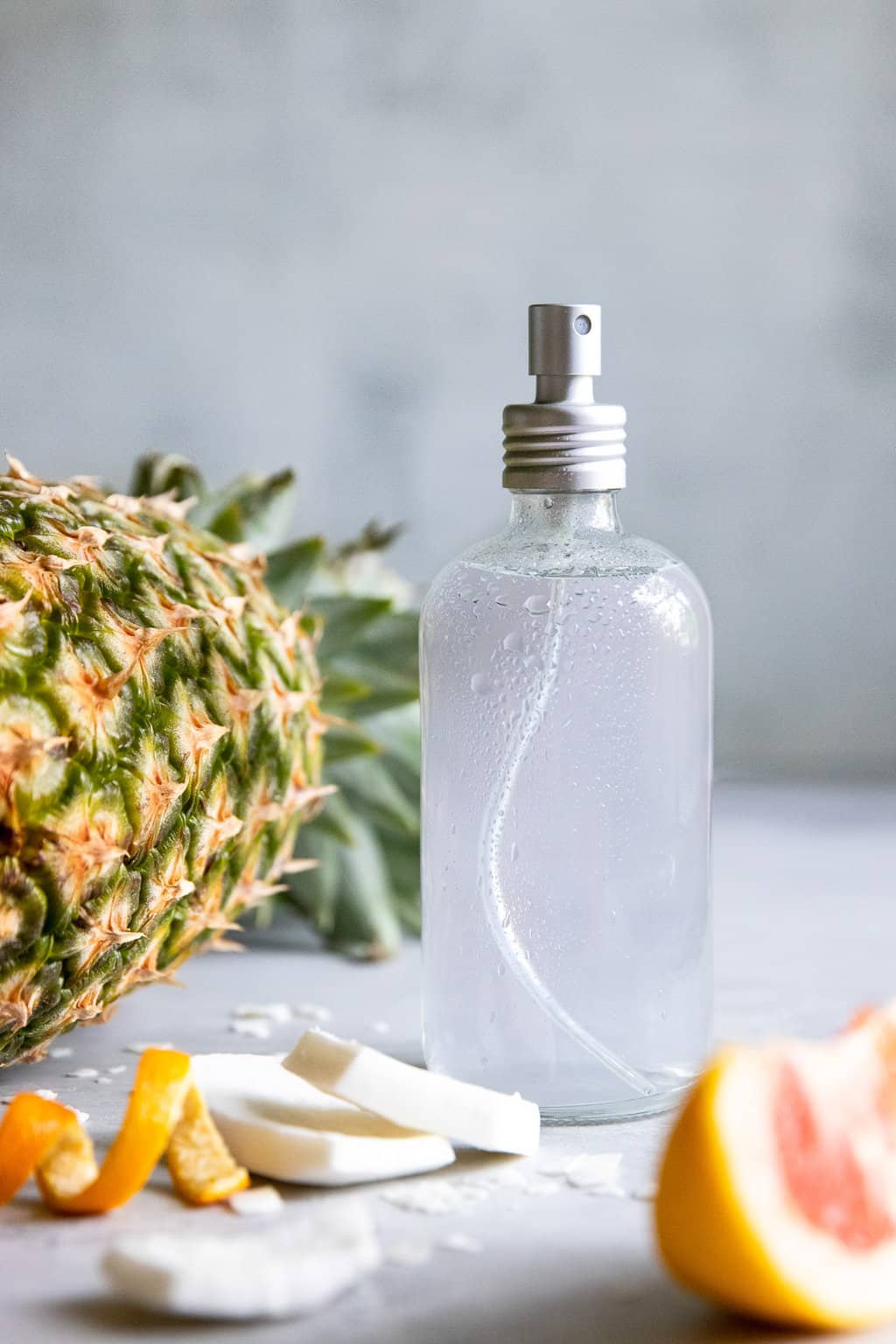 Pool Day
Bright, tangy, and tropical, this mix of coconut and citrus scents smells like suntan lotion on sun-warmed skin.
– 6 drops coconut fragrance oil
– 4 drops pineapple fragrance oil
– 10 drops mandarin essential oil
– 15 drops grapefruit essential oil
– 8 drops sandalwood essential oil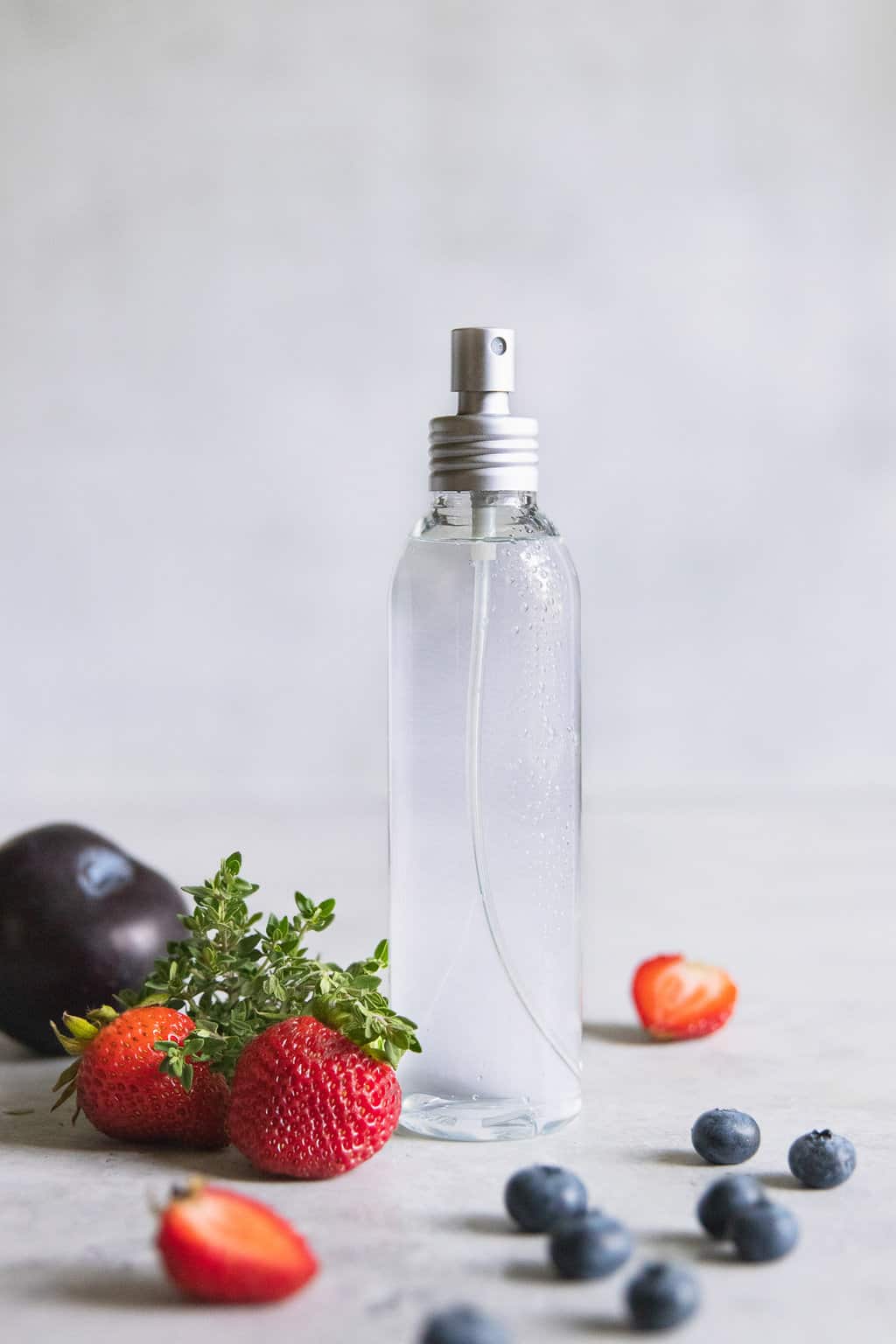 Summer Fruit Stand
Reminiscent of a trip to the farmers market, this blend combines notes of fresh herbs, sun-ripened berries, and stone fruits. If you like scents that are cheery, light, and sweet, this one's for you.
– 8 drops berry fragrance oil
– 5 drops plum blossom fragrance oil
– 10 drops lemon essential oil
– 5 drops thyme essential oil
Step 3
|
Add remaining ingredients
&
let sit
Add the water and vegetable glycerin, then shake again. Allow the body spray to sit for 24 to 48 hours for the scent to fully develop.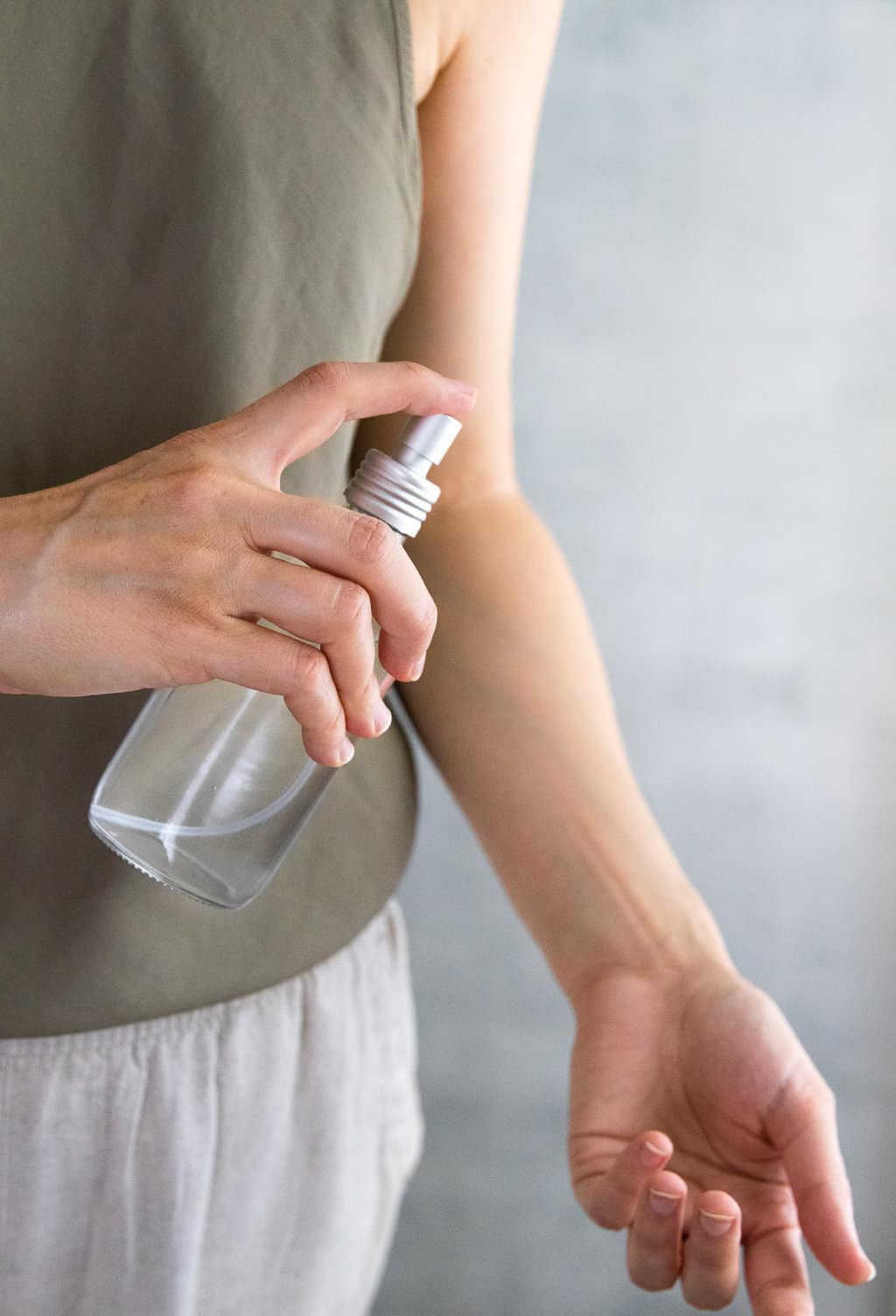 Step 4
|
Spritz away
!
Apply directly to your skin immediately after your morning shower or anytime you'd like to freshen up.
These recipes are not for consumption. You can find Everclear at your local retailer or online via Cask Cartel, Caskers, or Drizly. You can also search Everclear's product locator page online.
22