Essential oils are commonly used during cold and flu season for their antiviral and antibacterial properties. And if you think about it, plants create these compounds for a reason – protection!
Garden plants (think thyme, oregano, rosemary, lavender), trees (juniper, sage, frankincense) and grasses (lemongrass, citronella) all produce germ-fighting essential oils. These natural compounds are a plant's immune system. Plants create and use them to fend off insects, bacteria, fungi and other germs. And when we extract the oils, we often use them for the same reasons.
What's the best way to take advantage of oils' antimicrobial effects? Diffusion.
Diffusing oils is the best way to "neutralize air-borne illnesses and enhance immunity," says David Crow. Cinnamon, clove, thyme, oregano and tea tree are some of the strongest germ-fighting essential oils, and combining them with eucalyptus, lavender, and citrus oils can alleviate symptoms and support the immune system.
Below, I've listed eleven immune support diffuser blends. I've created blends that would be beneficial for purifying the air, fighting congestion, and boosting immunity. Many of the essential oils used in these blends can be used interchangeably, so feel free to swap out any oils that you desire.
Use these blends to help prevent illness and improve your recovery if you feel like you're coming down with something. Simply add the essential oil drops to a diffuser to purify your air–just remember to adjust the number of drops according to your diffuser instructions.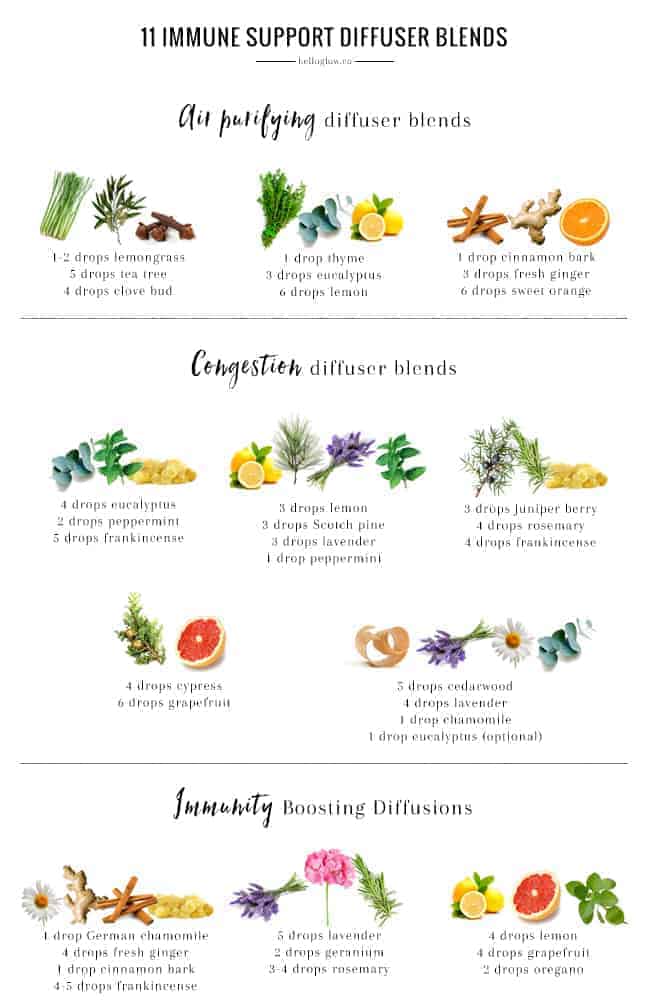 11 Immune Support Diffuser Blends
Air Purifying Diffuser Blends
Air purifying blends are especially beneficial if somebody in the home or office has been sick or if you suspect mold or other toxins. Essential oils such as tea tree, thyme, clove, and cinnamon all contain antibacterial, antiviral AND antifungal properties, according to The Complete Book of Essential Oils and Aromatherapy, and are heavy hitters when it comes to air-purifying capabilities.
Other essential oils such as eucalyptus, ginger, lemongrass, lemon, and orange all contain potent antibacterial properties that also make them essential for any air-purifying blend. These blends can be used in the home, office, or car, so try them all out and see which ones you like best!
Congestion Diffuser Blends
Congestion blends are great to use not only for congestion, but also for when you're dealing with respiratory problems such as coughs, colds, sinus issues, and more. Essential oils can help with congestion by promoting drainage, opening up airways or bronchioles, fighting viruses and bacteria associated with congestion, and more!
Many of the essential oils listed below are considered beneficial for giving you a mental boost as well, so if you've been feeling a big sluggish due to congestion, essential oils such as peppermint, eucalyptus, lemon, and rosemary can all help perk you up mentally. So, next time you're dealing with congestion or any sort of respiratory problem, go ahead and give one of these blends a try!
Immunity Boosting Diffusions
Immune-boosting blends are essential to have on hand for those times when you've been exposed to sickness, or you know your immune system has been compromised in some way. Did you know that essential oils can work on the immune system in many ways? Some can help boost immunity by fighting bacteria, viruses, and fungi that can affect our health, others can help by encouraging restorative rest, and still others that contain stimulating properties (like eucalyptus!) can help by stimulating the immune system.
The immune-boosting blends I've listed below include essential oils that can aid the immune system in all of these ways and more. It's definitely a good idea to diffuse any one of these blends if you know your immune system has taken a hit, but it's also a good idea to diffuse every now and then as a preventative–even if you're feeling fine.
In Conclusion
There are many ways that essential oils can support the immune system. Most essential oils have stellar air-purifying abilities, but some can help by helping to fight off certain pathogens, while others even have the ability to aid in jump-starting the immune response.
Theoretically there is the potential for exacerbating respiratory symptoms when diffusing essential oils, however there are also studies showing benefits of essential oils in patients with asthma and respiratory maladies. So use should always be individualized and monitored.
And because diffusion is one of the easiest and most effective ways to utilize the immune supporting properties of essential oils, anybody can use essential oils to support immunity. So, next time you're looking for a natural (and simple!) way to give your immune system a little boost, you should consider giving essential oils a try!
This post was medically reviewed by Dr. Holly Smith, a board certified physician in nephrology and internal medicine with a background in nutrition. Learn more about Hello Glow's medical review board here. As always, this is not personal medical advice and we recommend that you talk with your doctor.
485