Using the right essential oils for chakras (especially in tandem with color, sound, and crystals) can be a great way to attune any particular areas that need some extra attention. This guide will help you pick the right essential oil for throat chakra work and give you blending ideas to clear the air and soothe the throat.
Understanding Throat Chakra
The realm of communication is governed by the throat chakra, an energetic focal point located in the throat near the thyroid gland (but also including the mouth/jaw and ears). An open and balanced throat chakra is reflected in easeful communication, clarity, truthfulness, self-expression, and directness.
When we are imbalanced at the throat level, we may gossip or ramble excessively, blurt things out at inappropriate times, fumble awkwardly over our words, feel frozen in our ability to say what needs to be said, dominate conversation or allow ourselves to be dominated, lie, exaggerate, communicate passive aggressively and say the opposite of what we mean, or shut down. It's pretty evident just how important it is to manage our energies at this level if we are to maintain authentic and harmonious relationships.
Throat Chakra Basics:
Name: vishuddha chakra
Location: throat/neck
Color: blue
Sound vibration: G
Element: ether
Symbol: sixteen-petalled lotus
Suggested crystal: amazonite
Suggested yoga pose: seated lion's breath or shoulder stand followed by fish pose
Associated with the element of ether, or space/emptiness, the throat is like an empty room that air passes through to create sound vibration. Through those vibrations, we communicate and impart meaning, which helps us to create bonds with others and establish understanding. (Note: writing and signed languages are included here; the movement of the hands has the same ability to create communication and connection as vocalized sound vibrations.)
Many of us have had experiences of being hushed, silenced, or ridiculed for expressing ourselves openly. We may have adapted by blocking the flow of energy here as a way of protecting or defending ourselves. Issues relating to the neck, throat, voice, jaw/mouth, or thyroid gland can be seen as relating to this chakra.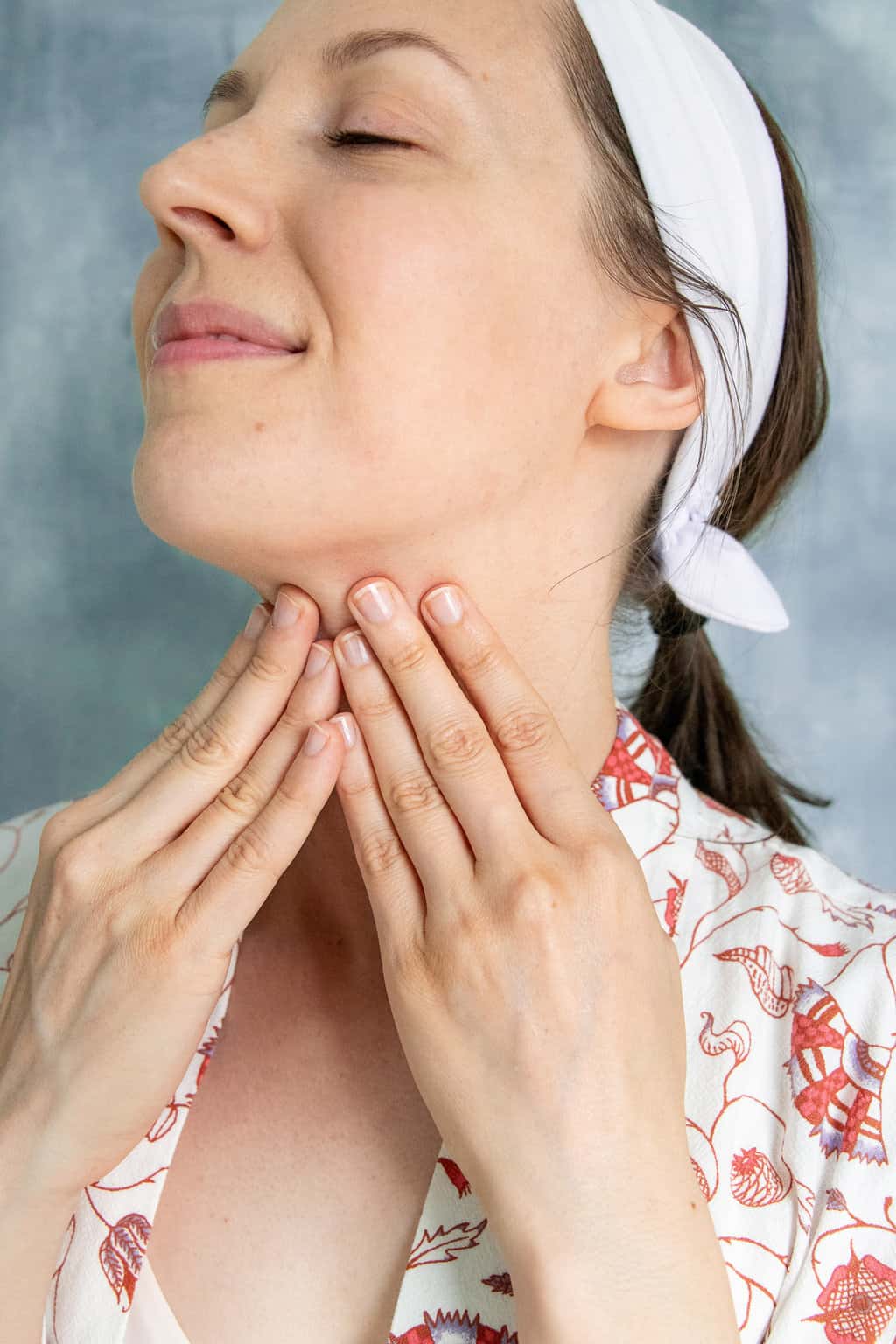 Balancing the throat chakra
Achieving a state of balance in the throat chakra may involve either moderating the energy flow or stimulating it. If we are seeking to temper the more gossipy/chatterbox/domineering/tell all kind of energy, focusing on the listening half of conversations is important. Silent meditation or even meditation retreats could prove therapeutic, as could writing things down or journaling instead of always sharing.
Try taking a pause before responding. Sage advice comes from Bernard Meltzer's quote: "Before you speak, ask yourself if what you are going to say is true, is kind, is necessary, is helpful."
If you are blocked in this chakra, effective meditations may involve chanting (especially using the mantra associated with the throat chakra, "ham"). You might try singing, gargling with salt water in the mornings, speaking with trusted confidants or a therapist, or attending a public speaking seminar. Wearing blue crystals such as lapis lazuli or sodalite near your throat can work with this vibration.
Essential Oils for Throat Chakra
Diffusing essential oils that clean the air and soothe the throat can help establish a sense of balance at this level as well. Try the following oils that keep the air around you clean and clear: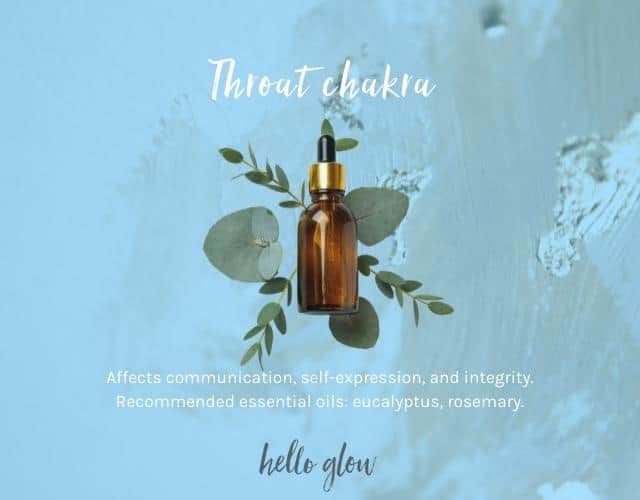 Congestion-relieving oils
Eucalyptus is a top choice for keeping your sinuses, nasal passageways, and throat clear. Or try oregano or rosemary in a diffuser or diluted in a carrier oil and dabbed under your nose for clear breathing.
Air-cleansing oils
Choose oils that combine their effective antibacterial qualities with the freshness of herbs and citrus to cleanse the air. We love the cool, bright scents of lemongrass, peppermint, sage and sweet orange.
5 Essential Oil Blends for Throat Chakra
Here are a few diffuser blends that are inspired by the throat's call for all things calm, cool, and clear. All of these blends are meant to be diluted into 200 mL of water.
1. Eucalyptus blend
Known for its air purifying properties and its ability to help clear the throat and nasal passageways [source], eucalyptus is a top choice for throat chakra healing. Add a few drops into your bath, or try this diffuser blend whenever this chakra needs some TLC.
—4 drops eucalyptus oil
—3 drops thyme oil
—2 drops camphor oil
2. Rosemary blend
Here is another purifying and throat-soothing blend; rosemary is combined with thyme, tea tree, and relaxing lavender to help you clear the air…whether that's in your home or your communication.
—4 drops rosemary oil
—2 drops lavender oil
—2 drops thyme oil
—2 drops tea tree oil
3. Oregano blend
Oil of oregano is commonly used to ease cold and flu symptoms when taken internally. But diffusing oregano essential oil (not meant for ingestion) is also said to have beneficial effects such as soothing a sore throat, helping to clear the respiratory tract, and easing other irritations such as sneezing, coughing, and congestion. This herbaceous blend can be both soothing and cooling.
—3 drops oregano essential oil (not oil of oregano)
—2 drops basil oil
—2 drops lavender oil
—2 drops thyme oil
4. Blue tansy blend
Blue is the color vibration of the throat chakra, and this soft, sweet, camphorous blend is too. Blue tansy is derived from small yellow flowers that grow in the Mediterranean, and like chamomile, it is also said to settle nerves and help set the stage for calm communication when diffused.
—4 drops blue tansy oil
—3 drops Roman chamomile oil
—3 drops clary sage oil
5. Peppermint blend
Not only is peppermint soothing for the throat and often used to freshen the mouth (thanks to its antibacterial qualities), but it is also known to bring more focus and clarity to the mind [source], both of which facilitate balanced communication.
—4 drops peppermint oil
—3 drops lemon oil
—2 drops fennel oil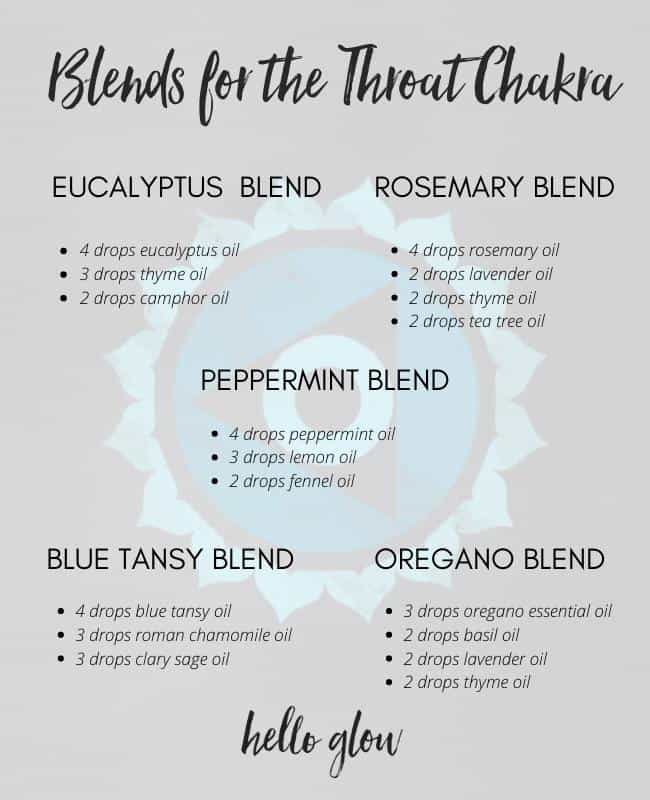 1