Using the right essential oils for chakras (especially in tandem with color, sound, and crystals) can be a great way to attune any particular areas that need some extra attention. This guide will help you pick the right essential oil for crown chakra work and give you blending ideas to keep you grounded, relaxed and open-minded.
Understanding Crown Chakra
At the very top of the head rests the crown jewel of the chakras, the energetic seat of our potential, purpose, consciousness, and spirituality. An activated crown chakra manifests as inner stillness and peace, a feeling of connection with the universe/universal consciousness/spirit/God, and a sense of comfort with our dharma or the unique role we play in the interconnected web of life. When there is a blockage or imbalance at the crown, we may feel inner agitation, resistance on our life path, disconnection from any energy beyond ourselves, and a sense of hopelessness, apathy, cynicism, or despair.
Overactive crown energy can be disembodying, and we may become sanctimonious, spiritually rigid, or even delusional. This is the chakra that really ties everything together and elevates us beyond mere existence, awakening our consciousness to a place of peace, gratitude, joy, and awe—maybe even enlightenment!
Crown chakra basics:
Name: sahasrara chakra
Location: crown of the head (and the pituitary gland)
Color: violet or white/clear
Sound vibration: B
Element: consciousness/thought
Symbol: one thousand-petalled lotus
Suggested crystal: selenite or clear quartz
Suggested yoga pose: headstand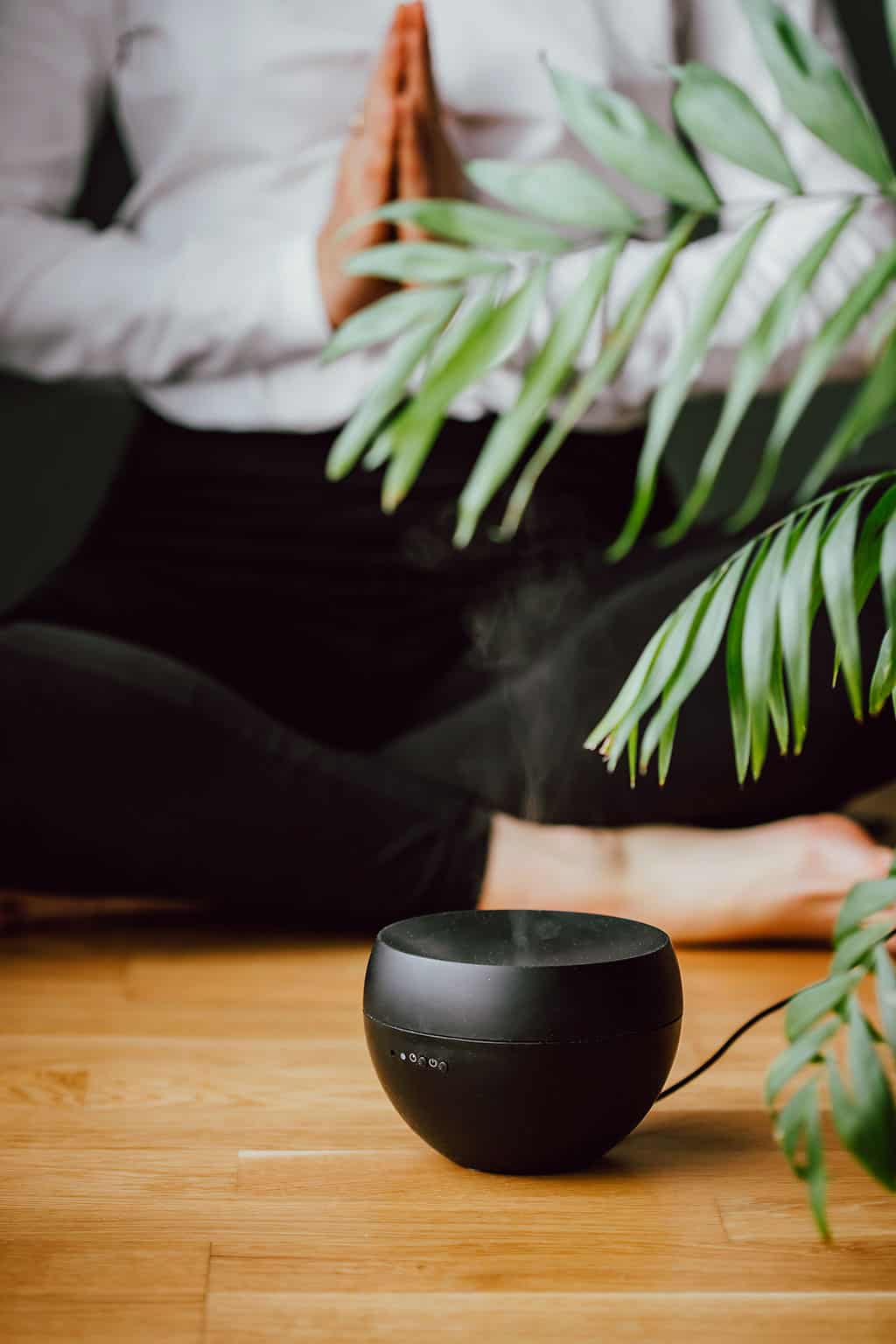 The crown chakra is affiliated with the element of consciousness, which means that at its most base level, this chakra is about knowing—not in the sense of learning and understanding content, but of being awakened to the truth of being alive. This involves discernment and seeing beyond the veils of illusion that distort our perceptions of what's important or essential for living a good life.
There is an understanding that happiness and bliss abide within, a knowing that we are connected with everything in oneness, and a realization that we are not separate from the energy of the divine. This is like an opening that drives us to move through life differently, informing our choices and behaviors in such a way that the energy of the lower chakras is better tended to as well.
Balancing the crown chakra
There are many reasons we may experience imbalances or blockages at this level. We may have been raised in a family or social group that devalued us or convinced us that we were lesser than and undeserving of an elevated life. Or, after experiencing repeated struggles or limitations, we could have inadvertently convinced ourselves that life isn't good or fair and shut the door to inner peace. Headaches, exhaustion, and depression may be linked to this chakra.
Healing the crown is important energetic work, and regardless of whether we follow the chakra system or not, tending to the state of inner peace and connectedness as a state of mind can increase feelings of wellness and our overall quality of life. Whether we come together with others in a spiritual community or sit quietly alone in meditation, making time for quiet and spaciousness is key.
It's also helpful to regulate what we allow our senses to take in, whether that's junk food (which drastically affects our energy), social media, indulging in gossip, or noise and chaos. Try concentrating on one task at a time, practicing the art of present-mindedness ("be here now"), and giving the gift of your full attention to others. Practice gratitude to maintain an awareness of blessings and the good that life has to offer.
If crown energy is overstimulated, we could feel lost in our spirituality, ungrounded in the reality of daily life, or rigid and dogmatic in our thinking. In this case, meditating in nature can be helpful, as can reading and learning about nonattachment, making time for more sleep and restorative yoga, and including moderate exercise such as yoga each day to keep you feeling embodied and connected to your physical self.
Carrying selenite or clear quartz or setting it in your home—especially near you during meditation—amplifies the vibration of the crown.
Essential Oils for Crown Chakra
Including aromatherapy as part of your meditation ritual is another effective way to keep you grounded, relaxed, and open-minded.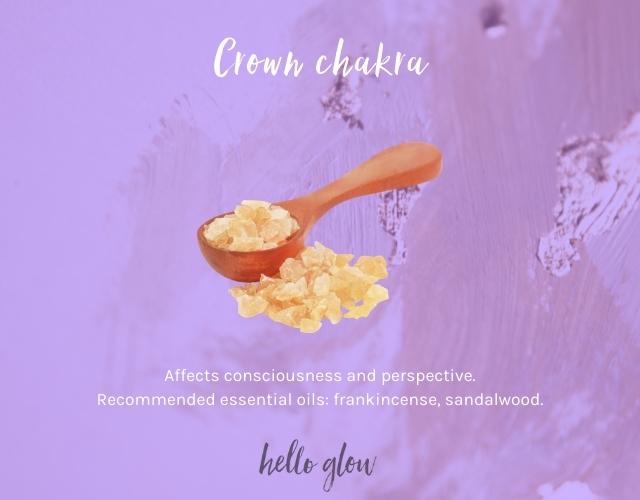 Spiritual oils
Resinous frankincense, an oil that's been used for thousands of years in spiritual rituals and meditation, is both grounding and enlightening. Sandalwood is another traditionally spiritual oil that promotes both relaxation and mental clarity. Tulsi, or holy basil, is another herbaceous-scented oil used in Ayurvedic healing and spiritual work.
To get in the right headspace, you'll find that some scents are both calming and relaxing. The grounding aroma of vetiver combines exceptionally well with relaxing lavender. And clary sage is one of the most frequently used essential oils to help with relaxation and depression [source].
5 Essential Oil Blends for Crown Chakra
Try these blends to optimize the fruits of your meditation practice. Each of these diffuser blends is meant to be diluted into 200 mL of water.
1. Frankincense blend
Frankincense is an earthy oil that has been used in worship and meditation rituals for thousands of years [source]. It is relaxing yet also thought to enhance a state of peaceful tranquility.
—4 drops frankincense oil
—2 drops cedarwood oil
—2 drops lavender oil
—2 drops clary sage
2. Sandalwood blend
Another essential oil that has long been used in spiritual settings is sandalwood, a powdery soft, woodsy scent that blends well with other oils known to induce calm states of mind [source].
—3 drops sandalwood oil
—2 drops cypress oil
—2 drops roman chamomile
—2 drops geranium oil
3. Jasmine blend
A blend composed of white top-note blossoms aligns very well with the uplifting clarity of the crown chakra's energy. This is ideal for a morning or daytime meditation session or around the house when you could use a reminder of the beauty of life.
—4 drops jasmine oil
—3 drops neroli oil
—2 drops bergamot or sweet orange oil
4. Tulsi blend
Tulsi, or holy basil, is a slightly minty, herbaceous-scented medicinal wonder plant widely used in Ayurvedic healing. Often incorporated into spiritual work such as meditation due to its uplifting and calming properties, it seems to combat stress of any kind, physical, environmental, and even emotional [source].
—4 drops holy basil (tulsi) oil
—2 drops basil oil
—2 drops clove oil
—2 drops peppermint oil
5. Vetiver blend
One of the best essential oils for mental fatigue to restore alertness is vetiver [source]. Here, it is combined with grounding and relaxing notes, perfect for extended meditation sessions where relaxation still needs to be met with clarity and present-mindedness.
—4 drops vetiver oil
—2 drops clary sage oil
—2 drops basil oil
—2 drops grapefruit oil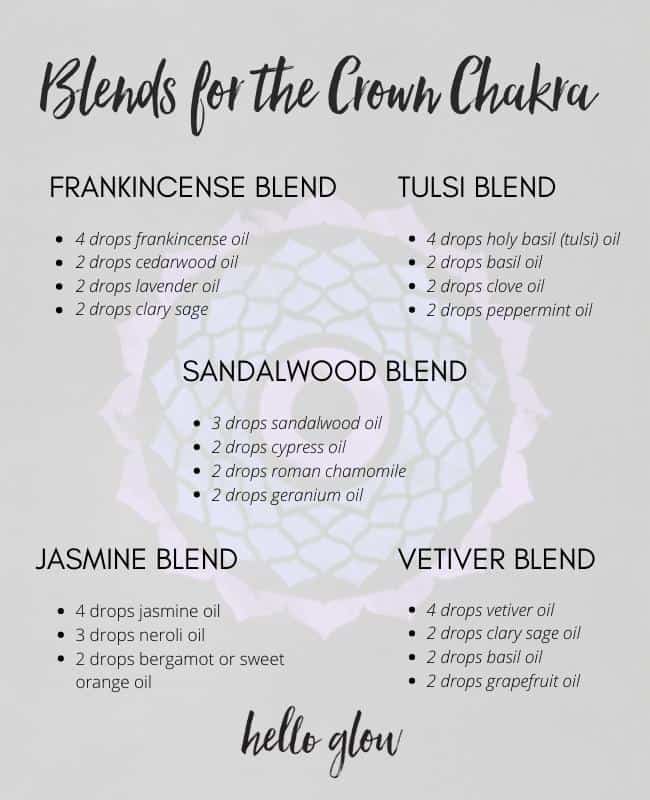 2