A dry, itchy scalp is uncomfortable and distracting. Excessive scratching and the white flakes it leaves on your clothing can often be embarrassing. The scalp needs a balance of natural oils to remain healthy and support an environment for healthy, shiny hair to grow. If dry weather, age, or various skin conditions have caused your scalp to feel dry, essential oils could be the solution.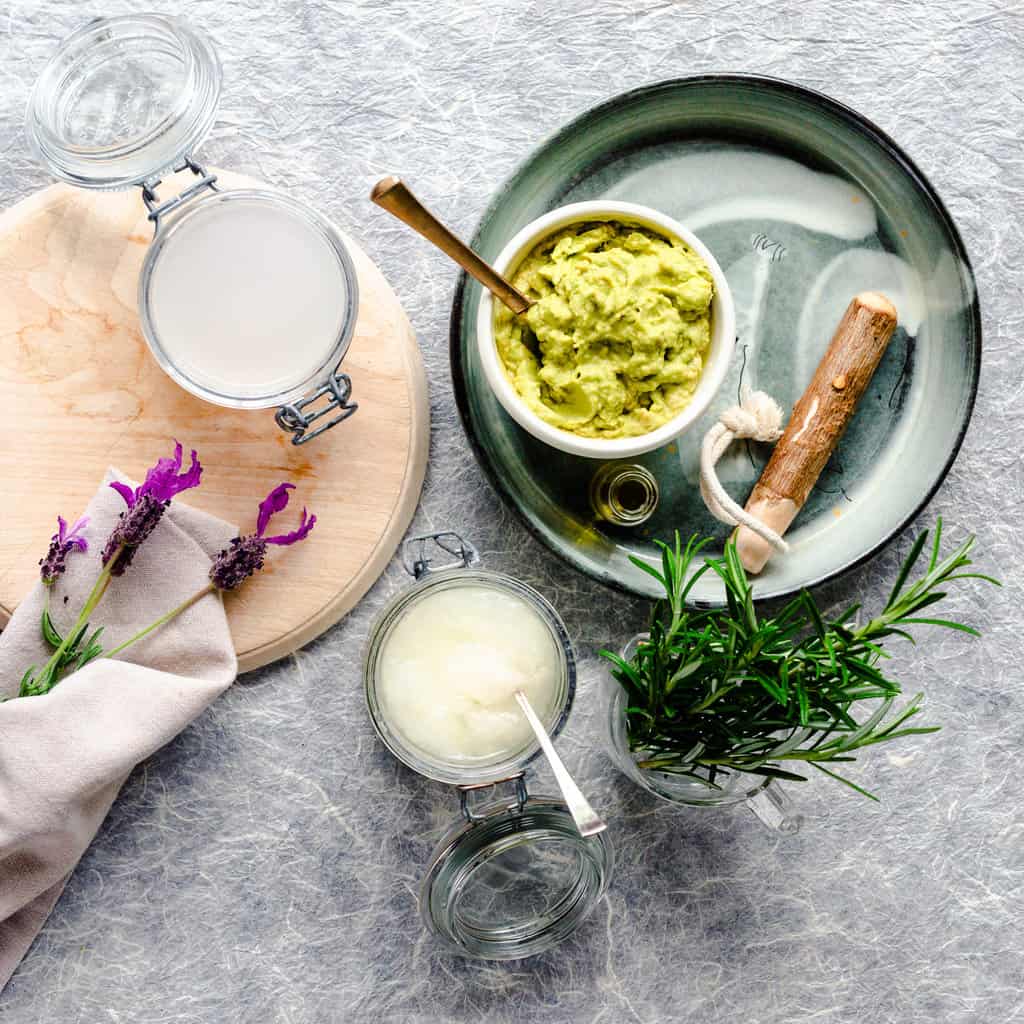 Benefits of Essential Oils for Scalp Concerns
Essential oils (EOs) are the volatile oils found in flowers, leaves, roots, and the bark of plants.
Each plant contains unique compounds that give essential oils their distinctive characteristics. Many people are familiar with using essential oils for aromatherapy, but they may not know much about using them for dry scalp or dandruff.
While each oil offers individual benefits, there are also many general benefits from using essential oils as part of your self-care routine. For example, essential oils
—Stimulate the limbic system
—Reduce stress and anxiety
—Improve sleep quality and reduce insomnia
—Ease headache and migraine pain
—Reduce inflammation
—Kill bacteria, fungi, and other microorganisms
—Are budget-friendly
—Are easy to use
—Have a long shelf life
When purchasing EOs, look for pure single essential oils, not "perfumed" or "scented" oils. Some oils are costly, especially those made from rare or hard-to-process plants. However, most are affordable, especially considering that typical usage calls for only a few drops at a time.
Safety with Essential Oils for Dandruff and Dry Scalp
Though they're natural products, some EOs can irritate the skin if used incorrectly.
When using essential oils for dandruff, never apply them directly to your scalp. Instead, place approximately 10 drops in 1 ounce of a gentle carrier oil like argan, jojoba, or grapeseed oil. These neutral carriers are moisturizing and noncomedogenic, meaning they won't clog your pores.
When trying an oil for the first time, perform a patch test on your inner arm. If you don't experience any signs of a reaction, such as redness, itching, or irritation, you can increase the concentration to 20 drops of essential oil and test again. Up to 30 drops of your EO per ounce of carrier oil is considered to be a "full" solution.
Avoid blending essential oils unless you've already tried each of the oils separately. Also, don't ingest EOs for scalp issues unless it's under the guidance of a healthcare professional. Be aware that many essential oils aren't considered safe for children or pets.
Five Best Essential Oils for Dandruff or Dry Scalp
Many different EOs for dry scalp can help balance oil levels to relieve itching and make hair shine, but some also have additional benefits, such as promoting hair growth and strength. Essential oils that support overall scalp and hair health are the most widely recommended.
1
.
Lavender
Studies have shown that lavender essential oil promotes hair growth [source] while soothing a dry scalp. In addition, its antimicrobial properties naturally combat fungal or bacterial conditions that may be contributing to the problem [source].
2
.
Rosemary
Rosemary oil is a great choice for anyone looking for EO dry scalp remedies without a floral scent. Like lavender oil, it's been shown to stimulate hair growth [source] and treat dry scalp.
3
.
Lemongrass
Lemongrass oil has a bright citrus scent but doesn't come with the same photosensitivity risks as true citrus oils. One study found that lemongrass oil effectively reduces dandruff after only 7 days of topical use [source].
4
.
Clary Sage
Clary sage oil has antibacterial properties that help keep the scalp clean and healthy. Like lavender, clary sage EO contains linalyl acetate, which is antimicrobial and helps regulate oil production [source].
5
.
Peppermint
When it comes to using essential oils for scalp health, peppermint oil is one of the best. Well known for its powerful antiseptic and anti-inflammatory properties, peppermint EO is perfect for treating dandruff. Its primary volatile compound, menthol, creates a cooling effect that reduces inflammation and calms itchy, irritated skin. It dilates the blood vessels, bringing extra blood flow to the scalp [source], and has also been shown to promote hair growth in animal studies [source].
Essential Oils for Dry Scalp
:
Recipe Options
Putting together your own natural hair products is fun and simple. Try these easy recipes for healthy, vibrant hair with more body.
1. Rosemary Hair Balm
Use a small amount of this balm for a quick head massage before bed or for relief from itching anytime. Following application, comb the balm through your hair to the ends.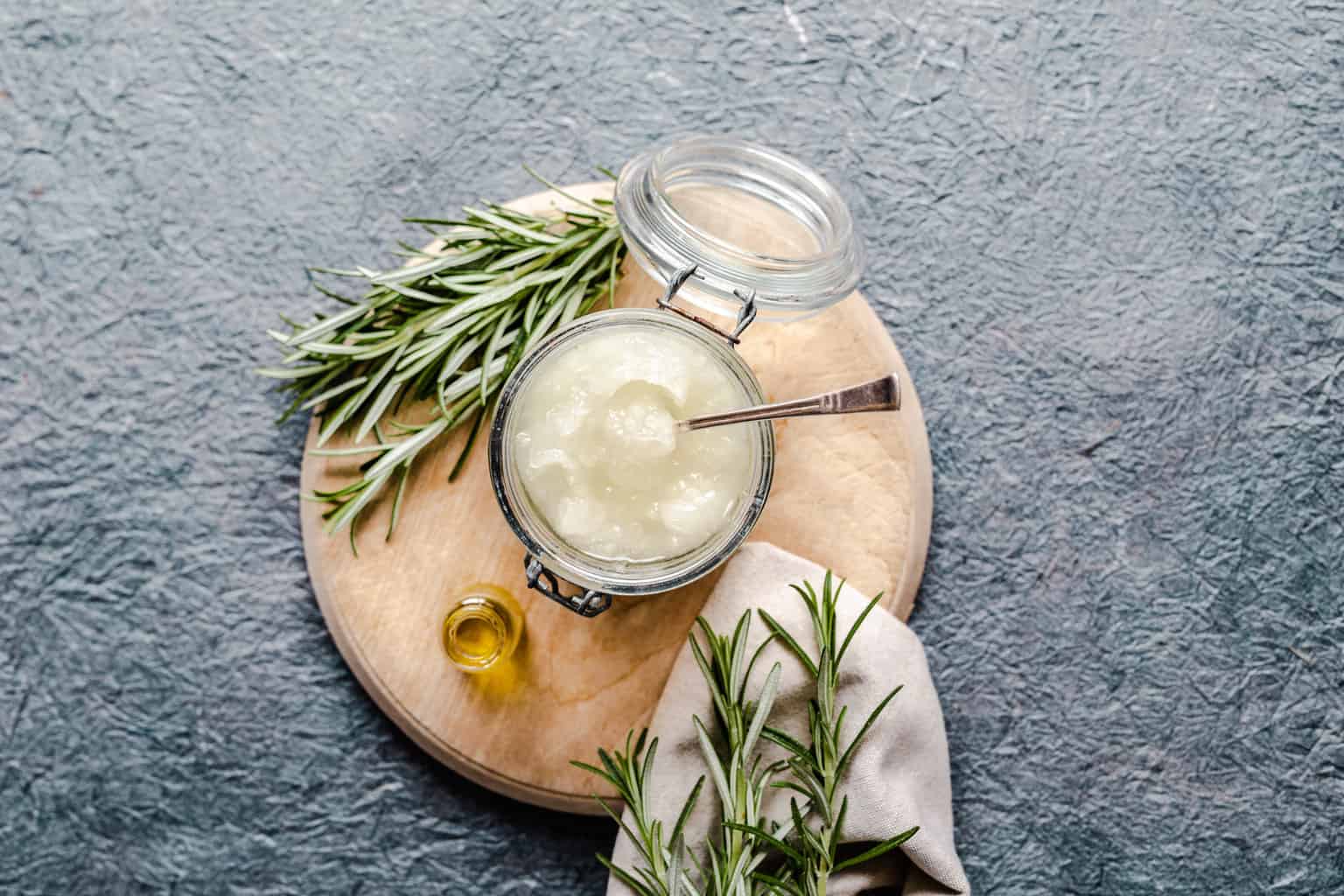 Ingredients:
—½ cup organic coconut oil
—1 tablespoon vitamin E oil
—48 drops rosemary essential oil
Melt the organic coconut oil in a double boiler, then add the vitamin E oil and rosemary essential oil. Mix to combine well. Pour the mixture into a jar and allow it to solidify.
2. Avocado-Lemongrass Hair Mask
The fatty acids in avocado nourish the scalp, and the fruit itself is a natural source of fatty acids, vitamins A, C, and E, and antioxidants that play an important role in hair health [source].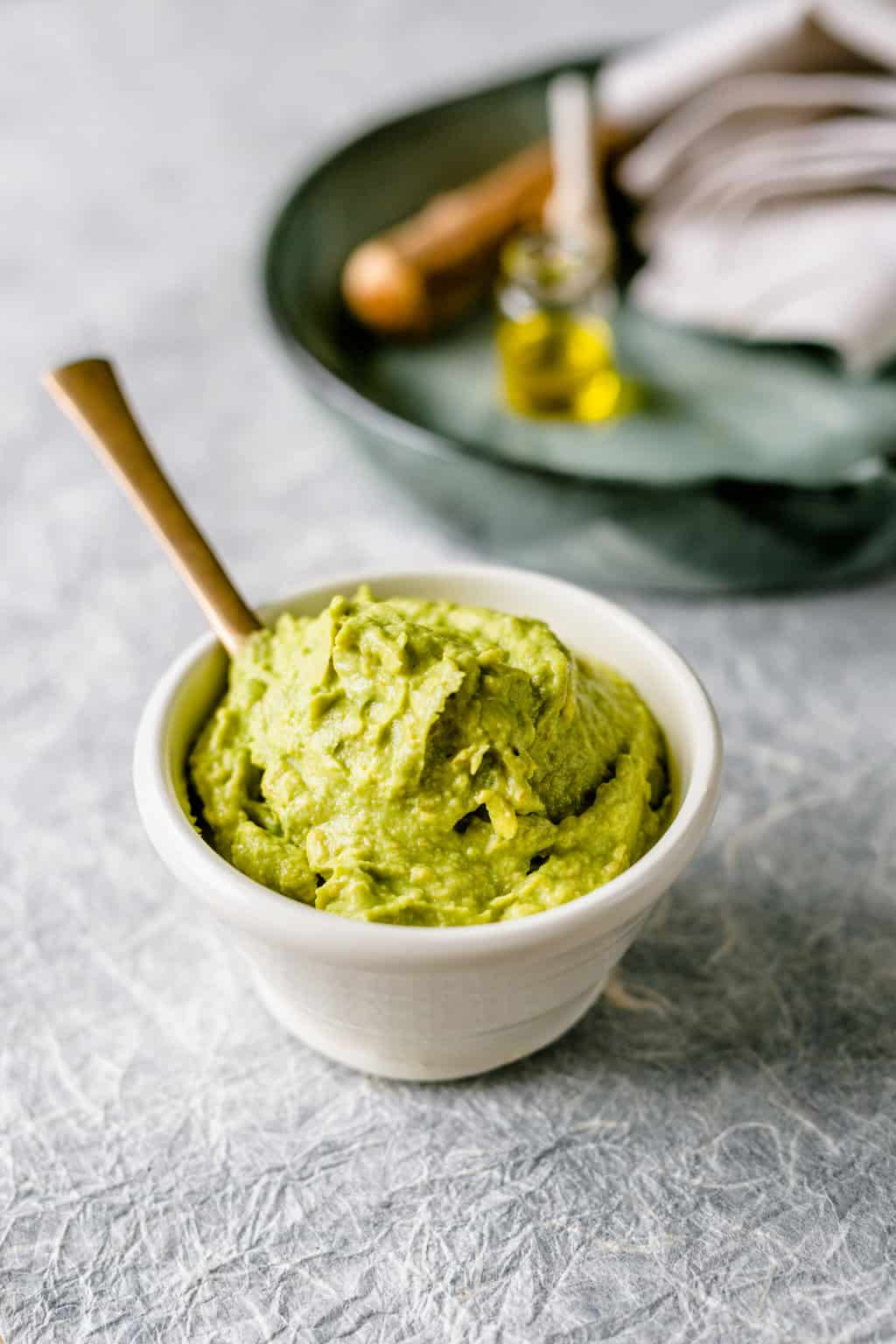 Ingredients:
—1 small avocado
—10 drops lemongrass essential oil
Mash your avocado in a bowl, add the lemongrass oil, and stir well. Apply the mask to your scalp, gently massaging the mixture down to the ends of your hair. Allow the mask to sit for approximately 20 minutes, then shampoo and condition as usual.
3. Coconut Water and Lavender Rinse
Use this recipe as a final rinse to soothe the scalp and leave your hair soft and silky.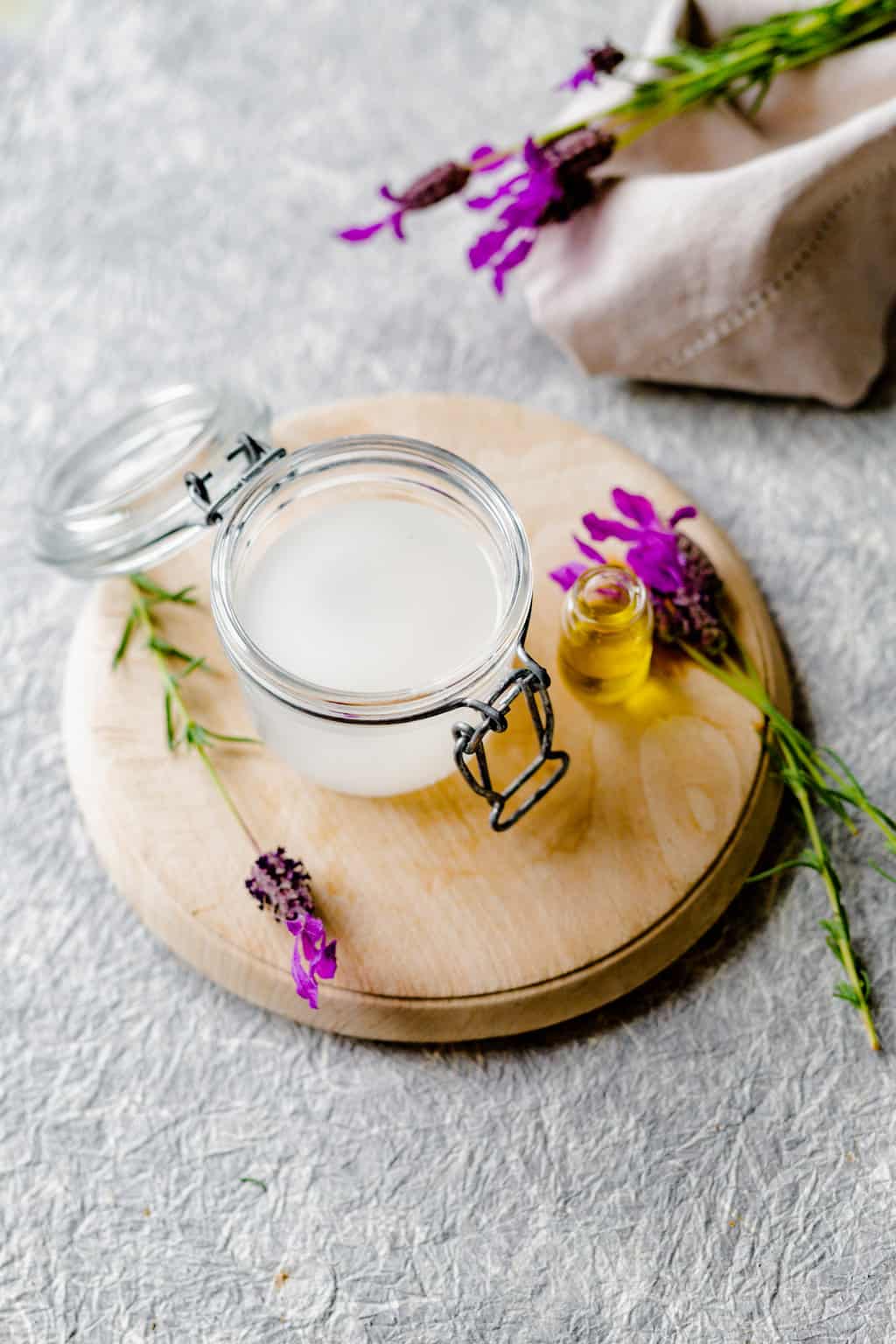 Ingredients:
—1 cup coconut water
—10–20 drops lavender essential oil
Pour the coconut water into a jar with a lid and add the lavender oil. Shake vigorously and then slowly pour the mixture over your freshly washed hair, allowing as much of the solution to soak in as possible. Squeeze out the remaining liquid and towel dry.
Scalp Essential Oil FAQs
Is it okay to put essential oils on your scalp?
When properly diluted, most essential oils are safe to apply to the scalp. You can also add a few drops of essential oil to your favorite shampoo and conditioner to help increase hair growth, shine, and strength.
What carrier oil is good for a flaky scalp?
Argan oil, the oil from the fruit of the argan tree, is one of the best carrier oils for treating dry scalp and dandruff. It creates a protective layer on the scalp to prevent moisture loss. The anti-inflammatory properties of argan oil can also soothe itching and irritation.
What is the best essential oil for dry scalp?
The best essential oil for dry scalp depends on your individual needs. Some oils are better for promoting hair growth, while others work best for easing inflammation. If you're new to using essential oils for scalp issues, recipes that include lavender are a good place to start.
References:
1. Lee BH, et al. Hair growth-promoting effects of lavender oil in C57BL/6 mice. Toxicol Res. 2016.
2. Puškárová A, et al. The antibacterial and antifungal activity of six essential oils and their cyto/genotoxicity to human HEL 12469 cells. Sci Rep. 2017.
3. Panahi Y, et al. Rosemary oil vs minoxidil 2% for the treatment of androgenetic alopecia: a randomized comparative trial. Skinmed. 2015.
4. Chaisripipat W, et al. Anti-dandruff hair tonic containing lemongrass (Cymbopogon flexuosus) oil. Forsch Komplementmed. 2015.
5. Ali B, et al. Essential oils used in aromatherapy: a systemic review. Asian Pac J Trop Biomed. 2015.
6. Craighead DH, et al. Mechanisms and time course of menthol-induced cutaneous vasodilation. Microvasc Res. 2017.
7. Oh JY, et al. Peppermint oil promotes hair growth without toxic signs. Toxicol Res. 2014.
8. Bhuyan DJ, et al. The odyssey of bioactive compounds in avocado (Persea americana) and their health benefits. Antioxidants (Basel). 2019.
4