Many people assume that Aquarius (January 20 to February 18) is a water sign because it is symbolized by the water bearer, but it is actually a fixed air sign, lending it a tendency to be driven more by mind than mood. Ruled by Uranus, the planet of upheaval, rebellion, and change, Aquarians are similarly motivated to overturn and flip the narrative. Learn how to use essential oils for Aquarius season and get 5 essential oil blends using oils that are unique, unexpected and innovative.
Understanding Aquarius
They are not so interested in the past except to learn their lessons there, and they are visionaries compelled to restructure and rebuild things in ways that are conscious of the needs of their community and beyond. They are innovative, outside-the-box thinkers who are curious and optimistic about the possibilities that can arise from revolution.
Aquarius is associated with the 11th house of astrology, the area of the birth chart that affects our networks, friends, and social groups, as well as how we relate and fit into the larger community. As such, they tend to be more concerned with the collective mindset and finding solutions that positively impact the collective.
They are often unique and unafraid of standing out as being different. There is a self-assertiveness in their thoughts and identity that protects them from needing to follow the crowd and do things the way they have always been done. Sometimes it takes a free-spirited, independent thinker who is comfortable being seen as the oddball to bring forward a vision for evolution.
Celebrating Aquarius Season
During Aquarius season, the span of time when the sun moves through this constellation in the skies, we are encouraged to become less dogmatic in our thinking and exercise the ability to envision fresh perspectives and roundabout solutions, open ourselves up to new technologies and innovations, and welcome expansion, change, and even upheaval into our lives.
Whereas Scorpio is linked with Pluto and the cyclical nature of death/rebirth and endings/beginnings, Aquarius' Uranian energy is more about the change that drives us forward, pushes us into new places, and shakes off the old, dusty habits with a faith and optimism that believes in brighter futures.
We align with the energy of this season when we stop resisting change, welcome growth, and choose things that are new and exciting rather than sticking with routines. Make those updates to your home that you may have been putting off (especially regarding technology and appliances), learn a technological skill, read a sci-fi novel, become involved in community initiatives that are working to create positive change, attend a protest, and speak your truth—even when it swims against the stream.
The best essential oils for an Aquarian are organic and sustainably-sourced, and come from crops that are easy to grow and harvest such as lemon oil, tea tree oil, and lavender oil. Combining them in unique ways also satisfies their desire for innovation!
We've put together a few essential oil diffuser blends that pick up what Aquarius is putting down by using oils that are unique, unexpected, innovative, and, since Aquarians concern themselves with the world of the future, also ecologically-friendly and sustainable.
Each of these blends is meant to be diluted in 200 mL of water.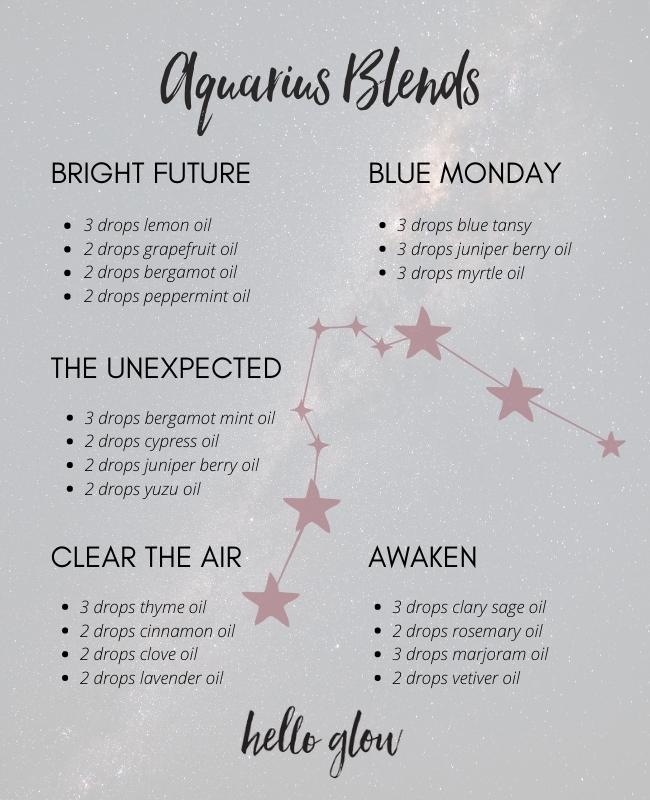 1. Bright Future
These sustainable oils come together into a clean, bright blend that supports focus and clarity of mind and brings a shine of optimism into any room of your home.
—3 drops lemon oil
—2 drops grapefruit oil
—2 drops bergamot oil
—2 drops peppermint oil
2. The Unexpected
When you're stuck in a rut where every day feels the same, shake it up with a blend that combines a few rare or unique oils. Our noses are so powerfully connected with our brains—who knows, maybe that new scent will stimulate some new thoughts, ideas, and solutions.
—3 drops bergamot mint oil
—2 drops cypress oil
—2 drops juniper berry oil
—2 drops yuzu oil
3. Clear the Air
In the Northern Hemisphere, Aquarius season corresponds with our winter, a time when our windows are often locked up, and the air we breathe feels old and stale. Let's take a hint from airy Aquarius and remember how important it is to keep things fresh and moving. This blend combines oils that are known to clean and purify the air from microbes, allowing you to breathe a little easier.
—3 drops thyme oil
—2 drops cinnamon oil
—2 drops clove oil
—2 drops lavender oil
4. Blue Monday
Aquarius is associated with the color blue—like the sky-reflecting waters poured out by the Water Bearer's jug or the azure and indigo hues of the throat and third eye chakras—and this blend brings a true blue balance to the air.
—3 drops blue tansy
—3 drops juniper berry oil
—3 drops myrtle oil
5. Awaken
This diffuser blend helps to stir and stimulate the third eye chakra energies, or the vibration of vision, expansion, clarity, enlightenment, transformation, and insight—Aquarius' territory. Place a violet or indigo crystal (we love amethyst and lapis lazuli) near your diffuser in a part of the home where you spend most of your relaxing, quiet time.
Breathe deeply and follow with curiosity wherever the mind wanders. (Bonus: it also helps with anxiety management and headaches.)
—3 drops clary sage oil
—2 drops rosemary oil
—3 drops marjoram oil
—2 drops vetiver oil
Note: not all essential oils are safe to use around pets; read more about that here.
Want to learn more about essentials for zodiac signs? Find out the best oils to use for your sign!
2