The other night my husband and I went to a backyard barbecue, and within minutes of getting there, we were itching and swatting like crazy. It's barely May, but those pesky mosquitos are already out in full force!
Although bugs and their bites are an inevitable part of summer, you don't need a drugstore cream to relieve the itch. There are lots of readily available and inexpensive essential oils for bug bites. Either use them individually or combine several into a DIY bug bite spray to take care of the itch, swelling, and pain quickly.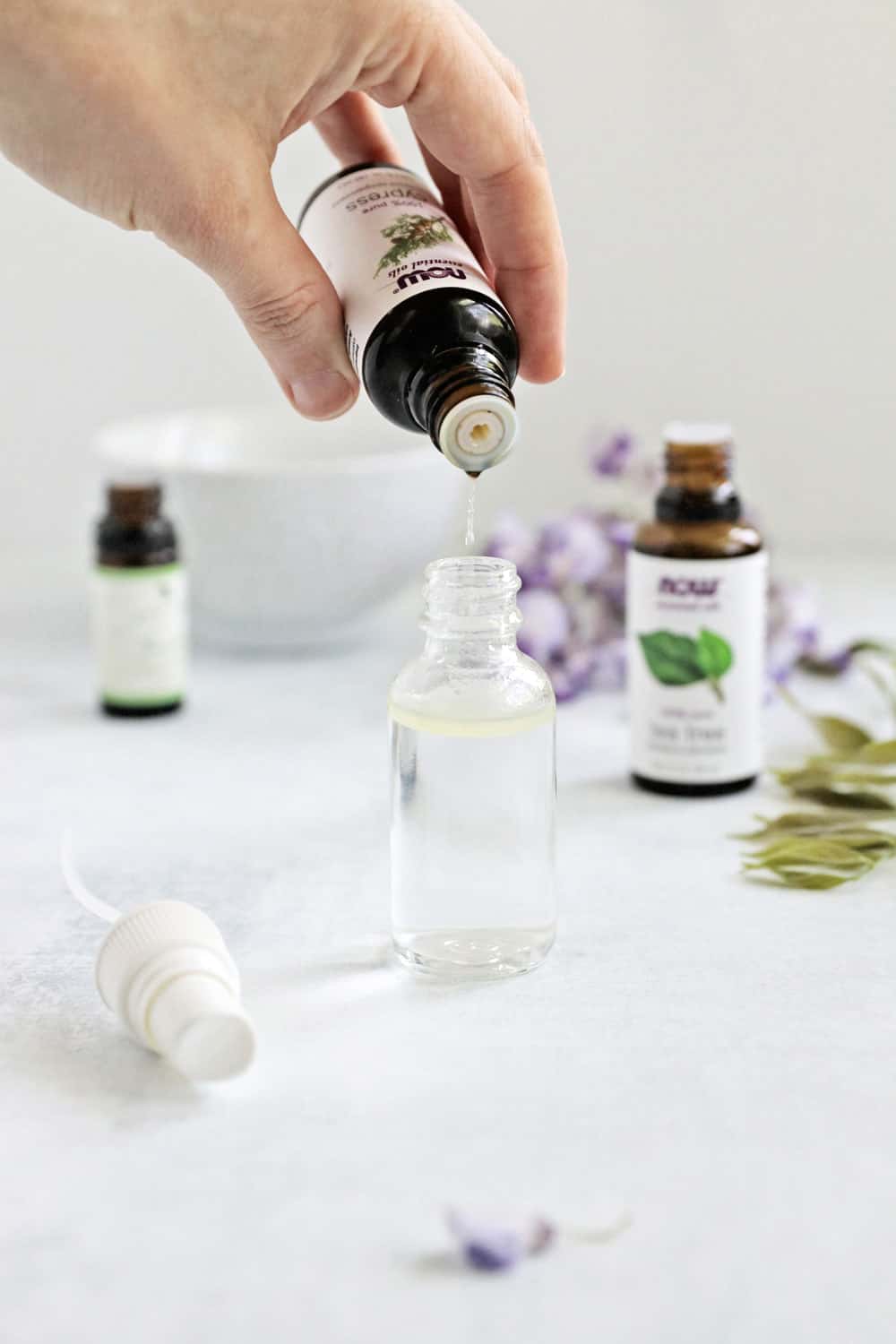 Here are some of our favorite essential oils to repel bugs and prevent bites in the first place!
7 Essential Oils for Bug Bites
Lemongrass
Due to its anti-inflammatory properties [source], lemongrass can help calm the inflammation and discomfort associated with insect bites. To use, mix 6 drops of oil with a tablespoon of carrier oil and massage into skin.
Lavender
Lavender is one of my favorite essential oils for bug bites. Not only is it inexpensive, but you can use it for everything from homemade beauty products to sleep remedies. So I always keep some on hand for emergencies. A study conducted in 2015 found that lavender has anti-inflammatory and pain-relieving properties, for one use similar to that of steroids [source], making it a perfect choice for bug bites.
Unlike some other essential oils, lavender can be applied directly to the skin, so you don't need to measure or mix it with carrier oils. Simply apply a drop or two directly to bites for instant soothing.
Camphor
Thanks to its analgesic and anti-inflammatory properties [source], camphor essential oil is ideal for treating even the worst insect bites. Additionally, it also contains insecticidal properties [source], making it beneficial in helping to keep the bugs away to begin with!
For most people, 10 drops mixed with a ½ teaspoon of carrier oil should do the trick. But for a stronger warming effect, use less carrier oil or more essential oil.

Tea Tree
Tea tree oil is a fantastic oil to have on hand for any number of skin issues. It's a gentle yet powerful oil that is frequently used to both prevent bug bites and treat them after the fact.
It contains natural anti-inflammatory properties [source], which help to reduce swelling and redness of the skin. Like lavender oil, it's safe to apply undiluted directly to bug bites for instant relief.
Rosemary
Rosemary essential oil has potent anti-inflammatory effects [source] that help it to cool redness and irritation quickly. Since rosemary oil is highly concentrated, it should not be applied directly to skin. Instead, mix 5 drops with a teaspoon of carrier oil (like sweet almond or jojoba), then apply as needed.
Cypress
Cypress essential oil has uses for various skin issues, including irritation. It contains antimicrobial properties [source] that can help support skin health and healing, and it's also considered to be highly astringent.
Peppermint
Peppermint essential oil (and other oils containing menthol) creates a cooling sensation on the skin that helps soothe the burn and itch you often get with bites. Peppermint oil is also antimicrobial [source], which helps reduce the risk of infection associated with some bites. Some people might find the cooling sensation of peppermint too strong, so it's a good idea to mix it with the carrier oil of your choice.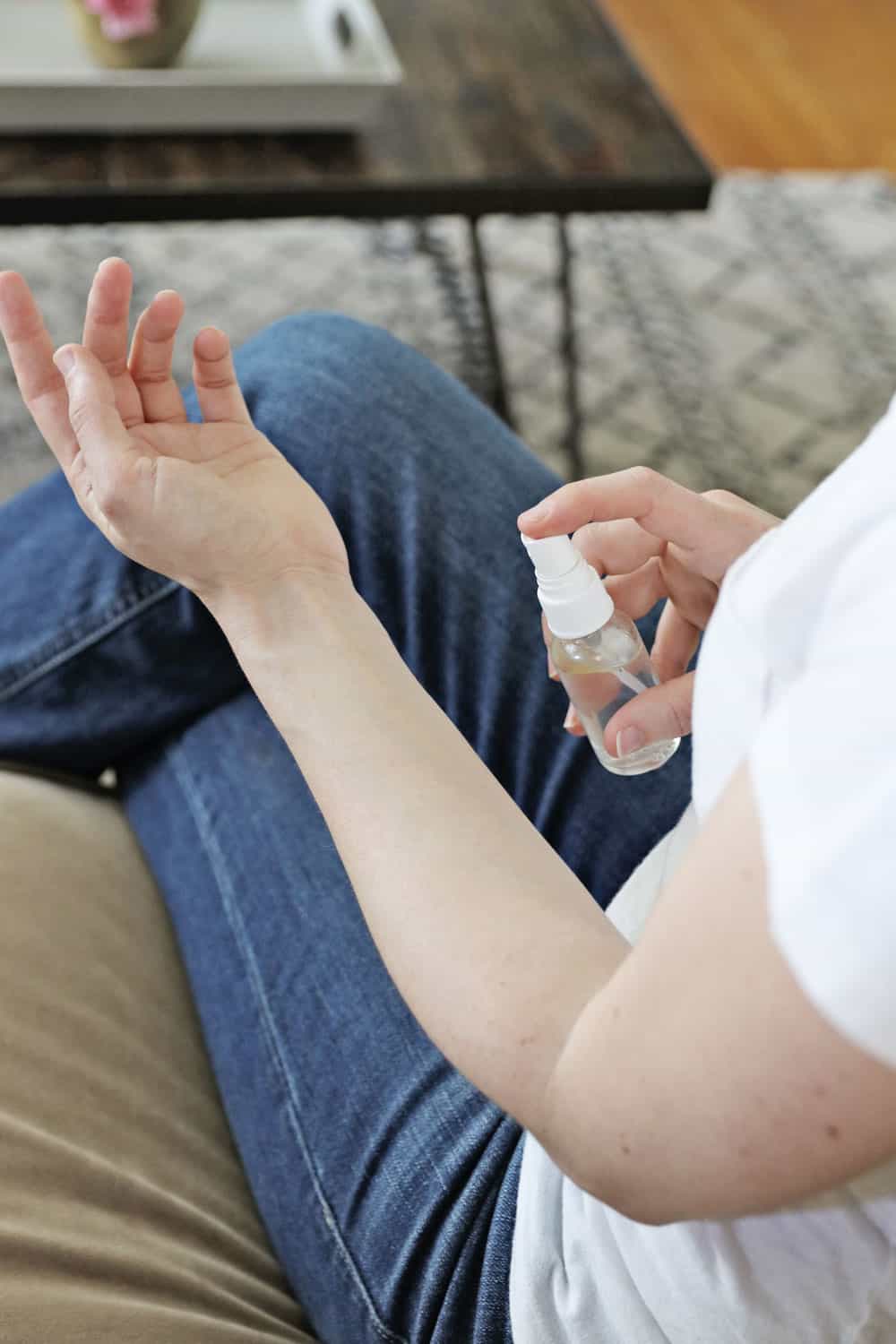 While each of these oils works well by itself, I like to mix them into a soothing bug bite spray to take advantage of all their healing powers at once.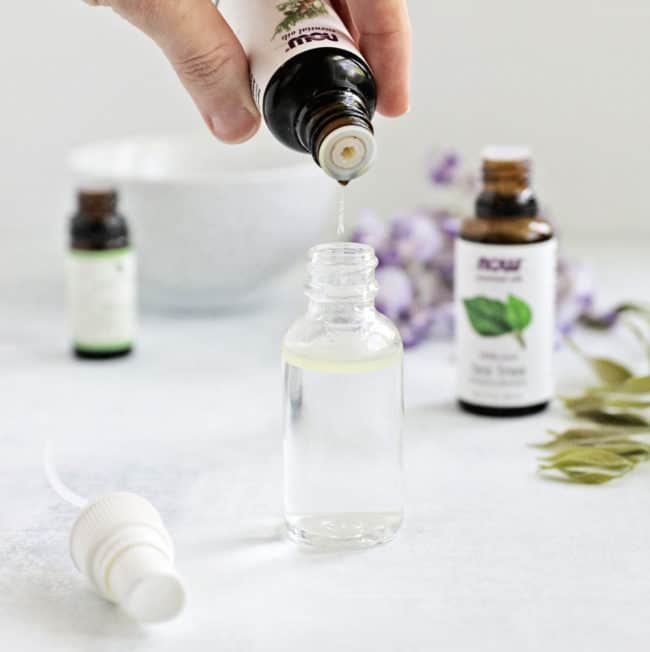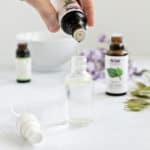 Print
Essential Oil Bug Bite Spray
The best essential oils for bug bites, plus our recipe for a DIY essential oil bug bite spray to soothe the inflammation and itch.
Instructions
Pour carrier oil and rose water into a small spray bottle.

Add essential oils, then replace the lid and give it a good shake.

Spritz 1–2 times directly on bug bites, and gently massage into skin. Wash your hands when finished.
Notes
When combined, these essential oils work together to calm inflammation, ease the itch, and keep irritation at bay.
Store in the refrigerator for extra cooling action and use within 2 months.
This post was medically reviewed by Dr. Holly Smith, a board-certified physician in nephrology and internal medicine with a background in nutrition. Learn more about Hello Glow's medical reviewers here. As always, this is not personal medical advice, and we recommend that you talk with your doctor.
138