Cancer (June 21 to July 22) is a notoriously sensitive and intuitive cardinal water sign ruled by the moon. It is associated with the 4th house of astrology, the area of our birth chart that governs our roots, family, and home. Learn how to use essential oils for Cancer season and get 5 homey, relaxing essential oil diffuser blends that fit Cancer's vibe.

Understanding Cancer's Vibes
Cardinal signs usher in each new season, and all four share strong qualities of leadership and governance. A Cancer's water sign tidal energy is doubled, thanks to the strong lunar influence guiding it—this means that their emotions ebb and flow as strongly (and frequently) as the seas. Their reputation as cozy, pet-loving homebodies who want nothing more than to prepare nourishing meals and tend to their loved ones comes from their association with the 4th house.
Celebrating Cancer Season
Cancer season in the Northern Hemisphere rings in summer, which often correlates with the end of the school year, family vacations, picnics and BBQs, and a bit more time to spend around the house. On a deeper level, for all signs, this time of the year spent under the influence of Cancer can be one of heightened emotion, sensitivity, and intuition.
It's a time to consider our feelings as well as our thoughts, work on strengthening bonds with those we consider to be family, and tend to our nests as a way to create a stronger sense of safety and security. And if you feel called to whip up an extravagant feast of your favorite comfort foods, now's the time!
One way to help foster a cozy and comfortable vibe in your home is by working with essential oils, and the right diffuser blend in the right room at the right time is definitely a vibe. Whether you are a Cancer or just feeling Cancer season, it's the more homey, relaxing blends that check all the right boxes.
If cozy vibes and heart-hugs are key, lavender essential oil would be an obvious choice (and it's also helpful with relaxation and sleep, which is moon territory.)
But since lunar energy is also strongly correlated with women and women's health, both geranium and clary sage are helpful oils for menstrual "moon cycle" challenges. They also happen to be calming, comforting scents you may want to spritz on those wool blankets!
We've put together a few Cancer-inspired diffuser blends to help you get your home feeling just right, whether you want to tap into chill with relaxing florals, create a feeling reminiscent of the oceanside, support the moods of your moon cycle, or evoke the sentiment of family gatherings with sweet scents of the kitchen.
For each of the diffuser blends below, combine essential oils with 200 mL of water.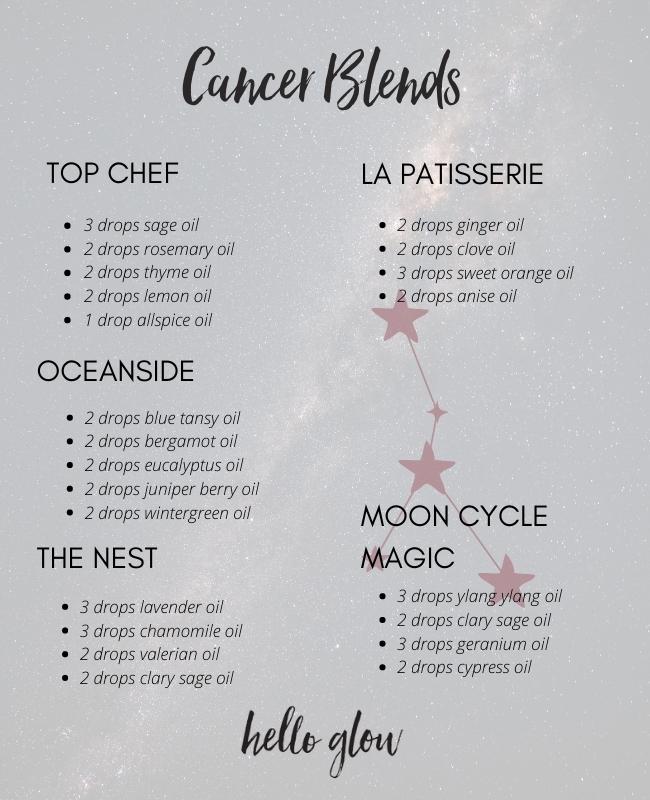 1. Top Chef
This diffuser blend is perfect for Cancer's playground—the kitchen (as an air freshener or post-meal deodorizer)—as it combines some of the most quintessential culinary notes into one delicious scent.
—3 drops sage oil
—2 drops rosemary oil
—2 drops thyme oil
—2 drops lemon oil
—1 drop allspice oil
2. La Patisserie
If you're looking for a blend that satisfies a sweet tooth without the added calories, look no further—this one's got the cozy appeal of freshly baked pastries in just a few easy drops.
—2 drops ginger oil
—2 drops clove oil
—3 drops sweet orange oil
—2 drops anise oil
3. Oceanside
This redolent blend is a fresh, herbaceous concoction that walks you right up to that salt-kissed seaside.
—2 drops blue tansy oil
—2 drops bergamot oil
—2 drops eucalyptus oil
—2 drops juniper berry oil
—2 drops wintergreen oil
4. The Nest
Like the crab that carries around its home on its back, ready to retreat and find sanctuary at any given moment, a Cancer's home is where they hide out, rest, and recharge. This blend combines the most comforting scents into a harmonious aroma that works well in any room. Whether you're reading a book, taking a nap, or just want to create that feeling of respite in your space, this is your blend.
—3 drops lavender oil
—3 drops chamomile oil
—2 drops valerian oil
—2 drops clary sage oil
5. Moon Cycle Magic
The moon has long been associated with women, women's health, and their reproductive cycles (hence the moniker "moon cycle"). And since Cancer is ruled by the moon, the yin element of water, and governs the 4th house of family, lending it a nurturing quality, having a blend that combines the oils most aligned with lunar wellness is a must.
Diffuse anywhere you need to feel mood-stabilizing energy. Or, for those times when you may be experiencing cycle-based discomfort, dilute this 10-drop blend into the carrier oil of your choice at the appropriate ratio for your needs and massage gently onto your lower belly area.
—3 drops ylang ylang oil
—2 drops clary sage oil
—3 drops geranium oil
—2 drops cypress oil
Note: Not all essential oils are safe to use around pets. Read more about that here.
Want to learn more about essentials for zodiac signs? Find out the best oils to use for your sign!
1