Capricorn (December 21 to January 19) is a cardinal earth sign symbolized by the sea goat (half goat, half fish) and a strong leadership sign. Learn how to use essential oils for Capricorn season with 5 essential oil blends to improve focus, aid memory, elevate mood and fight fatigue.
Understanding Capricorn
All cardinal signs "lead" into a new season—in this case, winter—with earthy stability and all the aptitude and determination of the goat. After all, who but a Capricorn could look up at a massive, craggy obstacle in its path and think, "Yup, I can climb this!"
They are ambitious and resilient, definitely one of the more motivated signs of the zodiac. Capricorns are ruled by Saturn, the planet of structure, boundaries, hard work, and order.
They are guided by an inner drive to smash their goals, overcome limitations, and achieve recognition for their successes. Their sign is associated with the 10th astrological house, which is the realm of the birth chart that governs not only career but also achievements and reputation.
Celebrating Capricorn Season
In the Northern Hemisphere, Capricorn welcomes the yin winter energy, an interesting contrast to this very yang-driven sign. But when you consider the nature of the season more closely, you'll see that this time of longer nights (the equinox is the start of Cap season) and time spent indoors aligns in a pretty major way with their head-down work ethic.
This is a very productive time of the year for incubation, ideation, and investing in the behind-the-scenes research and development of your next major project. While it's often associated with hibernation, this introspective seasonal energy is a boon to the early stages of a career overhaul or budding enterprise. As with the other earth signs, they often have a taste for the finer things, tend to be materially motivated, are smart with money moves, and enjoy the fruits of their labors.
To align with the energy of Capricorn, whether you are a mythical "sea goat" or just vibing with the season, turn your focus toward your world of career and other achievements. It's a great time to work with a career counselor, sign up for skill-upgrading courses, create vision boards, or journal about your big ideas, dreams, and schemes.
If you have an office space or place in your home where you tend to work, consider decluttering and reorganizing it for optimal energy flow and minimizing distractions. Place a few key crystals in the area to help with focus and productivity, such as citrine, selenite, or amazonite. Set up an essential oils diffuser near your workspace to set the mood for that next big break and help keep your mind sharp and on task.
Essential oils that are best for Capricorn help them stay on task and get it done: peppermint oil and rosemary oil are both known to increase focus and concentration, and provide perfect "pick me ups" when another coffee just isn't going to cut it. Nothing but coffee will do? Try coffee essential oil (Coffea arabica)!
We've put together a few blends that incorporate oils known to help with mental clarity and focus, aid memory, elevate mood, and fight fatigue. These diffuser blends are meant to be combined with 200 mL of water.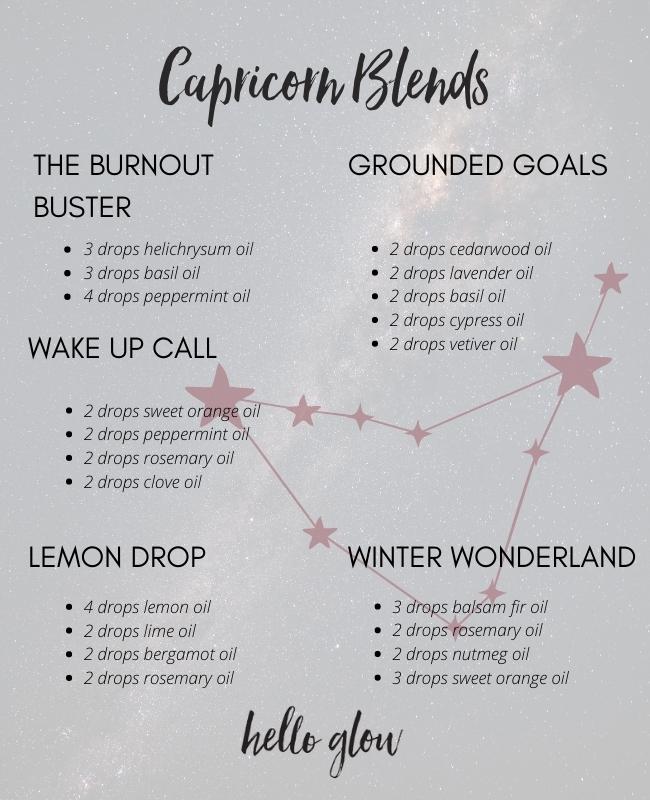 1. The Burnout Buster
This blend combines three key essential oils that help combat mental fatigue and mental exhaustion. A study has shown that inhaling these essential oils had a notable effect in fighting feelings of burnout, making it a perfect blend to diffuse in the second half of your work day when you start to feel the strain [source].
—3 drops helichrysum oil
—3 drops basil oil
—4 drops peppermint oil
2. Wake Up Call
Another essential oils study demonstrated that a particular mix of oils helps in reducing feelings of fatigue, even exercise-induced [source]. So whether you have just wrapped up a particularly intense session at the gym or your desk or need to pull an all-nighter, give this equal ratio blend a go.
—2 drops sweet orange oil
—2 drops peppermint oil
—2 drops rosemary oil
—2 drops clove oil
3. Lemon Drop
Lemon essential oil has been shown to enhance learning, content retention, and overall academic achievement [source]. This citrus blend supports those work days, study sessions, or brainstorming blitzes and helps uplift your mood all the while.
—4 drops lemon oil
—2 drops lime oil
—2 drops bergamot oil
—2 drops rosemary oil
4. Grounded Goals
Capricorn not only knows how to set and achieve goals, but their sign's elemental earth energy helps them to do it in a grounded, practical fashion. Stay connected with your foundation and feel strong and supported with this woodsy blend, designed to help you stay on task and fight any flighty anxiety that tries to slip into the mix.
—2 drops cedarwood oil
—2 drops lavender oil
—2 drops basil oil
—2 drops cypress oil
—2 drops vetiver oil
5. Winter Wonderland
We'd be remiss not to include a beautiful winter blend in Capricorn season! This one combines oils that bring to mind the snowy pines and baking that are so characteristic of this time of year, perfect for any room in your home that could use a bit of cheer.
—3 drops balsam fir oil
—2 drops rosemary oil
—2 drops nutmeg oil
—3 drops sweet orange oil
*Note that not all essential oil blends are recommended for use around your pets. Read more about that here.
Want to learn more about essentials for zodiac signs? Find out the best oils to use for your sign!
5