I'm sure this comes as no surprise, but winter presents a whole host of challenges when it comes to getting and staying healthy. Especially if you have kids, you know how easy it can be to catch everything from a mild case of the sniffles to a full-on stomach bug that lingers for weeks. While I like to keep my medicine cabinet stocked with a variety of natural remedies, whenever I find myself coming down with a cold, I usually turn to essential oils to help relieve some of the symptoms so I can start feeling better immediately.
According to several scientific studies, herbs have been shown to have antibacterial and antimicrobial properties which may help shorten the duration of the common cold. Diffusing oils is one of the best ways to reap the benefits of herbs, since it helps purify the air and ease congestion in the lungs. The second you start to feel like you're coming down with something, try using a diffuser blend for cold and flu season to help boost your immune system, ease cold symptoms, and shorten your recovery.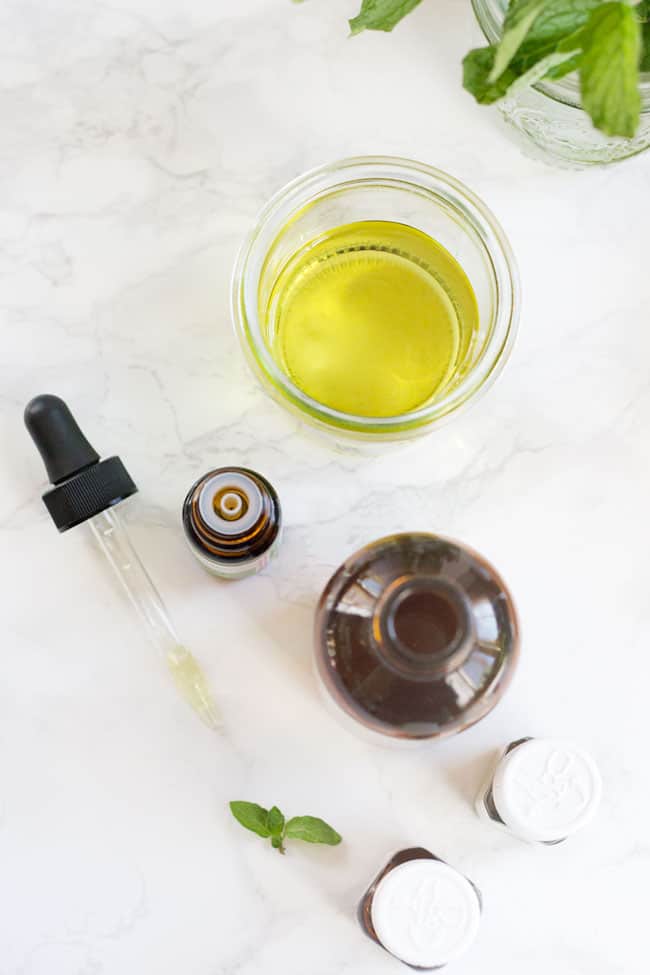 Oils are a helpful addition to any winter survival kit, but buying individual oils can get expensive quickly. If you can only purchase a couple, I recommend choosing ones that have multiple benefits and that are versatile enough to use in lots of different blends. If you can put them to work in beauty recipes, cold and flu remedies and diffuser blends you'll be able to reap the benefits all season long.
Here are the 9 essential oils to help get you through cold and flu season.
Essential Oils to Get You Through Cold Season
1. Peppermint
Due to the active ingredient menthol, peppermint oil has been shown to calm the digestive tract, relax the respiratory tract and modulate the immune system.
2. Eucalyptus
Eucalyptus oil is one of the most widely tested antimicrobial oils around. It's also a great home remedy for nose and chest congestion.
3. Pine
Like eucalyptus oil, pine oil has antimicrobial properties and is also known for supporting healthy respiratory function.
4. Spruce
Spruce oil is derived from the bristly, needle-like leaves of the spruce tree. Because of its pleasant, earthy scent it is often used for calming the body and promoting relaxation.
5. Chamomile
Chamomile has calming, anti-inflammatory and antibacterial properties that can help you relax and get more rest if you're feeling under the weather.
6. Lavender
Lavender is a soothing, calming herb that is often used in cosmetics and body products to help soothe skin irritation, reduce anxiety, and promote relaxation. When inhaled, it can help calm the respiratory system.
7. Dill Weed
Dill is an annual herb with a myriad of health benefits. Dill weed essential oil is known for its anti-inflammatory and antimicrobial effects. It also supports healthy digestion, provides a host of antioxidant benefits and helps purify the body.
8. Coriander
Coriander is an antimicrobial and antiseptic oil that also helps promote relaxation and healthy digestion.
9. Patchouli
A member of the mint family, patchouli has a calming effect and is antimicrobial. It can also help soothe inflammation and skin irritation caused by dry winter air.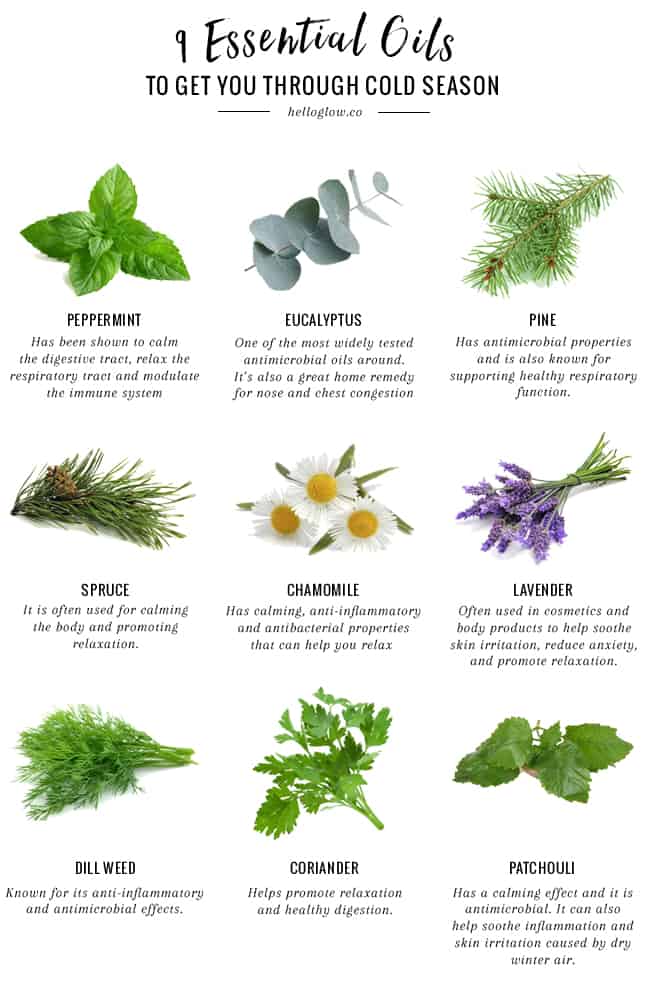 17