First, the bad news: Your cellulite is probably here to stay. Womp, womp, womp. But there is good news! One of the best ways to reduce its appearance is by dry brushing with essential oils.
You've probably heard about some of the benefits of dry brushing. It gets your lymphatic system moving, which in turn helps your body remove waste and can help smooth out cellulite. Plus, you're getting an excellent full-body exfoliation!
If you shower in the morning, dry brushing is an excellent way to shake off sluggishness, get your blood moving, and wake yourself up. A few minutes of dry brushing will rev up your circulation and help give you softer skin.
As with most things, essential oils can make the routine more effective—and the experience even more awesome. Here's a quick list of some of the best essential oils for cellulite.
10 best essential oils for cellulite
Create your own blend with essential oils that support the lymphatic system and healthy skin. The three main essential oil benefits for cellulite are helping the body to release excess fluid, toning the skin, and stimulating the skin. Using a dry brush can help stimulate blood flow to targeted areas of the skin as well.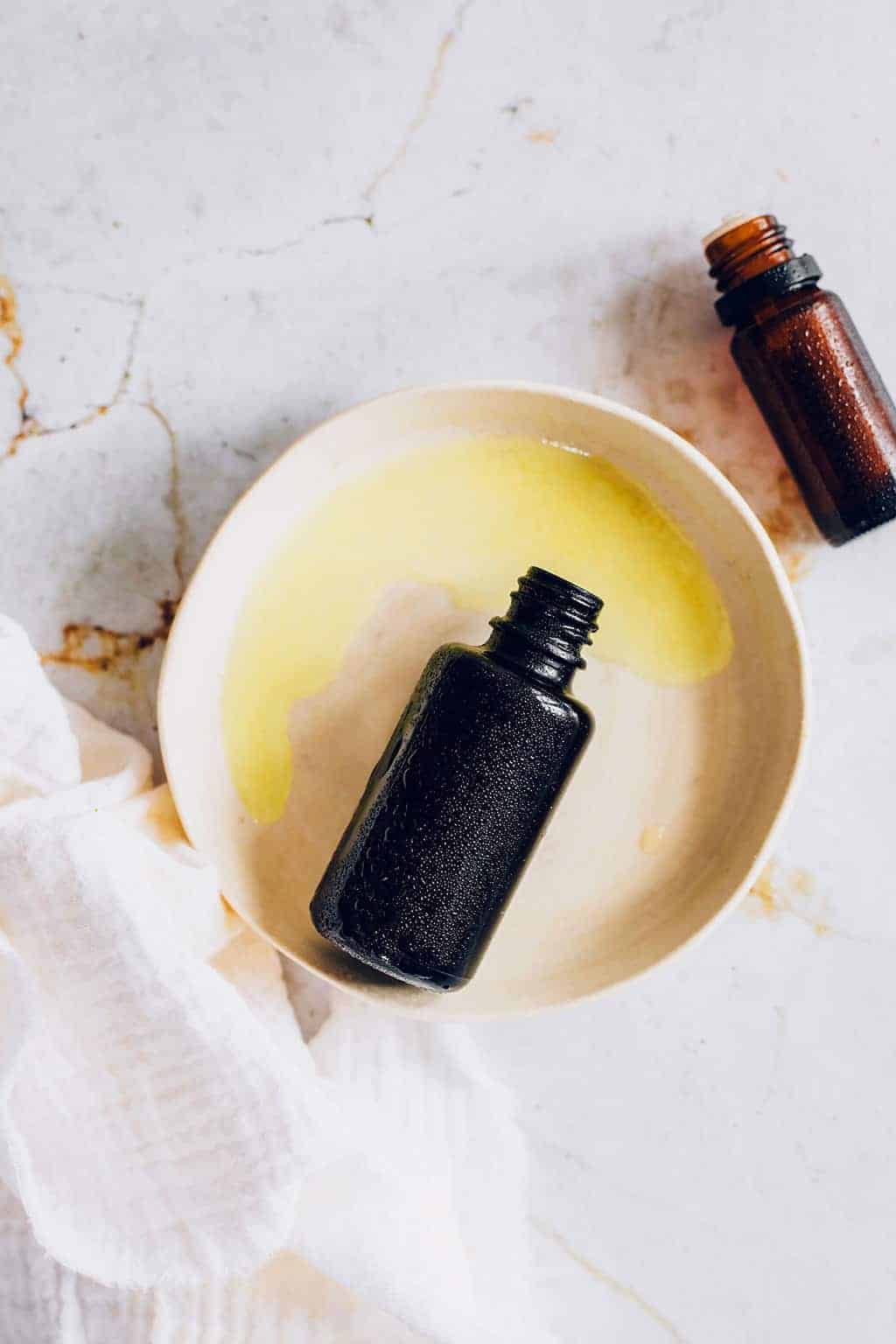 Essential oils for reducing the appearance of puffiness
Fennel, juniper berry, and geranium are great for the skin and can help pare puffiness.
1. Juniper Berry
Juniper berry's diuretic effects reduce fluid retention while its antioxidant properties stimulate the circulation of blood and the lymph system to help the body clear out waste [source].
2. Fennel
Fennel has traditionally been used to relieve digestive upsets, like indigestion, cramps, and gas. Those cleansing actions can also help the digestive system work better to flush out toxins and decrease water retention.
3. Geranium
Geranium has the ability to help stimulate circulation and support the lymphatic system [source], which can help with the appearance of cellulite.
Skin-toning essential oils
Grapefruit, lemongrass, and cedarwood are great options for cellulite since they benefit the skin in a number of ways, including helping to support a smooth and healthy appearance.
4. Grapefruit
Grapefruit is a delightfully refreshing oil that has long been considered beneficial for detoxifying and cleansing the body. It contains bromelain, an anti-inflammatory enzyme that can help promote circulation and support skin health [source]. Additionally, inhaling grapefruit can not only help boost your mood, but it's also believed to help reduce food cravings [source].
5. Lemongrass
The uplifting aroma of lemongrass is refreshing and energizing. It is often used topically for cellulite, as well as to tone the skin [source].
6. Cedarwood
Cedrol, found in cedarwood oil, contains astringent, tonic, and diuretic properties—all of which are fantastic when dealing with cellulite [source]!
Stimulating essential oils
Coffee, rosemary, black pepper, and cypress are energizing oils that can help get the healthy fluids flowing.
7. Coffee
Coffee bean oil contains a small amount of caffeine that energizes and stimulates the body. Plus, it has the same awakening aroma of your morning brew!
8. Rosemary
A strong astringent, rosemary is used topically for its diuretic and circulation-stimulating properties [source].
9. Black pepper
Spicy black pepper essential oil has natural skin-warming properties. That heat also gets you sweating, which helps reduce fluid buildup and cleanses the body from the inside out.
10. Cypress
Although scientific evidence is lacking, cypress is one of the most commonly used and recommended essential oils for cellulite [source]. Like juniper, it is believed to contain diuretic properties that can help clear out excess fluids, and it's also commonly used to help boost circulation.
Other useful oils include sweet birch, sage, and lemon.
Homemade Cellulite Body Oil
1-ounce glass bottle

Slightly less than 1 ounce of carrier oil (

sweet almond

,

grapeseed

, etc.)

18 drops of essential oils for a 2% dilution (see blends below)
Add essential oil drops to a glass bottle, then fill the rest of the way with a carrier oil. Replace cap and shake to combine. To use for dry brushing, add 3–5 drops of the diluted oil to the palm of your hand.
Glide the bristles of a dry brush across your palm, saturating the bristles with the essential oil blend. Start by brushing the feet and work your way upward, always brushing in the direction of the heart. Here's a dry brushing video tutorial to show you how.
You can also apply to the skin by using it as a massage oil or adding a few drops of the diluted essential oil mixture to a bathtub of water. Rub any floating oil droplets into the skin as you soak.


10 Cellulite Essential Oil Blends
Try any of these combinations for dry brushing or massage, according to your preference. Always make sure to dilute your essential oils in a carrier oil, as in the general recipe above, before applying to the skin.
1. Spicy Grapefruit
2. Woodsy
3. Coffee Pick Me Up
4. Sweet Citrus
5. De-puff & Tone
6. Uplifting Blend
7. Smoke & Woods
8. Detox & De-puff
9. Coffee in the Woods
10. Warming Spice
This post was medically reviewed by Dr. Holly Smith, a board-certified physician in nephrology and internal medicine with a background in nutrition. Learn more about Hello Glow's medical review board here. As always, this is not personal medical advice, and we recommend that you talk with your doctor.
379