Gemini (May 21 to June 20) thrives in the social sphere. As a vibrant and loquacious air sign, they are not only masters of the mind and word, but their mutability also makes them flexible—nearly acrobatic—in that realm. Learn how to use essential oils for Gemini season and get 5 essential oil diffuser blends to uplift and energize or give much-needed grounding.
Understanding Gemini
They are wordsmiths, logicians, and compelling storytellers, backed by ruling planet Mercury's gift of precise communication and thirst for knowledge—all of it, all the time. They are known for their buoyant self-expression, curiosity, changeability, friendliness, and quick wit. Geminis thrive in dynamic social settings where their natural, easy chattiness and patchwork quilt of knowledge can wow the room.
The Two Sides of Gemini
Symbolized by the twins, there is a two-sidedness to this sign, as they manage to be both "this and that." They can quickly change opinions and flip sides (they see the validity of different perspectives), and this can make them appear wishy-washy or untrustworthy.
They may also appear two-faced when their chat-before-you-think tendencies and desire to share everything they know slip into the realm of gossip or secret-leaking. Most of the time, however, they are perceived as fun to be around, the best plus-one to drag along to the party.
The 3rd house of astrology, the area of your birth chart that includes communication, expression, and communication technology, is affiliated with the sign of Gemini. This is also the realm of the throat chakra, the energetic point in our bodies that governs clear, concise conversation, speaking our truths, being honest about our needs, and responding to others with balanced integrity.
It's also Mercury's territory, which can be a challenge when Mercury turns retrograde (when it appears to move backward in the skies). Whether you're a Gemini, have a lot of planets in your 3rd house, or are in a Mercury retrograde period, it's advisable to pay attention to what you say and how you say it!
Celebrate Gemini Season
Gemini season closes out spring with some of the most upbeat and social energy of the entire year. We all feel summer approaching (at least in the Northern Hemisphere); the sun shines brighter, patios open, and people spill out onto the streets with smiles that had been hidden beneath umbrellas and scarves for months. The air feels dynamic and fresh, wardrobes are changing up, and life just feels more friendly and flirty.
To align with the energy of Gemini season, dive into the realm of communication and sociability—write handwritten letters to faraway friends or family, make time for phone calls instead of texting, pull together outfits that show another side of yourself to the world (shine that inner twin!), bring your laptop to the local cafe to get your work done, or meet up with friends for a fun night out on the town.
Sweet indigo-hued blue tansy essential oil is a great choice for Geminis, and it can also help to calm the waves of frenetic energy. Bergamot oil is another possibility, as it's a different twist on a citrus and is said to help with focus, something a Gemini may be looking for.
For the times you are tending to life at home, try these fun Gemini-inspired diffuser blends. Some will uplift and energize, while others help to balance a clarity of mind and some much-needed grounding.
Each of these blends is meant to be diluted in 200 mL of water.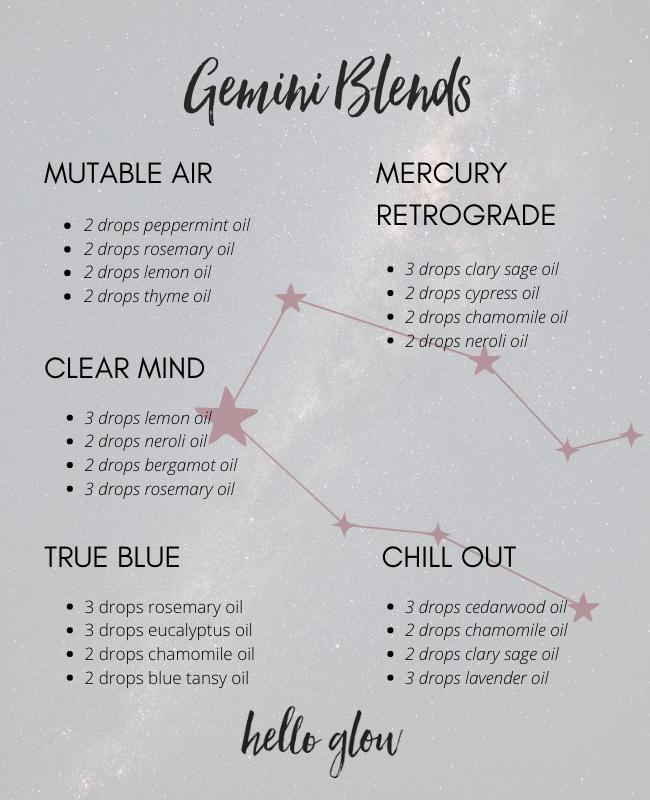 1. Mutable Air
Here's a blend that holds the essence of Gemini at its core…bright, airy, fresh, and light. It's perfect for any room in your home that is calling for a breath of fresh air.
—2 drops peppermint oil
—2 drops rosemary oil
—2 drops lemon oil
—2 drops thyme oil
2. Clear Mind
Gemini loves to take in new information and shoot it back out just as quickly, which can sometimes mean that details or subtleties get lost in the wash. Try slowing things down, and give your mind some time to ponder. This blend combines oils known to help with mental clarity, a perfect asset for any work or study space in your home.
—3 drops lemon oil
—2 drops neroli oil
—2 drops bergamot oil
—3 drops rosemary oil
3. True Blue
Blue is the color affiliated with the throat chakra, our communication center. It's important to keep the energy flowing here in a balanced, moderated way—too much, and it's verbal chaos and confusion, too stuck and we choke on our words, unable to say what needs to be said. Help support a healthy throat chakra with this blue, balanced blend.
—3 drops rosemary oil
—3 drops eucalyptus oil
—2 drops chamomile oil
—2 drops blue tansy oil
4. Mercury Retrograde
Consider carefully what you say and how you say it, read the fine print, back up your files, and double-check those departure times when Mercury goes retrograde. As the ruling planet of Gemini, the cautions of this time often overlap with their very own pitfalls. For a sign that thinks fast and talks even faster, a blend that offers a dose of mental chill can help to take the edge off.
—3 drops clary sage oil
—2 drops cypress oil
—2 drops chamomile oil
—2 drops neroli oil
5. Chill Out
While there's lots to love about witty, friendly, social butterfly vibes, mutable air energy means an overload of mental and vocal movement without much solid ground. If you're a Gemini or just feel up in your head and untethered, an essential oil blend that offers you a balanced sense of earthy support can be exactly what you need to relax and recharge.
—3 drops cedarwood oil
—2 drops chamomile oil
—2 drops clary sage oil
—3 drops lavender oil
*Note that not all essential oil blends are recommended for use around your pets. Read more about that here.
Want to learn more about essentials for zodiac signs? Find out the best oils to use for your sign!
2