Libra (September 23 to October 22) is a cardinal air sign symbolized by the scales of justice. Learn how to use essential oils for Libra season and get 5 essential oil blends that align well with Libra's balanced energy.
Understanding Libra
It is a strong leadership sign that finds ease in initiating projects and corralling others to come together and work as a team. Their air element lends them a sharp intellect and an interest in the cerebral realms of life.
Harmony Is Libra's Vibe
They like to study, learn, integrate, and expand their minds. The scales symbolically represent the Libran's ability to see down the middle, to negotiate and weigh options and perspectives fairly.
They also have the gift of working cooperatively with others, establishing equality and balance in partnerships, and maintaining a sense of equilibrium in their relationships, both personal and professional. Fair, considerate, and compromising, they may lean toward people pleasing.
Their association with the 7th house of partnership, the area of the birth chart that governs relationships and agreements, really shines a light on Libra's tendency to value the we over the me. They are also ruled by Venus, which lends them the reputation of being the aesthetes of the zodiac. They have an eye for style and a deep appreciation for all things art, beauty, and symmetry. Harmony is Libra's vibe.
Libra Ushers In Fall
In the Northern Hemisphere, Libra season is the cardinal sign of autumn, guiding us into a time when life begins to slow and turn inward. While summer is vibrant, fiery, and yang in energy, autumn ushers in a more contemplative yin quality.
And as the sun moves through the constellation of Libra, we shift into a fortuitous time to turn our focus to our partnerships, focus on the quality of our relationships, and work on establishing a foundation of equality, peace, and cooperation within them. It can also be a good time to take part in social justice initiatives or work on settling disputes.
When we align with the Venusian energy of the sign, Libra season is also a good time to reassess your wardrobe, put together a new look or get a new haircut, try your hand at making art, or just hit up your local gallery and absorb the beauty on display. Libra knows that beauty and art are not superfluous extras in life but essential components in the pleasure and joy of being alive.
You may also consider redecorating your home and keeping an eye on symmetry or following feng shui guidelines to keep a peaceful, streamlined flow of energy moving throughout. Especially in your bedroom, set out things in twos—pillows, throws, end tables (yes, even if you're single). It's a well-known manifestation tip that if you want to call a partnership into your life (and bed!), you need to first set the scene to welcome it in.
Single note oils could work well for Librans—for example, ylang ylang, as it's known as an aphrodisiac with a very soft, inviting, Venusian quality to it, or rose oil for its association with beauty and sensuality—two note blends composed of complimentary opposites is another idea; think floral/wood, or a citrus/resin.
We've put together some fun ideas for essential oil blends that align well with Libra's balanced energy. Each combines opposites together into one cohesive, harmonious blend.
Combine each of these diffuser blends into 200 mL of water.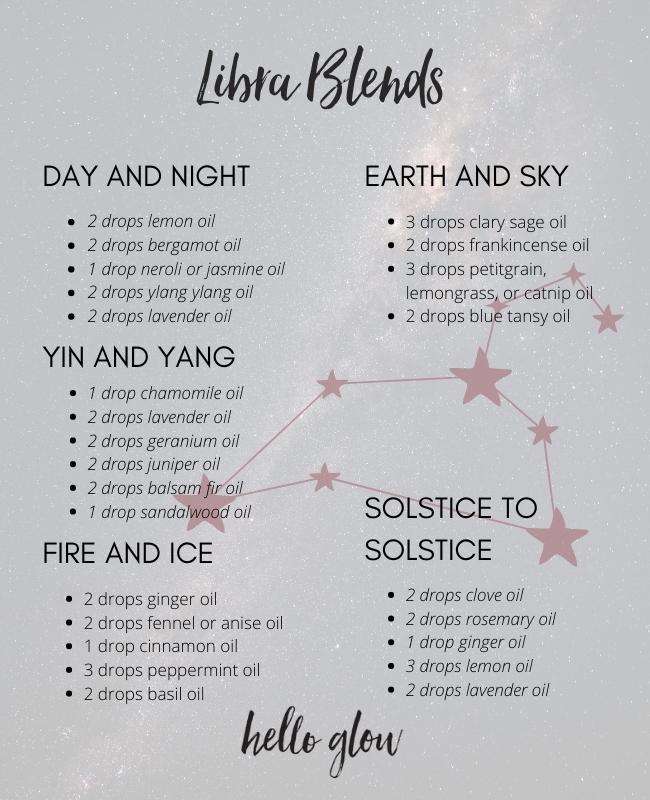 1. Day and Night
This recipe combines the bright yellow solar vibes with the more hushed, shadowy notes of the moon together into one beautifully balanced blend.
—2 drops lemon oil
—2 drops bergamot oil
—2 drops ylang ylang oil
—2 drops lavender oil
2. Yin and Yang
The archetypical yin floral oils combine with the woodsier yang ones so well—perfumiers have long worked with this knowledge. Also referred to as top notes and base notes, the most balanced blends combine them both. Feel free to swap out some of these suggested floral or resin oils with your other favorites in equal ratios.
—1 drop chamomile oil
—2 drops lavender oil
—2 drops geranium oil
—2 drops juniper oil
—2 drops balsam fir oil
—1 drop sandalwood oil
3. Fire and Ice
Warm, spicy oils provide the foundation for some bright, cool notes in this blend, which is great for any room but particularly fitting for the kitchen where more herbal, spiced, or food-based scents will work compatibly.
—2 drops ginger oil
—1 drop cinnamon oil
—3 drops peppermint oil
—2 drops basil oil
4. Earth and Sky
This blend combines resinous, earthy scents with the lightness of fresh air. Think of the juxtaposition of a lush garden bed and the laundry drying in the breeze above. Everything is in balance.
—3 drops clary sage oil
—2 drops frankincense oil
—3 drops petitgrain, lemongrass, or catnip oil
—2 drops blue tansy oil
5. Solstice to Solstice
The winter and summer solstices are polar opposite energies that offer benchmarks to the times of the year where we find ourselves in the peak of abundance and the trough of hibernation. Here, we combine the scents often associated with summer with those of winter into a comforting blend that holds both opposites in balance.
—2 drops clove oil
—2 drops rosemary oil
—1 drop ginger oil
—3 drops lemon oil
—2 drops lavender oil
*Note that not all essential oils are safe to use around pets. Please refer to our piece here to learn more.
Want to learn more about essentials for zodiac signs? Find out the best oils to use for your sign!
1