Pisces (February 19 to March 20) is a mutable water sign considered to be the last of the zodiac. Mutability equals flexibility and flow, and this makes Pisces (symbolized by two fish and ruled by Neptune, god of the sea) the wateriest of the water signs. Learn how to use essential oils for Pisces season and get 5 dreamy Pisces-inspired essential oil diffuser blends.
Understanding Pisces
Neptune lends this sign many gifts of the deep, such as intuition, spirituality, mystical gifts, and heightened sensitivity. Pisceans choose to flow through life like fish, and they are strongly guided by their inner knowing, follow their feelings and intuition, tap into dream symbolism, and are highly sensitive to the energy that flows between people.
Associated with the 12th house of astrology, the area of the birth chart that influences one's spirituality, karma, dreams, and the unconscious self, Pisces is not only interested in these themes but is also naturally adept at diving deep into these shadowy realms. Neptune's influence also helps them pick up on submerged or hidden energy or feelings before real-world information comes to light.
Of course, this intuition and empathy can be helpful in life, but there is also a need for grounding and considering more evidence for those hunches before making any drastic moves or decisions. When Neptune is involved, things aren't always as they seem, and what appears as truth or hard fact may actually be fantasy, illusion, or delusion.
Celebrating Pisces Season
Pisces season is the perfect time to incorporate some intuitive exercises into your life—start a dream journal, try your hand at tarot reading, watch fantasy or romance films that help you drift off and escape from your daily grind, create a mood board, write poetry, or open up and share your deepest dreams and fantasies.
Decorate your space with silver, aquamarine, or seafoam green or set out your favorite intuition-boosting crystals such as angelite, selenite, or moonstone.
Answers arise when they tune in to their feelings rather than their thoughts, and the best essential oils for a Piscean help them tap into their spiritual nature. Traditionally devotional scents such as palo santo, sandalwood, or myrrh are great choices for Pisces.
Give some of these dreamy Pisces-inspired diffuser blends a try; they may work best when included into mystical rituals or used on altar spaces.
Each of these blends is meant to be combined with 200 mL of water.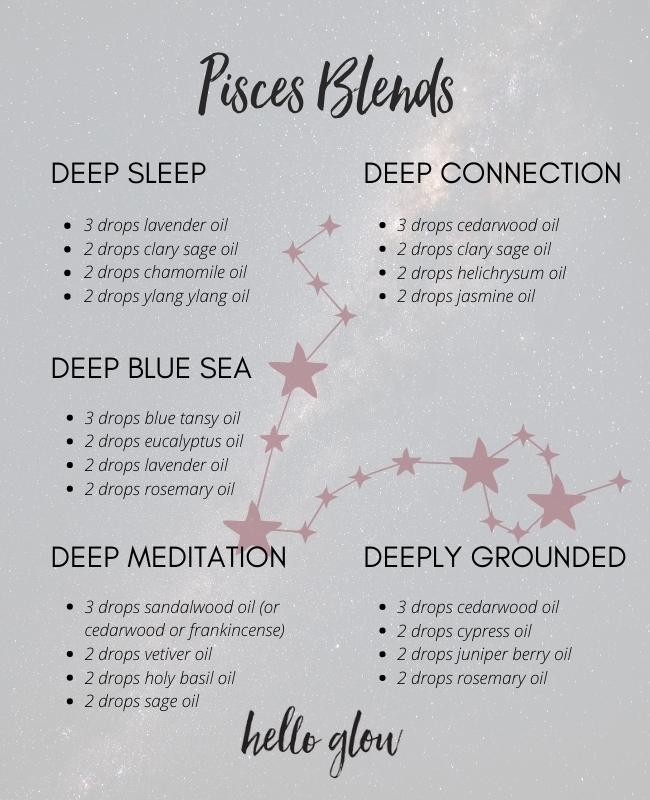 1. Deep Sleep
This blend combines some of the most relaxing essential oils into the perfect bedtime blend, helping you slip into the kind of deep, quality sleep that supports an active dream state. Be sure to keep a journal by your bed so you can scratch down all the symbolism and details that come to you at night before they slip away into the light of day!
—3 drops lavender oil
—2 drops clary sage oil
—2 drops chamomile oil
—2 drops ylang ylang oil
2. Deep Blue Sea
Here's a relaxing Neputian blend that evokes the blue sea and herbaceous marine forests that works well in any room, any time.
—3 drops blue tansy oil
—2 drops eucalyptus oil
—2 drops lavender oil
—2 drops rosemary oil
3. Deep Meditation
So much insight and clarity are available to us when we give ourselves time to sit still and breathe. Try holding a palm stone crystal in your hand while you meditate, keeping your mind open and your breath relaxed, and see what floats to the surface. This blend is perfect for those focused seated meditation sessions or for more general use in any room where you can slow down and relax.
—3 drops sandalwood oil (or another grounding oil such as cedarwood or frankincense)
—2 drops vetiver oil
—2 drops holy basil oil (also known as tulsi oil)
—2 drops sage oil
4. Deep Connection
The crown chakra is the energy center in the subtle body that involves our ability to feel connected to our life's purpose, to spirit, and to higher consciousness, which is Piscean territory. Symbolized by the color white (all the colors combined, pure light), you can align with this energy by placing supercharger crystals such as clear quartz or selenite in your home. This blend can also help you to stay grounded in your lower chakras and open in your higher ones, creating a sense of well-being and balance.
—3 drops cedarwood oil
—2 drops clary sage oil
—2 drops helichrysum oil
—2 drops jasmine oil
5. Deeply Grounded
While it's wonderful to get lost in the clouds and be open to vision, intuition, and dreams, in a world where we are expected to function with facts, figures, and focus, a bit of grounding may be necessary. For those times when your mind feels untethered, or fantasies seem more real than real, center yourself with smoky quartz and this earthy blend.
—3 drops cedarwood oil
—2 drops cypress oil
—2 drops juniper berry oil
—2 drops rosemary oil
*Note that not all essential oil blends are recommended for use around your pets. Read more about that here.
Want to learn more about essentials for zodiac signs? Find out the best oils to use for your sign!
2