Scorpio (October 23 to November 22) is a fixed water sign, which means that while it shares in the emotional depths and feely flows with the other water signs, it is unique in its tendency to hold firm and true to what it feels. Learn how to use essential oils for Scorpio season and get 5 essential oil diffuser blends to bring an air of mystery to your home.
Understanding Scorpios
Rather than fluctuating with their moods like moony Cancer or allowing feelings to set you adrift like Pisces, Scorpio's emotional states tend to be deep and strongly held, lending a somewhat stubborn energy into the mix. They are ruled by Pluto—the planet of death and transformation—as well as Mars' sexy side, which is also the stuff of life we find governed by the Scorpio-associated 8th house of astrology.
Symbolized by the scorpion, Scorpios are similarly cautious and mysterious, thrive in the darkness and shadows, and sting defensively when threatened. They tend to be private, intuitive, mystical, protective, intriguing, and possibly even secretive, jealous, or obsessive.
In my opinion, Scorpios have an unfairly negative reputation, as many people boil them down to their darkness in one lazy generalization. But they can be the most fiercely loyal, courageous, and compelling folks, unafraid of mining the depths of the human experience, even the shadow zones. In fact, maybe the butterfly is a more fitting symbol for Scorpio, as it encapsulates their powers of Plutonic metamorphosis and the alignment with the watery-fluid cycles between death and rebirth.
Celebrating Scorpio Season
It's no mistake that Día de Los Muertos/All Souls' Day and Halloween are celebrated during Scorpio season, a time to be intrigued by the mysteries of life and the realm beyond. This is a season where the veil between the worlds of the living and dead is thin, providing us with an opportunity to not only pay homage to our ancestors and those who have passed on but also to reflect on our own mortality—memento mori.
We are encouraged to be brave and look with curiosity toward our shadows; grieve, process, and embrace life's necessary endings; and embrace our sexuality, quirks, and all of our rich human complexities.
Essential oils that align well with this energy are heady, musky, resinous oils that nod to Scorpio's innate depth and complexity—try patchouli, frankincense, and amber oils.
In honor of Scorpio season, we've come up with a few scorpion-inspired essential oil diffuser blends designed to evoke the crepuscular nature of the sign and bring an air of mystery to your home.
All of the diffuser blends below are meant to be combined with 200 mL of water.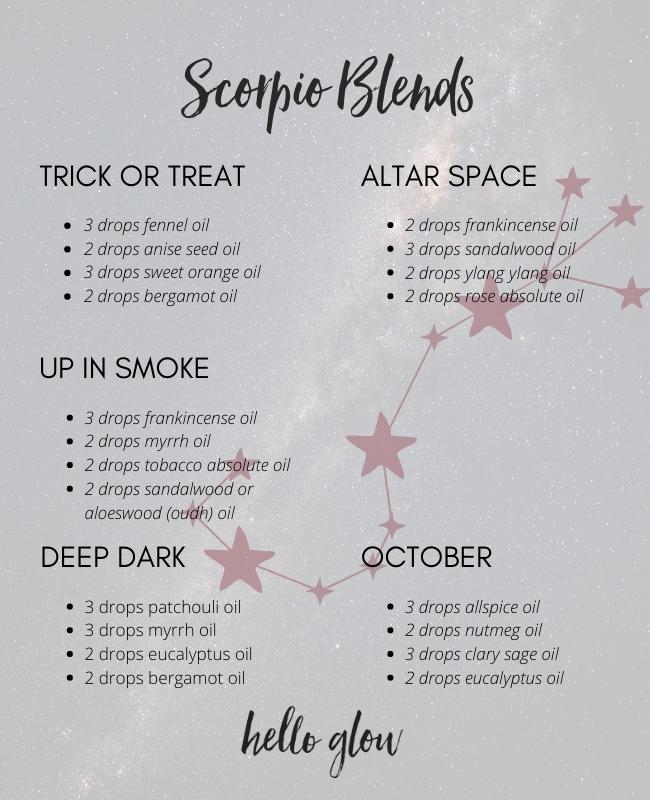 1. Trick or Treat
There's no doubt that black licorice is a divisive candy—you either love it or you hate it. But you have to admit there's something unequivocally October about the familiar scent found here in both the fennel and anise seed oils. This blend takes that rooted base note and adds in some bright citrus orange, perfect for the season.
—3 drops fennel oil
—2 drops anise seed oil
—3 drops sweet orange oil
—2 drops bergamot oil
2. Up in Smoke
This blend is a combination of some of the smokier oils, which come together into one heady, incense-like experience. It's bold and mysterious and not for the faint of heart, but then again, neither is Scorpio!
—3 drops frankincense oil
—2 drops myrrh oil
—2 drops tobacco absolute oil
—2 drops sandalwood or aloeswood (oudh) oil
3. Deep Dark
Resin is a thick sap that oozes out of a cut or injured tree. In other words, it's basically concentrated tree plasma. It aligns so well with Scorpio energy, this idea that from infliction or death emerges something beautiful. This blend is deep and murky, with a top note of optimism.
—3 drops patchouli oil
—3 drops myrrh oil
—2 drops eucalyptus oil
—2 drops bergamot oil
4. Altar Space
Honoring our ancestors is a wonderful practice; set an intention to spend time remembering them, set out special photographs, and make offerings of food or sweets. This is a beautiful blend to use in such a devotional ritual or on a special altar.
—2 drops frankincense oil
—3 drops sandalwood oil
—2 drops ylang ylang oil
—2 drops rose absolute oil
5. October
Align with the peak scents of fall with this seasonal blend, perfect for chilling on those Sunday afternoons after a leaf-strewn walk.
—3 drops allspice oil
—2 drops nutmeg oil
—3 drops clary sage oil
—2 drops eucalyptus oil
*Note that not all essential oils are safe to use around pets. Please refer to our piece here to learn more.
Want to learn more about essentials for zodiac signs? Find out the best oils to use for your sign!
4