Taurus (April 20 to May 20) is the fixed earth sign of the zodiac, making Taureans even more firmly rooted in place than the other two earth signs. Scenting your home with beautifully layered essential oil blends can elevate your space to a Taurean's sensual standard, and these essential oils for Taurus season will help you celebrate elevate your space and create just the right air of beauty and luxury.

Understanding Taurus
Taurus isn't really a big fan of change. They like to take things slow and steady, are content with daily routines, and prefer careful planning and rumination of an idea over anything they deem to be spontaneous or risky. Their immovability can also look a lot like stubbornness (they are symbolized by the bull, after all!), though many appreciate this sign's dependability, reliability, and consideration.
Ruled by Venus, the planet of beauty, love, art, and pleasure, Taurus is particularly drawn to the sensual side of life. If it feels good, tastes good, or smells good, Taurus is all in. They crave their comforts, like to be surrounded in opulence and beauty, and even when on a budget, they have a tendency to indulge in the finer things.
The 2nd house of astrology is the house of value, the area of the birth chart that speaks to our resources and possessions and is affiliated with the sign of Taurus. Of the earth element signs, those that relate closely to the physical/material world, Capricorn is the most reputation- and success-oriented, Virgo is the most quality conscious, and Taurus seeks material abundance.
These bulls tend to feel they've made it when they have lots of things (meaningful, beautiful things!) and are in their glory when at home surrounded by their stuff. They are Venusian pleasure-driven creatures of comfort and enjoy haute cuisine, fine perfume, good wine, sensual fabrics, music, art, and physical touch.
Celebrating Taurus Season
Taurus season is a time to turn toward life's pleasures and to put aside any guilt or shame we may feel about splurging, indulging, or prioritizing them. Take a loved one out to a nice dinner (or make it yourself at home!) or have a romantic picnic, add layers of comfort to your home with cozy pillows or throws made of luxe fabrics, play music that speaks to your soul, wear that one outfit or piece of jewelry that you tend to save for special occasions, book a long-awaited massage, or wander aimlessly around your local art gallery.
Adorn and enjoy yourself! It's also a good opportunity to take stock of your home and see what you could do to make it feel more like a haven, a sanctuary of ultimate comfort and relaxation. Try adding a few grounding crystals, such as smoky quartz or obsidian, to manifest some rooted, earthy energy.
Essential Oils for Taurus
If you're a Taurean who is fond of florals (all ages and genders can enjoy their luxe appeal, they aren't just for Grannies anymore!), jasmine is a bright and beautiful choice.
For something more earthy and grounded, a rose absolute oil (which can be more expensive and hard to find) is pure bliss. Sandalwood will also align well with the earthy energy here, offering a powdery softness which can appeal to Taurus' quest for comfort.
Try these layered essential oil blends to elevate your space and create a beautiful, luxurious vibe. Each of these essential oil blends is to be diluted in 200 mL of water.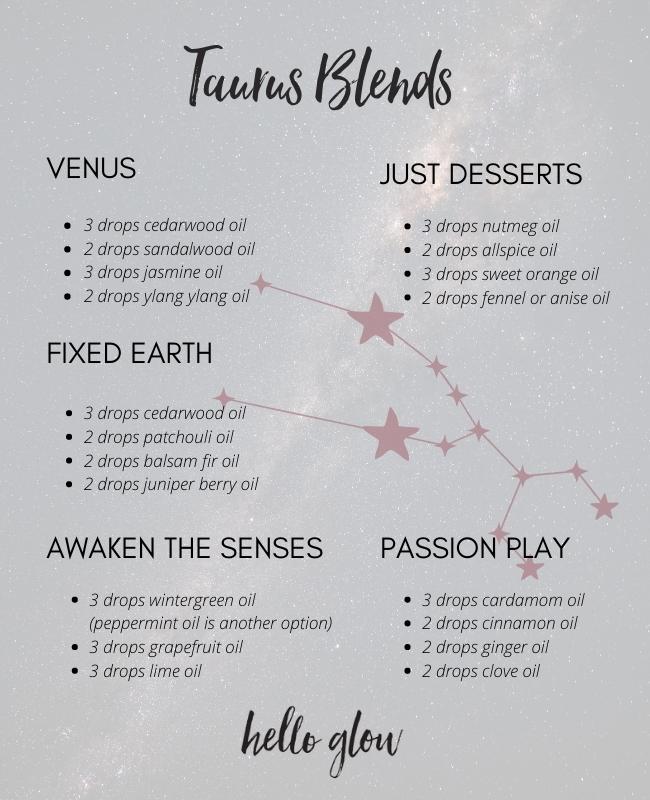 1. Venus
Light white florals rest upon a solid woodsy base in this balanced blend—perfect for any room that could use some luxe elevation.
—3 drops cedarwood oil
—2 drops sandalwood oil
—3 drops jasmine oil
—2 drops ylang ylang oil
2. Fixed Earth
Whether you are a Taurus or just need to feel grounded like one, try this forest-forward earthy blend—rooted, stable, and strong.
—3 drops cedarwood oil
—2 drops patchouli oil
—2 drops balsam fir oil
—2 drops juniper berry oil
3. Awaken the Senses
This crisp and clean citrus blend is a perfect way to brighten up a room and awaken your senses. Its freshness makes it ideal for open, modern spaces, bathrooms, and kitchens.
—3 drops wintergreen oil (peppermint oil is another option)
—3 drops grapefruit oil
—3 drops lime oil
4. Just Desserts
Second only to Cancer's pull toward the culinary pleasures, Taurus is definitely a foodie who enjoys the sights and smells of the kitchen. This blend takes some of those sweet notes and combines them into quite the dish.
—3 drops nutmeg oil
—2 drops allspice oil
—3 drops sweet orange oil
5. Passion Play
Perfect for the bedroom when sensuality's on the menu. Here's a warm, spicy, blushing blend that stimulates the senses in all the right ways.
—3 drops cardamom oil
—2 drops ginger oil
—2 drops clove oil
*Note that not all essential oil blends are recommended for use around your pets. Read more about that here.
Want to learn more about essentials for zodiac signs? Find out the best oils to use for your sign!
4