Virgo (August 23 to September 22) is a grounded earth sign symbolized by the fertility and abundance of the maiden. Learn how to use essential oils for Virgo season and get 5 essential oil diffuser blends that align with Virgo's love of ritual and routine.
Understanding Virgo
Ruled by the planet Mercury, Virgo is interested in communication and information and thrives when synthesizing, organizing, and integrating content into a clear, workable structure. Their earth energy lends reliability, stability, and fortitude. But since they are also a mutable sign, theirs is more adaptable and open to input and change than fellow earth signs Capricorn and Taurus.
Virgo is also associated with the 6th house of astrology, the area of our birth chart that governs health, day-to-day work, routines, and rituals. Virgos love predictability, plans, practical solutions.
The make diligent progress toward their goals, keep their home and life in order, and get things done to the best of their ability. They are often health conscious and enjoy planning meals, working through detailed recipes, trying out new wellness regimens, and creating new self-motivated goals.
Celebrating Virgo Season
Living in the Northern Hemisphere, the season of Virgo always reminds me of "back to school," the time of year when all of those laid back, stay up late, eat ice cream for dinner, summertime party vibes of Leo season have maxed out, and we collectively feel the urge to pull up our pants, clean up, and get back to work.
If you're anything like me, you love summer and all the loose living it entails, but there's also an eventual readiness to return to routine, like knowing it's time to go home after the party has run its course. And that back-to-school feeling—the newness and anticipation mixed with a pull toward organizing life and preparing for the work ahead—is Virgo's home turf.
There may be a bit of melancholy energy as we prepare to say goodbye to the beach blankets, sun hats, and hot dogs for another year. But we can also take a tip from this mutable sign and stay open to the next phase, find a renewed satisfaction in our day-to-day routines, and show up to these school and work responsibilities fully recharged, re-focused, and raring to go.
Maybe you'll feel inspired to tidy up your diet, apply for a new job position, take a new course, add a new fitness activity into your week, set your alarm earlier to meet personal goals, buy a new inspiring cookbook, or deep clean your home with all-natural products!
Green woodsy oils such as juniper, juniper berry, and petitgrain all have a sweeter, fruitier lightness to their earth, making them a great choice for this mutable sign. Tea tree oil would be a must-have for any Virgo's arsenal, perfect for all of that health-conscious cleaning!
Whether you're a Virgo or just feeling the Virgo season vibes, we've created a few diffuser blends to help you align well with this grounded, utilitarian time of year.
For each of the diffuser blends below, mix essential oils into 200 mL of water.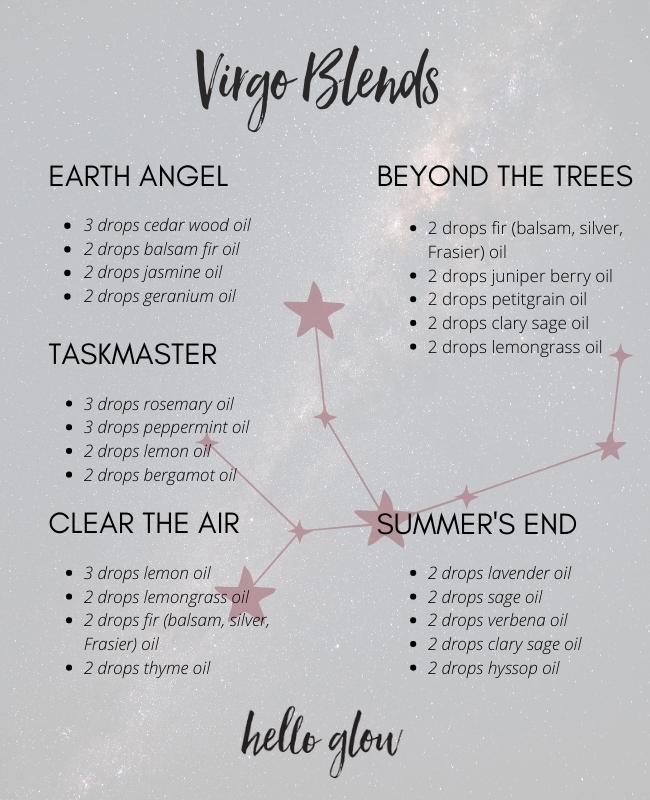 1. Earth Angel
This blend combines deep, earthy notes with light, bright florals, which makes it grounding without the stodginess. Think of a cloud floating over a forest; while two separate things, together, they make for one beautiful scene.
—3 drops cedar wood oil
—2 drops balsam fir oil
—2 drops jasmine oil
—2 drops geranium oil
2. Clear the Air
In addition to running their HEPA filters, an oil blend that smells great and also helps to keep the air clean and fresh ticks all the right Virgo boxes. Some essential oils are known to decrease airborne bacteria, fight microbial contamination, and possess antimicrobial qualities.
—3 drops lemon oil
—2 drops lemongrass oil
—2 drops fir (balsam, silver, Frasier) oil
—2 drops thyme oil
3. Beyond the Trees
Not every earthy scent needs to smell like a pine forest. When we keep in mind that Virgo is a bit lighter and more fluid in nature than its fellow earth signs Capricorn and Taurus, the aroma of their complimentary oil combination should have a solid woodsy base with plenty of breathing room. This blend adds some green notes to lighten the load, like the sun-lit patch of grass thriving in a forest's clearing.
—2 drops fir (balsam, silver, Frasier) oil
—2 drops juniper berry oil
—2 drops petitgrain oil
—2 drops clary sage oil
—2 drops lemongrass oil
4. Summer
'
s End
This blend combines the notes of late summer with those of early fall into one harmonious scent that's great to use in any room.
—2 drops lavender oil
—2 drops sage oil
—2 drops verbena oil
—2 drops clary sage oil
—2 drops hyssop oil
5. Taskmaster
For many of us, September brings a return to work or back to school, and it can be a tricky business to set our minds to the task and fall into the swing of things after a summertime hiatus. This blend combines some of the best essential oils known for bringing the mind into focus, making it a perfect option for the home office.
—3 drops rosemary oil
—3 drops peppermint oil
—2 drops lemon oil
—2 drops bergamot oil
*Please note that not all essential oils or diffusers are safe to use around your pets. Please head here for more information.
Want to learn more about essentials for zodiac signs? Find out the best oils to use for your sign!
4