Using the right essential oils for chakras (especially in tandem with color, sound, and crystals) can be a great way to attune any particular areas that need some extra attention. This guide will help you pick the right essential oil for heart chakra work and give you blending ideas to find heart-happy balance.
Understanding Heart Chakra
The heart chakra (located in the upper chest area) is the locus of love-related energy in the body. When prana, or life force energy, flows unobstructed here, we are able to give and receive love easily, have compassion, trust, and empathy, maintain healthy reciprocal relationships (familial, partnership, friendship), and are open to forgiveness.
Blockages are very common in the heart chakra as once we have experienced struggles or pain in love, we often shut down and build walls defensively around our hearts. While we may think this keeps us safe and happy, it can lead to isolation, distance, and loneliness.
When this chakra is out of balance, we move through life as if at an arm's distance, fearful of intimacy. We may hold grudges, self-sabotage, entertain relationships we know are unhealthy, be overly critical of others, or struggle to love ourselves.
Heart Chakra Basics
:
Name: anahata chakra
Location: upper chest
Color: green
Sound vibration: F
Element: air
Symbol: 12-petalled lotus
Suggested crystal: rose quartz
Suggested yoga pose: cobra, camel, or other heart-openers
The name for the heart chakra means "unstruck" in Sanskrit. To me, this serves as a reminder that the true, high-frequency intention of the heart's energy is to operate at full capacity as if it had never been hurt or beaten down. Most of us have experienced heartbreak, betrayal, disappointment, loss, or the feeling of unrequited love, and we know what it is to have real, physical pain in our chests stemming from this emotional turmoil. Keeping the balance here is as much about stretching the chest and stimulating circulation as it is about remembering the importance of healing and moving through pains of the past to return the heart to its unstruck state.
There is also a close relationship between this energetic area and the lungs because it is associated with the air element; how we breathe is intricately linked with how we feel. When your heart feels tight, heavy, or sad, chances are you are also breathing very shallowly. Try taking deeper inhalations and releasing your breath in an audible sigh. Both heart/circulatory and lung issues are related to the heart chakra.
Balancing the heart chakra
A balanced heart chakra means we are open to the beauty of love and life, feel connected to others, and allow ourselves to love and be loved. We interact with people from a compassionate place—patient, understanding, empathetic, and friendly. It also allows us to experience the full depths of what's possible in relationships. Our self-love compels us to choose healthy, caring partners and friends with whom we feel safe to explore vulnerability and trust.
If your heart chakra needs work, you might try reiki or other energetic healing work, carry rose quartz crystals near your heart, recite morning affirmations or create optimistic and heart-centered intentions for your day, work on moving through jaded energy by reading classic poems or books inspired by true (even idyllic) love, schedule time to connect more deeply with close friends, practice yoga that focuses on opening the chest, keep a gratitude journal, or work through stuck patterns and habits with a trained therapist.
You may also want to bring some TLC vibes into the home by creating a little comfort nook with soft pillows or blankets, a place where you can slip away, read or reflect, and take care of yourself. Set out a few fresh cut flowers, rose quartz or green crystals such as malachite or aventurine nearby
Essential Oils for Heart Chakra
Along with the above suggestions, try using a diffuser with these essential oils for added aromatherapeutic benefit.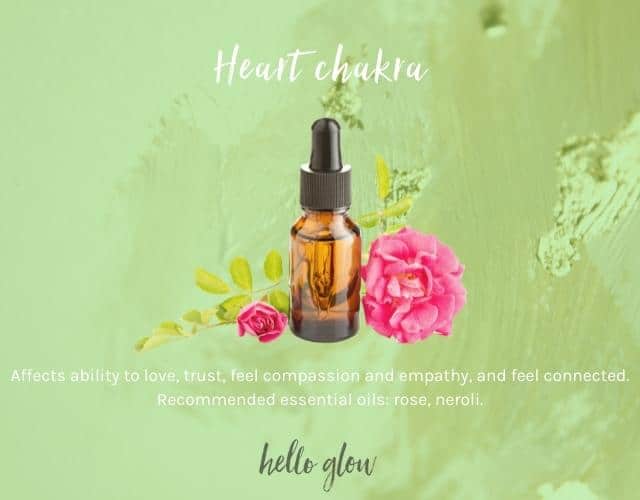 The obvious choice for heart-based work, rose oil is a balm for the soul. Dilute a few drops of this oil in a carrier oil for a loving self-care massage, or wear it on your pulse points to keep this vibration with you throughout the day.
Luxe, relaxing, enveloping… floral oils like jasmine, ylang ylang, and geranium open hearts to all the good things. Jasmine pairs well with the orange blossom scent of neroli oil in a diffuser for a full blooming bouquet.
Herbal oils
The color and vibration of green strike the chord of the heart, so try a few herbal oils like basil, lemon balm, and peppermint to open your breath and heart.
5 Essential Oil Blends for Heart Chakra
Here are a few special blends that we hope will help you find some of that heart-happy balance. Each of these blends is meant to be combined with 200 mL of water.
1. Rose blend
One of the best essential oils to use for aligning the heart center is rose oil. It evokes a sensual tenderness that can feel like a balm when you need it most.
—3 drops rose oil
—2 drops neroli oil
—2 drops jasmine oil
—2 drops sweet orange oil
2. Ylang ylang blend
Known for its mood-regulating and relaxing qualities [source], ylang ylang is a sweet and soft floral that we've blended with a few other mellow notes ushering in a dose of serenity to your home and heart.
—3 drops ylang ylang oil
—2 drops geranium oil
—2 drops bergamot oil
—2 drops sandalwood oil
3. Basil blend
This diffuser blend combines some of the more green and grassy notes into perfect herbaceous harmony.
—3 drops basil oil
—2 drops clary sage oil
—2 drops lemongrass oil
—2 drops petitgrain oil
4. Neroli blend
One of the best oils to use for emotional wellness (and currently my favorite go-to oil of choice), neroli oil is often turned to as an aromatherapeutic aid for depression, sadness, and grief, offering a sense of peace and calm [source]. This blend is designed to be quite neroli-dominant, while chamomile and lavender provide some additional chill support.
—5 drops neroli oil
—3 drops chamomile oil
—2 drops lavender oil
5. Melissa blend
Melissa oil (also known as lemon balm) is used to help regulate mood, reduce stress, anxiety, tension, and depression, and improve sleep disorders [source]. This blend is meant for those heart-heavy times when you need to feel comfort, support, and a bit of self-love.
—4 drops melissa oil
—2 drops ylang ylang
—2 drops neroli
—2 drops clary sage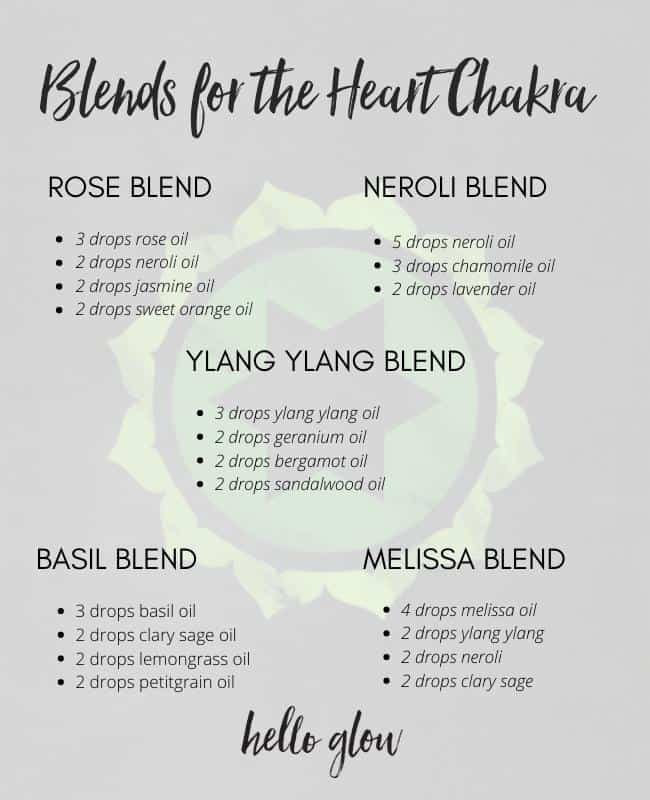 3