Using the right essential oils for chakras (especially in tandem with color, sound, and crystals) can be a great way to attune any particular areas that need some extra attention. This guide will help you pick the right essential oil for sacral chakra work and give you blending ideas to feel more creative and sensual.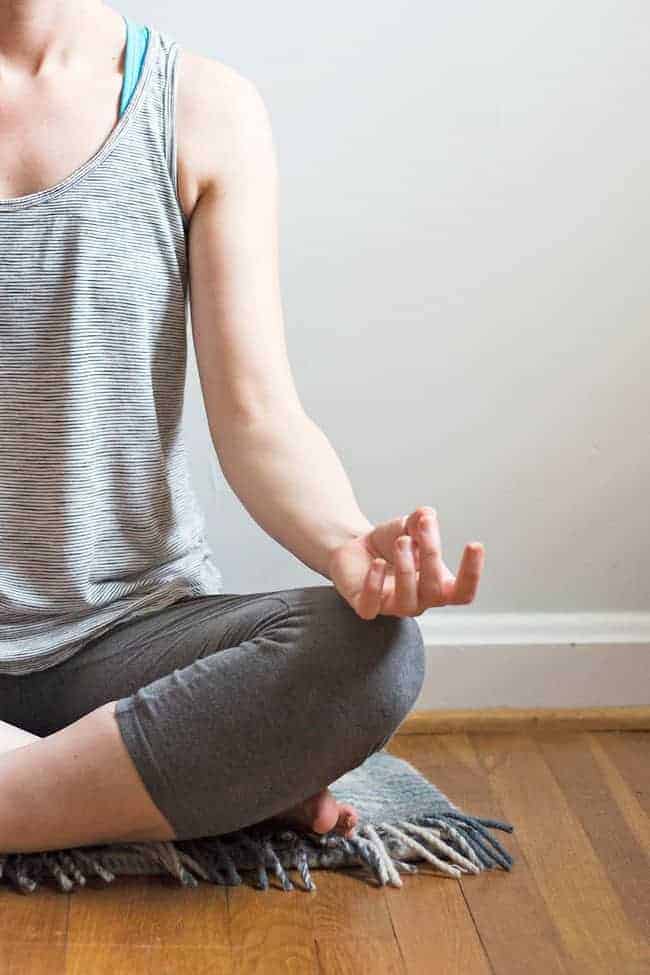 Understanding Sacral Chakra
The sacral chakra is a point of coiled energy located in the lower back/pelvic region that governs our creative, reproductive, and passionate qualities. It allows us to express ourselves creatively and emotionally, embrace our sexual desires, and pursue life's playful and passionate side.
When this chakra is out of alignment, there can be feelings of shame or blockages around our creativity or sexuality. We may resist our authenticity, unconsciously block out joy and play from our lives, or feel as if our existence is robotic and uninspired. Since this chakra is associated with the water element, it's also thought to be the seat of our emotions. So any emotional dysregulation, mood disorders, or depression could be seen as stemming from this chakral point.
Sacral chakra basics
Name: svadhisthana chakra
Location: pelvis
Color: orange
Sound vibration: D
Element: water
Symbol: 6-petalled lotus
Suggested crystal: orange calcite
Suggested yoga pose: low lunge or baddha konasana (bound angle pose)
When the sacral chakra lacks optimal energy flow, all areas relating to our emotions, creativity, and passion may feel the brunt. Life is all business, and there seems to be no space for the things we desire, or we may even find that we don't really desire much at all. Blockages here may lead to a numbing out, a denial that we are, in fact, vibrant, joyful, sensual beings deserving of inspired lives.
There can also be physiological challenges associated with energetic stagnation at this level, such as reproductive or menstrual challenges, low libido, pelvic discomfort, and low back pain. It's important to seek medical advice from professionals as required. And when considering a holistic model, it can be helpful to broaden the scope of investigation to see the ways in which our diets, lifestyles, thoughts, emotions, relationships, and energy may also be playing a part in our health and wellbeing.
Balancing the sacral chakra
To be balanced in this chakra is to feel a sense of freedom of personal expression—creatively, sensually, and playfully. We are able to feel things deeply but are not tossed around by fluctuating emotional states. Life feels enjoyable, and we prioritize hobbies, adventure, sports, or any other activities where we can tap into the fun side of life.
We feel deserving of pleasure in our romantic partnerships (or even solo!) as well, confident in asking for what we like and what we need, and are dialed in to the exploratory nature of the sexual realm without shame or embarrassment. We might work on this chakra through sex therapy, by scheduling in time for pleasure, by swimming or luxuriating in long baths to align with the water element, or by signing up for a class that lets us explore ourselves through art, music, dance, or any other creative pursuit.
Essential Oils for Sacral Chakra
When the sacral chakra is in balance, there is a feeling of ease around sex and passion, and inspiration and creativity flow without resistance. Around the home, try adding accents of orange, display fun, vibrant art, play music that helps you to loosen up, and use essential oils that are sexy, sensual, or playful.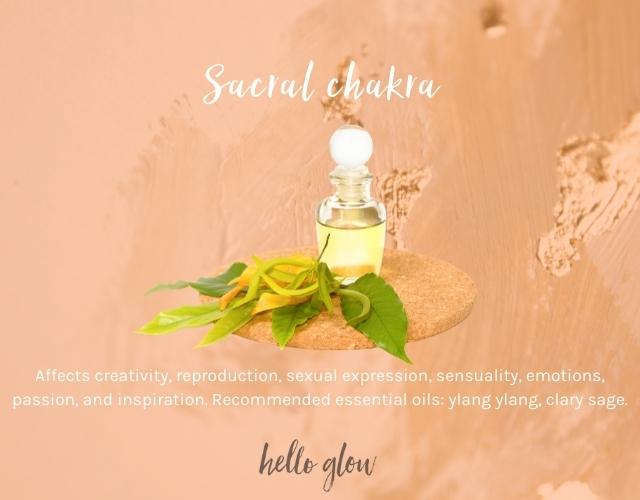 Sensual oils
Floral oils like jasmine, rose, and ylang ylang are said to be aphrodisiacs, and their warm, sensual aromas are perfect when looking to create a certain atmosphere.
Spicy oils
If you're looking for more passion, play, and bold creative expression, spicy oils like cinnamon, clove, ginger and nutmeg will help you kick things up a notch.
PMS oils
Yes, essential oils can help bring relief to PMS mood swings and discomfort. Clary sage and lavender are go-to oils, and floral oils like geranium and rose do more than just set the mood; they are commonly used to regulate hormone levels and relieve PMS symptoms.
5 Essential Oil Blends for Sacral Chakra
Try these essential oil blends to get the sensual vibes flowing. The following blends are to be diluted in 200 mL of water.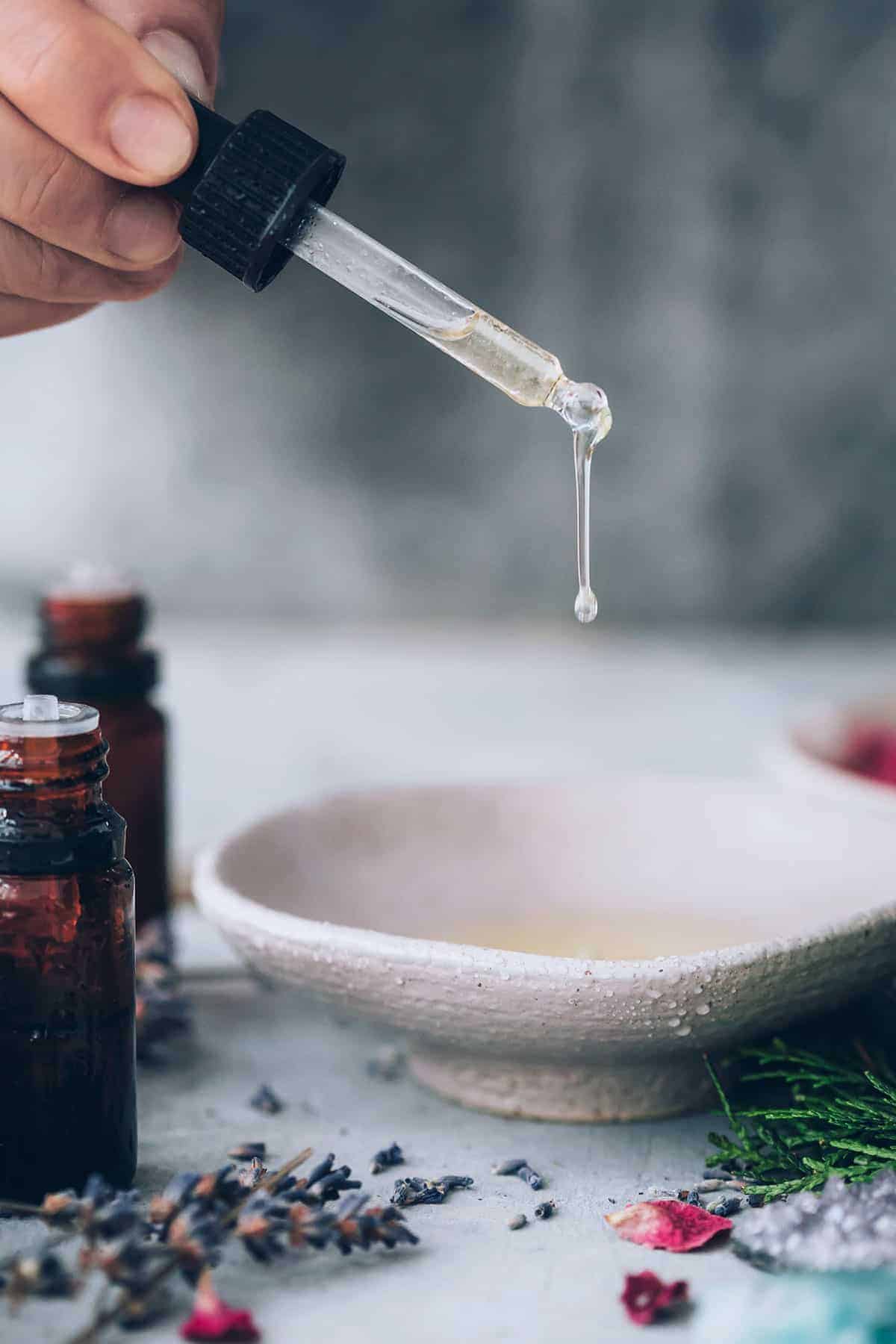 1. Ylang ylang blend
Perfect for slow sensuality, ylang ylang is often used to reduce anxiety, help balance mood, and as a natural aphrodisiac [source]. This blend is soft, powdery, and romantic.
—3 drops ylang ylang oil
—2 drops sandalwood oil
—2 drops rose oil
—2 drops frankincense oil
2. Clary sage blend
Clary sage is thought to be one of the best essential oils for menstrual-related discomfort [source], and it works well diluted in a carrier oil and massaged onto the lower belly area. In this balanced diffuser blend, it takes on a mood-stabilizing effect, relaxing and soothing.
—3 drops clary sage oil
—2 drops lavender oil
—2 drops bergamot oil
—2 drops chamomile oil
3. Cinnamon blend
This blend takes spicy cinnamon and combines it with other warm notes, making it a perfect bedroom blend…as long as you're not planning on sleeping.
—3 drops cinnamon oil
—2 drops cardamom oil
—2 drops ginger oil
—2 drops nutmeg oil
4. Citrus blend
Bright, energizing, fresh, and playful, you can't go wrong with a balanced citrus blend. For the times when you need a mood boost or just a lighter energy in your home, your sacral chakra will thank you.
—3 drops grapefruit oil
—3 drops lemon oil
—3 drops sweet orange oil
—1 drop peppermint oil
5. Jasmine blend
The water element is yin energy—flowing, flexible, and receptive. This blend embodies that soft, light complement to the yang of fire and earth, bringing serenity to the now.
—3 drops jasmine oil
—2 drops chamomile oil
—2 drops geranium oil
—2 drops sweet orange oil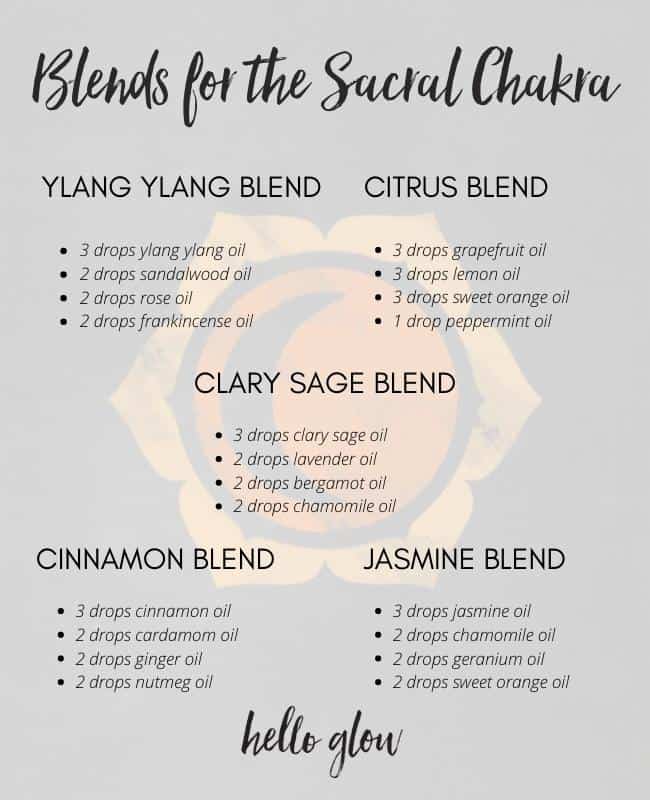 2