Using the right essential oils for chakras (especially in tandem with color, sound, and crystals) can be a great way to attune any particular areas that need some extra attention. This guide will help you pick the right essential oil for solar plexus chakra work and give you blending ideas to stoke your inner fire.
Understanding Solar Plexus Chakra
Located in the area just above the navel lies the energetic center for our inner drive, motivation, willpower, self-confidence, and courage. When we are in an optimal state of balance at the level of this solar plexus chakra, we have the ability to assert ourselves appropriately, face necessary changes with strength and courage, and we feel confident, competent, and worthy. We can manifest our goals—thanks to a strong inner commitment toward achievement.
When deficient in energy here, we may feel weak and powerless, unsure, directionless, and lack strong boundaries or succumb to laziness. Overstimulation can look like authoritarianism, bullying, a need to control everything, and overconfidence that slides into extremely risky and even dangerous behaviors. Stress and conflict are commonly experienced when energy needs to be more carefully regulated here.
Solar plexus chakra basics
:
Name: manipura chakra
Location: abdominal area above the naval
Color: yellow
Sound vibration: E
Element: fire
Symbol: 10-petalled lotus
Suggested crystal: tiger's eye
Suggested yoga pose: navasana (boat pose) or twists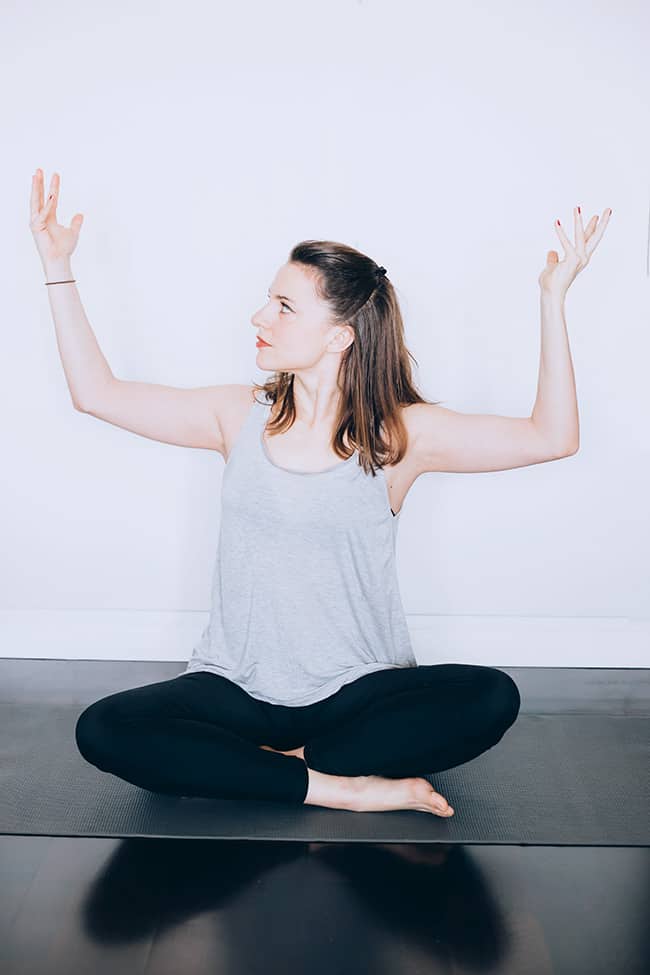 As mentioned in an earlier piece on the root chakra, we need to acknowledge that there are larger forces in life constructed on principles of inequality, which affords some groups of people to be entitled to more power than others. This type of power differential requires healing and an overhaul at the systemic level.
Chakra work comes into the conversation when we are in need of healing around the ways we routinely operate, whether that's a tendency to willingly give our power away and acquiesce rather than stand up for ourselves or being arrogant, domineering, judgmental, or controlling to a point that's affecting our relationships. Since this chakra is located in the upper abdomen and governed by fire, the associated physical ailments tend to relate to metabolism, digestion, and the stomach. Fatigue and stress also result from imbalances here.
Balancing the solar plexus chakra
When we achieve a healthy, balanced state at the level of this chakra, our lives feel reciprocal, and we are on equal footing with our loved ones and peers. We have the confidence to apply for jobs we know we're qualified for, are willing to stand up for ourselves and ask for what we're worth, and seek careers and partnerships within which we feel valued, respected, and useful. We wake up energized and ready to take on the day, and we can sleep well at night.
Healthy boundaries become a priority; we learn the importance of saying no when we need to and yes only when we mean it. It lends us the ability to exercise self-control, which means that we can successfully moderate our activities and intake of things we know aren't good for us.
When we recognize that this chakra needs a bit of a tune-up, we might begin by eating foods that we can digest easily, creating routines or structures for our day that allow us to feel less stress from chaos, practice saying no and creating personal boundaries, seek professional help with any control issues or to re-establish a sense of personal power, focus on strengthening our front and back core with abdominal stability exercises, reduce time spent on social media, which can lead to competitive thoughts or feelings of inadequacy, and practice yoga or meditation to open our minds to the idea of nonattachment.
Essential Oils for Solar Plexus Chakra
Aromatherapy is another way to bring balance to this area, either by stirring the energies of fire or by quieting them to a more moderate flicker.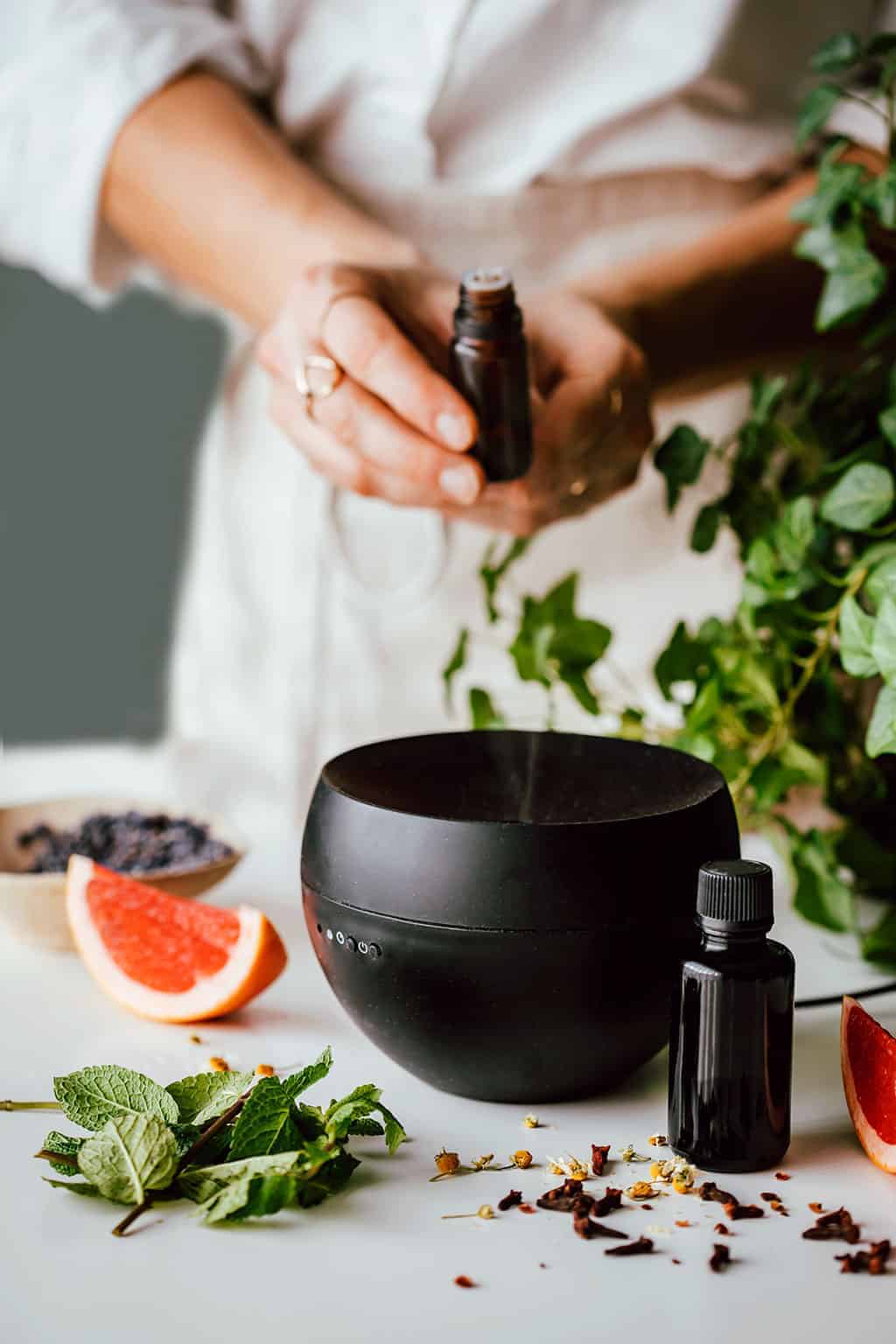 Spicy oils
Try cinnamon or ginger to boost circulation and stoke your inner fire. These oils make a great warming massage oil to increase circulation or add them to a diffuser to bring warmth to the space around you.
Citrus oils
The solar plexus means "sun network," and like the sun, this chakral point is our bright and shining powerhouse. And what could be sunnier than the scent of lemon? Citrus oils like lemon, bergamot, and sweet orange can brighten the body, mind, and spirit as well as perk up your home.
Energizing oils
This chakra is all about our get-up-and-go so turn to energizing oils like peppermint, spearmint, wintergreen or eucalyptus to kick your internal motivation and drive into gear.
5 Essential Oil Blends for Solar Plexus Chakra
Try these diffuser blends inspired by the energies of the solar plexus chakra. Each of these diffuser blends is meant to be diluted into 200 mL of water.
1. Ginger blend
Embrace the golden fire of this chakra with a ginger-forward blend, a great choice to start your day with a bang.
—3 drops ginger oil
—2 drops cinnamon oil
—2 drops clove oil
—2 drops black pepper or pink pepper oil
2. Lemon blend
Use this blend anywhere you need to shift and uplift the energy and get things moving.
—3 drops lemon oil
—2 drops lemongrass oil
—2 drops peppermint oil
—2 drops thyme oil
3. Mint blend
If you're feeling more sluggish than superstar, this blend might be just what's needed. Peppermint is a great oil for energy, focus, and stimulation, and here it's paired up with some other high-kicking notes.
—3 drops peppermint oil
—2 drops wintergreen oil
—2 drops spearmint oil
—2 drops fennel oil
4. Lavender blend
Here's a perfect blend that takes some of the more chill-inducing, relaxing oils and pairs them with a hint of citrus to keep things on a lighter note. If you're feeling stressed, this blend may help take the edge off without putting you to sleep.
—3 drops lavender oil
—2 drops roman chamomile oil
—2 drops lemon oil
—2 drops bergamot oil
5. Clary sage blend
Green and grounding, this blend helps reduce stress and balance your mood. Use any time you're feeling wired and tired.
—3 drops clary sage oil
—2 drops geranium oil
—2 drops rosemary oil
—2 drops petitgrain oil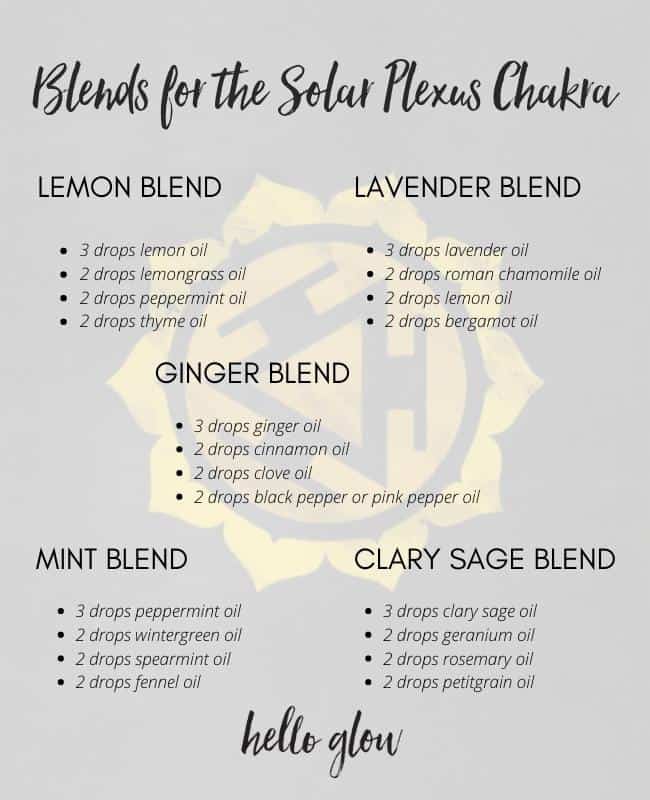 5