Using the right essential oils for chakras (especially in tandem with color, sound, and crystals) can be a great way to attune any particular areas that need some extra attention. This guide will help you pick the right essential oil for third eye chakra work and give you blending ideas to foster clarity of mind.
Understanding Third Eye Chakra
The third eye chakra is located on the forehead in the area between the eyebrows and is associated with the tiny pinecone-shaped pineal gland in the brain. An open third eye allows for clear thinking, focused concentration, awakened intuition, accurate perception, and wise discernment.
When this chakra is blocked or out of balance, we may experience confusion, a lack of focus, direction, or imagination, unclear thinking, distorted perception, and even hallucinations or delusions, or live more in fantasy than reality. It's important not only to have a clear and open third eye for our own sense of clarity, insight, and understanding, but also because it allows us to connect with others and the world around us in a way that is unclouded, grounded, and discerning.
Third eye chakra basics
:
Name: ajna chakra
Location: central forehead
Color: indigo
Sound vibration: A
Element: light
Symbol: two-petalled lotus
Suggested crystal: amethyst
Suggested yoga pose: seated or reclined meditation, placing an indigo crystal upon the forehead
Awakening the third eye has long been sought after by seekers of enlightenment, and for many, yoga and meditation are practices intended for seeing oneself and life more clearly. One of the basic tenets of yogic philosophy is that the singular self is an illusion created by the ego and that with practice, one may awaken to the truth that we are all connected as one at the spiritual level.
This awakening also involves achieving a state of nonattachment, which is when we release the struggle to have, attain, hold, avoid, or change. While this state of being is not necessarily on everyone's radar, we can see how the delusions of a blocked third eye might include believing that buying things makes us happy, being in a relationship makes us whole, or being rich would solve all of our problems (of course, it might solve some of them!).
Represented by the element light, this chakra is about truth and illumination, seeing things as they really are, confronting our patterns of escapism, and opening up to a life of greater understanding that brings greater peace.
Balancing the third eye chakra
You may notice that your third eye chakra needs some energetic attunement if you are lacking vision or imagination, your thoughts feel foggy and confused and drift aimlessly, your inner voice is unclear or intuition has numbed, you struggle with discerning truth and reality from illusion, or you have trouble learning, remembering, or expanding your mind. Headaches and eye strain are also related to this chakral level.
Healing the third eye into a state of balance can mean different things for different people—it may involve committing to a regular meditation practice (especially when led by a qualified teacher), avoiding stimulants and turning off screens before bed to ensure a more rested mind.
Other suggestions: Taking breaks throughout your work day to rest your eyes and mind (especially in nature if you can), reading philosophy or mind-expanding, life-affirming content, eating healthy foods rich in omega-3 fatty acids to help your brain function optimally, or chanting to improve attention and reduce anxiety (especially the third eye chakra mantra of OM [source]). You may also want to include indigo crystals in your home, altar space, or near you while you meditate.
Essential Oils for Third Eye Chakra
You can choose aromas that either foster clarity of mind and attentiveness or ease mental fatigue or brain strain. Try these essential oils that help promote clarity of thought.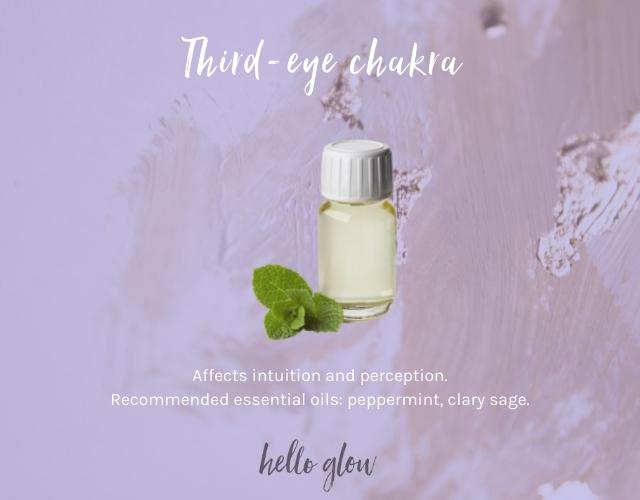 Focusing oils
Essential oils like rosemary and peppermint are perfect pick-me-ups to use when you need your tired or muddled mind to snap into focus. Use in a diffuser blended with lemon, another oil that's great for clearing the mind.
Essential oils like clary sage and lavender can help when you need to a calm a racing mind or stop stress-related thoughts. Their soothing scents are perfect for times of heightened anxiety, scattered thinking, or worry. Take a few deep breaths to help you relax enough to see things clearly before you act.
Sleep oils
If you're feeling too overwhelmed to drift off, try a sleep-friendly oil like lavender or chamomile before bed to aid in achieving the relaxation necessary for deep, illuminating sleep.
5 Essential Oil Blends for Third Eye Chakra
Try these essential oil blends as a helpful complement to your third eye balancing activities. The following blends are meant to be diluted in 200 mL of water.
1. Rosemary blend
According to a 2013 study, rosemary oil "is a powerful tool in helping to clear the mind and for increasing mental awareness. It has also been shown to possess excellent brain-stimulating properties as well as an aid for memory improvement [source]." Here it is combined with other focus-improving oils with complimentary herbaceous notes. Diffuse this blend during study sessions, while you're reading/learning/working, or whenever your mind needs some sharpening.
—4 drops rosemary oil
—2 drops thyme oil
—2 drops basil oil
—2 drops cypress oil
2. Lemon blend
Citrus notes are really wonderful for their uplifting qualities and for their ability to pull our senses into focus. This blend puts lemon, the citrus powerhouse, on a pedestal and keeps you on task with an additional hint of fresh greens.
—4 drops lemon oil
—2 drops peppermint oil
—2 drops petitgrain oil
—2 drops grapefruit oil
3. Clary sage blend
When you need a diffuser blend that helps to relax your mind without drowsiness, clary sage is a great choice. This combination would be a fabulous compliment to a meditation practice, as it combines grounded, settled notes with those that keep the mind alert.
—3 drops clary sage oil
—2 drops eucalyptus oil
—2 drops thyme oil
—2 drops lavender oil
4. Lavender blend
This calming blend is great for those who are more headache-prone or suffer from mental strain or fatigue. It's ideal for the wind-down time before bed or whenever you need to settle the mind and ease stress.
—4 drops lavender
—3 drop Roman chamomile oil
—2 drops neroli oil
5. Peppermint blend
This is a snap-to-it, alarm bell of a blend for those times when subtlety just won't do. Peppermint and peppery notes come together beautifully here, offering your mind an anchor in the here and now.
—4 drops peppermint oil
—2 drops black pepper oil
—2 drops bergamot oil
—2 drops wintergreen oil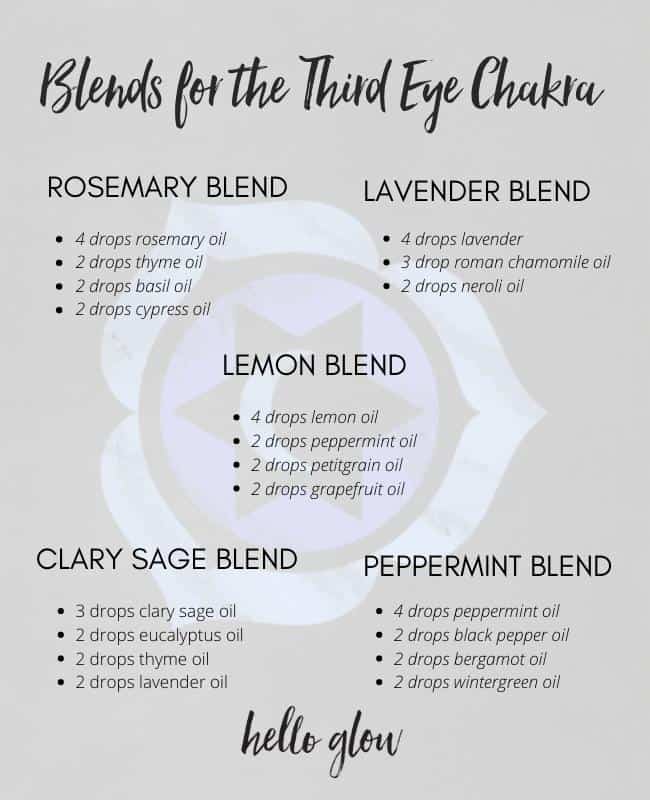 4